BSQUARE MDP puts 1.5GHz dual-core MSM8660 Snapdragon into developer device [Video]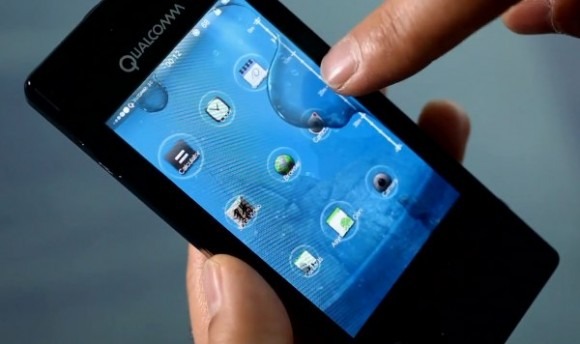 Qualcomm's latest Snapdragon CPU has found its way into the BSQUARE Mobile Development Platform (MDP), a device targeted at developers looking to test and optimize their apps on Qualcomm's new 1.5GHz dual-core MSM8660 chipset – as found in the HTC EVO 3D – and Adreno 220 GPU. The MDP runs Android 2.3 Gingerbread on a 3.61-inch WVGA touchscreen, and has a 13-megapixel rear camera, 1GB of RAM, 16GB of internal storage and various preloaded monitoring apps.
Other specs include a 1-megapixel front camera, microSD card slot, USB on-the-go support, an HDMI port and support for 5.1-channel surround sound when plugged into an external speaker system. The MDP itself has stereo speakers and a 3.5mm headphones socket.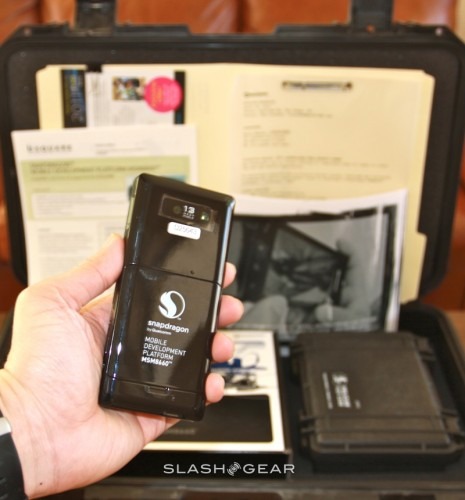 BSQUARE has customized the regular Android UI, and there's Qualcomm's Adreno Profiler for optimizing 3D graphics performance and Trepn Profiler for optimizing app power consumption. The MSM8660 is an asynchronous chip, which means each of its two cores can be run at separate clock and voltages; Qualcomm says that adds up to lower power consumption and a more efficient handset.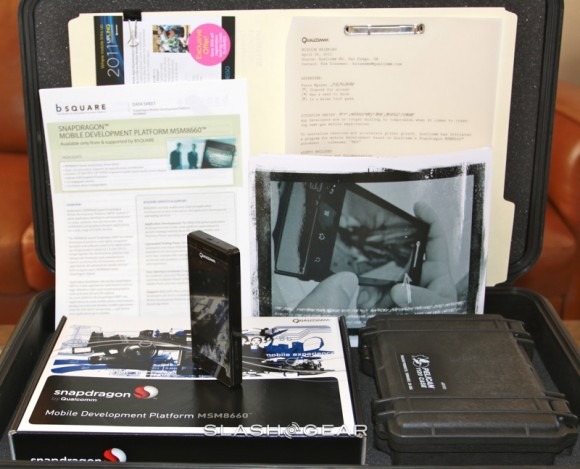 There's also support from BSQUARE and Qualcomm's developer database and other coding backup. This isn't a mainstream phone and as such it's not priced that way: figure on spending $1,350 on the MDP.
Press Release:
BSQUARE Announces General Availability of the Next Generation Snapdragon Mobile Development Platform Based on the MSM8660 Processor

New Platform Accelerates Android Application Development

Bellevue, Wash., – April 27, 2011 – BSQUARE Corporation (NASDAQ: BSQR), a leading enabler of smart, connected devices, today announced general availability of the next generation of the SnapdragonTM Mobile Development Platform (MDP) for AndroidTM, a development platform based on Qualcomm's dual-core MSM8660TM Snapdragon processor running speeds of up to 1.5 GHz.

The MSM8660-based Snapdragon MDP provides application developers and device manufacturers with early access to a high-performance platform used to develop, test and optimize Android applications for a wide range of pre-commercial devices. This new generation of the Snapdragon MDP offers developers powerful built-in graphics, power management and other profiling tools, which, when complemented by BSQUARE professional engineering services and TestQuest test automation solutions, enable developers to accelerate time to market for Android applications.

BSQUARE began providing customers with the first-generation Snapdragon MDP, based on the MSM8655TM processor, in December of 2010. This new generation of the Snapdragon MDP, based on the MSM8660 processor, introduces new features, including a dual-core CPU that supports asynchronous architecture and console quality and stereoscopic 3D graphics performance.

As with the MSM8655-based Snapdragon MDP, BSQUARE will also support developers and manufacturers using the MSM8660-based Snapdragon MDP with engineering services, as well as technical support and access to the BSQUARE Knowledge Base, documentation, complimentary tools and Snapdragon MDP software updates. Users of the MSM8660- based Snapdragon MDP can also benefit from the industry-leading TestQuest automated testing solutions from BSQUARE, which support testing of Android solutions and the MSM8660-based Snapdragon MDP.

"The need to accelerate development of high-quality Android applications continues to grow along with the size of the Android market," said John Traynor, vice president of products for BSQUARE. "The MSM8660-based Snapdragon MDP, with a dual core CPU and Adreno® 220 GPU, is one of the fastest development devices currently on the mobile market. When combined with BSQUARE support and services, the MSM8660-based Snapdragon MDP, along with the MSM8655- based Snapdragon MDP, will be key drivers in helping to accelerate the development of innovative applications."

The MSM8660-based Snapdragon MDP, available at www.bsquare.com/qualcomm, includes the MSM8660-based smartphone form-factor with a 3.61" WVGA responsive multi-touch touch screen display, asynchronous dual-core CPUs running independently at up to 1.5 GHz, Adreno 220 GPU, 13MP rear camera, 1MP front camera, stereo loudspeakers, 1GB of RAM , and 16GB of storage memory. To help developers optimize their applications for Snapdragon platforms, specific tools are also available from Qualcomm including the Adreno Profiler for optimizing 3D graphics performance and the TrepnTM Profiler for optimizing application power usage.

"We are thrilled to work on the next generation of the Snapdragon MDP with BSQUARE," said Tia Cassett, senior director of business development for Qualcomm CDMA Technologies. "The combination of a powerful developer device in the MSM8660-based Snapdragon MDP and support and services from BSQUARE means faster time to market for Android developers."

About BSQUARE

BSQUARE is an industry leader with a proven track record in providing production-ready software products, engineering services, solutions and automated testing for smart, connected devices. With deep technical knowledge of mobile and embedded technologies, BSQUARE enables device makers to develop and ship best-in-class products. Since 1994, BSQUARE has provided satisfied customers with innovative software solutions allowing them to get to market faster with reduced risk and cost. For more information, visit www.bsquare.com.