How we hunted Angry Birds in Hawaii: A SlashGear 360 Adventure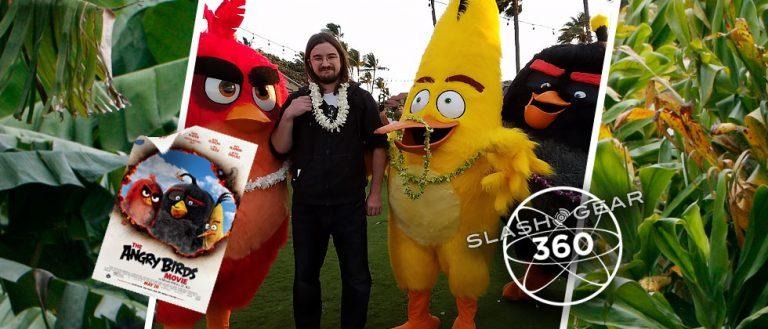 Several weeks ago I was invited by the folks behind the Angry Birds movie to fly to Hawaii to speak with the stars. Generally we try to steer towards science and science-fiction films when we do any sort of coverage for movies – we are SlashGear, after all – but this film is something special. Rovio – creators of the Angry Birds franchise – carved out a unique chapter in the history of the smartphone. Could they convince us that a movie needed to be made? Could Jason Sudeikis, Maya Rudolph, and Josh Gad convince us?
This movie is important to our shared history as tech enthusiasts. Angry Birds started as an app that dominated the early years in mobile tech, taking command of all "top app" charts for leading systems like Android and iOS. Rovio great exponentially, creating clothing, branding snack foods, and hammering out a TV show.
But they've had to cut back a bit recently. It's as if they've flown too close to the sun, so to speak.
Having watched Rovio rise from a single mobile game to the lofty heights they've reached recently, being invited to the press junket for The Angry Birds Movie was like an invitation to a historical event.
We felt drawn to the event like we were to NASA for The Martian. See our feature You're Going to Mars, I went to NASA to ride the Mars rover with us.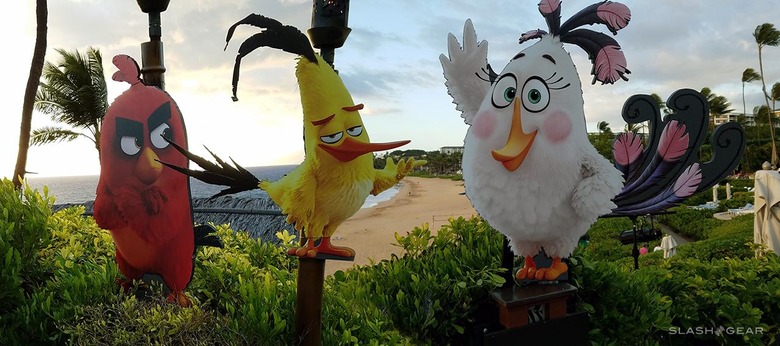 This press junket in Hawaii was to have three key actors from the film:
• Josh Gad – Who plays the Yellow Bird (Chuck)• Maya Rudolph – Who plays the White Bird (Matilda)• Jason Sudeikis – Who plays the Red Bird (Red)
You may also remember Gad as "Bear Claw" from New Girl, Rudolph as "Brinda" from Sisters, and Sudeikis as "What's Up with That" backup dancer "Vance."

You'll also know Gad as the voice of Olaf the Snowman in Frozen, Rudolph as the bride Lillian in the film Bridesmaids, and Sudeikis in We Are The Millers as the dad, David Clark.
DAY I - IN FLIGHT
After 14 hours of travel (no exaggeration), a brief 10-minute car ride brought a couple of broadcast press members and myself directly to a screening of the film Angry Birds, directly and immediately.
The Red Bird appeared not long after I did. It seemed as though he too, had just arrived from a long flight.

In addition to this giant bird, who I'd get to know better later on, the theater was full of parents and their tiny children. This atmosphere would be perfect for providing an authentic Angry Birds theater experience. Any Angry Birds Movie viewing in a theater you'll be going to in the near future will be full of kids as well. These kids were essential, and seemed to be put there for laughter padding.
At first.
It quickly became clear that there'd be just as many giggles coming from the adults watching the movie as there were from kids.
The Angry Birds Movie was enjoyable, funny, and entertaining. After seeing the movie just once I was convinced of its potential.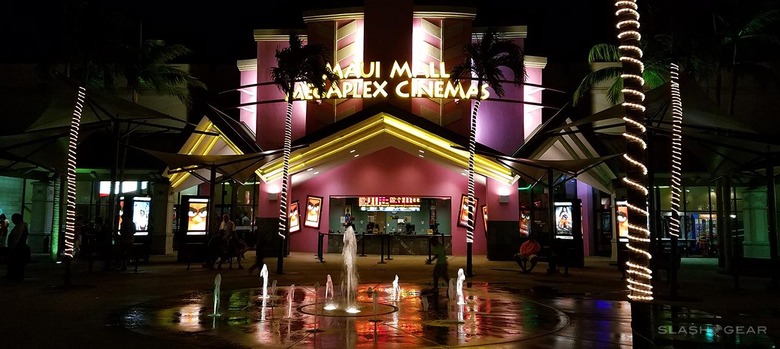 The atmosphere at the screening was extremely positive.
Kids were laughing.
Adults were laughing.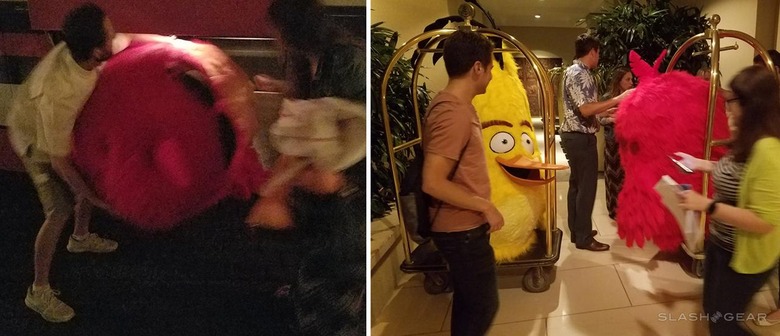 I've not written a full review of the movie yet – that'll have to wait until I'm in the theater again with my 5-year-old on release day.
Day II - Hawaii Atmosphere
The film takes place on a set of two islands, both of which are distinctly Hawaii-like. They're both like paradises – not unlike the place we were to see the film. To give you an idea of what it was like, have a peek at the slideshow below.
The video below utilizes YouTube's ability to display 360 video (read: spherical, in this case) to show off a series of photos captured by our Ricoh Theta S. Explore this video by pressing play then dragging left, right, up, and down.
NOTE: I recommend you tap the gear in the lower right of the video and choose 4K resolution if at all possible!
Images in the slideshow above were captured throughout the course of the three day adventure you're reading above above and below, all captured with the Ricoh Theta S.
DAY II - Seeking Angry Birds
On our first full day I decided to explore the island at street level. I had several hours to seek out all wildlife on the island before the interview luau was scheduled to begin.
Some of my colleagues (from all manner of blogs and publications) took this opportunity to do Angry Birds-themed Yoga and zip-lining, as you'll see in the gallery below.
They stuck with the Angry Birds in suits, while I sought out the real birds – and real birds I did find.
I didn't even have to leave the hotel to find the first set – and they were very, very angry. And caged.
So angry, and so caged.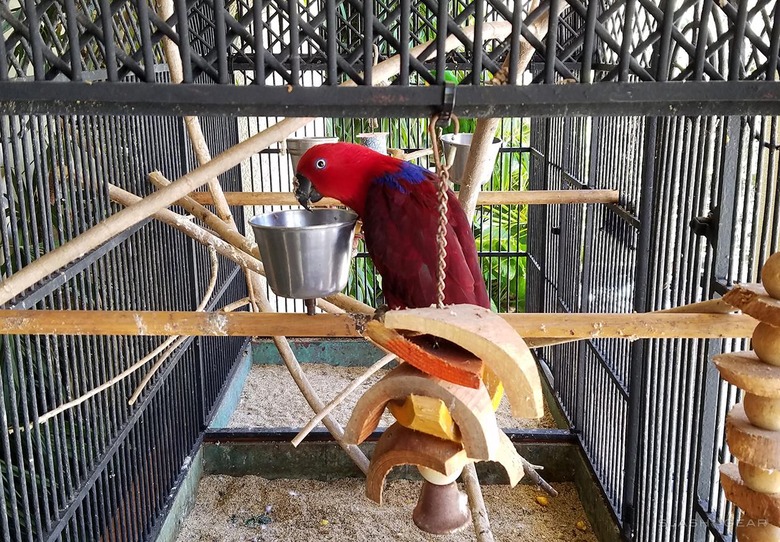 One of these birds looked like he'd had his fill of seed for the day, and was taking a snoozer. The other decided I'd gotten too close for comfort and blasted my camera out of my hands with a single loud and terrifying squawk.

Collecting my wits and my camera, I made my way out of the hotel's lawn chair labyrinth and out into the wild.
I immediately saw pairs of birds of several sorts.

Tiny birds, medium-sized birds, and chickens, too!
Look at all the chickens!
Once I'd gotten the hang of how close these very human-friendly birds were going to let me get, I was able to photograph a few of them in flight. These images were shot with the Samsung Galaxy S7, if you'd like to know.
Interview Luau
After a couple miles and a few photos more of interesting or otherwise odd bits of the island later, it was time to return to the hotel for the interview luau.
NOTE: You'll be able to see/hear everything from our roundtable interview with Sudeikis, Rudolph, and Gad in our Angry Birds Portal.
• Angry Birds Movie actors tell us their superhero dreams
• Angry Birds Movie actors realize Sean Penn is in the film
• More in our Angry Birds portal...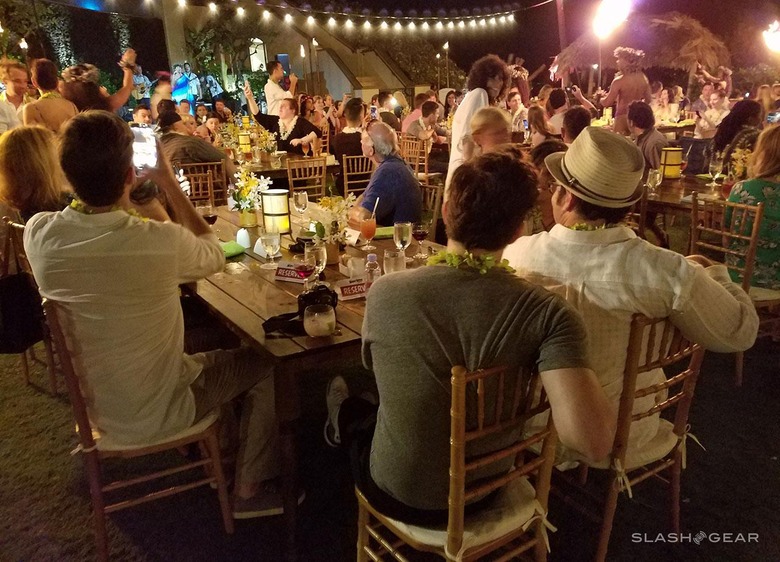 Each of these actors were helpful, grateful, and extremely kind. Not only did they chat with the press at each of these table interviews for as long as they were able, they also sat and had dinner with everyone afterward.
DAY III - Spherical Captures
Today was the day that I'd capture the TRUE essence of Bird Island – as it was called in the Angry Birds movie. As such, I decided I needed to actually go down to the beach and touch the ocean. So that's what I did.
I captured a spherical video there for you to partake in, too. From the rocks, just in front of the hotel where the press were based.
NOTE: If at all possible, tap the gear in the lower right-hand corner and ramp it up to 4K as soon as possible.
Lessons Learned
1. Pack light – you never know when 12 hours of travel will be immediately followed by a movie screening.
2. Don't wear sneakers on the beach.
4. Modern smartphone cameras can now readily capture birds in flight.
5. Maya Rudolph, Jason Sudeikis, and Josh Gad are both down to earth and pleasant to speak with.
6. If you're going to bail riding a tiny skateboard with a 20-pound backpack on your back, a case like this one for your phone will be a life saver when said phone flies out of your pocket.
7. Ask for permission to take portraits of parrots – and by that I mean permission from the parrots, AKA Parrot Permission.
If you're going to see the Angry Birds movie, see it with kids.
Preferably your own.
The Angry Birds Movie will be released on May 20th, 2016 in the USA.