Honeycomb, Galaxy Tab & the 7-inch stumble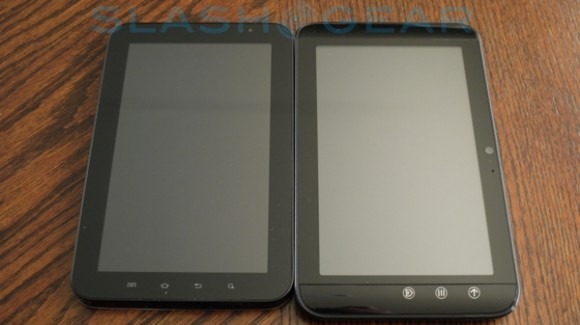 It's hardly been a good week for Samsung. Not only has the company been forced to backtrack on its Galaxy Tab sales figures, admitting it was counting vendor shipments rather than end-user purchases, but return rates are also said to be far higher than expected. Considering the Galaxy Tab has been the poster child of Android slates so far, it's an embarrassing showing against the nigh-unstoppable Apple iPad. Question is, was it Froyo that scuppered the Tab – a smartphone OS asked to do tablet duties it simply couldn't fulfil – or is 7-inches simply the wrong size? And, with Honeycomb fast approaching, can Google's new OS turn the tide?
It's fair to say that Froyo – Android 2.2 – was never intended for tablets; even Google confirmed that. Back when we first reviewed the Galaxy Tab we praised Samsung for the work it had done on creating custom apps for the slate, replacing the native calendar, address book and other software to suit the 7-inch display and 1024 x 600 resolution. It went some way to disguise the feeling that the Tab was an oversized phone, certainly, though it was nowhere near perfect.
Still, we've seen a gradual flow of tablet-centric apps for Android, including some high profile launches from the Wall Street Journal and the Financial Times. They've targeted Tab owners and borrowed design cues from iPad apps to make the most of the resolution, carving out a 7-inch niche where even Google didn't think there was potential.
However, to paraphrase Jurassic Park, just because we can, doesn't necessarily mean we should. In the most recent SlashGear poll we asked readers to vote for what tablet screen size they were most interested in, and – as of writing – a full 50-percent of over 3,000 respondents told us they were looking for a 10-inch scale slate. In contrast, a little over a quarter preferred a 7-inch model, like the Galaxy Tab (or, indeed, RIM's BlackBerry PlayBook).
[poll id="4"]
Now, we didn't ask for justifications of each selection, so we can't say exactly why more people prefer a larger slate than a smaller one, but there are some common reasons we've been hearing since the Tab was first rumored. One is a basic preference for bigger-scale web browsing, with smaller tablets not perceived as offering a big enough leap in screen real-estate over a smartphone. Another is portability; while the Galaxy Tab can fit into a coat pocket (or even your jeans pocket, if you're not a fan of skinny fit), how many people actually do take it out with them?
The absence of phone support undermined Samsung, with carrier wariness of potentially cannibalized handset sales leaving North American Tabs unable to make regular voice calls. Whether the target audience for an Android tablet – more likely, perhaps, to already have a smartphone – would bother carrying both around sapped some of the slate's portability potential. We'll have to wait until European sales and return figures for the Tab emerge, given versions there allowed for voice calls and thus it could fully replace a cellphone, to see what sort of impact that artificial crippling had.
Should Samsung have waited, or avoided the contentious 7-inch size altogether? It's perhaps telling that, of all the big-name Android slates launched at CES 2011 last month, the vast majority had displays in the 10-inch range. Dell's Streak 7 mimicked the Galaxy Tab, but with an 800 x 480 display that's rightly being criticized in reviews; it also misses out on Honeycomb, at launch anyway, despite having a dual-core Tegra 2 processor at its heart.
The others – Motorola's 10-inch XOOM, LG's G-Slate with what's believed to be an 8.9-inch screen – plumped for more direct iPad-rivalling scale, and indeed Samsung is expected to bring a 10-inch Galaxy Tab, with Honeycomb in its sights, to Mobile World Congress in just a few weeks time. From what we've seen of Android 3.0 so far, it's a vast improvement over previous iterations when it comes to accommodating a big touchscreen. It'll work on 7-inchers, of course, just like it will work on smartphone-scale devices, but it's pretty clear Google had 10-inch tablets in mind throughout development.
We'll know more after Google's Honeycomb event tomorrow, where the Motorola XOOM is expected to take center stage, and with the Android team expected to outline not only what makes 3.0 special but the longer-term vision for the platform. Honeycomb on the Galaxy tab could well be the reboot the 7-inch slate needs.
Looking for everything we know about Android 3.0 Honeycomb today? Check out the Android Community Honeycomb User Features Preview and the Android Community Honeycomb Developer Features Preview.