Here's Sony's Xperia 2014 in smartphones and tablets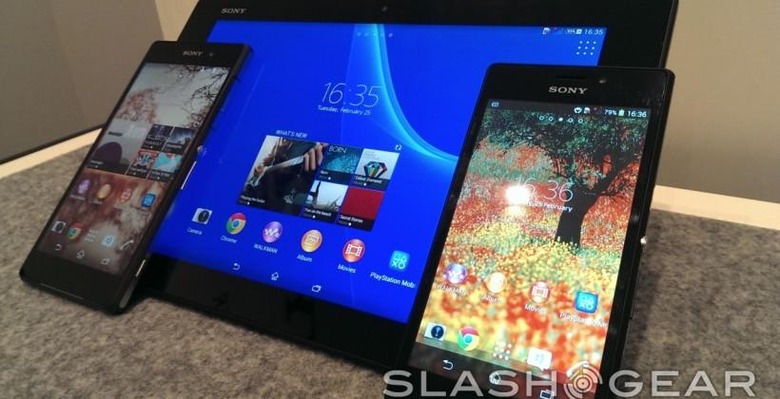 There's a set of three devices that've been revealed over the past week by Sony int he Xperia line of smartphones and tablets for Sony. That is the Sony Xperia M2, the smallest and least powerful of the three, and the Sony Xperia Z2 and Z2 Tablet. These three devices will be rolling out on the top and mid-tier, while the Xperia Z1 Compact is the smallest of the crew.
This past week we've seen the three, while the Xperia Z1 Compact was revealed at CES 2014 and we got our eyes and hands on it then. It works with specifications that take on what was delivered with the Xperia Z1, while it matches up quite closely with what's delivered with the more mid-range-aiming Xperia M2.
ABOVE: The Xperia Z1 Compact from CES 2014. BELOW: The Xperia M2 from MWC 2014.
With the Xperia M2 you're getting a 4.8-inch qHD display with a Qualcomm Snapdragon 400 quad-core processor under the hood. On the back you'll have an 8-megapixel camera with a single-LED flash, while the whole device fits right in with the full Xperia Z lineup for 2014.
They're all so very easy to mistake for one another that we've had to photograph cut cards between photographing this and the Xperia Z2 to make sure our angled photos aren't mistaken for one another. As you'll see here, when you've got the two of them together, they're easy to tell apart, if only for their size.
The larger device is the Xperia Z2. While both devices come in a number of colors, here you're seeing the cool white version. This device works with a massive 5.2-inch display with Full HD resolution. With 1080 x 1920 pixels across it, this machine has just as many pixels as last year's Xperia Z and Xperia Z1, this time also working with Live Color LED powered by X-Reality for mobile technology.
In the Xperia Z2 you're working with a 20.7-megapixel camera with Exmor RS sensor. With CMOS sensor technology and – with the back-facing camera, not the front, remember, you'll be able to shoot 4K video. That's far more massive than you'll be able to shoot with your average smartphone, that's for certain.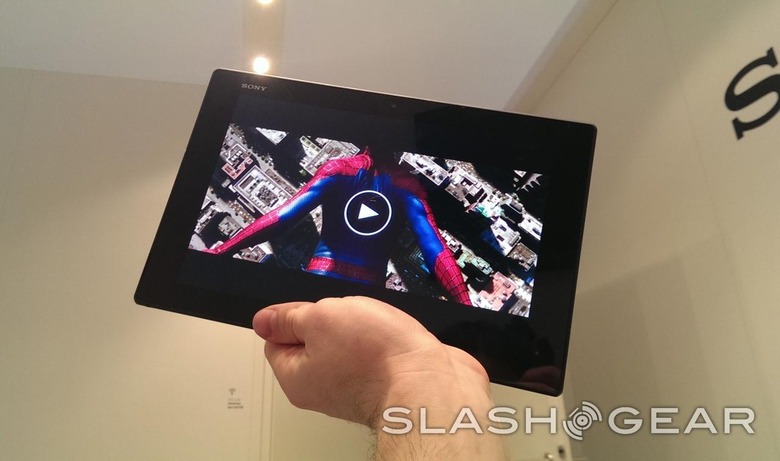 The Xperia Z2 Tablet works with a delivery that matches the Xperia Z2 smartphone in a way that makes them truly fine as a duo. If you buy one, you might want to consider the other, that is to say. It's got the same software on the whole, including the same camera app – though with this 8.1-megapixel camera on its back, the tablet isn't able to do full 4K video.
You've got a display that works with as many pixels as the smartphone on the Xperia Z2 Tablet, this time spread over a 10.1-inch display. This time you've got Triluminous for mobile technology again and Live Color LED for good measure – with X-Reality for mobile engine technology of course. All of that means that you can view this display from basically any angle and it'll be just as bright and sharp – really, really fine, that is.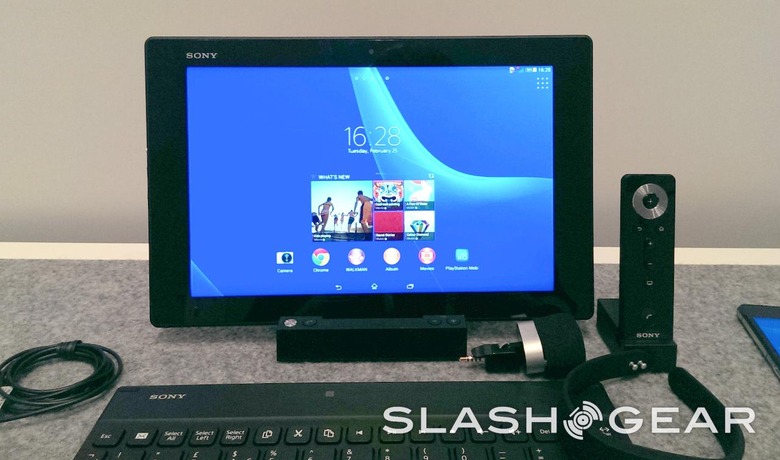 The tablet will be launching in March of 2014 with a couple of color variants as well, with a bunch of accessories to boot. The Xperia Z2 will also be hitting the market at that time with its own color combinations. The Xperia M2 will launch in April, while the Xperia Z1 Compact has already launched (in February).
We'll have launch details for the whole lot here on SlashGear when they all become available with retailers. Generally we can assume that it'll be a couple of months after their international release dates as it has been in the past, but we shall see!