Google's big IO mistake: Nexus Q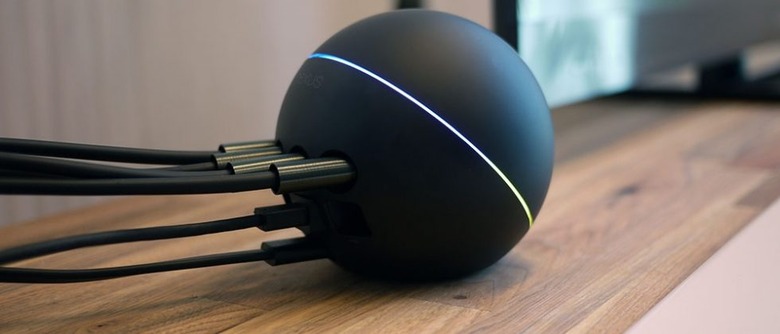 Jelly Bean, a Nexus tablet, even skydiving Google Glass: the Google IO keynote very nearly had it all, but the company's decision to leave Google TV off the agenda in favor of the Nexus Q was a low. The zinc Epcot of Android was billed as a communal media player, and its presence on stage when Google TV was conspicuously absent undoubtedly led to confusion as to what its exact purpose was, especially given streaming favorites like Netflix and Hulu are missing. Google TV had been, in the run-up to IO, one of the topics most people expected to see covered, and its omission does not bode well.
At $299 the Nexus Q is, as many have observed, not a cheap device, and while Google has made much of its "designed and made in the USA" credentials, it's a strategy that's at odds with the "cut the costs" approach of the Nexus 7. If Google's target is Sonos – admittedly audio-only – then it failed to demonstrate how a multi-zone Nexus Q setup would play out. If it's a challenge to Apple TV, however, then it's difficult to see how Google can justify charging three times the amount.
The biggest frustration is that the Nexus Q is already obviously capable of much, much more. Within hours of having access to the first units, Android developers have already managed to get games running, turning the Q into an open-source console of sorts. That's just the start of things, no doubt; efforts are already underway to unlock what is, behind the curvaceous shell, a Galaxy Nexus without a display.
Google Nexus Q hands-on:
Now, it would've been premature for Google to reveal all of its future plans for the Nexus Q, but it did the device a disservice with a presentation that failed to dress the orb in suitable context. The Jelly Bean message was clear: the OS runs faster and smoother than Ice Cream Sandwich, brings a voice search Siri alternative, and tackles fragmentation with the promise of earlier access for new versions for manufacturers. The Nexus 7 news left nobody in any confusion as to the tablet's selling points; even the Google Glass announcement, with exact details still in relatively short supply, did what it needed to.
For the Nexus Q, though, we had a fancy video in the style of Apple's promos, an awkward and overly-long demonstration of how several people can manage a shared playlist, and little in the way of context. Even just promising "like Nexus phones, there's hugely broad potential for the Nexus Q" could've been enough to prevent most of the post-keynote confusion.
Instead, the functionality and longer-term intentions were left vague, and without any mention of Google TV it was difficult to see how the two products are meant to sit together. That's disappointing, after Google worked so hard to improve the latest iteration of its smart TV product; particularly if you're Sony and Vizio, and announced second-gen Google TV boxes this week in the run-up to Google's event. Hopefully, it means Google TV will have its moment in the spotlight today, albeit late, at the second day IO keynote.
Find out more about the Google Nexus Q in our full hands-on.