Sony NSZ-GS7 takes 2nd try at Google TV on July 22 for $199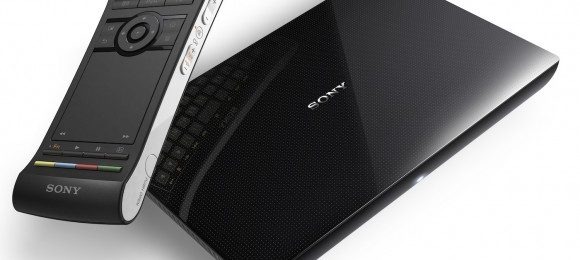 Sony has confirmed pricing and availability for its second-gen Google TV range, throwing open pre-orders for the smart TV kit on the eve of Google I/O 2012. The Sony NSZ-GS7 Internet Player will go up for pre-order today priced at $199, with shipping expected from July 22 in the US. Meanwhile, the NSZ-GP9 Internet Blu-ray player will arrive in time for the holiday season, priced at $299. Both come with a redesigned remote that aims to cut down on the button confusion of the first-gen hardware.
Announced back at CES, the NSZ-GS7 supports Chrome web browsing, YouTube streaming and overlaying of internet-based data – such as news and show information – on top of live broadcast content. There's the latest iteration of Google's multi-source search, too, which pulls up not only any recorded local content but on-demand shows and live TV.
As for the new remote, that has a backlit QWERTY keyboard on one side and a trackpad on the other, with a three-axis gyro for motion control and gaming. Hooking up via Bluetooth, it will also be able to control other connected devices, and with the NSZ-GP9 Blu-ray player enable voice-search.
Google hardly set the world alight with its first-generation of Google TV hardware, and neither Sony nor Logitech came out of the experiment with any great success. Since then, of course, Google has jumped from more expensive Intel processors to cheaper, more power-frugal ARM chips, and announced international Google TV launch plans. We're hoping to hear more later this week, when SlashGear heads to Google I/O.
More on the new Sony Google TV hardware in our hands-on.