Sony Google TV second generation hands-on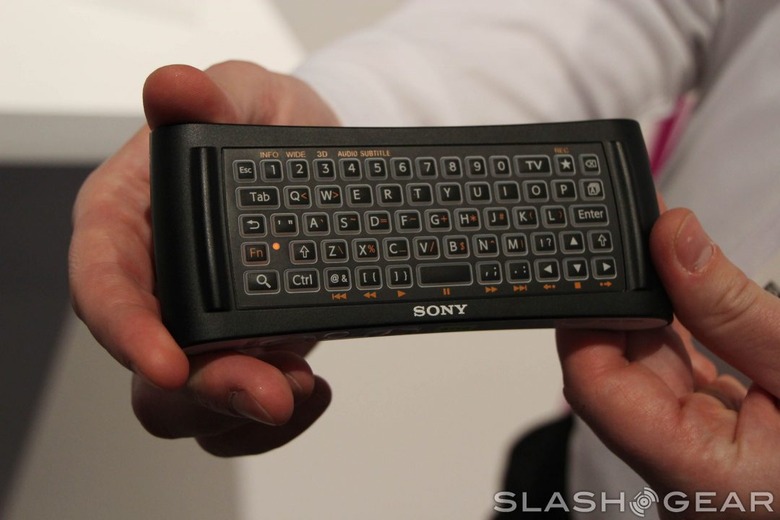 Smart TVs were a running theme of CES this year, but the Google TV platform didn't get a lot of love. Aside from a chipset demonstration from Marvell and some lip service from LG, only Sony showed off real progress for the the Android-based integrated TV service. The second generation of Sony's Google TV hardware comes in integrated TV, Blu-ray and stand-alone models, and we took some time to check them out on the CES show floor.
Physically, the new stand-alone and Blu-ray versions (NSZ-GP7 and NSZ-GP9, respectively) aren't all that distinctive. The Blu-ray player is a large white box, and the stand-alone is a dimpled grey. It's a shift from the original version, but by no means a radical one. The real news is the newly-redesigned remote, which takes some ques from HTPC remotes and the Boxee Box remote. One side looks like a standard TV/cable remote with thew addition of a touchpad, and the full QWERTY keyboard is moved to the other side. Both sides have backlit keys for easy access in a theater-style setup, and an integrated microphone lets you use Voice Search and Voice actions from the couch. Demonstrations of voice functions were very convincing.
The Blu-ray player is a pretty impressive specimen, cramming all of Google TV's functions into a case not much bigger than standard models on retail shelves today. It includes full 3D support at 1080p, so it's worth a look even if you want the latest 3D tech. The Blu-ray player also includes the remote, and as far as functions and interface goes, it's nearly identical to the stand-alone and integrated units.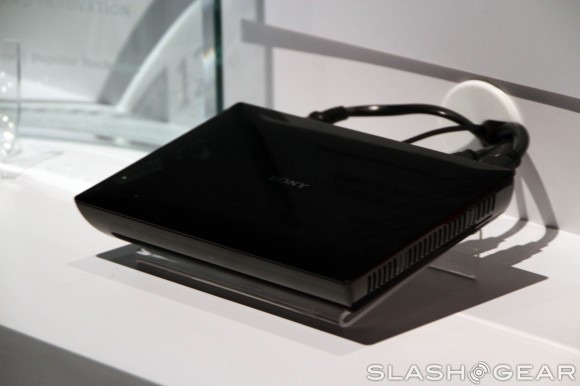 Speaking of the interface, it's refreshingly spare on manufacturer customization. Aside from a few links to Sony' music and media stores, it's pure Google TV (Android) 3.2, with the new Android Market GTV section well-integrated. Sony's Google TV hardware was the first to receive the major update, and after hearing that LG plans to do some heavy modification of the open-source hardware, we're thrilled to see that Sony is keeping it simple.
There was no detailed specification information for the new Google TV units, so we don't know if it's running on the older x86 hardware or the newer ARM systems coming from Marvell and MediaTek. Since these models aren't due to hit the market for a few months at least, we'd guess the latter. No pricing information was offered.