Google threat may drive Mercedes, BMW and Audi to buy HERE
Mercedes-Benz, BMW, and Audi have forged a rare partnership and are joining forces to acquire Nokia's HERE mapping business, insiders suggest, hoping to cut reliance on Google. Rumors that HERE – which includes 3D mapping of road data, along with high-resolution scanning suitable for the next generation of self-driving cars – was up for sale broke in April, with potential suitors tipped to include both Amazon and Alibaba. Now, there are some big names in automotive said to be weighing in with a bid.
According to the WSJ's sources, the three huge German automakers are temporarily putting aside their differences and teaming up against a potentially far more disruptive foe: Google.
The concern, it's said, is that the search giant will not only continue its work on autonomous cars but take a similar approach to Android.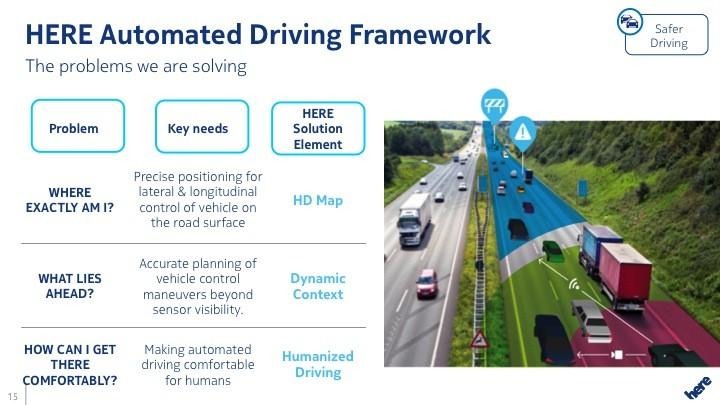 "The greatest threat to the automobile industry would be if Google developed an operating system for self-driving cars and made it available free to everyone," a close source explained to the newspaper.
Owning a majority share in HERE that would value the company at more than $2bn – leaving Baidu and an unknown investor also involved, together with Nokia, holding minority stakes – would give BMW, Audi, and Mercedes-Benz the keys to the so-called HD Map technology and data that the Nokia division has been focusing on for several years.
Although it's applications like the recently released HERE for iPhone that users are most familiar with, in fact a large portion of Nokia's mapping efforts go into creating, maintaining, and licensing out the behind-the-scenes data.
I hitched a ride in Mercedes' self-driving car
The company – which acquired Navteq in 2007, eventually integrating it into the HERE division a few years later – already provides maps to a number of companies, including around 80-percent of the factory-fit navigation systems in a wide range of cars.
Autonomous vehicles require more than just street names, however, with a practically exponential degree greater of information demanded if they're to safely navigate. As we found when we took a tour last year of the HERE HD Map project, that data goes down to the level of individual lane markings and curb heights.
It wouldn't be the first cozying between a big German automaker and Nokia, either. Mercedes used HERE mapping to successfully pilot one of its prototype self-driving cars across the country back in 2013
Baidu would be permitted to use the HERE technology in China but not elsewhere in the world, sources say of the supposed terms of the deal.
Google has always been relatively coy on its commercialization expectations for its self-driving vehicle development, though various rumors at different times have suggested both partnerships with traditional auto firms and independent production of cars are under consideration.
SOURCE WSJ