Nokia tipped to be wooing Alibaba, Amazon with HERE Maps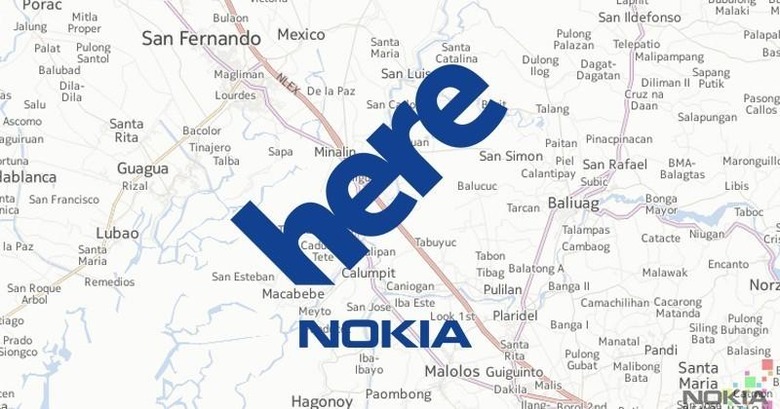 Nokia seems to be back in the news, but not entirely in a good way. Just last week revealed that it had indeed agreed to buy Alcatel-Lucent to just focus on the mobile network industry. The move does call into question what the company's real focus and long-term goals are. It also indirectly reaffirms rumors Nokia trying to sell its HERE mapping business to other companies in an attempt shed off excess baggage and probably get some money for that as well. And according to anonymous sources, those companies include giant online retailers Alibaba and Amazon.
Despite having some desirable features, HERE Maps seems to really be having a hard time breaking into the market, especially against something like Google Maps. And it is causing Nokia to lose money. The Finnish company bought HERE to the tune of 8.1 billion back in 2008. Fast-forward 6 years later, the business is now valued at just 2 billion euros, or around $2.14 billion. It's not surprising, then, that Nokia would want to sell it as quickly as it can while it still has some value left.
And who would be interested in buying a mapping business? Apparently a lot. In China alone, retailer giant Alibaba and search giant Baidu are said to be expanding their horizons, and a map service might just be what the doctor prescribed. It will be especially enticing for Baidu, who is a direct rival of Google in that region. And speaking of rivals, Amazon is said to also be in the running. Though its uses Android, it has its own software, content, and distribution ecosystem that rivals Google's services. A mapping service would be a perfect fit here as well.
But it might be Apple, whose name was also dropped, that could benefit the most. Apple launched its own mapping service on its iOS devices back in 2012. It was such an unmitigated disaster that it produced memes and eventually led Apple to yield a bit and let Google Maps enter its sacred space. Although things have improved since then, Apple could still use some more tested technology to boost its product.
When or to whom Nokia will sell HERE to is still unknown, as the companies whose names have been thrown around, including the likes of Facebook, Sirius XM, and even Harman, are not commenting on rumors. Of course, this all depends on whether Nokia will end up selling HERE at all. It does admit that it is evaluating their position on the business, but it might equally lead to a non-transaction in the end.
SOURCE: Bloomberg