Google Pixel 2 XL vs 1 : Release, Pricing, and Specs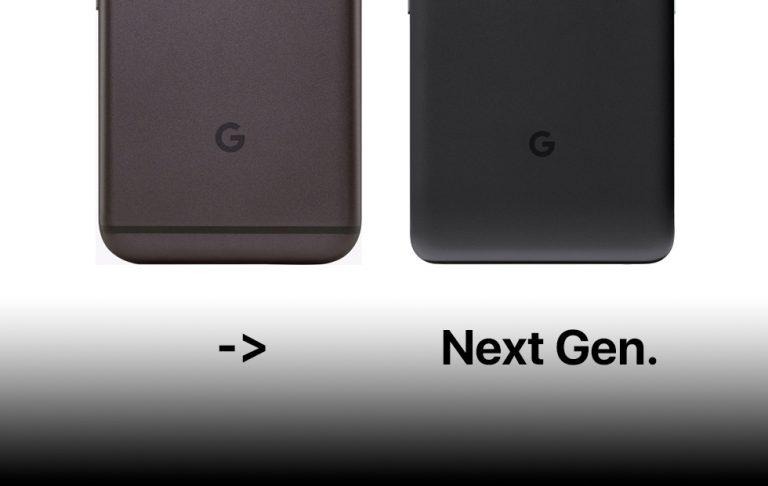 Today we're comparing Google's 2nd-gen Pixel XL to the first, and the first Pixel to the 2nd. When this article was first written, we were working with specs that'd been leaked before Google's big event. After the event makes all specs official, we'll be visiting this article again to correct specs where necessary – though we don't expect a lot to change from here to there. The changes we have here are compared in images, as well, with press renderings of both the original Pixel and the Pixel 2, both standard and XL.
A set of epic leaks led us to the images and the information I'm about to present – note that the leaked images came primarily from VentureBeat, as mentioned there as well. Both the Pixel 2 and the Pixel 2 XL are similar to their predecessors, but some relatively big changes have been made for both. The first, and most egregious of these, is the removal of the headphone jack.
Display Size / Resolution
The Pixel 2's display size and resolution will be the same as its predecessor, while the body of the smartphone will be ever-so-slightly taller. Likely because of the speaker placements, rather than the headphone jack, because the headphone jack is dead. Just like my plans to use a black box AUX cord running from the back of my car stereo to my phone forever.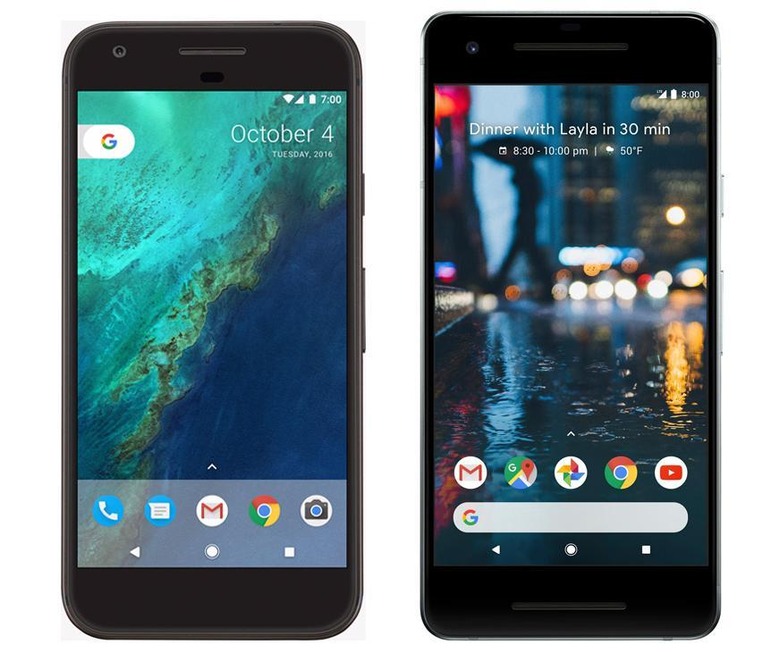 ABOVE: Pixel and Pixel 2. BELOW: Pixel XL and Pixel 2 XL.
The Pixel 2 XL's display is different from its predecessor. While both devices have a similar pixel density, the 2nd-gen device has a taller display. Pixel 2 XL's aspect ration is 18:9, while its predecessor is 16:9. The Pixel 2 XL's display is 6-inches diagonally, while its predecessor had a 5.5-inch display. With QHD+ instead of QHD resolution, this device's pixel density will be largely the same.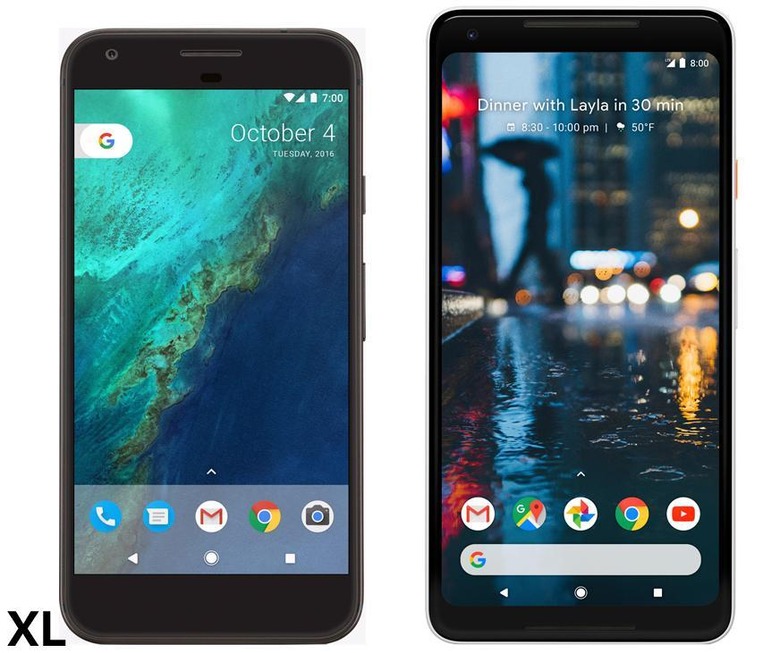 Processor
It should come as no surprise that Google's moved up to the now-newest Qualcomm Snapdragon processor in both Pixel 2 devices. The Qualcomm Snapdragon 836 can be found in the Pixel 2 and Pixel 2 XL, as well as the LG G6, Samsung Galaxy S8, and Samsung Galaxy Note 8. Last year they were first with the Snapdragon 821 while LG, Samsung, and the rest came out earlier, thusly having the 820 instead.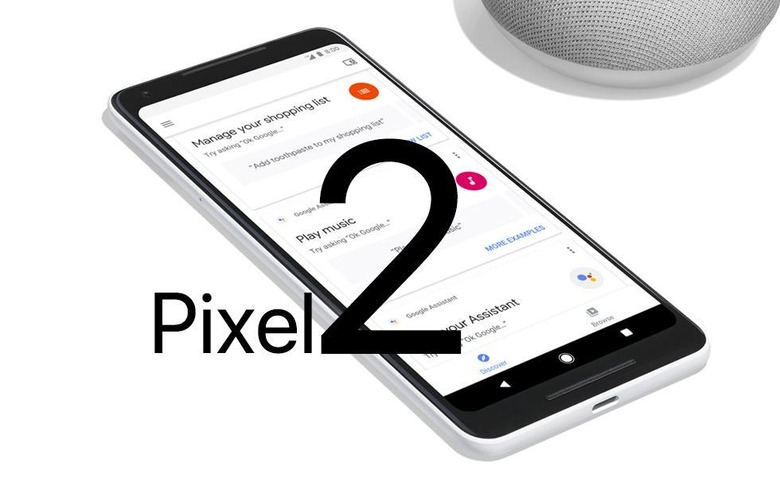 The Snapdragon 835 has a 10 nm FinFET LPE process instead of its predecessor's 14 nm FinFET LPP. It supports Bluetooth 5 instead of just 4.1, and High-dynamic-range video support(HDR10)/Ultra HD Premium. The GPU is also advanced – Adreno 540 instead of last year's 530.
Instead of LPDDR4 memory with 1866 MHz (29.8 GB/s) bandwidth, this Snapdragon 835 has LPDDR4X memory with 1866 MHz (29.8 GB/s) bandwidth. Where cellular connectivity was just X12 LTE (download: Cat 12, up to 600 Mbit/s; upload: Cat 13, up to 150 Mbit/s, the new chip offers X16 LTE (download: Cat 16, up to 1000 Mbit/s; upload: Cat 13, up to 150 Mbit/s).
Cameras
Both the Pixel 2 and 2 XL will work with 12-megapixel rear-facing cameras. One apiece, none of this dual-camera business some of the other smartphones are getting into. The cameras on the new Pixels will likely have a couple new features in-app, but nothing incredibly major.
Software
The Pixel 2 will have a new layout and a few new design cues in the Material Design universe. Well within the bounds of the design language Google already works with. There'll be a special listening mode included with the device which tells the user what song is playing at any given time. There'll also likely be a number of ways to use the device's HTC-made Edge Sense-esque edge squeezing, but the primary use will be activating Google Assistant.
Pricing Off Contract
The Pixel 2's off-contract pricing will start at $649 USD, and will reach all the way up to $749. That'll be dependent entirely on the amount of internal storage space the user wants: 64GB or 128GB. Both devices have 4GB of RAM inside. Though the price may change once the Pixel 2 is released, the Pixel can currently be bought for $650 – that's with 32GB of internal storage.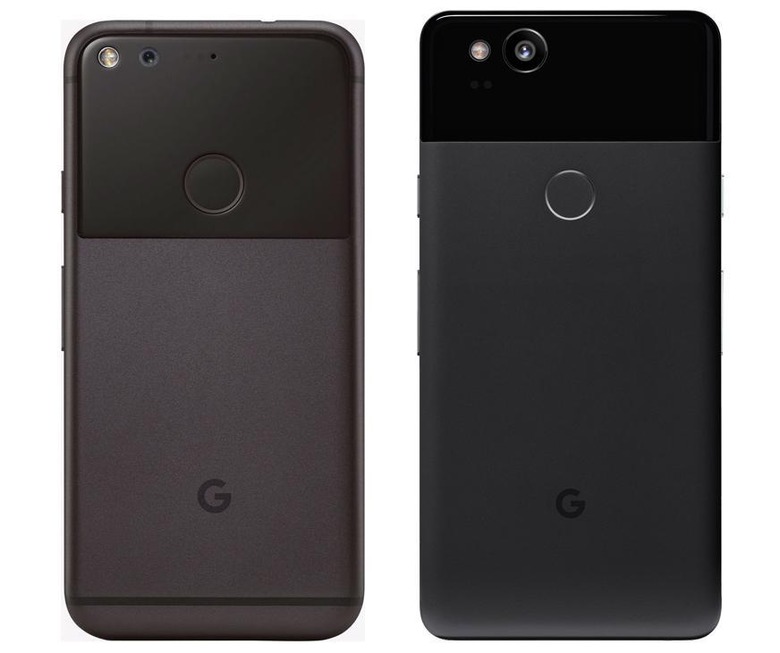 The Pixel 2 XL's off-contract price begins at $849 and will reach $949, both depending on internal storage sizes again. These devices, too, will have 64GB and 128GB internal storage size versions, and both will roll with 4GB RAM. Both devices will also have front-facing speakers. The current Pixel XL can be found VIA Google and Verizon for $770 (with 32GB internal storage) – though the price may change after Pixel 2 XL hits stores.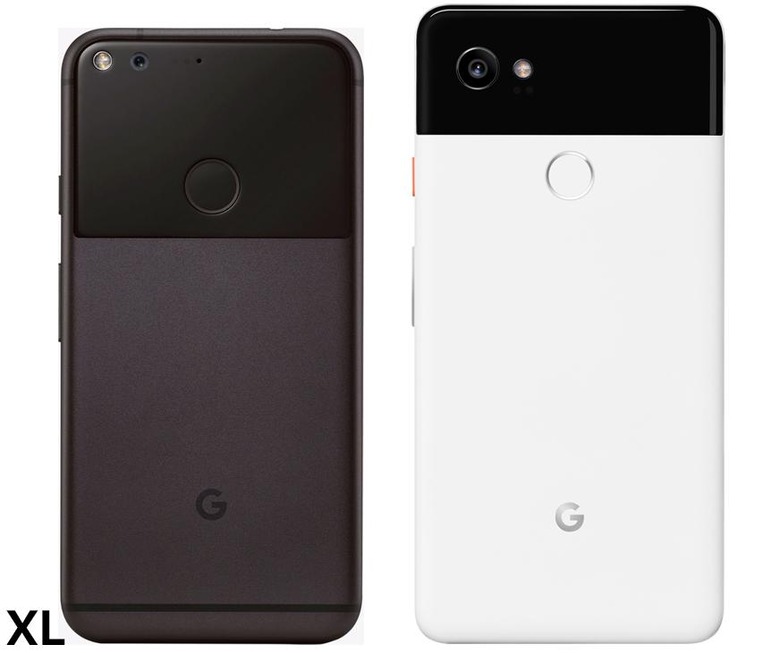 It's expected that the Pixel 2 will be available on the 19th of October, 2017. The Pixel 2 XL is expected to be released on November 12th, 2017. Last year's Pixel (and XL) came out the same day, the 20th of October, and their reveal event was on the 4th of October, 2016.
Again, I'll be returning to update this article once Google makes any and all of the above information official. If anything changes, I'll change it here and make a note. Until that time, take everything with a grain of salt!