GLM G4 is Japan's Tesla-rivaling EV sports car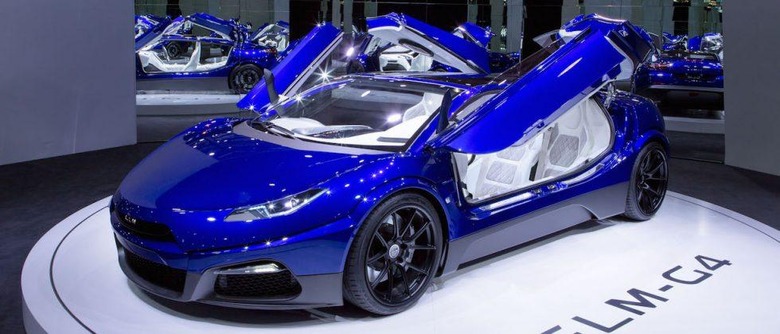 The 2016 Paris Motor Show is currently underway, and so far we've seen several of the futuristic, high-tech EV concepts from car makers like Volkswagen and Mercedes, not to mention standard model announcements from the likes of Honda and Audi. But there's also some unexpected surprises, like the GLM G4 concept, a 500-plus horsepower sports sedan with an electric platform from Japan. In fact, Green Lord Motors (GLM) is often referred to as the 'Tesla of Japan,' and it's clear it takes the nickname to heart.
Right of the bat, it's clear the G4 has the Model S as the gold standard to aim for. It features 536hp and is capable of 0-60mph in 3.7, a top speed of 155mph, and GLM says it will have a range of 248 miles on a single charge. While some of these stats aren't quite on-par with the Model S's (especially the new P100D) — specifically the range, which is based on Japanese standards and is expected to be lower with an EPA rating — the G4 boasts a sporty styling that Tesla's can't match.
Case in point is the low-to-the-ground body, racing-inspired seats, and its four gullwing doors. At its announcement in Paris, GLM says that it chooses to interpret "EV" as "exotic vehicle" rather than just "electric." To that effect, they've borrowed the body design from Savage Rivale, the Dutch supercar designers, which was originally intended to be used with a V8 sports car. GLM has paired the design with their electric drive platform that they've been working on since 2010.
Since the G4 currently exists as a concept, there's still a chance we may never see something like this from GLM again. However, the company states that it believes there's a real market for a four-door exotic sports car, and as the rest of the auto industry has shown, electric is now here to stay. They hope to begin production in Japan soon, but there's obviously no word on a timeline for release or pricing.
SOURCE: GLM