New Tesla Model S P100D Ludicrous hits 0-60 in 2.5s
Tesla has taken the wraps off its fastest electric car yet, the new Tesla Model S P100D, capable of hitting 0-60 mph in 2.5 seconds and only bested by Ferrari and Porsche's hottest models. The Model S P100D packs a 100 kWh battery, the largest Tesla has offered and, the automaker claims, offering the longest range of any production electric vehicle.
In fact, Tesla says, the new Model S will do up to 315 miles on the EPA cycle (or 613 km on the EU cycle), its first car to exceed the 300 mile mark.
"The difficulty of increasing the energy in the pack is truly non-linear with increasing the energy," Tesla CEO Elon Musk said of the new battery. "Although it may be a 11- or 12-percent increase in capacity, it's really been a 50-percent increase in difficulty."
With the Ludicrous mode turned on, of course, the EV's real purpose is ridiculous levels of face-warping speed. As well as the 2.5 second 0-60 time, it'll do 0-100 kph in just 2.8 seconds.
That puts the Model S P100D in the top three when it comes to the world's fastest accelerating production cars, beat only by the LaFerrari and Porsche's 918 Spyder.
Still, Tesla points out, both of those cars demanded some sacrifices in order to hit those speeds. For a start they're both just two seaters, though more frustrating to well-heeled drivers with a taste for speed, they were limited-production runs that are no longer available new.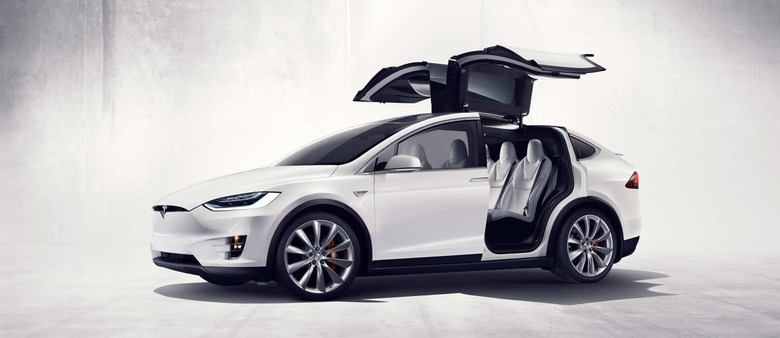 In contrast, Tesla will offer the P100D with Ludicrous mode as an option for both the Model S and the Model X SUV. Performance figures for the latter aren't quite as ridiculous, but only by a fraction: in fact, it'll do the 0-60 mph dash in 2.9 seconds, or all the way to 100 kph in 3.1 seconds.
"I think people will increasingly look at gasoline cars the same way they look at steam trains," Musk suggested. "They're quaint, but they're really not how they get around."
As you might expect, none of this comes especially cheap – though, again, if you're contrasting with a Ferrari or a Porsche, the Tesla starts to look positively affordable.
The Model S P100D with Ludicrous mode will start out at $134,500. Those who already have an order in – but haven't taken delivery of – a P90D Ludicrous will be able to upgrade for an extra $10k; if you've got a P90D Ludicrous in your garage already, Tesla will charge $20k to upgrade it to the 100 kWh battery pack.
The significant difference, Tesla says, is because the 90 kWh battery in the old car will have to be recycled. Since it's a completely different battery, Tesla can't just unlock the extra capacity with a software update as it does with more affordable models. There are also some modifications to the seats to maintain side-impact protection, since the P100D is slightly heavier, as well as to the wiring loom
All "performance builds" of the Model S – namely the P100D w/ Ludicrous, P90D w/ Ludicrous, P90D w/out Ludicrous – will also now get Tesla's Premium Seats as standard. "There's not really a material effect on charge time," Musk says, "if you're Supercharging."
As for the Model X P100D, that'll start out at $135,500. It'll have the same $10k/$20k upgrade options for those with a Model X P90D on order or already delivered.
Production, Musk says, is limited due to the complexity of the new batteries. "We think we can do about 200 packs a week right now," he says "and we're working very hard to ramp that up as quickly as possible."
"This is not the biggest pack we'll ever make – we can make bigger packs," Musk explained. "This was constrained to make three digits in the kilowatt levels but without fundamental improvements in the cell chemistry. But there will be cell chemistry improvements in future."
However, the engineer suggested, the theoretical limit with current cell geometry and cell chemistry is close at hand.
Orders for the P100D cars are being taken from today, with deliveries expected to kick off from next month. Those waiting for Tesla's more affordable car, the Model 3, do have something to be pleased about today, Musk insists, even if they can't necessarily afford this new model.
"This is an expensive car," Musk says, "but it's very important to bear in mind that it's paying for the Model 3, both in terms of pre-cash flow and in learning more about the core technology."
Still, those with non-Performance cars, or thinking of buying one, shouldn't expect the biggest battery any time soon. "I think it'll probably be several months before we can offer the 100 kW pack to non-Performance customers," Musk warns, saying that Tesla is waiting to make sure it can scale up production safely and cost-effectively. All the same, those buying a car between now and when that point arrives will be able to upgrade, Tesla commits.
[Updated to clarify 0-100 kph times]
MORE Tesla