Facebook just gave everyone at F8 this 360-degree camera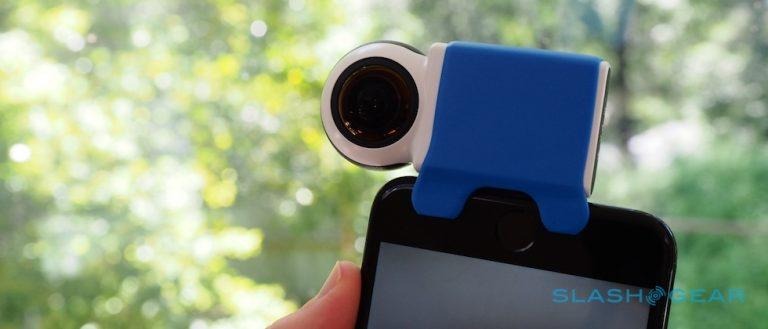 You can tell a lot about a company's intentions by the things it pushes on developers, and Facebook is clearly looking into 360-degree video in a big way judging by its F8 2017 giveaway. The social network has handed every dev in attendance a Giroptic iO, a 360-degree camera that clips to a smartphone or tablet. With it, you can either snap circular photos or record video, or live-stream on Facebook Live.
The iO launched at the end of last year, and it doesn't just count Facebook Live support for its streaming options. There's also YouTube Live support and Periscope, in fact. Whichever you choose, the process is simple.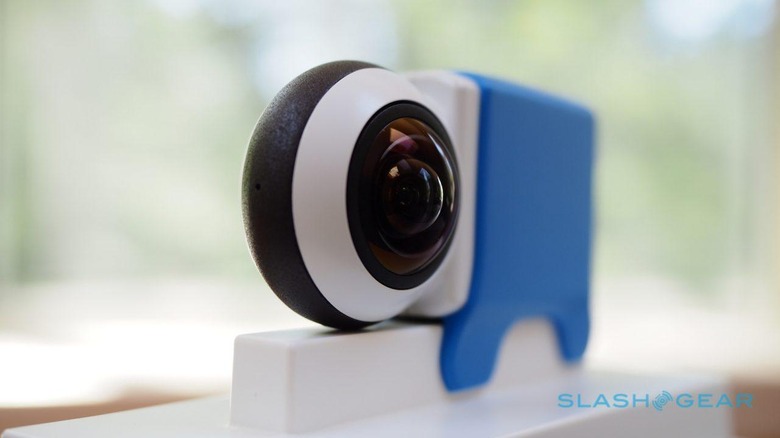 It's a small, 70g gizmo, which measures 2.9 inches long and 1.4 inches wide. There's an f/1.8 lens with a 195-degree fisheye on each side, along with a 10-44 kHz microphone for each too. It'll capture 3840 x 1920 still images in JPEG format, or 1920 x 960 @ 30fps video in MP4/H.264 format.
Unexpectedly, though it needs to be physically connected to a smartphone in order to work – unlike, say, Samsung's latest Gear 360, which has a standalone mode – Giroptic has included a battery. It's only a small one, at 915 mAh, though it's enough to make sure extended sessions don't entirely chew through your phone or tablet's battery. Unexpectedly, the guide-arms on the side are wide enough that I could clip it to an iPhone 7 Plus even with Apple's leather case on.
Giroptic actually announced Android compatibility with the iO today, with two new versions of the camera. One has microUSB for older Android devices, while the other has USB Type-C for newer models. Unfortunately, Facebook didn't have any of the USB-C version on-hand for me to try with the Galaxy S8.
All the same, the experience should be pretty much identical no matter the platform. Giroptic's app boots straight into the camera preview, and with a tap you can be recording video. Tapping the icons along the bottom takes you to the still image capture screen or to the live-streaming interface.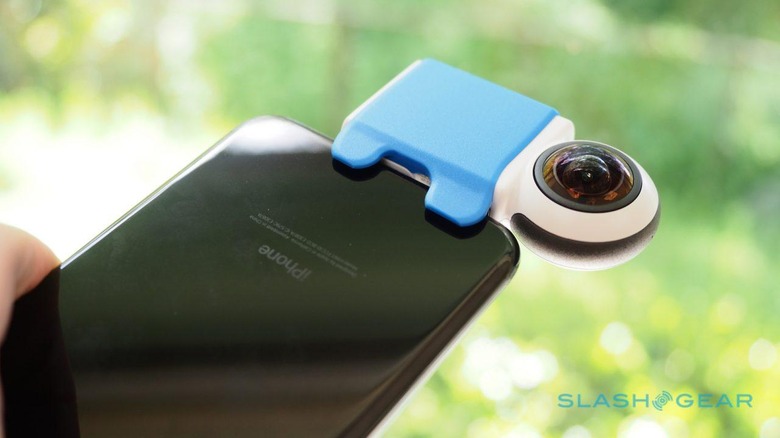 With the latter, you're asked to login to Facebook, YouTube, or Periscope. Alternatively, you can set up your own custom streaming server: you'll need to know the server URL, port, and stream name, plus a username and password if applicable. It won't be something most will use, but it's an added flexibility that most 360-degree cameras don't supply.
Photography – and VR photography – has been a big feature of F8 2017 this week. Facebook kicked things off by announcing new additions to its camera API and a push into augmented reality, with CEO Mark Zuckerberg suggesting that "today we're making the camera the first augmented reality platform." Eventually, Facebook wants to offer advanced AR features like SLAM, object recognition, and more to developers in a simple format, though they'll all be down the line.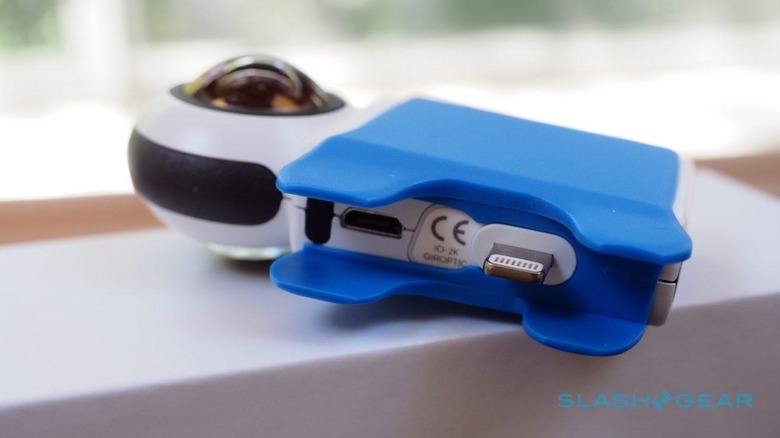 That AR announcement was swiftly followed by the launch of Facebook Spaces, a virtual reality social playground for Oculus VR. It was on day two, though, when Facebook's real camera push became clear. Yes, it had two new professional 360-degree cameras – the x24 and x6 Surround Facebook 360 – targeted at filmmakers, but it was also hoping to capitalize on low-cost 360 cameras like the iO.
Blended with artificial intelligence that's able to make 3D scenes out of still images, and offload the heavy lifting for computational photography from smartphones to the cloud (and its now open-source Caffe2), it's clear that Facebook is betting the farm on tomorrow's social taking place just as much virtually as it does in person. Getting developers going with an affordable 360 camera like the Giroptic iO seems like a sensible way to stoke that fire.
If you want to try yourself, meanwhile, the Giroptic iO for both iOS devices and Android phones is available now, priced at $249.