Galaxy S III carrier enthusiasm grows as O2 jumps onboard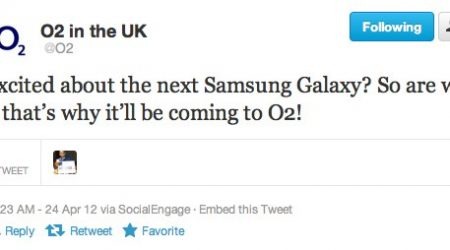 Where one carrier goes, others must follow: after Vodafone UK's confirmation yesterday that it would offer the "next Galaxy" – aka the Samsung Galaxy S III - now arch-rival O2 has joined the club. "Excited about the next Samsung Galaxy?" O2 took to Twitter to rhetorically ask, "So are we – that's why it'll be coming to O2!"
The confirmation comes as little surprise, given the amount riding on the new Samsung flagship. Both of its predecessors – the original Galaxy S and the Galaxy S II - were best-sellers for the Korean firm, and the GSII continues to see strong sales until today.
That consumer interest means the stakes are high for the Galaxy S III, too, and from the latest batch of rumors Samsung is leaving little to chance. Although some have described the new handset as an "incremental" upgrade, if the leaks pan out it should nonetheless prove to be a tempting one: a roughly 4.7-inch Super AMOLED Plus display, with a 12-megapixel camera and 1.4GHz quadcore processor. Graphics are also tipped to be a speciality, with an overclocked 400MHz ARM Mali-400 GPU that has already produced some impressive benchmark numbers.
Samsung hasn't been able to leave the hype machine alone either, pushing out a new teaser video yesterday that stoked controversy by including a sly dig at iPhone users.
We're now expecting the remaining UK carriers – the Everything Everywhere duo of Orange and T-Mobile UK, along with Three – to jump on board and confirm they'll be offering the next Galaxy too. What none of them can tell us is what we really want to know: when the third-gen smartphone will actually go on sale. For that, we'll have to wait until May 3 and the official Samsung event.