Galaxy Note 8 Sale Uber Alles OR Why I'll wait for iPhone X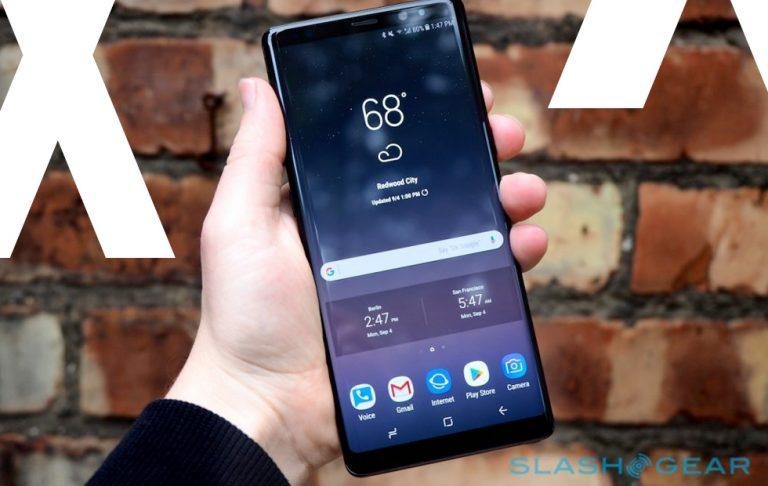 Both Samsung and Apple have new smartphones out for sale today, and I've got some opinions about which one I'd choose. If I wanted to pay the smallest amount of money for a top-notch 2017 smartphone (not considering the Google Pixel), I'd have to go with the iPhone 8, which is around $700, on pre-order starting today. If I wanted the most impressive hero phone this year and I needed to order right this minute, I'd choose the Galaxy Note 8.
Galaxy Note 8
To give you an idea of what the Galaxy Note 8 can do, we've released a massive Galaxy Note 8 review (linked to the side of this paragraph). There we've got all the judgement you'll need for a device that's easily the most excellent Android smartphone available for sale today – and arguably the most powerful smartphone on earth. This device is also the best-selling Galaxy Note in the Note lineup so far, out-pre-selling all previous models.
SEE: Our big giant Galaxy Note 8 Review
The Galaxy Note 8 has a 6.2-inch display (larger than the iPhone X at 5.8-inches of display and the iPhone 8 Plus with 5.5-inches of display). The Galaxy Note 8 has a 2960 x 1440 pixel OLED display which spills over the sides of both the left and the right of the phone – this is called Samsung's "Infinity Display". This phone comes with 64GB of internal storage and a microSD card slot that can expand internal storage by 256GB.
The Galaxy Note 8 has Fast Charging, Wireless Charging, and its own headphone jack. Inside is a Qualcomm Snapdragon 835 processor with an Adreno 540 GPU. This smartphone comes with IP68 rated waterproofing – so you can dunk it just fine.
The Galaxy Note 8's starting price is $929 – depending entirely on where you buy your device from. Have a peek at our full carrier guide for Note 8 to see which carrier has the best deals. Note that we're at the availability stage for Note 8, not just pre-order. You can probably go in to a Best Buy or other Samsung-holding outlet (or carrier) and see the device in-person right about now.
iPhone 8
Unless you feel that the $999 pricing of the iPhone X is too much to spend on a smartphone, I'd skip the iPhone 8 entirely. The iPhone X goes on pre-sale on the 27th of October, and it'll be difficult but probably not impossible to find so long as you're quick on the buy button online. Don't place too much faith in the idea that your local Apple Store will have an iPhone X available for purchase on day one.
SEE IT: iPhone 8 hands-on: not quite X, better than 7s
Meanwhile, if the iPhone X isn't your speed, know this: there's one whole heck of a lot of options at Apple now if you need an iPhone. Included amongst their currently for-sale ranks are:
• iPhone 8 (pre-order only)
• iPhone 8 Plus (pre-order only)
• iPhone 7
• iPhone 7 Plus
• iPhone 6s
• iPhone 6s Plus
• iPhone SE
The iPhone 7, 6s, and SE have not been given any sort of update – they're the same devices they were before this most recent Apple Event. The only difference now is that they're all significantly cheaper than the iPhone 8. If you want the best camera in an iPhone in stores right this minute, go for the iPhone 7 Plus. If you want the most basic (and cheapest) iPhone you can buy, go for the iPhone SE.
I recommend the iPhone 8 or iPhone 8 Plus only to those users that are due for an upgrade but don't want to move to the Face ID and full-frontal-display universe of the iPhone X. The iPhone 8 Plus and iPhone 8 are the same as their predecessors but for the additions of True Tone technology in the display, wireless charging, and a new processor.
iPhone X
If you want to future-proof yourself as best as possible, the iPhone 8, iPhone 8 Plus, and iPhone X are all here for you. They all have the same processor and the same back-facing cameras. The big difference in cameras between the X and 8 comes in the front-facing camera.
BEHOLD: iPhone X hands-on: Apple's OLED Flagship Up Close
The front-facing camera – and array of sensors – is where the iPhone X really shines. Besides its display, of course. The collection of sensors and camera power up front of this device are so important to Apple, they let it all hang out with "the notch" (as we call it).
In the long run, the iPhone X is going to prove the best for Apple fans that want to experience everything Apple's best hardware and software engineers have to offer. Until the iPad X is released – that'll be the one I'm looking for. GIVE IT TO ME NOW!
See our iPhone X hands-on and stick around as we bring you reviews of the iPhone 8, iPhone 8 Plus, and iPhone X as well!