Galaxy Gear's Snapchat Micro amongst 70 smartwatch apps launching this month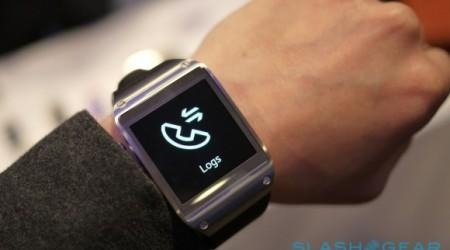 The Samsung Galaxy Gear smartwatch is set for release this summer, and with it a collection of apps like Snapchat Micro. The team behind Snapchat have announced at Techcrunch Disrupt that they will be amongst the 70 apps claimed to be prepared for the Galaxy Gear at its launch. This app is currently being called "an experiment" by Snapchat founder Evan Spiegel, suggesting that this is only the newest in a line of ways the company is seeking to "reduce the time between our experience of a moment and our ability to share it."
The Samsung Galaxy Gear works with a single 1.4-megapixel camera set on the strap, allowing it to point forward if you hold the watch up in front of you. With the Galaxy Gear, you're limited to 10-second videos, each of them 720p – here appearing custom-fit for the Snapchat app setup. Snapchat Micro, for its part, will be released to the Samsung Galaxy Gear first.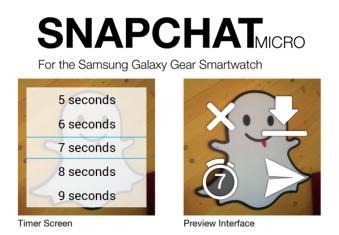 The developers behind Snapchat have not yet specified its requirements – it'd be a good bet that the app will be expanded in compatibility with devices as the smartwatch device wave continues to roll in. You'll also see some competition in the Sony Smartwatch 2.0, the Omate TrueSmart, and whatever Google eventually whips up with their acquisition of WIMM Labs. Meanwhile the Samsung Galaxy Gear itself is set to be the first in a family of similar devices coming from Samsung in the future.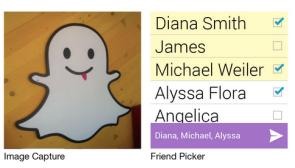 A few more of the 70 apps Samsung suggests the Galaxy Gear will be launching with:
• Pocket
• Evernote
• Line
• Path
• Glimpse
• Banjo
• eBay
• RunKeeper
• Atooma
• Tripit
• Vivino Wine Scanner
• MyFitnessPal
• Samsung S Voice
The Snapchat Micro app will connect instantly with your standard Snapchat account and will work with what appears (here in preview mode) to be the same set of options and features as the full-sized app. Snapchat Micro is just one of a collection of apps that'll make the Samsung Galaxy Gear a device to be reckoned with when it's launched on the 25th of September alongside the Galaxy Note III – its power comes in a major way from the obvious support it has from the developer community. If you've got apps, you're in business!
VIA: Snapchat; TechCrunch