Firefox 3.5 Released: Faster JavaScript, Location-Aware, New Privacy Features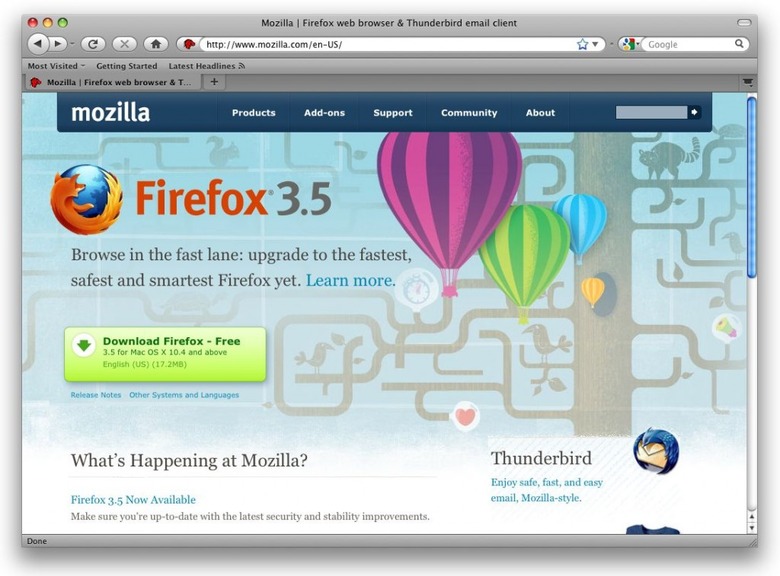 The browser cycle continues, with Mozilla next to announce an update of their open-source app.  Firefox 3.5 brings with it the new TraceMonkey JavaScript engine, said to be more than twice as fast as in v3.0 and ten times faster than Firefox 2, together with native integration of Ogg Theora video, and Location Aware Browsing.
Video overview after the cut 
There are also new privacy controls, including a "private browsing" mode that keeps no history, together with a "Forget this Site" feature that clears all the temporary files, passwords, stored logins and similar from a particular domain.  Location Aware Browsing allows sites to store a user's physical position, which they can then use to call up nearby POIs and mapping data. 
The browser market has hotted up in recent months, with Microsoft releasing Internet Explorer 8, Google's Chrome seeing several updates and Apple debuting a new version of Safari at WWDC 2009 earlier this month; Opera also launched a new version of their own browser, complete with media sharing functionality.  Firefox 3.5 is a free download from www.getfirefox.com. 
Press Release:
Mozilla Advances the Web with Firefox 3.5

Major update to browser delivers significant performance improvements, privacy enhancements, support for new Web standards, and greater customization options

MOUNTAIN VIEW, CALIF. – June 30, 2009 – Mozilla, a public-benefit organization dedicated to promoting choice and innovation on the Internet, today released Firefox® 3.5, a major update to its popular, free and open source Web browser. Coming one year after the launch of the critically acclaimed Firefox 3, Firefox 3.5 introduces cutting-edge features, as well as new support for a wide variety of Web standards.

Firefox 3.5 is the best performing browser Mozilla has ever released and delivers radically improved JavaScript performance, a new Private Browsing mode, native support for open video and audio, and Location Aware Browsing. The newest version of Firefox is more than two times faster than Firefox 3 and ten times faster than Firefox 2 on complex websites. With extensive under the hood work to support new technologies, Firefox 3.5 is the most powerful and complete modern browser and helps upgrade the Web experience.

Firefox 3.5 was built through Mozilla's global, open source development process. The Mozilla community comprises thousands of passionate contributors, including experienced developers, security experts, localization and support communities in more than 60 countries, and tens of thousands of active testers. With more than 300 million active users, Firefox is the only popular Web browser created by a non-profit organization.

"So much is happening on the Web right now, it's a great time for browsers. Firefox 3.5 brings together the most innovative Web technologies and delivers them in the most complete and powerful modern browser," said John Lilly, CEO, Mozilla.

What's New in Firefox 3.5:

Firefox 3.5 makes surfing the Web easier and more enjoyable with exciting new features and platform updates that allow Web developers to create the next generation of Web content. Native support for open video and audio, private browsing, and support for the newest Web technologies will enable richer, more interactive online experiences.

Performance. Firefox 3.5 includes the powerful new TraceMonkey JavaScript engine, which delivers unprecedented performance with today's complex Web applications. Firefox 3.5 is more than two times faster than Firefox 3 and ten times faster than Firefox 2.

Open Video and Audio. Enjoy video and audio content from within your browser, without the need for plugins. Video is a vital part of the modern Web, whether it's used to communicate, educate, or entertain. Firefox 3.5 delivers the first native integration of audio and video directly into the browser. Now everyone can easily watch open format Ogg Theora videos.

Web developers can use these technologies to design pages that interact with video content in new and exciting ways, offering richer interactive experiences beyond controlling playback and volume.

Privacy Controls. Firefox 3.5 includes features designed to protect your privacy online and provide greater control over your personal data.

While using the new Private Browsing mode in Firefox 3.5, nothing you encounter on the Web will be stored from that moment on during your browsing session. Unique to Firefox 3.5, the new Forget this Site feature can remove every trace of a site from your browser. If you want to remove all private data or activity from the past few hours, Clear Recent History, another Firefox-only feature, gives you full control over what stays and what goes.

Location Aware Browsing. Location Aware Browsing saves you time by allowing websites to ask you where you are located. If you choose to share your location with a website, it can use that information to find nearby points of interest and return additional, useful data like maps of your area. It's all optional – Firefox doesn't share your location without your permission.

How to get Mozilla Firefox 3.5:

Mozilla Firefox 3.5 is available now for Windows, Linux, and Mac OS X operating systems as a free download from http://www.getfirefox.com. It is also available in more than 70 languages at: http://www.mozilla.com/en-US/firefox/all.html.