Opera Unite Browser Offers Cloud-Based File, Media Sharing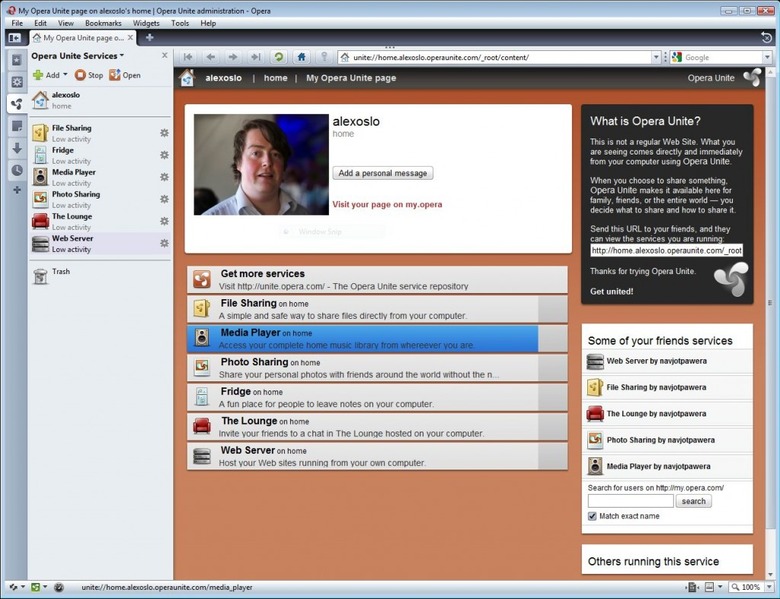 After Apple made such bold claims about Safari 4 during their WWDC keynote last week, it was only a matter of time until another browser company came along and claimed to "reinvent the web".  Opera have done just that with Opera Unite, a cloud-based system integrated with the company's browser, that synchronizes user data – including files, music, photos and notes – and makes it available to any internet-connected browser.
Video demo after the cut 
Once set up, the free Opera Unite service gives you a unique URL which you can use to access files as well as stream music and view photo galleries.  There's also an IM chat service, called Lounge, which has its own private address which you can share with friends and family.  The online interface allows you to make certain folders and files public. 
That's all available through any browser; if your friends or colleagues are also using Opera Unite, you're able to post virtual notes on their systems.  Opera Unite can also work as a mini server, offering up content from your home PC, Mac or Linux/Unix system.
Opera Unite is a free download
Press Release:
Opera Unite reinvents the Web

Cloud computing and Web-based applications will never be the same

June 16, 2009 — Oslo, Norway

Opera today unveiled Opera Unite, a new technology that shakes up the old client-server computing model of the Web. Opera Unite turns any computer into both a client and a server, allowing it to interact with and serve content to other computers directly across the Web, without the need for third-party servers.

Opera Unite makes serving data as simple and easy as browsing the Web. For consumers, Opera Unite services give greater control of private data and make it easy to share data with any device equipped with a modern Web browser.

For Web developers, Opera Unite services are based on the same open Web standards as Web sites today. This dramatically simplifies the complexity of authoring cutting-edge Web services. With Opera Unite, creating a full Web service is now as easy as coding a Web page.

Opera Unite is available in a special version of the Opera 10 desktop browser from Opera Labs. Opera Unite services run directly in the browser.

It is easy to use Opera Unite

Download the Opera Unite build from http://labs.opera.com/.

To start Opera Unite, click the Opera Unite logo in the lower left-hand corner of the browser and log in with your existing Opera ID — the same Opera ID used for other Opera services such as My Opera and Opera Link. Opera Unite will prompt you to register an Opera ID if you do not have one.

Now you are ready to use Opera Unite. Simply access your Opera Unite services from the Opera Unite panel of the browser. New services can be installed from http://unite.opera.com/.

Running a service will give you a direct Web address to the Opera Unite service on your device, for example: http://notebook.jondoe.operaunite.com/photo_sharing/, where "notebook" is the name of the local device serving content, "jondoe" is your username, and "photo_sharing" is the Web service being accessed. That link will also allow others to access the same Web service from your computer through their Web browser.

You may also see which friends are using Opera Unite services on your My Opera Unite home page.

Current Opera Unite services are as follows:

File Sharing

Securely share a file from your personal computer without waiting to upload it. First select the folder from which you would like to share files. Opera Unite then generates a direct URL to that folder. By giving that link to your friends, you can share files without routing through a third-party Web service.

Web Server

Run entire Web sites from your local computer with the Opera Unite Web Server. After selecting the folder containing your Web site, you can share and host it from the given Opera Unite URL. Opera Unite will automatically recognize index files and create the Web site as you designed it.

Media Player

Rock out wherever you are by accessing your MP3s and playlists from any machine. After selecting the folder containing your playlist, use the Opera Unite direct link to play your tracks directly in any modern Web browser.

Photo Sharing

Share your photos direct from your PC, without uploading them online. Once you select your photo folder, the photo-sharing service will create a thumbnail image gallery of your photos. Clicking the thumbnail will present the photo in its original resolution.

The Lounge

The Lounge is a self-contained chat service running on your computer. Your friends can access the chat room via the direct link, which will not require them to sign into any service. Depending on your privacy settings, you need only provide the generated password to your service in order for people to log in to your chatroom.

Fridge

Post a note on your friends' virtual refrigerators. By sharing the direct link to your refrigerator, you and your friends, family or colleagues can exchange notes securely and privately in real time.

These six services represent the beginning of what is possible. Web developers can unleash their creativity to design unique Web services and, in doing so, unlock the full potential of Opera Unite.

What our CEO says

"Today, we are opening the full potential of the Web for everyone," said Jon von Tetzchner, CEO, Opera. "Technology moves in distinct cycles. PCs decentralized computing away from large mainframes. Opera Unite now decentralizes and democratizes the cloud. With server capability in the browser, Web developers can create Web applications with profound ease. Consumers have the flexibility to choose private and efficient ways of sharing information. We believe Opera Unite is one of our most significant innovations yet, because it changes forever the fundamental fabric of the Web."

One Web developer to another

"What interests me about Opera Unite is how current technology and the social world are now interconnected," said Molly E. Holzschlag, Web evangelist, Opera. "Using open standards including HTML, CSS and JavaScript, developers and even enthusiasts with a little standards savvy can make their own Opera Unite service. Opera Unite allows people the ability to be imaginative with their skills and create a wide range of technical and social applications using the same open standards used today."

Make your own Opera Unite service

An introduction to Opera Unite

Opera Unite developer's primer

Markuper — The Opera Unite service template library

When you have finished your new Opera Unite service, just upload it to http://unite.opera.com/ and share it with the world.