Internet Explorer 8 official release today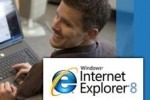 Internet Explorer 8 will finally see its public release today, as Microsoft roll out the new version of the browser from 12pm EDT.  After several months of public testing, IE8 will bring faster browsing – almost 50-percent on some sites compared to other software, claim Microsoft – together with new usability shortcuts called "accelerators", such as a right-click to search or map feature.
Elsewhere, Microsoft has apparently concentrated on security, with IE8 reportedly blocking between two and four times as much malware as its rivals, and privacy.  A new "InPrivate" mode provides an anonymous browsing option.
Apple announced Safari 4 for Mac and PC back in February, which made significant performance claims about its JavaScript engine versus that in IE8.  More recently, Google released a new Chrome beta that is more speedy than their current mainstream release.