Google Chrome v2 released: faster, more stable, new features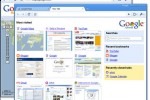 Google
the latest version of their Chrome browser, v2, including stable builds of the new features added
.  Among the
are a full-screen mode – triggered by hitting F11 - and a form autofill tool, which remembers common details such as name, address and phone number and automatically populates those fields in online shopping sites and registration forms.
Video overview of Google Chrome v2 after the cut
There's also extra control over which thumbnails appear on the Chrome tab page, giving users the ability to delete sites from that display if they'd rather not have record of them.  Meanwhile, under the hood there's increased stability – apparently in excess of 300 bugs have been vanquished since Chrome's launch – and increased speed.
That speed boost comes courtesy of a new version of WebKit and an update to the JavaScript engine, V8.  The latter ensures that Chrome still moves speedily even with multiple JavaScript pages open.  Chrome v2 is a free download from
; existing users will be automatically upgraded.