The crossover Ferrari said it would never build is happening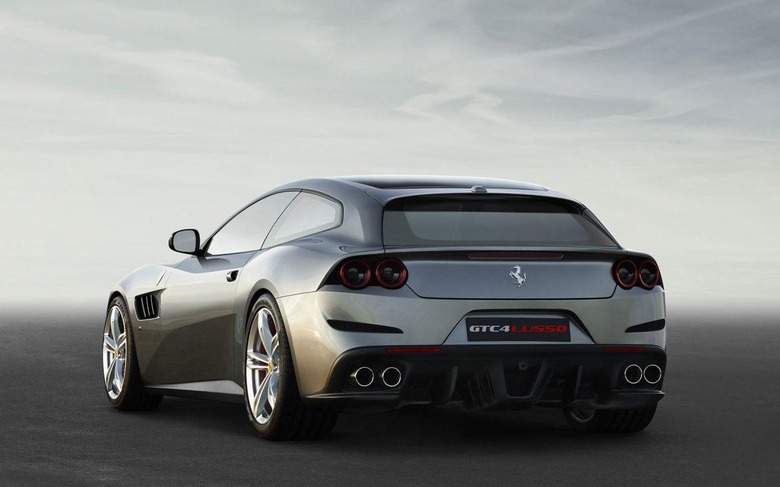 Ferrari may be the last automaker you'd think of making an SUV, but the siren call of cold hard cash may have coaxed a prancing horse onto the nose of a crossover. Speculation that the Italian automaker may embrace the best-selling category has persisted over the past few years, as Ferrari rivals gradually gave up on their objections. Now, with the Porsche Cayenne a legitimate hit, and Lamborghini's Urus on the roadmap, Ferrari may finally be thawing.
According to UK magazine CAR, the plan is to create a Ferrari crossover. Currently codenamed F16X, it'll apparently be built alongside the new GTC4 shooting brake. The current version of that car is Ferrari's most practical car of the moment, with its unusual design accommodating four seats and some degree of trunk space.
In contrast, the F16X is expected to have rear doors for easier access to the back seats, while a more crossover-like roofline will make those seats a little more practical for passengers larger than children. Interestingly, the back doors will also be rear-hinged, also aiding access to the cabin, since Ferrari will be able to do away with a B-pillar. It's unclear at this stage whether the crossover will seat four or five.
As for the architecture, expect aluminum and standard all-wheel drive. Under the hood will either be a V8 gas engine or a hybrid gas-electric system. According to CAR's sources, the price tag will be somewhere north of €300,000, or $340k+.
That healthy sticker goes a long way to explain Ferrari's motivations, of course. Though the company has insisted for some time that it has no plans to join its competitors in the SUV space, the lure of the dollar (or euro) is a considerable one, not least now that the marque is going it alone out from under the auspices of Fiat Chrysler Automobiles. Ferrari had previously said it plans to increase its sales to 9,000 cars by 2019, but the expectation is that the addition of the F16X crossover could see that climb to more like 16,000 vehicles early in the next decade.
Still, if the idea of a more practical Ferrari appeals, you'll have some time to save up. The F16X – or whatever the production version of the work-in-progress ends up being called – isn't expected to reach dealer forecourts until 2021 at the earliest.