Elon Musk to talk self-driving cars and deep learning at GTC 2015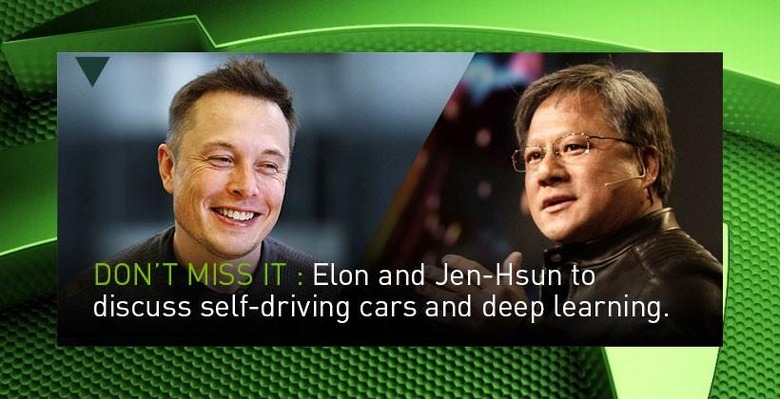 The GPU Technology Conference (GTC) this year will host Elon Musk, founder and CEO of the Tesla Motor company, speaking with NVIDIA CEO Jen-Hsun Huang. This event will be a headliner for GTC 2015, bringing heat with Tesla Motors product architect speaking about "how more intelligent cars promise to transform the automotive industry." This alongside GTC's focus on the "growing revolution in deep learning that can affect every aspect of computing" promises to deliver a whopper of a show – and we'll be there to bring it to you straight from San Francisco.
This chat should be an interesting one given NVIDIA's content at last year's GTC. Back then it was an Audi Connect car and NVIDIA infotainment system we got to see up close and personal. We also test-drove the 2015 Audi A3 later in the year – that vehicle worked with Audi's 2015 iteration of MMI powered by NVIDIA processors.
GTC will also be bringing on presentations like "The Brain of Piloted Driving at Audi". That session will be brought to you by Matthias Rudolph, Head of Architecture Driver Assistance Systems, Audi AG.
Above you'll see our recent test-drive with the Tesla Model S P85D AWD and auto-pilot. It's wicked-fast.
Another session will be "BMW Automotive Research in Silicon Valley" as hosted by Uwe Higgen, BMW Group Technology Office USA.
Of course there'll be some strange or otherwise super-interesting oddities like "Pimp My Ride: How to Mod Cars with Tegra" as hosted by Dave Anderson, Sr. Automotive Solutions Architect, NVIDIA.
Above you'll see our hands-on with the Renovo Coupe EV with NVIDIA Tegra X1 digital cockpit. This was captured at CES 2015.
Automotive will be just one of a wide variety of topics up for chatter at this year's GTC. There'll be everything from Web Acceleration to Computer Vision. Augmented & Virtual Reality to Game Development.
GTC 2015 takes place March 17th through the 20th – we'll be there all week! Follow GTC in our brand new GTC 2015 tag portal for more!