2015 Audi A3 First Drive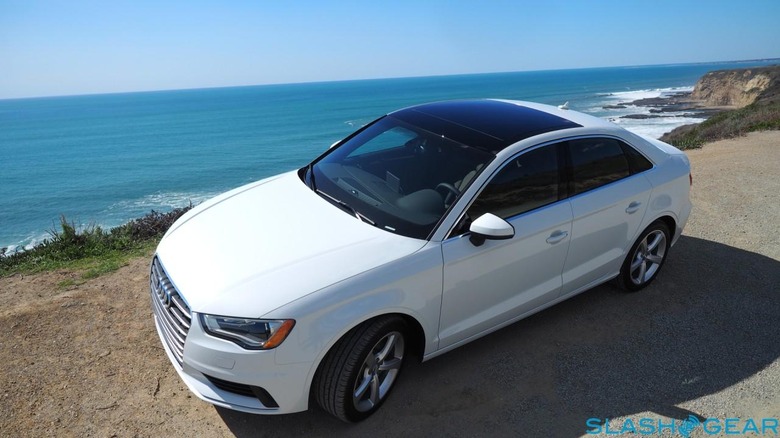 No chances are being taken with the 2015 Audi A3. While the outgoing model never quite achieved the same cachet in the US as it did in Europe in five-door hatchback form, the new car targets the US from the outset with an A3 Sedan leading the charge. Starting just under $29,900 but promising Teutonic refinement – and a typically lengthy options list, including what may be the best infotainment system we've used so far – the A3 aims to follow in the footsteps of its well-received bigger siblings, not to mention return fire against other recent entrants in the premium C-segment niche. Read on for our first drive report.
Design
The 2015 A3's most obvious competitor may be Mercedes-Benz's CLA, but the two German companies have taken very different approaches in design. Where the CLA clearly plays the fashion card, the A3 is more restrained, akin to a distilled-down A4 with a smaller footprint. In fact, it's almost 10-inches shorter than the A4.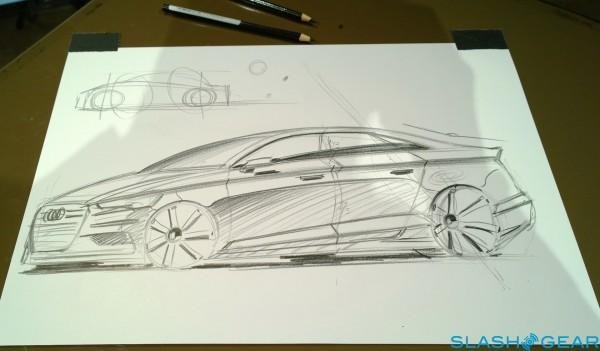 We'll confess to missing some of the more dramatic styling flourishes of the A5, though there's certainly room for that in Audi's expansive plans for the A3 range. Although the sedan will launch first, Audi will also offer an A3 Cabriolet, an S3 sports version, a five-door A3 hatch, and from 2015 the A3 Sportback e-tron hybrid which pairs a gas engine with electric motors.
At the start, though, it's a relatively sober sedan, which Audi says is just what the American audience likes. It's a handsome car, with a dominant Singleframe grille flanked by glaring Bi-Xenon headlamps (LED lamps are an option) and a stance that, helped by the simple design of the standard 17-inch alloy wheels (18- and 19-inches optional) and the angular trunk, leaves the A3 looking solid and sturdy overall.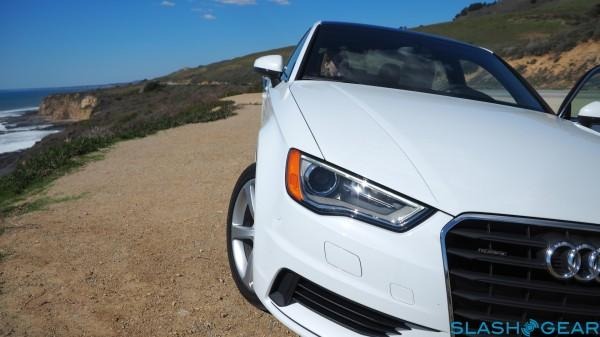 Audi has used some strong crease lines to good effect, with a carefully arching crease running from front lamps to rear light clusters, just below the shoulder line. There's also some more pronounced surfacing along the bottom half of the doors, continuing back around to the rear bumper. It might not prove as head-turning in the parking lot, but it's a design that, as we've seen from previous Audi models, is likely to age gracefully.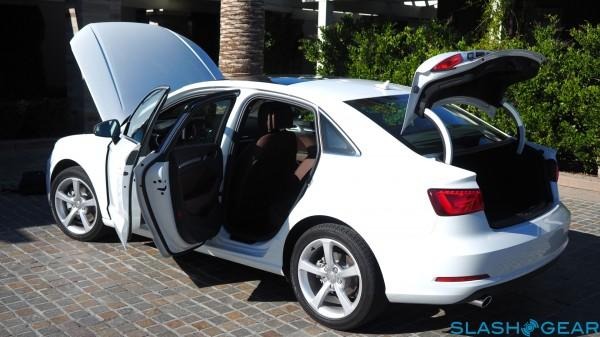 Interior
Audi's black and silver color scheme keeps the cabin feeling snug, though as the smallest sedan in the company's line-up space was always going to be limited. In the front, though, it's actually relatively airy, with the (12-way power adjusted) driver and (manual) passenger seats not only comfortable but adjusting to take even taller drivers. It's a firm, comfortable place to sit, and the touch-points are reassuringly sturdy.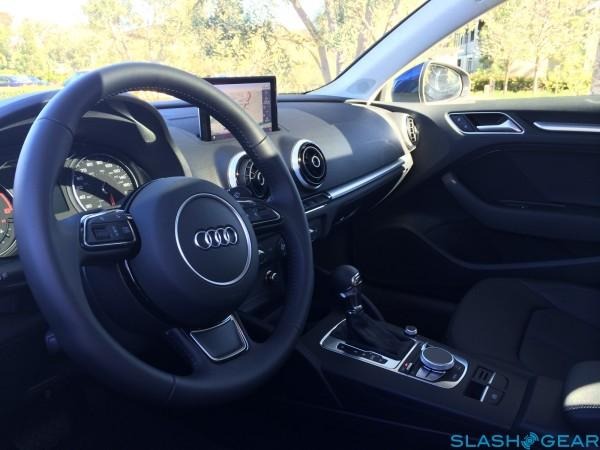 In the back, things are a little less spacious, particularly with the front seats pushed back. The sweeping roofline takes a bite out of headroom, too, leaving things uncomfortable if you're six feet or more. Officially you can seat three on the rear bench, but it's not ideal, though the seats do at least drop down to add to the 12.3 cubic feet of trunk space.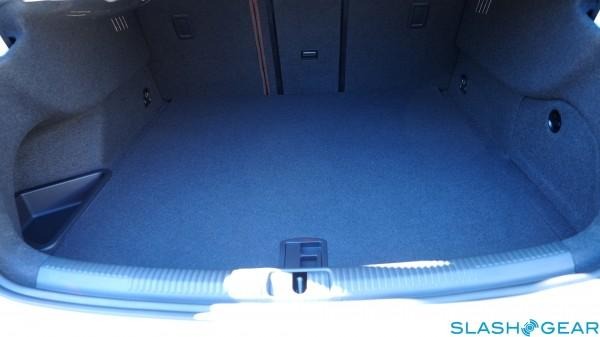 It's also worth noting that the Quattro model slims that even further, to 10 cubic feet, to accommodate the AWD system. The trunk opening is fairly wide but a little low at its upper edge, requiring some angling to get in longer cases.
At first glance, the 2015 A3 dashboard looks relatively spartan, the upper swathe of the center stack dominated by two circular air vents with burred metal surrounds, while small knobs to control the air-conditioning are underneath, separated by a narrow line of buttons.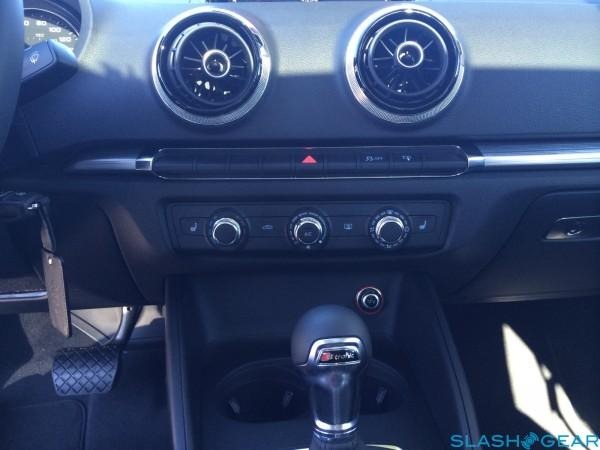 The three-spoke steering wheel gets some chunky grips as well as a spray of buttons and dials, and then there's the latest version of Audi's MMI interface down in the center console. Unlike in some high-end cars we've seen, the driver cluster predominantly uses physical dials, with a small color LCD in the center for status messages and such. Still, it's all easy to read at a glance.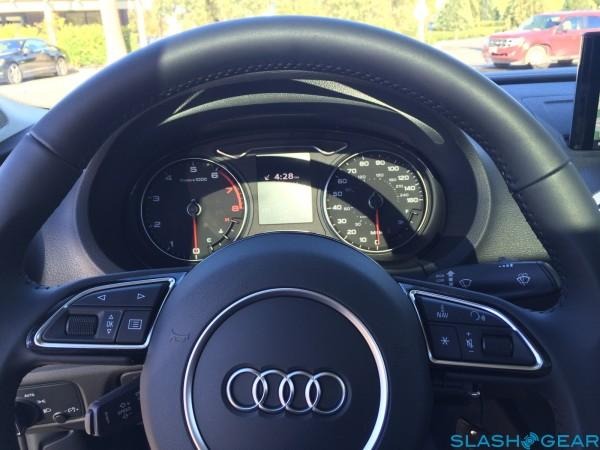 Audi MMI Infotainment
The A3 debuts Audi's latest version of MMI, with a pop-up 7-inch LCD party trick that slides smoothly up from the top of the dash. That's only if you opt for the $1,900+ MMI Navigation package, however; do without that and you get a smaller, 5.3-inch screen. Similarly automatic air-conditioning is an option; as standard it's a manual system.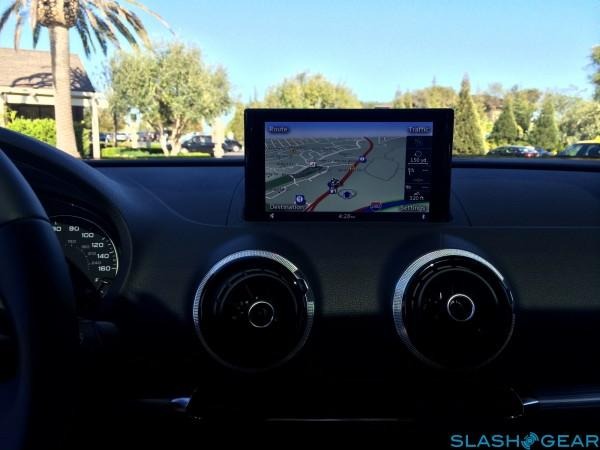 We've seen different car manufacturers try a variety of ways for controlling the growing range of infotainment features modern vehicles offer (not to mention third-party systems like Apple's CarPlay arriving later this year), but Audi's 2015 iteration of MMI is one of the best. Powered by NVIDIA's Tegra 2 chip, it also brings with it a redesigned control cluster and new interface.
The rotary MMI control wheel is now topped with a touchpad which can be used to trace out letters and numbers for alphanumeric input with a fingertip. It's surprisingly usable, and after a little acclimatization we were able to swiftly enter addresses far quicker than trying to scroll around an on-screen keyboard.
Around it, the buttons and shortcuts have been simplified, with two toggles for switching between navigation, radio, telephone, and media modes, and then dedicated Menu and Back keys. There are also four context-sensitive keys, and a dial off to the side for skipping through music.
That music can come from CD; regular FM, HD, or SiriusXM radio; or, streamed over Bluetooth from your phone. There's also an SD card reader for up to 32GB cards loaded with tracks. More interesting, however, is Audi connect – a part of the $2,600 MMI Navigation plus upgrade on the A3 Premium plus, and standard on the Prestige trim – which integrates an AT&T LTE connection for access to thousands of streaming internet radio stations.
The same connection (you get six months service included, after which it's $99 for six months or $499 for 30 months, with 5GB or 30GB of data respectively) is used for Facebook and Twitter access – either posting out preset journey-related messages, or using text-to-speech to read out recent updates from your friends and people you follow – not to mention weather updates, remotely programming navigation directions from your computer.
Arguably most impressive, though, is the Google Maps integration, complete with Street View graphics that can be stored offline to make finding a destination easier. It's also possible to use geotagged photos to set destinations, picking them through the Audi mobile app and then synchronizing them via the cloud to the A3's dashboard. That same app can be used for video calls from the A3 too.
It could be overwhelming, but Audi's straightforward interface and the smooth performance of the NVIDIA chipset keeps things easy. Google voice-recognition is also supported, which worked well both for picking music as well as voice-to-text for SMS and emails, and the general audio performance of both the standard 10-speaker Audi system, and the $850 optional Bang & Olufsen upgrade with its 705 watts spread around fourteen speakers, is more than enough to fill the A3's cabin.
Engine and Performance
Audi will offer two engine options for the 2015 A3, with the entry-level 1.8T model getting 1.8-liters and the 2.0T getting 2.0-liters, both turbocharged and with Audi's four valve per-cylinder, DOHC system. The A3 1.8T is front wheel drive, with 170 HP and 200 lb-ft of torque, and Audi claims a 0-60 mph time of 7.2 seconds to an electronically-limited top speed of 130 mph.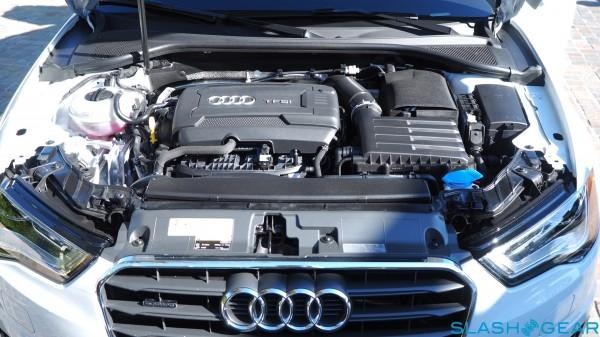 The A3 2.0T, meanwhile, uses Audi's all-wheel drive Quattro system, and gets 220 HP, 258 lb-ft of torque, and does the 0-60 mph run in 5.8 seconds on the way to the same top speed. Both route their power through a six-speed S tronic dual-clutch transmission.
That gearbox, as with others of its type, works better when you're underway than in stop-start city driving, when it can be a little jerky. Get going, however, and the polish of the mechanical clutch system shows itself, with the A3 clicking through the gears without delay. It held up nicely to some of the more tricky routes we tried the Audi out on, without the sluggishness to drop down a cog or two when you need power that some traditional automatics can suffer.
It also feels well planted, whether in FWD or AWD forms. Suspension up front is an independent MacPherson strut system with its aluminum A-arms attached to the A3's aluminum subframe; at the rear there's a four-link system with independent shocks and springs. Audi's Quattro reputation is deserved, with the 2.0T cornering like it was on sticky wheels.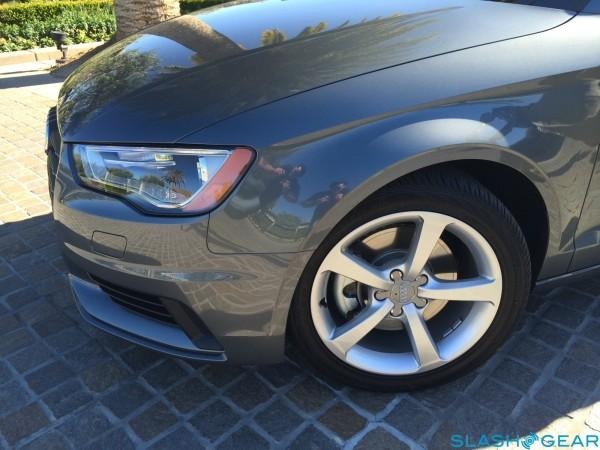 The AWD system automatically pushes power to the rear when it senses the car slipping, rather than operating all wheels all the time, but that transition proved invisible when it happened; all you notice is the car's grip going on and on.
As for the front wheel drive 1.8T, even without the Quattro cleverness it's an impressive sure-footed ride. Certainly you can provoke some understeer and a little squeal from the tires, but for the most part you have to be looking for that specifically. Drive normally, however, and in either version it has the smooth refinement of a larger car.
Wrap-Up
There's no doubting the Audi A3's refinement. Handsome – if conservative – in its design, and put together with the same consideration that Audi pays its more expensive models, it straddles neatly the line between American and European tastes.
While the starting price may be under $30k, however, that starts to climb considerably when you add in the A3's more ambitious – and appealing – extras. The new MMI system is, to our mind, a must-have, as is the integrated 4G connection and Audi connect. That adds up to $35,400 in 1.8T FWD form, or $38,400 if you want the sure-footed 2.0T AWD. Even at those prices there are still plenty of boxes left unchecked on the order form.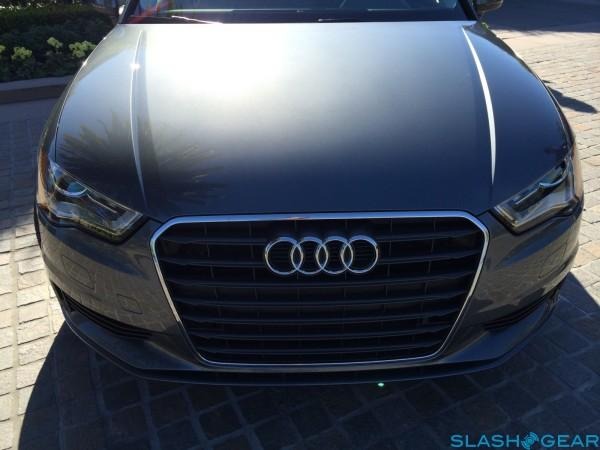 Still, the cachet of having an Audi on the driveway is always going to cost more than some of the domestic competition, and notably it's on a par with what Mercedes-Benz is asking for the CLA. The Mercedes is more striking to look at but runs the risk of dating more quickly as a result; the Audi is more discrete in its appearance, but gains longevity as a result.
It's an ambitious start to the new A3 line-up, and one which shows Audi is more than taking seriously the American market. Unless you're regularly carrying three passengers in the rear, we'd be tempted by a reasonably-specified A3 rather than a less-capable car from a segment above. Meanwhile with an A3 Cabriolet and the S3 waiting in the wings, the A3 will soon get the spicier models to match its impressive dynamics.
More automotive news, reviews, and first-drives in the SlashGear Cars Hub!