Forget CarPlay: Here's NVIDIA's plan to power your next car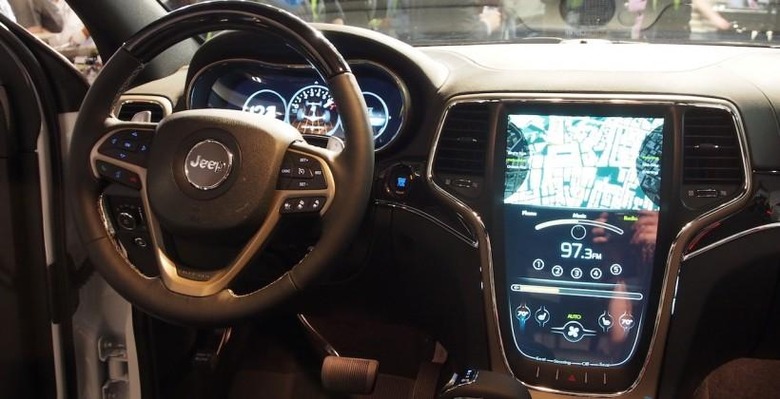 NVIDIA is no stranger to car dashboards, with the company's Tegra chips already powering Tesla's Model S infotainment and the system found in the new Audi A3, but the company has even bigger ambitions for Tegra K1. The chip company brought its Automotive team along to GTC 2014 this past week to show off the heavily-customized Jeep its been working on as a showcase for its vision of the future of mobility tech, and we grabbed some time at the helm to see how it works.
Tegra has been quietly powering infotainment systems for some time now; Tesla's EV, for instance, uses a pair of the company's chips for its touch-dominated dashboard. What the demo Jeep shows, however, is what can be achieved if both NVIDIA hardware and software is implemented.
NVIDIA took an off-the-forecourt 2014 car, cut straight into the CAN – the communications network cars use – and ditched the standard dashboard. In its place went a 3D-printed custom dashboard with a housing for a large, inverted-teardrop touchscreen in the center stack, and a lozenge-shaped display for the driver instrument binnacle.
"Tesla's all-touch approach is the direction we think dashboards will go," David Anderson, Senior Automotive Solutions Architect of NVIDIA's Automotive Business Unit told us. In the Model S, physical controls in the center console are done away with completely – you get a physical button to open the glove compartment, but that's it – in favor of a 17-inch portrait orientation capacitive touchscreen. That shows not only mapping, music, and HVAC controls, but the feed from the reversing camera and even a web browser.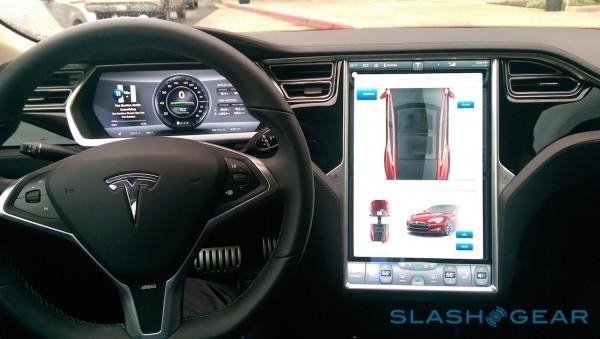 The Jeep – which Anderson describes as his "pet project" – takes inspiration from all that, though doesn't copy it. Instead, it's a showcase for what NVIDIA could do for car manufacturers hoping to abdicate a little of the responsibility to develop their own infotainment systems.
The capacitive touchscreen is split into navigation in the wider top half, while media and environmental controls are underneath. Different map views can be cycled between using on-screen buttons, ranging from a traditional overhead perspective through to a "kite" chaser view that whips through the translucent 3D buildings that punctuate the route.
In the middle portion is the media carousel, showing cover art previews that can be side-swiped between. Buttons above switch between the FM radio and the phone dialer.
Finally, at the bottom there's the HVAC section, with dual-zone air conditioning as well as heated seats and a heated steering wheel.
The high-resolution driver's display fits three circular windows that can mimic analog dials or give richer information. They're cycled between using a jog-dial on the wheel, and can show details like the immediate portion of the navigation mapping, caller ID for an incoming call, or live information on the current suspension settings.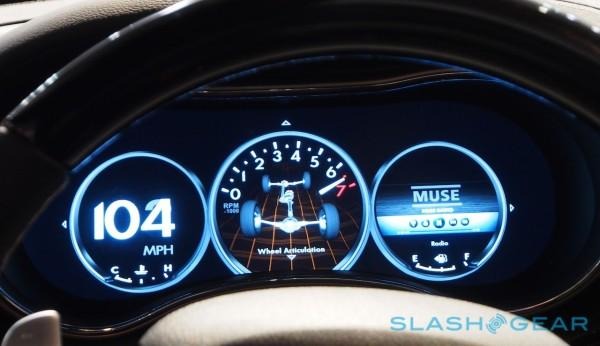 While Anderson had the car in demo mode, effectively running through what the driver might see while at the wheel, the Jeep is fully functional and road-worthy. It's also a live test-bed to show potential car company partners what NVIDIA could do to customize the interface to suit their needs and aesthetic.
For instance, the color, ornamentation, and general finish of each of the dials can easily be switched, including the virtual angle at which they face the driver. Different buttons and controls can be added or removed, or their layout quickly shifted around, depending on what features the particular model has: no more plastic blanking plates for lower-spec cars which lack, say, heated seats or a power moonroof.
It's all part of what NVIDIA calls the UI Composer Studio with Material Definition Language, effectively a toolkit for creating dashboard graphics and widgets that can run on Tegra chips like the new K1. In fact, it actually runs several different platforms, all simultaneously.
So, at the very bottom you might have BlackBerry's QNX, Anderson explained, handling the core features of the car. On top of that might be Android, for the multimedia and entertainment services – such as streaming content over in-car WiFi to a SHIELD, perhaps – with the two OSes effectively firewalled from each other for safety.
Should Android or whatever other platform is responsible for entertainment crash, then, it won't take the more important functionality with it.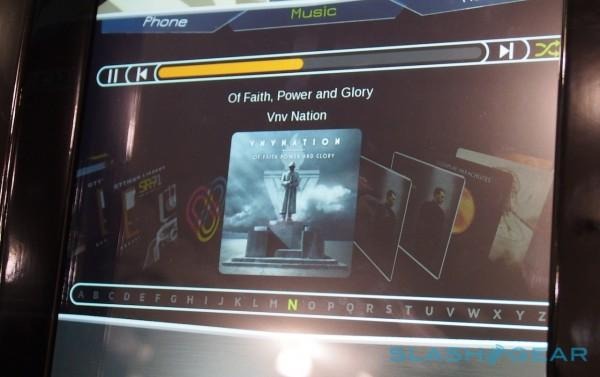 As for things like Apple's CarPlay, or the upcoming Android-based fruits of Google's Open Automotive Alliance, Anderson says NVIDIA – and the car manufacturers it's working with – are already embracing them. However, he sees them as an add-on to the native features, not a replacement.
NVIDIA's Jeep might be road-ready, but some of the other automotive tech the company has been working on isn't quite there yet. We grabbed a demo with the new Facial Detection and Driver Monitoring system, developed for Tegra by Seeing Machines, which uses a face-tracking camera to figure out whether the driver is tired or distracted. That could be used to trigger a warning that they should take a break before continuing their journey, or – in the case of autonomous vehicles like Audi's – even seeing the car step in to take over.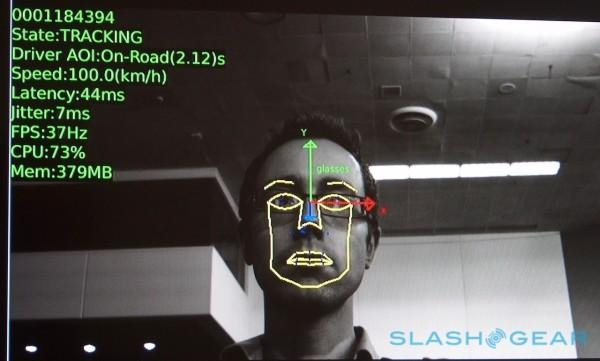 Meanwhile, a road-tracking system uses cameras to identify speed limits from signs along the route, other traffic, and road markings, with real-time processing for a variety of purposes. Traffic identification, for instance, could be used to warn if a car ahead is slowing down more rapidly than expected, even triggering brake-assistance if the manufacturer wished it.
Similarly, warnings if the car was drifting out of the lane, or exceeding the current speed limit could be sparked by the vision-based tech.
Safety systems of that sort are going to become increasingly important in modern vehicles, particularly as the potential for driver distraction grows.
The National Highway Traffic Safety Administration (NHTSA) is already looking closely at what an increasing use on touchscreens in dashboards might be doing to take attention away from the road, and while both NVIDIA and Tesla remain enthusiastic about their respective systems, proposed limits on exactly how much interaction with virtual controls is allowable may end up crimping some of the more advanced features.
Curious what NVIDIA tech can do in-car today? Check our 2015 Audi A3 first-drive with Tegra-powered infotainment