DROID Ultra Review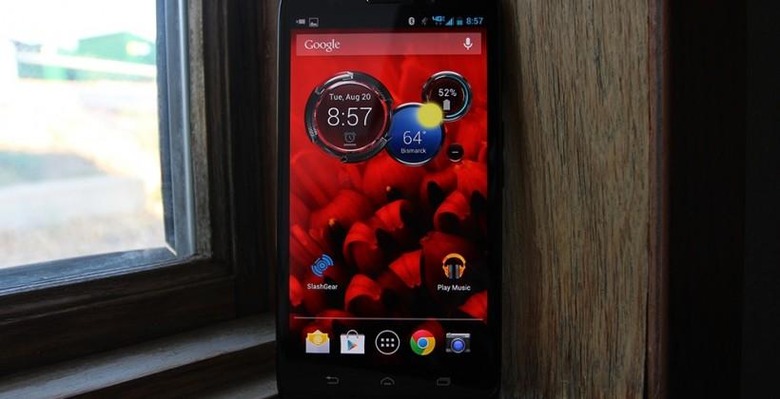 Motorola Mobility scored big when they teamed up with Google. If it wasn't evident enough in the Moto X, then certainly Motorola's newly optimized experience is ready to shine in the DROID Ultra, the first of three devices coming from Verizon in their newest exclusive brand lineup. If the DROID RAZR HD took the original DROID RAZR to a place where it was more than ready to be that single unique member of the Android universe that was both top-tier for display and processor quality as well as fully rugged enough to make up for the comparative lack of hype the line received, the DROID Ultra succeeds in replacing the RAZR line in more ways than one.
While you'll certainly see the DROID Ultra being hyped up inside Verizon stores over the next year or so, you'll certainly see more fanfare engulfing the Moto X, HTC One, and Samsung Galaxy S 4. Samsung has the cash, HTC has successfully presented a machine that matches the Samsung device with a metal chassis and more reliable camera to boot, and Moto X represents a smartphone boasting a whole lot more than the sum of its parts.
DROID Ultra represents the essence of Moto X – without all the hype.
Hardware
While we'll leave the bulk of the compare and contrast duties to our DROID Ultra vs Moto X article which has the former device proudly stating "anything you can do, I can do better." We say this because the Moto X certainly has a well-rounded package in its custom-order color scheme and customizations, not to mention its multi-carrier release stage, but the DROID Ultra has the same specifications as the Moto X at nearly every angle.
The DROID Ultra has the same processor setup, the same back and front-facing cameras, the same sensors inside, same high-quality speaker setup (from what we've heard, if not identical, certainly close enough), and with Verizon, the same 4G LTE data speeds. The software is the same too – each of the features Moto X is advertised as having, the DROID Ultra has too (you'll see a bit more on that in the Software section later in this article).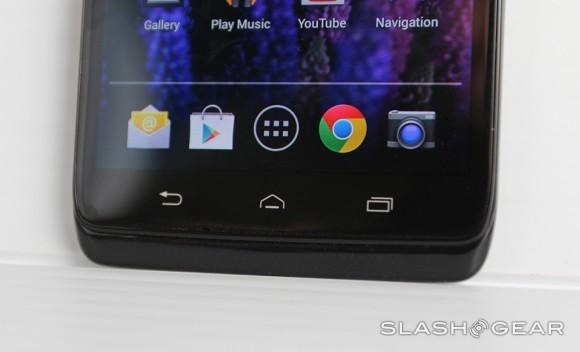 The DROID Ultra does have, on the other hand, a larger display. It's not as densely packed as the Moto X as they both have the same amount of pixels in the end, but with 5-inches of HD AMOLED display with 1280 x 720 – that's 720p, coming out to 294 PPI (Pixels Per Inch). While that's not nearly as sharp as the HTC One or Galaxy S 4, it's marginal compared to the Moto X with 316 PPI.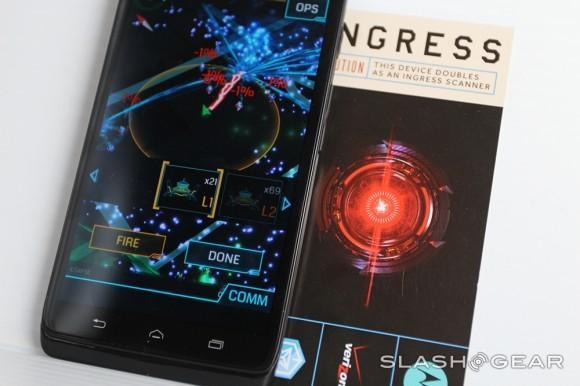 DROID Ultra's display is a masterpiece. It would appear at this point that Motorola has their display game on-point with viewing angles down to the nub and brightness up to a point where near-direct sunlight isn't an issue at full-blast.
In fact – as I'm writing this review, it was just last night that I used the device to watch a movie with my daughter in the back seat of our car while we rode home from a family trip in pitch darkness. Earlier today I used the device at mid-day with the sun blasting direct rays while I listened to music. The point here is that the display technology resting inside DROID Ultra can be dim enough for the darkest part of night and bright enough for the one of this summer's harshest days in the middle of its brightest brightness.
With DROID Ultra you do not have the same presentation of a hardcore phone you did with the RAZR lineup. Though Motorola suggests you're working with Kevlar once again, gone is the rubbery feeling of the Kevlar weave, replaced by a hard plastic that, unlike Samsung's presentation of a plastic phone, seems to present a body that's ready to sustain some damage.
Though I'd still gasp if I dropped this device, I'd not shake my head saying, "I can't wait to see how bad it is this time" like I did when I dropped the Galaxy Note II a few weeks ago. Turned out it wasn't horrible – a chip to the rim, is all – there's a distinct difference in the way the Galaxy Note (or for an easier to compare model, the Galaxy S 4) feels when compared to the DROID Ultra. The DROID Ultra succeeds in looking and feeling hardcore – even without the rubbery Kevlar backing of the DROID RAZR line.
The whole device looks relatively indistinct – especially when compared directly to the DROID RAZR lineup. There's no big swoop like we saw with the original DROID RAZR. There's no difference in feeling between the edge and the center of the back.
Instead you've got a device that feels a lot more like a single, solid, whole device. The only other device that feels like this on the market today is the HTC One. Though it'd be nice to have the option to work with a replaceable battery – not to mention a microSD card for storage expansion – DROID Ultra presents a build that makes its owner feel like Motorola was really proud to present this object in and of itself.
Camera
The DROID Ultra presents the same double-flick of the wrist action to launch its camera as the Moto X. You're also working with the same camera app as the Moto X on the DROID Ultra. You've got the same back-facing camera, the same single-bulb LED flash, and the same ability to capture photos in rapid succession.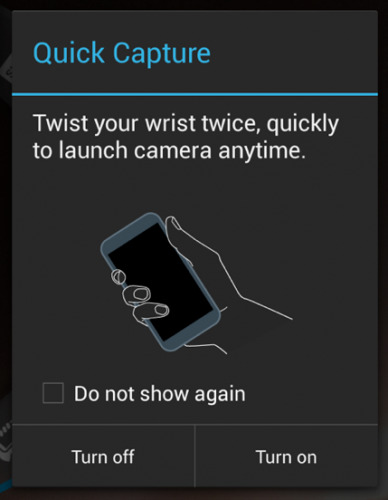 This setup is graced with a (now relatively standard, compared to other top-tier smartphones) f/2.4 aperture lens on the back of the DROID Ultra. Under this you've got a 10.1-megapixel sensor with a new "RGBC" red-green-blue-clear CMOS. This sensor has what Motorola suggests is a 75% light sensitivity thanks to Clear Pixel technology, that "C" standing for "clear" and made to measure light separately.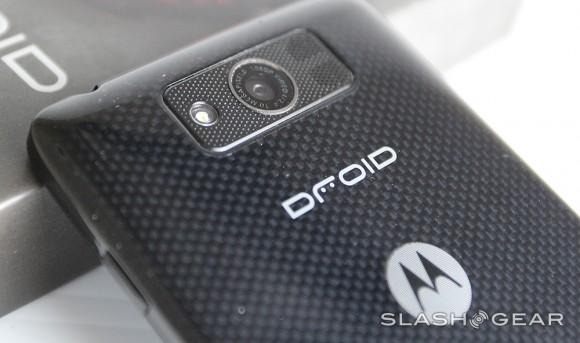 Each of the pixels delivered with this camera is 1.4-microns in size. HTC's UltraPixel camera delivers pixels that are 4-microns in size. You'll sometimes see microns referred to as micrometers – these are the same unit of measurement.
I'd still rather have the HTC One at my side if I needed to capture an especially significant moment in time due to the far greater success rate I've had with that smartphone's back-facing camera. If there were one feature on the DROID Ultra that'd make me pick it up over any other phone on the way out the door (supposing I have a whole collection of them on-hand, as I do for testing purposes), the two-shakes-to-launch camera feature be the one to do it.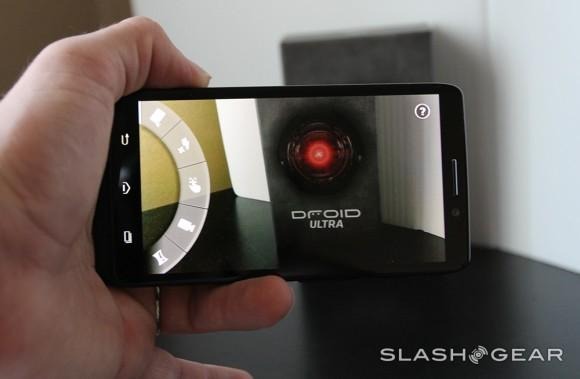 This is the same feature present in Motorola's hardware in the Moto X, and is present in the DROID Maxx and the DROID Mini as well. I can't emphasize enough how killer a feature this ultra-simple implementation of quick-launch for the camera is to my every day photography-happy life.
Though it's not a game-changing time saver over the lockscreen-to-camera function on most modern smartphones today, it's just as easy or easier to work with than that common swipe. The important thing about this feature is that it feels faster than any other method of opening the camera – save the physical shutter button on Windows Phone devices like the Nokia Lumia 928 – and it opens the camera from any place in the software, be it lockscreen, in-game, or from deep inside settings lists.
Taking photos one after the other rapid-fire results in similar-quality photos throughout the process – holding down on the camera's viewfinder begins this snapshot process. This rapid-fire shooting is best used when you've got the camera held steady as possible – best when anchored against an immobile object, for example – though on a bright sunny day with as much natural light as possible, you'll have fabulous results as well.
Here you'll be seeing a collection of photos and videos showing the abilities of the back-facing camera on the DROID Ultra handset, this including a couple of highest-quality videos as well. Have a peek at both a standard video in 1080p and a slow-motion video, and note how similar the results are to the camera experience on the Moto X, and how identical it'll be with the rest of the 2013 DROID handset collection.
ABOVE: DROID Ultra 1080p Video Recording Demo. BELOW: DROID Ultra SloMo Video Recording Demo.
Software
The implementation of Android on DROID Ultra is so very similar to that of a Nexus device that it'll be difficult for a lay person to tell the difference on the surface. You'll find a set of Motorola-added features like DROID ZAP – able to transmit files to nearby phones also using the feature with a swipe, and Motorola Assist.
*UPDATE: While this review originally had the line "(good luck if you've got a bunch of Samsung or iPhone friends)", we've since re-tested and confirmed that DROID ZAP actually DOES work just fine with any Android device with Android 4.0 Ice Cream Sandwich and above. Initial impressions suggested otherwise – but rest assured, you can ZAP with your best Android-toting buddies all day long if you want!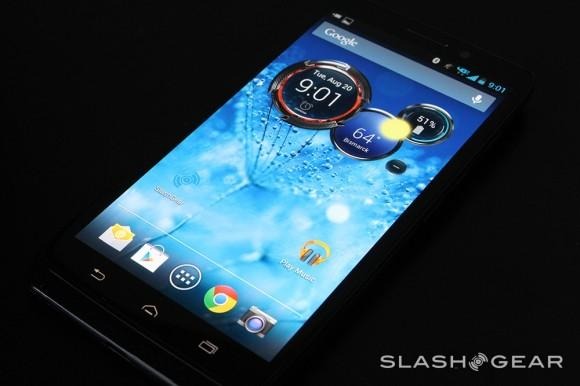 Motorola Assist is the app that makes great use of the sensors and connections to apps like Google Calendar to create a contextually-aware experience the likes of which Motorola could barely keep themselves contained on earlier this year in pre-Moto X interviews. It was Dennis Woodside that suggested the Moto X was "contextually aware of what is going on around it", there referring to the abilities in the handset's implementation of Motorola Assist – also present in the DROID Ultra just as fully.
In Motorola Assist there are three different extremely simple pre-set situations you can activate, one each for meetings, nighttime (sleeping, that is), and driving. Night mode activates in-between a set start and stop time, pre-set for 11PM until 7AM, 8 standard hours of sleep when the system keeps all notifications, lights, and sounds silent while you rest.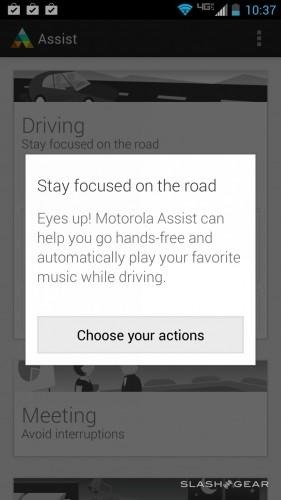 Meetings are tracked with Google Calendar, attaching to events where you'll obviously not be able to take calls or texts or loud notifications, cutting them down to absolute silence much like the sleep-friendly function in this app.
Then there's driving mode, toggled when the device – using GPS sensors – sees that you've accelerated at a rate that'd be absurd for a standard human being. This drive mode can be easily set to turn Google Play Music on, continuing play of music where you last left off while (meanwhile) turning text messages and phone calls into touchless activities, reading texts aloud and automatically silencing phone rings.
DROID Ultra also senses when you've moved it, activating a low-power notification screen you may recognize as Active Notifications. It's with this display that you'll be seeing notifications, the date, time, and (if low) battery life, all in black and white.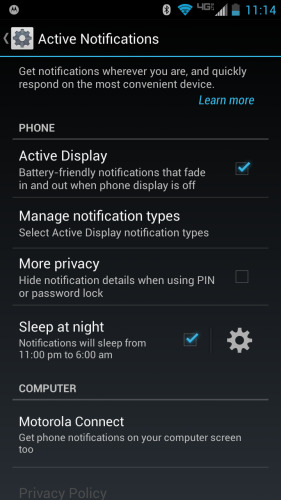 This lockscreen sits above the standard Android lockscreen at the same time as it works with it – unlocking this screen unlocks the phone, but pressing the power button at this screen brings you to the standard Android lockscreen. Swiping up when a notification comes in on DROID Ultra's implementation of Active Notifications brings you to the app that's shot the most recent notification, while swiping down unlocks the phone as normal.
Swiping left or right dismisses the Active Notifications screen entirely.
Meanwhile you've also got the "always listening" implementation of Google Now. This system needs to be activated – it's opt-in, that is, and is fairly limited as far as how unique you can make your experience. This is called Touchless Control, and setting said system up requires that you make the handset recognize your voice by saying, "OK Google Now".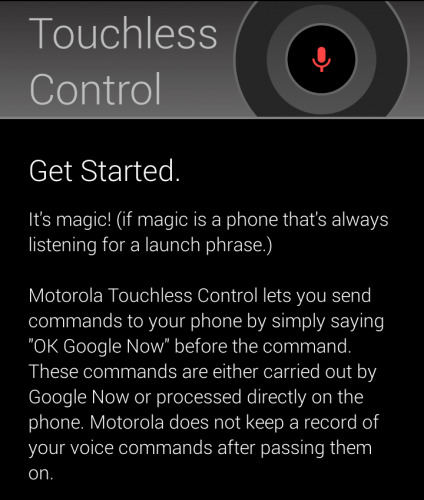 You do not have a choice (at the moment) what phrase you use to launch Touchless Control with Google Now. There's only "OK Google Now", similar to how you're only able to use "OK Glass" with Google Glass (unless you hack).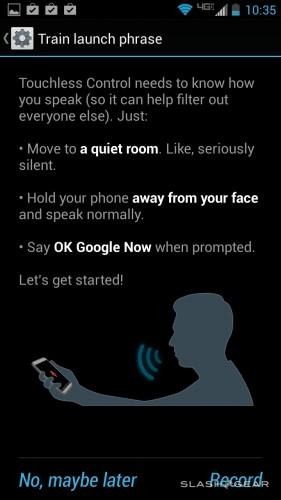 While using this always-listening system is certainly impressive to behold – and to show off to friends and relatives, for that matter – actual real-world use has been limited in our testing. Aside from the few times I was in a relatively quiet room with people I didn't feel foolish speaking out loud in front of in public, it's been much more realistic to simply unlock the phone and type in a question or launch an app manually.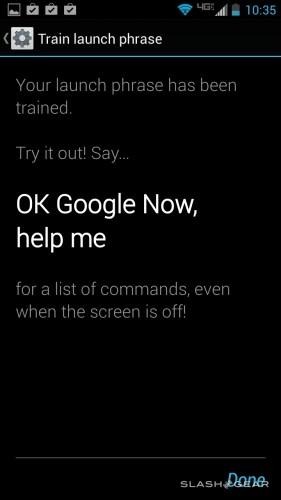 I never really found a use for Siri on the iPhone, either. If you're switching from an iPhone and rely on Siri to run your life, you're in luck: Touchless Control on the DROID Ultra can do basically the same set of things Siri does – and Google Now is always ready to recognize your voice. We've found it all but impossible to fool the system into trusting any voice but the one the system was trained to recognize.
At the moment, touchless controls – voice commands, that is – inside DROID Ultra's implementation of the system is able to:
• Set alarms
• Schedule Meetings (with Google Calendar)
• Play Music and Movies (Using Google Play Music and Google Play Movies or YouTube)
• Set Reminders (complete with notifications through Google Now)
• Answer Google-friendly questions (or those related to your next scheduled flight)
• Get Directions (with Google Maps)
• Send text messages
• Send emails (through Gmail)
• Initiate Phone Calls
This list is expanding as Google ads functionality to Google Now in Android – this grows with Chrome as well, as Chrome is Google's chosen platform for expansion of their search functionality and go-anywhere command console. It works in Android, you can work with Chrome in iOS, and you've got the ability to open a Chrome web browser in essentially any operating system (the major ones at least).
Setting reminders has been the most helpful service offered by this Touchless Control system – telling Google to remind me to let the dog out at 2PM is far easier to say than it is to type. It's also easier to quickly remind myself to do things now that I don't have to unlock the phone and launch Google Now to start in on a reminder – by the time I do even those couple of little steps, it's quite possible I'll have forgotten what I was going to say anyway.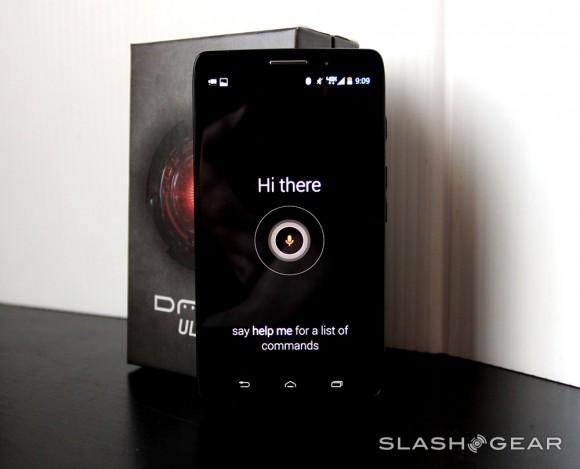 This system works with NFC for both reading and writing NFC tags, wireless projection of display with Miracast (now much easier to access, straight from the settings menu or the Motorola widget), and Motorola Device ID. With Motorola Device ID you've got a double-dose or protection with Lost Phone Web Portal, this able to bring essentially the same functionality to your device that Google's recently unveiled Android Device Manager. Both systems are able to locate your device and set you on a course for retrieval: Google Maps to the rescue.
Motorola Connect is also here, allowing you to send and receive text messages from your smartphone on your desktop computer. This system requires that you use the desktop Chrome web browser and acts with a Chrome browser extension – real simple, real mater-of-fact usage involved. This system also works with phone calls in addition to basic text messaging.
Performance
With the DROID Ultra, you're not getting the powerhouse king of this generation of Android devices. That's not what Motorola was aiming for. If you want the most powerful smartphone on the market today, you'll need to get the Samsung Galaxy S4 LTE-A, the only smartphone with a display at 5-inches working with the Qualcomm Snapdragon 800 quad-core processor – otherwise it's the HTC One or Galaxy S 4 with their Snapdragon 600 processors, or the NVIDIA Tegra 4 test phone (which isn't made for the public).
But here in the DROID Ultra (and the DROID Maxx, and the Moto X) is a computing engine made to harness the power of the Qualcomm Snapdragon S4 dual-core processor and tie it up with a couple of extra processing units to boot.
One of these extra bits of processing power is dedicated to the Touchless Control system and the always-listening set of sensors – this is the device's contextual computing processor. This bit of architecture is constantly listening and processing sound with such a low amount of power that it's almost not even there. The other is a natural language processor made to understand you and your whims through Google Now.
With this system tied with 2GB of RAM, you'll certainly be doing more than OK in your daily activities, be they browsing the web, playing high-powered games, or asking Google questions all day long.
Have a peek at a set of basic benchmarks here to get an idea of how the device does in some standard environments, then toss all knowledge aside as you (once again) make sure you're watching the hands-on video content in this article to get a real idea of how well the machine functions.
Call Quality / Battery Life
As it is with the vast majority of smart devices on the market today, call quality is high quality enough to hear in Times Square and be heard from Times Square. With multiple microphones on this device, built-in noise cancellation does its job well – both ends of the call have turned out as clear as any other top-tier smartphone we've reviewed this year.
Battery on the DROID Ultra is quoted by Verizon as being able to deliver "Usage: up to 28 hours OR Standby Time: up to 13 days." With a 2,130 mAh Lithium-ion battery under the hood, it seemed like quite a claim to suggest the DROID Ultra would do at least as well as the DROID RAZR HD lineup – but it's done its job well thus far.
As it is with all top-tier processors worth their salt here in 2013, DROID Ultra's Motorola-optimized Qualcomm architecture creates an environment that – even with always-listening mode on for Touchless Controls – battery drain essentially flatlines when the device's display is not being utilized. On that same note, if you do plan on streaming HD video over 4G LTE at 720p for hours at a time, you'll find the device draining just as fast as any other phone delivered this year.
A standard days' usage will have you lasting well through the day without need for a charge – and that's saying something for a device with a 5-inch 720p display, that's for certain. Though we've not seen this device drain any slower than the HTC One or Samsung Galaxy S 4, they're both also using Qualcomm technology for processing, so it's not as if they'll have been aimed at achieving monstrously different results anyway.
Wrap-up
The DROID Ultra is every bit as much a member of the dawning Context Ecosystem as Motorola's Moto X. It and its buddies in the 2013 DROID family for Verizon won't be hyped the same way Moto X is being hyped, nor will it be the center of attention as Google will have Moto X delivered.
But here you've got a 5-inch display-toting version of everything the Moto X is, without the customization suite. You can get the DROID Ultra in "high gloss" black or red (we're reviewing the black here) while the DROID Maxx is being delivered with "soft touch" black (closer to what came with the RAZR HD family) and the DROID Mini comes only in more high gloss black.
In short – if you're aiming to decide between the non-customized Moto X and the DROID Ultra (as they cost the same) with Verizon, you'll be deciding entirely on how they feel to the touch and whether you want a 4.7- or 5-inch display. After that, you'll want to go to war with the HTC One and the Samsung Galaxy S 4, both of which have entirely different experiences to go with them, both of which are solid choices in the field (both of which also have Google Play editions available now as well).
As a smartphone that's well and away worth more than the sum of its specifications, DROID Ultra is every bit the competitor for top-tier smartphone it was meant to be, as delivered by what's now very obviously (title and all) Motorola, a Google company.