Google Play Edition: Galaxy S 4 and HTC One Review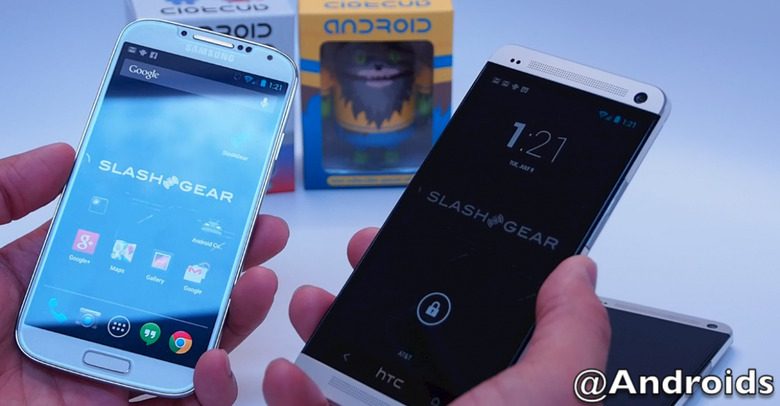 They're the phones the most vocal minority demanded, pure Android on familiar Samsung and HTC hardware. They're also the phones the manufacturers refused to consider; HTC Sense and Samsung TouchWiz aren't merely window-dressing but core elements of the overall user-experience, so the argument went, and the HTC One and Samsung Galaxy S 4 wouldn't be the same without them. Now, then, with the Google Play Edition versions of both, we have the chance to see just how much that's true.
A Little History…
In the beginning there was Android. Google's platform was an awkward, ugly baby to begin with, but it was an open one, and manufacturers slowly found their feet with it. In mid-2009, HTC revealed the Hero, arguably the first of a string of hits from the company, and the first to include HTC Sense, a customized user interface that replaced the default Android UI.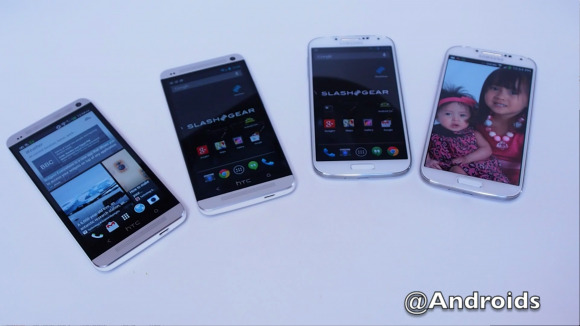 Sense met with, for the most part, approval, taking the relatively immature Android and redressing it in something more user-friendly. It also triggered a software arms-race, with manufacturers experimenting with bigger, deeper-integrated interfaces to use instead of Google's own, while Android itself cherry-picked some of the best features of the custom UIs and integrated them into the core code.
Samsung's TouchWiz – used in various iterations across its proprietary, Bada, Windows Mobile, and Symbian devices, but best known on the firm's Android range – was the South Korean company's response, though we've seen reskinning from Motorola, LG, Huawei, and most of the OEMs to adopt Android. As lures go, it's a relatively simple one: when your industrial design is dominated by a touchscreen, it makes sense to brand as much of that in a unique – i.e. non-standard-Android – way as possible.
Custom skins had their downsides, however. Although not solely responsible, they were instrumental in establishing Android's fragmentation issue: the situation where existing devices miss out on new OS updates, sometimes because manufacturers are unable or unwilling to create new versions of Android+Skin for older phones in their ranges. In partial response, Google created the Nexus program, guiding Android device development with a line of "pure" phones and tablets that ran the OS untampered. The commitment with Nexus was that users would get the latest Android version first, not hampered by manufacturer disinterest or carrier reticence.
A single Nexus can't be everything to every person, however, especially as the range of Android phones has increased so widely, and different hardware – whether the UltraPixel camera technology of the HTC One, or the huge, beautiful Super AMOLED HD display of the Samsung Galaxy S 4 – appeals to different users. Joining the pure Nexus, then, are the Google Play Edition phones. The compelling hardware would-be owners lust after, but with the reassurance of unmodified Android running on it.
Samsung Galaxy S 4 Google Play Edition
The Galaxy S 4 doesn't need much introducing. Samsung's latest flagship has already set sales records for the company – in TouchWiz form – and spawned a number of variants (smaller, more rugged, camera-hybrid) while the company's marketing heft means it's hard to avoid a Galaxy S 4 billboard or commercial day to day.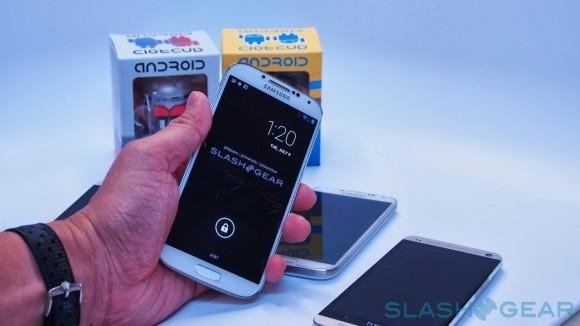 In Google Play Edition form, the Galaxy S 4 hardware is little changed. You still get hexaband LTE (700/850/1700/1900/2100/2600) and quadband UMTS/HSPA+ (850/1700/1900/2100) making it compatible with both AT&T and T-Mobile USA, plus quadband GSM/EDGE to fall back on. There's WiFi a/b/g/n/ac, Bluetooth 4.0 LE, GPS/A-GPS, and NFC, the latter with support for Google Wallet.
Opinion around the Galaxy S 4's design and construction has been the subject of heated argument. Its plastic chassis and relatively uninspiring feel in the hand aren't, we have to say, anywhere close to the build quality of the HTC One: hold the two side-by-side, and it's night and day in terms of how physically appealing each is. On the flip side, you get that impressive 5-inch, Full HD Super AMOLED display, fast Qualcomm Snapdragon 600 1.9GHz quadcore processor (not the octacore Exynos chip some Galaxy S 4 variants launched with) paired with 2GB of RAM, and 16GB of onboard storage.
Far less of that is taken up with preloaded software, too: only around 6GB in fact, versus as much as 9GB on the TouchWiz version. You still get a microSD card slot to add to it, plus a removable 2,600 mAh battery. Samsung has also made sure the Galaxy S 4's infrared port still works, so you can use the Google Play Edition as a universal remote with the right app.
The main difference is in how swift the Google Play Edition feels in daily use compared to the TouchWiz version. On paper both are roughly the same, scoring pretty equally in benchmarks like Quadrant and Vellamo, but the raw numbers don't communicate quite how responsive pure Android is in comparison. Where we've grown used to the occasional judder or lag in TouchWiz, unmodified Android 4.2.2 on the Galaxy S 4 shows none of the slow-down or delays.
We can't say we particularly missed Samsung's multitudinous TouchWiz tweaks or "natural" UI modifications, either. The most obvious are in the camera app, with various different photography gimmicks ranging from the ability to piece together shots from the front and back cameras simultaneously, to adding audio clips to stills. It's certainly comprehensive, but we'd question quite how many of the features the average Galaxy S 4 owner actually uses on a regular basis.
Instead, you get a new version of Google's own camera app, a noticeable improvement over what's loaded on the Nexus 4 by default. It produces images and Full HD video on a par with what Samsung's own software can do with the 13-megapixel camera the Galaxy S 4 comes with. It still loves well-lit scenes, struggling at times with clarity and noise in lower-light conditions, but colors are bright and accurate in both stills and video.
Battery life is another area where we wondered how pure Android might change things compared to Samsung's TouchWiz skin. In practice, with the same apps running on both phones, along with push email, Google Hangouts, and all the usual daily use, we didn't really see a significant difference.
HTC One Google Play Edition
The HTC One is arguably the unsung hero of Android devices at the moment. Supply issues stopped HTC from getting as many units into as many hands as it hoped to prior to the Galaxy S 4, but in many ways the handset is still preferable to Samsung's flagship. The unibody construction looks and feels great, and the 4.7-inch display – while not quite as large as on the S 4 – is still 1080p resolution, looks fantastic, and the phone as a whole is swift and comes with a clever UltraPixel camera with excellent low-light performance.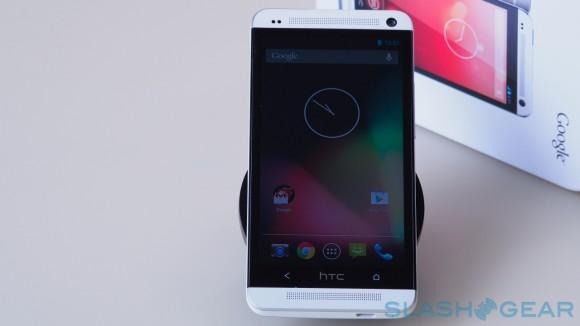 For the Play Edition, the One is externally unchanged. Inside, there's Qualcomm's quadcore 1.7GHz Snapdragon 600 processor and 2GB of RAM, along with twice the storage – 32GB rather than 16GB – than the Samsung. However, there's no microSD card slot on the One, so that 32GB – or in fact roughly 25GB user-available – is your lot.
Connectivity is almost on a par with the Galaxy S 4 Google Play Edition, though with some disappointing differences. The One has quadband LTE (700/850/1700/1900) and triband UMTS/HSPA+ (850/1900/2100), which means that while the phone will work with AT&T's 3G/4G networks, it won't with T-Mobile's AWS 3G network. If you can find T-Mobile LTE or 1900 3G, you'll be fine, but otherwise it's a slow experience.
Otherwise, there's WiFi a/b/g/n/ac, Bluetooth 4.0 with aptX, GPS/A-GPS, and NFC, along with an infrared transmitter. Unfortunately, whereas the Samsung Google Play Edition phone is compatible with Google Wallet, HTC's isn't: the hardware is incompatible with the app. Meanwhile, HTC hasn't provided support for the IR hardware, either, which means that's non-functional too.
Just as with the Samsung, the HTC One Google Play Edition's performance comes down to perception versus potential. On paper, in our benchmarking tests, the original One is about the same as the pure Android One. In the hand, though, the Google Play Edition simply feels more responsive.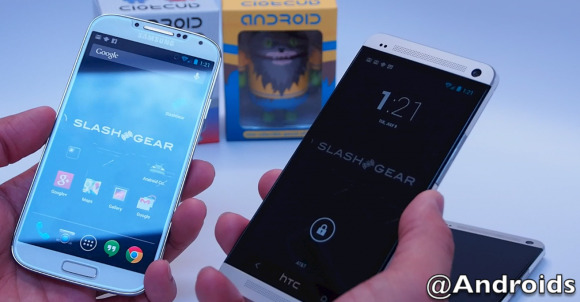 If we weren't particularly concerned about losing Samsung's various camera modes, we weren't quite so confident in the absence of HTC Zoe support on the One. The combination of simultaneous burst-still and HD video recording, and the entertaining automatically-cut Highlight reels, is one of the best features of the original One.
In practice, with the same camera app as on the Samsung, our day to day use wasn't impacted. HTC's UltraPixel technology still delivers, opting for physically bigger pixels rather than packing in more of them. Low-light performance is the main beneficiary, with the combination of UltraPixel and optical image stabilization – something the Samsung lacks – delivering images with far more clarity than rival phones running at twice the resolution or more.
The flip-side is a comparative lack of detail when you zoom in or crop regular images, but overall colors are bright (if a little more muted than on the Galaxy S 4) and the scene as a whole balanced. Although the camera records 1080p Full HD video, and physically has two microphones, it only records mono soundtracks, though they sound great in playback through the twin, front-mounted BoomSound speakers. HTC has also added in Beats Audio support, with a toggle in the settings to control the hardware feature.
As with the Galaxy S 4, battery life seemed pretty much unchanged despite the differences in software. We got a full day of use out of both phones, though less if we made significant use of the LTE connection or did anything power-intensive like tethering.
Updates
Each phone excels with pure Android, as we expected they might. What remains uncertain is how well they will keep up with the OS as Google releases new versions since, unlike with a Nexus, the responsibility for pushing out Android updates falls to Samsung and HTC.
You'd be forgiven for not expecting that, given both the Galaxy S 4 and One will be sold alongside the Nexus 4 at Google's own Play Store. Indeed, when both phones were first announced, the belief was that Google itself would be responsible for firmware updates. Instead, we're again reliant on manufacturers working with Google.
Both HTC and Samsung have been vocal in how keen they are to keep their respective phones up to date. Both HTC and Samsung have patchy track-records in delivering new Android versions to their skin-equipped phones. In short, if you want as close to a guarantee that you'll see Android 4.3 as soon as possible, and beyond, then you need to stick to Nexus. We'll have to wait and see how well HTC and Samsung live up to their promises.
Wrap-Up
Android enthusiasts can be a demanding group. The call for pure-Android versions of flagships other than the Nexus range has been a consistent one, and it will be interesting to see how many Google Play Edition phones actually get bought. Adding to the muddle is the pricing: the HTC comes in at $599, the Samsung more expensive again at $649.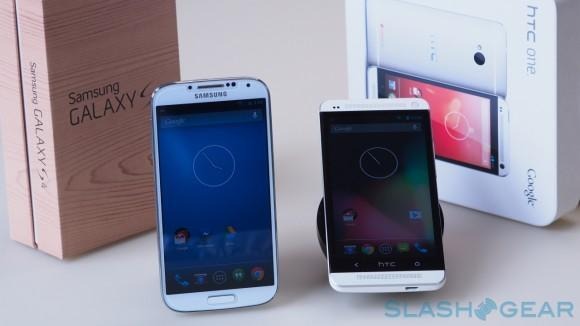 In contrast, $299 will get you a Nexus 4. A lower resolution screen, yes, and an older processor, and middling camera quality in comparison, not to mention the absence of LTE, but it's somehow easier to stomach those compromises when you can buy two Nexus 4 for the price of a single device from HTC or Samsung.
Most smartphone users will be content – perhaps even better served – with the original HTC One and Samsung Galaxy S 4. Both phones offer plentiful features out of the box, an impressive collection of extras, and come highly recommended. Those on a budget, or wanting the closest to a guarantee of the most timely Android updates, should probably look to the Nexus 4.
What the two Google Play Edition phones offer is a compromise somewhere in-between. The freedom of pure Android and the freshness and undeniable appeal of flagship hardware. It's a compromise that comes at a cost, and it's one with the risk of still relying on manufacturers for new software rather than getting it straight from Google, but if your wallet is deep enough then the pure Android experience, liberation from carrier subsidies, and top-tier specifications make them each excellent, if niche, options.