Dark Meadow: The Pact THD for Android Review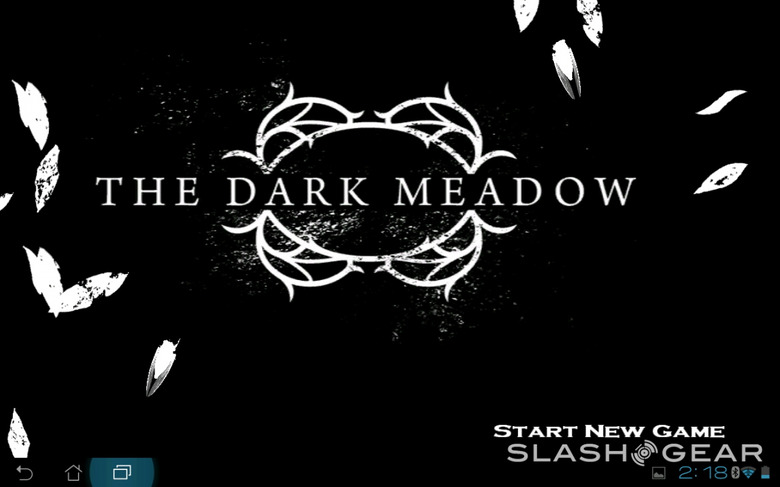 It's time once again to get hardcore with some next-level mobile gaming thanks to NVIDIA's Tegra Zone and their initiative to bring developers like Phosphor Studios into the optimized-for-Tegra world of gaming. What happens with games like these is that a developer group will meet up with NVIDIA and shake hands saying yes, we've got an awesome game and yes, we want to work with you to optimize gameplay for the Tegra line of processors for Android. Dark Meadow comes out this week for Android for free with no cost to you to play the whole game through.
This game rings several bells for those of you who love the horror / mystery / detective / monster killing genre. It looks like Silent Hill, it feels like FEAR, and a lot of the gameplay doesn't look that far off from, believe it or not, the Infinity Blade series. You'll find yourself exploring a SAW-like situation where you're trapped in a run-down hospital-like building which has long since been overrun by nature and time. It's also the home of some rather unspeakable demon spawn from the depths of H.E. double-hockey-sticks. Your only companion is the man in the wheelchair you see at the very start.
NOTE: We've got a Dark Meadow themed giveaway going on right now that'll have you picking up your own Transformer Prime to play this game at it's best – head on over now!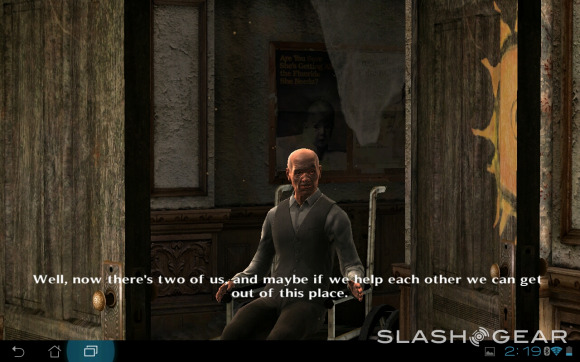 Because this game is based heavily on what it is you discover throughout the game from the very beginning, I'm certainly not going to ruin any of the surprises for you here. Suffice to say though that your quest will be excellent and your monster-killing skills will be based in the swipe, pull, and aim departments. Have a heart and learn to leave your mercy for the dead behind.
[vms 62d6f8056b195ca6e550]
This game will be working fantastically for you on any Tegra 3-toting device you've got on hand. We tested it out on the ASUS Transformer Pad TF300 as well as the Transformer Prime and certainly have nothing bad to say about the experience on either of the two. This game is definitely made for the tablet and should probably stick there, though if you'd like to try it out on the only smartphone that's running the Tegra 3 thus far, bring the HTC One X out and turn out the lights – it's time to start screaming. NVIDIA and Phosphor Studios have done a fabulous job of making this game look as excellent as it ever has, and again, for free to boot!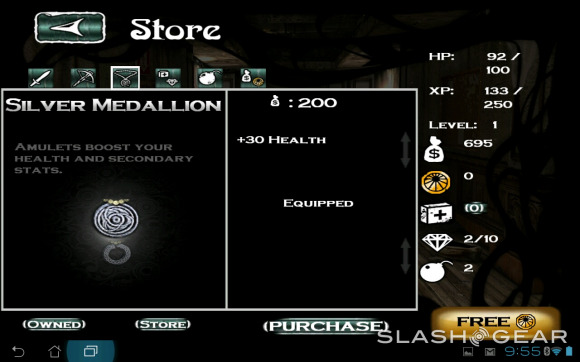 There's of course a whole system of buying and earning weapons, keeping yourself healthy and making sure you've collected enough gems and gold, all the usual fun stuff. This isn't the scariest game in the horror genre in general, but it's certainly the closest we've gotten in the mobile world so far. We're looking forward to Alien VS Predator and the like once we're on the next couple of generations of NVIDIA processors so as to see masses of beasts all at once from all directions.
They're right on top of us, man!
Find this game in the NVIDIA Tegra Zone today and download it for free from the Google Play app store at will – it's worth the tap!
NOTE: There are a couple of small spoilers in the gallery below, so beware of that if you plan on experiencing the true mystery of the game in all its goodness!