BlackBerry R47 Aka Knight Aka "Porsche Proceeding" Leaked Details In Full [Video]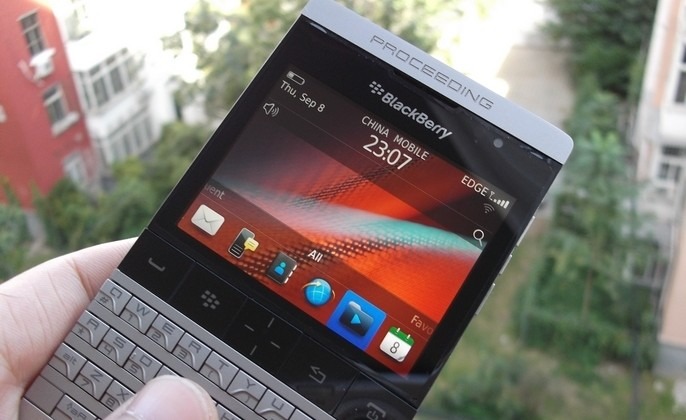 What we know about the BlackBerry device you're about to see is that it could be one of several things: a prototype for the 9900/9930, a "luxury" version right along those same lines, or a complete knockoff made by a third party to appear to be an alternate-reality 9900. There are both photos of the outsides of the device, a teardown, and a video in the post below. One of the more interesting (and appearing to be quite likely) options on the plate is that, due to the font, letting, and bold singularity in the word "PROCEEDING" above BlackBerry on the phone, this phone may well have been designed and executed by auto group Porsche – high-cost sharp edges ahoy!
To reiterate, this device has had more than a couple names since it first appeared: 9900 prototype 9980, BlackBerry Knight, R47, and Porsche Proceeding. This device appears to be running BlackBerry 7 OS, has Wi-fi, 3G connection, NFC, and a rather unique chassis. Sources for the video and the images say that this is a luxury edition BlackBerry device but have been less definitive with specs, release date, price, and everything else on this mystery handset.
BerryCN looks at BlackBerry R47
Have a look at the video in this post as well as the images, then decide for yourself. While we're on the subject, have a look at Vincent's BlackBerry 9930 and see if you think such a device could use a shaved-down flat and blocked remix. The photos should let you know instantly that this is no ordinary phone, square buttons having lost quite a bit of their appeal over the past couple of years on mobile devices without a doubt. So what is it?
Porsche, that's what your humble narrator is betting on. It certainly wouldn't be the first time the high-class car brand had thrown their hat into the mobile device world. As it is at the moment, the folks at Porsche have created such minimal tech gadgets as the LaCie / Porsche external hard drive, the Fanatec Porsche 911 GT3 Racing Wheel for video games, and if you go all the way back to 2007, you'll see one of their more heavily covered cellphone device designs in the Sagem P'9521 flip-phone which, as you can see all the way back in time, they've always been prone to choosing squareness and heftiness over smooth light curves.
Look over what we've got here and let us know: is this your scene?
Interesting to note: the photos and the video in this post appear to come from two different sources based on their watermarks, however if you take a look at the video you'll see the same heart-shaped basket that you see in the photos quite plainly. Wacky!