BlackBerry Bold 9930 Review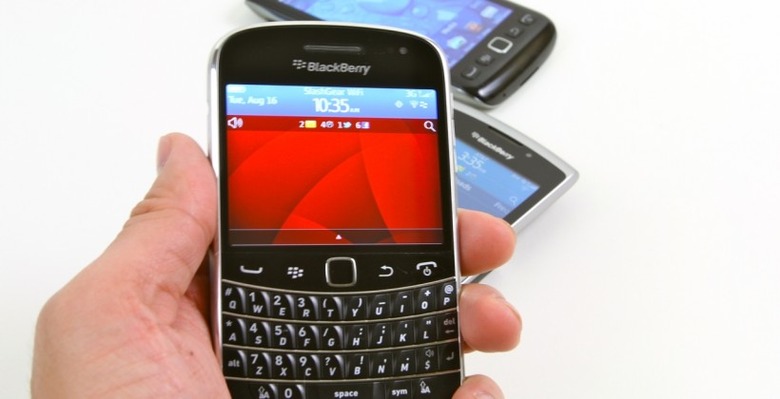 RIM's on familiar ground with the BlackBerry Bold 9900/9930. QWERTY candybars have made the company's reputation, and while the Torch series – whether slider or all-touch – may offer interesting variations on the theme, the Bold is where the Canadians will be judged. Now offering both a touchscreen and a physical keyboard, along with a speedy CPU and slimmed-down chassis, on paper this is arguably the best BlackBerry today. Read on for the full SlashGear review.
Hardware
Physically, the Bold 9930 takes a welcome step back toward the broad beginnings of the 9000. The new handset is not quite so wide as the original 69mm Bold – it measures in at 115 x 66 x 10.5 mm and weighs 130g – but it's certainly broader than the versions released in-between, and gives extra space for the physical keyboard. Make no mistake, this is arguably the best physical QWERTY on a BlackBerry so far – and, by extension, perhaps the best on a smartphone around today – with tactile, easily distinguished keys that are great for two thumb typing.
New with the 9930 is the 2.8-inch capacitive touchscreen above the keyboard, with an optical trackpad and the usual send, end, menu and back buttons sandwiched in the middle. The VGA 640 x 480 panel runs at the same resolution as the display on the Torch 9810, but thanks to the smaller dimensions has a higher pixel density of 287ppi. It's responsive, bright and colorful, and we didn't observe any missed taps.

That's in part down to the new processor, a single-core 1.2GHz chip paired with 768MB of RAM and 8GB of storage (with a microSD card slot to expand it). Connectivity includes triband UMTS/HSPA+ on the Bold 9900 or hybrid CDMA/EVDO Rev.A and HSPA+ on the Bold 9930 (the latter will be sold as a so-called World Phone on North American carriers like Verizon Wireless); there's also WiFi a/b/g/n and Bluetooth 2.1+EDR, along with – for the first time on a BlackBerry device – NFC support.
Unfortunately there's no actual use for the NFC at launch, with RIM waiting on carriers to roll out their choice of short-range wireless services. You'll get more mileage out of the charging connections on the base of the handset, which work with the optional charging cradle; a microUSB port on the side also charges, as well as syncing the 9930.
RIM is particularly proud of the Bold 9930's slender casing, and it is indeed a narrow phone; unfortunately, to achieve that some things have been left by the wayside, most notably autofocus for the 5-megapixel camera. Instead, you get an EDoF sensor which struggles with close-ups and can lead to somewhat flat looking shots. Ironically, RIM does itself few favors with the camera app itself: stills and 720p HD video viewed on-screen look drab and uninspiring, whereas when we transferred them to our computer the colors were far more involving. At least, being EDoF, it's responsive, and there's little in the way of lag between hitting the button and a shot being taken.
Software
As on the Torch 9810 and 9850, the 1.2GHz processor keeps BlackBerry 7 moving swiftly. The UI has been polished to resemble a middle-ground of sorts between previous iterations and QNX on the PlayBook, though we'll have to wait until next year for the first proper QNX BlackBerry smartphone. Overall, it's cleaner and more sensibly organized than on previous Bold phones.
BlackBerry Bold 9930 demo:
[vms ccfa1df309280702fe1b]
The touchscreen adds a new option for control, though we can imagine long-time BlackBerry owners finding themselves defaulting to the optical trackpad rather than reaching up and tapping at the display. Sometimes there's something of a disconnect between what can be done with the screen and what uses the trackpad, or at least different levels of responsiveness. The browser, particularly, proved frustrating at times, with taps being misrecognized and heavier pages being jerky when zoomed. There's no automatic text-reflow, either, unlike on rival platforms, and we seemed to spend more time pinching in and out than we do on other recent devices.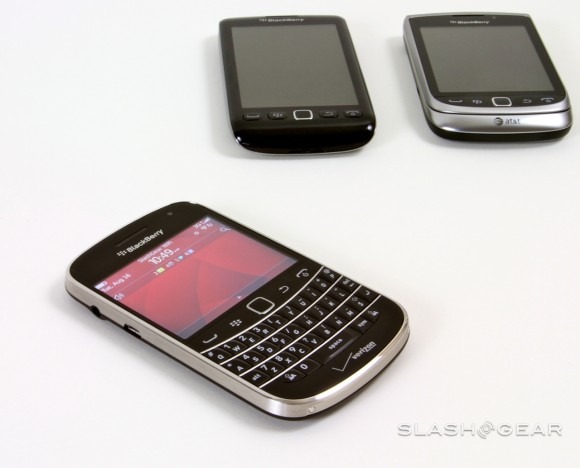 Email, messaging – including BBM – and SMS are all as solid as ever, and remain the real reason most people will choose a BlackBerry. The BlackBerry App World continues to (slowly) grow in choice, but lags severely behind the range on offer in the iOS App Store or Android Market. If you're satisfied with the integrated functionality – which includes basic Facebook and Twitter support – then perhaps that's less of a drawback, but everyone else will soon get frustrated at seeing high-profile apps generally launch later on BlackBerry, if at all.
Phone and Battery
As we'd expected, the BlackBerry Bold 9930 proved tenacious with a signal, showing bars where rival devices struggled. Audio performance was solid if not especially inspiring, and the speakerphone lacked the exceptionally loud top-end that has made previous BlackBerry devices a workable stand-in for a conference call system.
Battery life from the 1,230 mAh pack is quoted at up to 6.3hrs of GSM talktime or up to 12.8 days of standby with the GSM Bold 9900; the CDMA model, the Bold 9930, promises slightly more talktime. In practice, with the various email and social networking apps set to check for updates at their most frequent rate, we pushed through a solid day of use before requiring a recharge. Heavy callers should probably invest in either a spare battery and/or the desk cradle for occasional top-ups.
Wrap-Up
As with the Torch 9810, there's a sense that the Bold 9930 is RIM's answer to criticism of previous Bold devices. Users wanted a spacious keyboard in the style of the original 9000, as well as a more premium-feeling chassis, and that's just what they've delivered. They've thrown in a touchscreen, too, and the faster processor means BlackBerry 7 spends less time showing you a ticking clock and more time flicking between apps.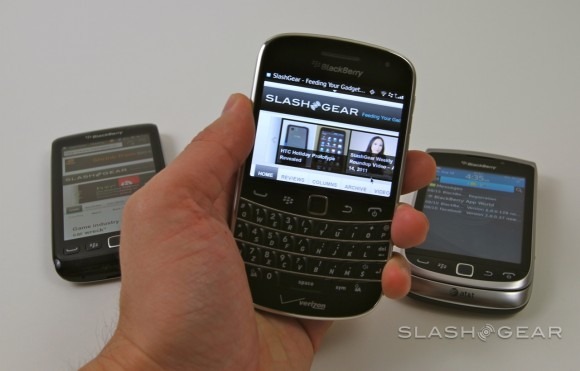 At the same time, though, it's hard to escape the sense that, for all its work with the 9900, RIM is still left playing catch-up. The new Bold is a worthy upgrade for those with an earlier model, and BB7 has its strengths, but it's hard to pick out any point which could convincingly persuade an iPhone or Android device user to jump across. That situation is only going to get more difficult when the fifth-gen iPhone arrives. The BlackBerry Bold 9930 won't do RIM's reputation any harm among its established enterprise user-base, but neither will it be the handset that breaks the company into new markets.