Banner Confirms iOS 6 For WWDC At Moscone West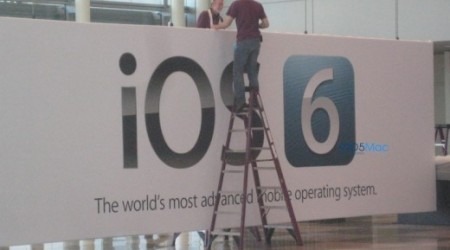 As if we didn't know this was coming already, we can now safely confirm that Apple's upcoming iOS 6 will be a large part of WWDC next week. Apple has apparently put up a few large banners directly referring to iOS 6, and even gives us a look at the new logo too. This might not be a surprise, but it's nice to know for sure.
The folks from 9to5mac snatched a few photos of Moscone West in San Francisco, the home of WWDC next week where Apple will unveil all sorts of goodies. Apple should have tons of announcements this year. From a new Maps that we've seen various reports on, to their popular Siri virtual assistant arrive for the iPad.
With leaks suggesting a 4-inch display with impressively high resolutions, and even the new iPhone backplate being caught on camera this will be a great WWDC that is for sure. There's been a lot of talk about the iPhone 5 lately but we'll have to wait and see. We'll be there live so stay tuned for more details.