iOS 6 will feature Apple's custom Map app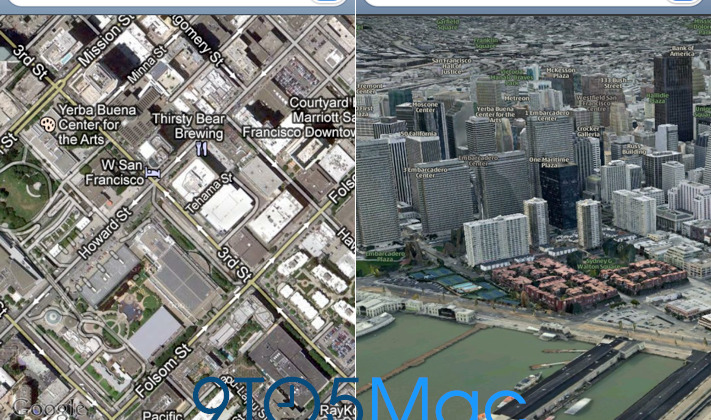 We've seen numerous hints that Apple has been working on its own in-house maps solution with the purchase of several mapping companies and the unusual switch to OpenStreetMaps in iPhoto for iOS. Now 9to5Mac has heard from trusted sources the Apple's own mapping solution will be unveiled as part of iOS 6 when it's announced in the coming months.
Apple purchased several mapping companies, including Poly9, C3 Technologies, and Placebase, and intends to create its own maps backend in order to ditch Google Maps in iOS 6. The deal between Apple and Google was extended just before the launch of iOS 5, and 9to5Mac speculates that the deal is coming to a close, signalling Apple's move towards its own mapping solution.
The Maps application will see a complete re-write that will bring a new icon logo along with it. It is said to be similar to the existing maps logo featuring 1 Infinite Loop, but with a different color scheme. Street View duties will be handled with maps that C3 Technologies worked on. The most notable feature of the new Maps app, however, will be the use of 3D maps pioneered by C3. That would give users a new perspective on buildings and landmarks as opposed to a birds eye view, or relying on Street View which has a limited reach. The above picture shows a rough mock-up of the idea.
9to5Mac say that iOS 6 will be introduced at WWDC in June, with a finalized version of the OS currently making its way around Cupertino internally. Changes other than that are said to be iterative, and those hoping for a major home screen overhaul or Android style widgets will be in for a disappointment.