Even if it's not entirely clear what exact category the Audi PB18 e-tron falls into – the "hatchback-station-wagon single-seater electric performance coupe" is a woefully-underrepresented segment, sadly – one thing is abundantly obvious. Audi is definitely preparing for an electrified future which diverges significantly from what we know of as supercars today. Having seen the PB18 e-tron at Monterey Car Week 2018 this week, I'm ready to say I'm along for the ride.
This latest entrant to the e-tron family – which includes both production cars, like the upcoming e-tron SUV, along with more esoteric concepts – has the same core premise as before. If the architecture of electric drivetrains is fundamentally different to that of traditional, internal-combustion engines, then the vehicle that surrounds that drivetrain can be uniquely different, too.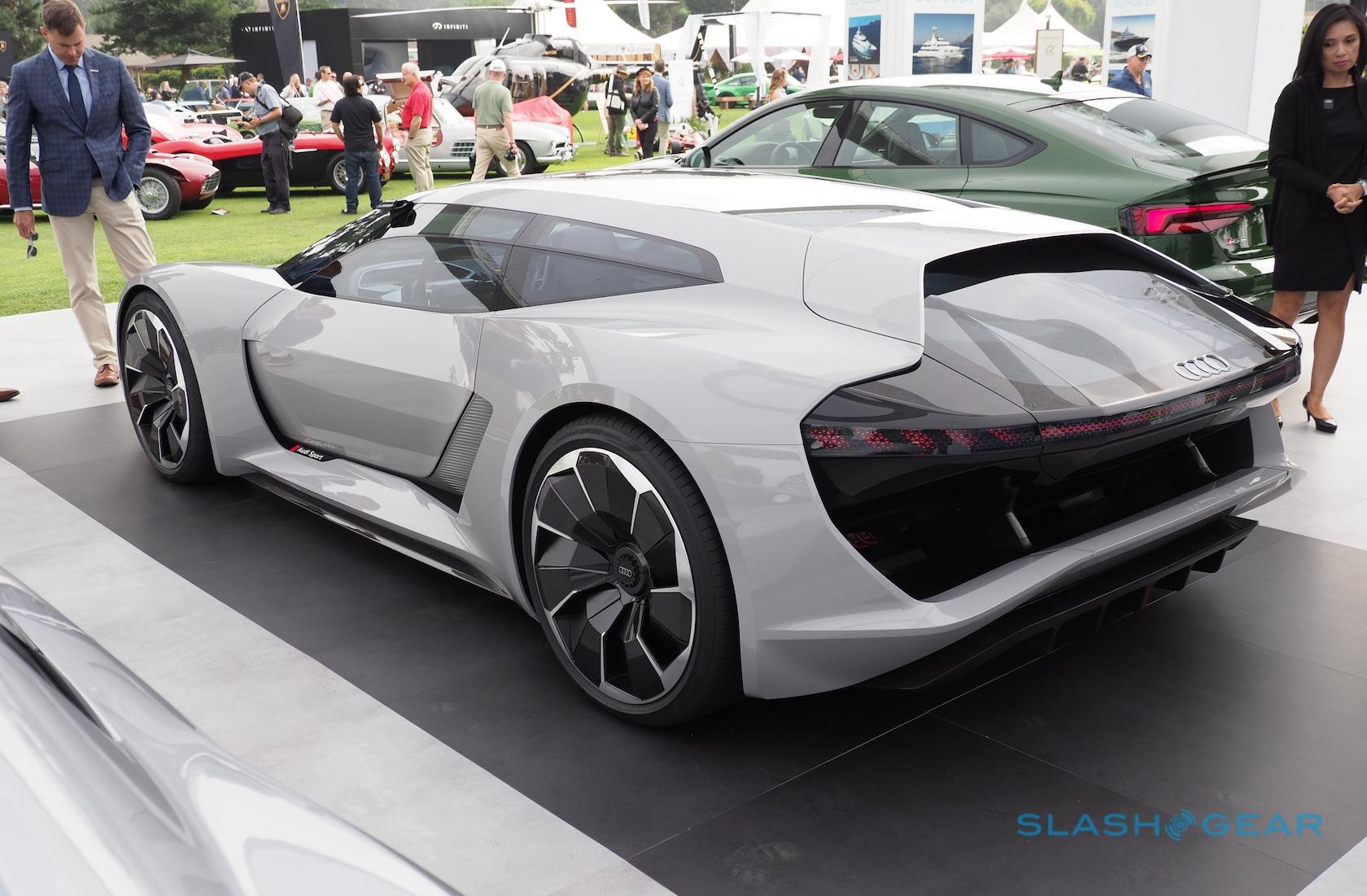 Still, none have gone quite as far as the PB18. Audi's goal, the company explained to us, was fairly straightforward. The coupe had to be as dynamic to drive as an R8-style supercar, maximize the potential of electric propulsion, carry the luggage of two, but also deliver the superlative track day experience. Despite the R8 comparisons, the result is like nothing we've ever seen before.
From the front, it's a sleek sports car. From the side, though, it's part station wagon and part urban tank, like something from a Judge Dredd comic. The rear is dominated by a wide, arching spoiler that can extend back to maximize downforce, atop a pinched glasshouse and wide hips.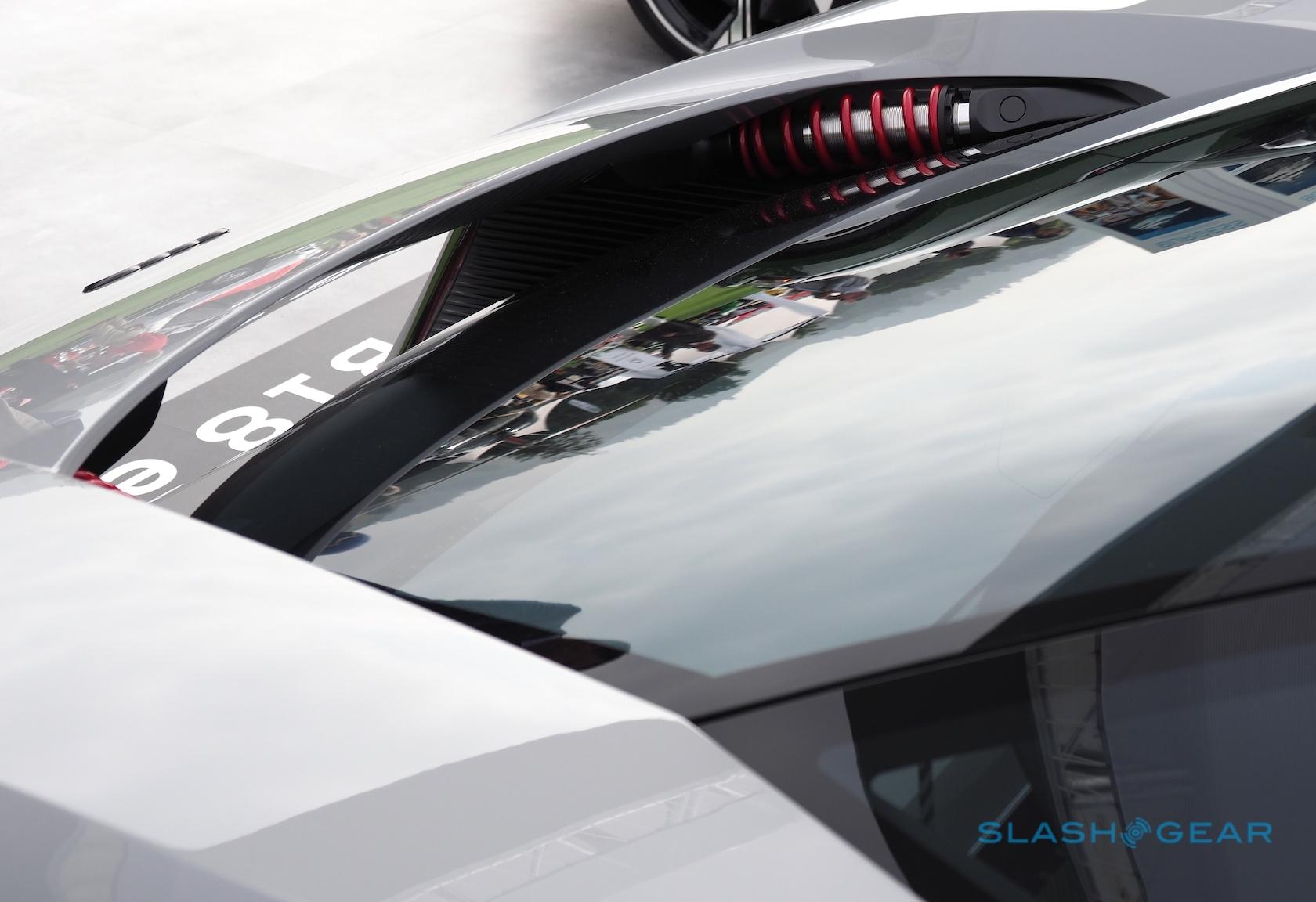 Like Jaguar with the I-PACE, Audi takes advantage of not having a huge gas engine between the front wheels. Instead, you get a cutaway section, with the span of the hood bridging a gap that delivers both airflow and a view of the asphalt just ahead. Audi maximizes that by delivering the driver's instrumentation on a clear OLED panel. That should pay dividends for nailing a perfect line on the track, but also when it comes to avoiding curbed wheels in cramped city parking.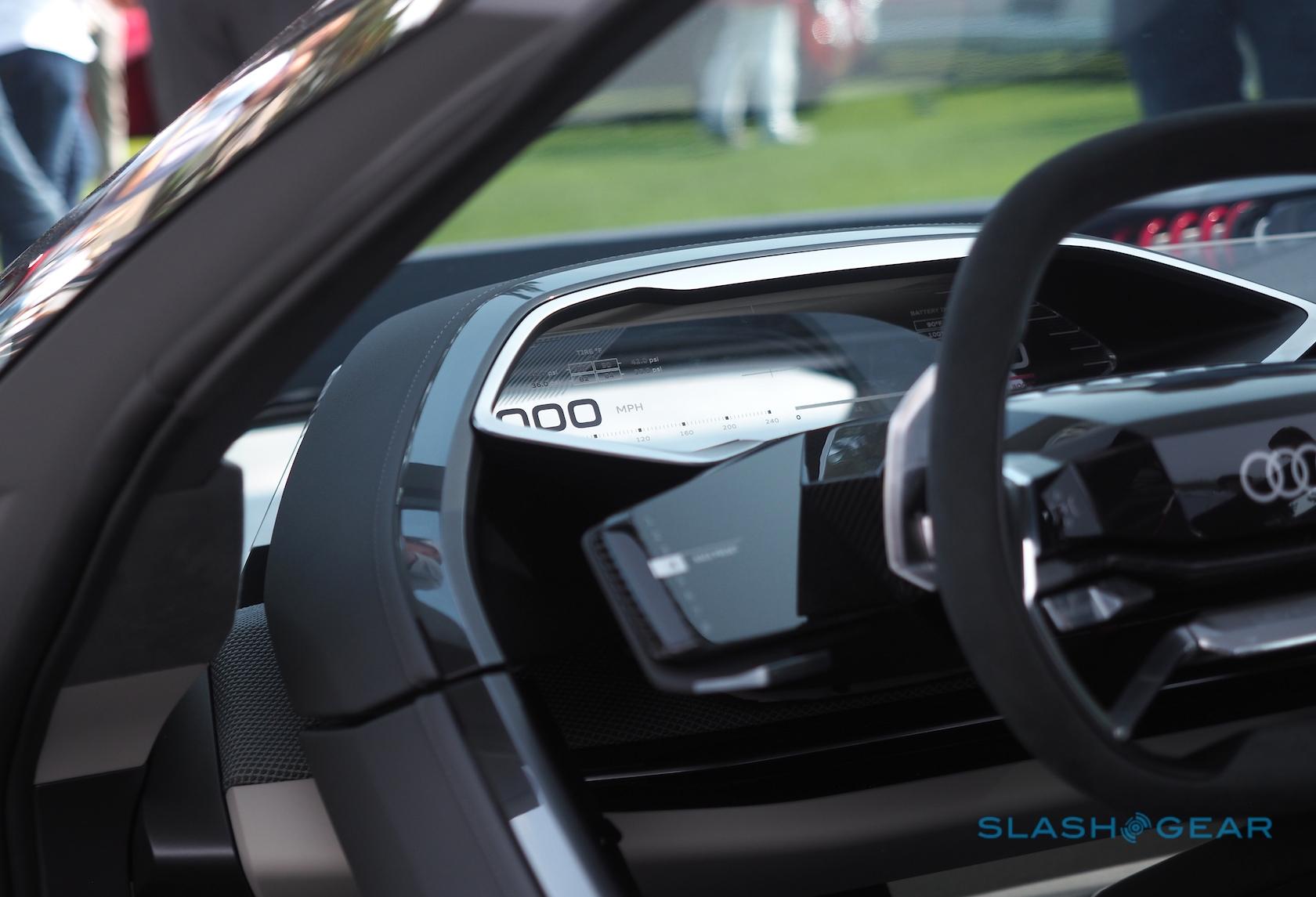 It's not the only clever use of empty space, mind. Peer down into the hood, or through the maw above the rear bumper, and you can see the bright red of the suspension springs, a welcome reminder that – even with electrons rather than race-spec gasoline keeping things moving – there's magic in the mechanical all the same. Cutaways in the front fenders, among other places, shape the air around the car, minimizing drag.
There's practicality with it, too. As with an RS7, the PB18's trunk is accessed via a sizable hatchback; Audi fills it with custom-designed luggage that makes the most of the space. With 16.6 cubic feet there, it's more than twice what you could stash in an R8.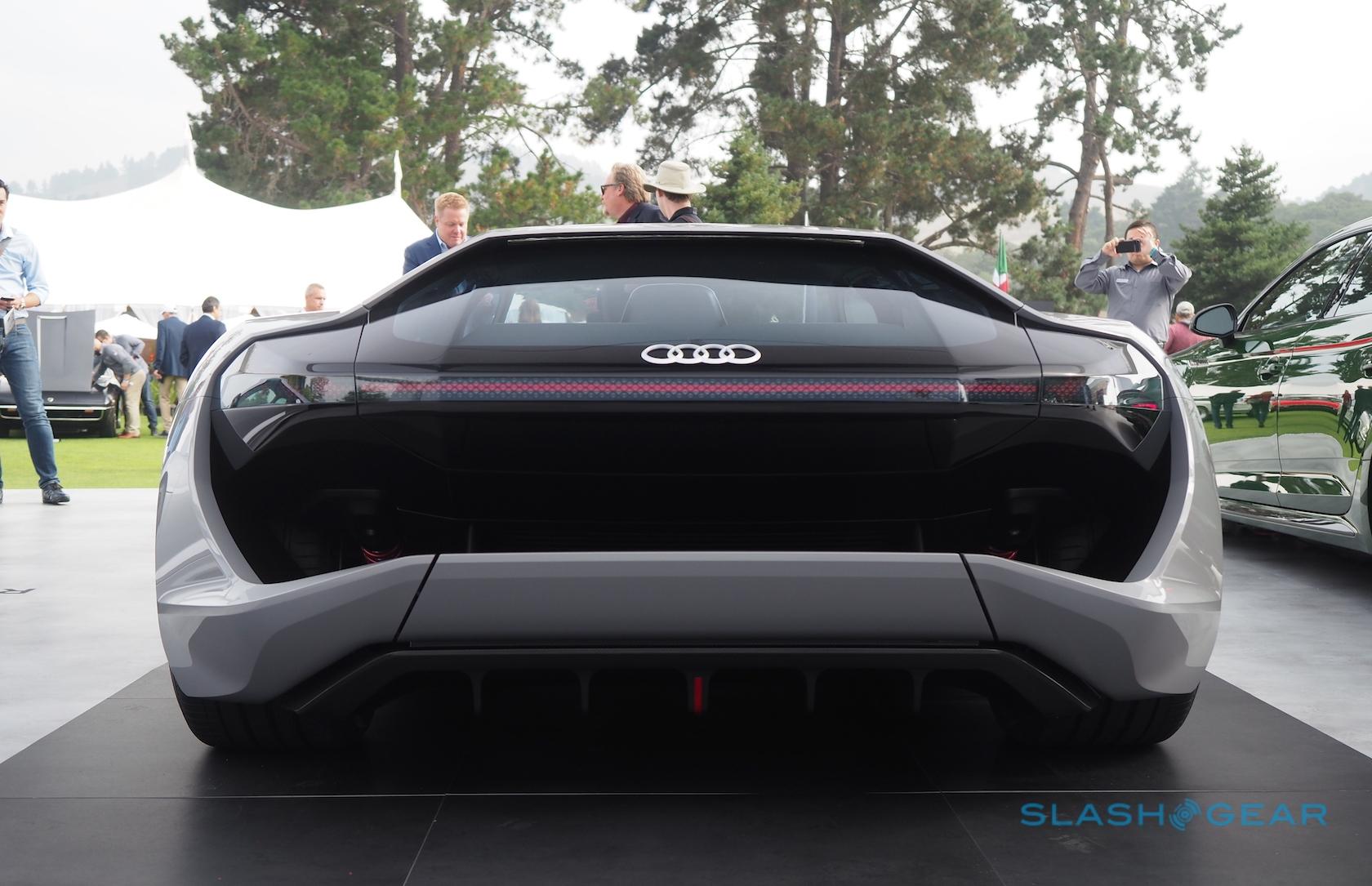 Enough, certainly, for what two people might want on a weekend jaunt – or, for that matter, on a trip to the track. When there, the passenger can help unpack it all – and their seat. Although intended as a two-seater for everyday use, the PB18 can also morph into a race car-mimicking single-seater.
The driver's seat is mounted in a special monocoque, which wraps around to encompass the instrumentation, steering wheel, pedals, and other controls. At the push of a button it slides electrically across, until it's positioned dead-center in the cabin. A racing harness completes the effect.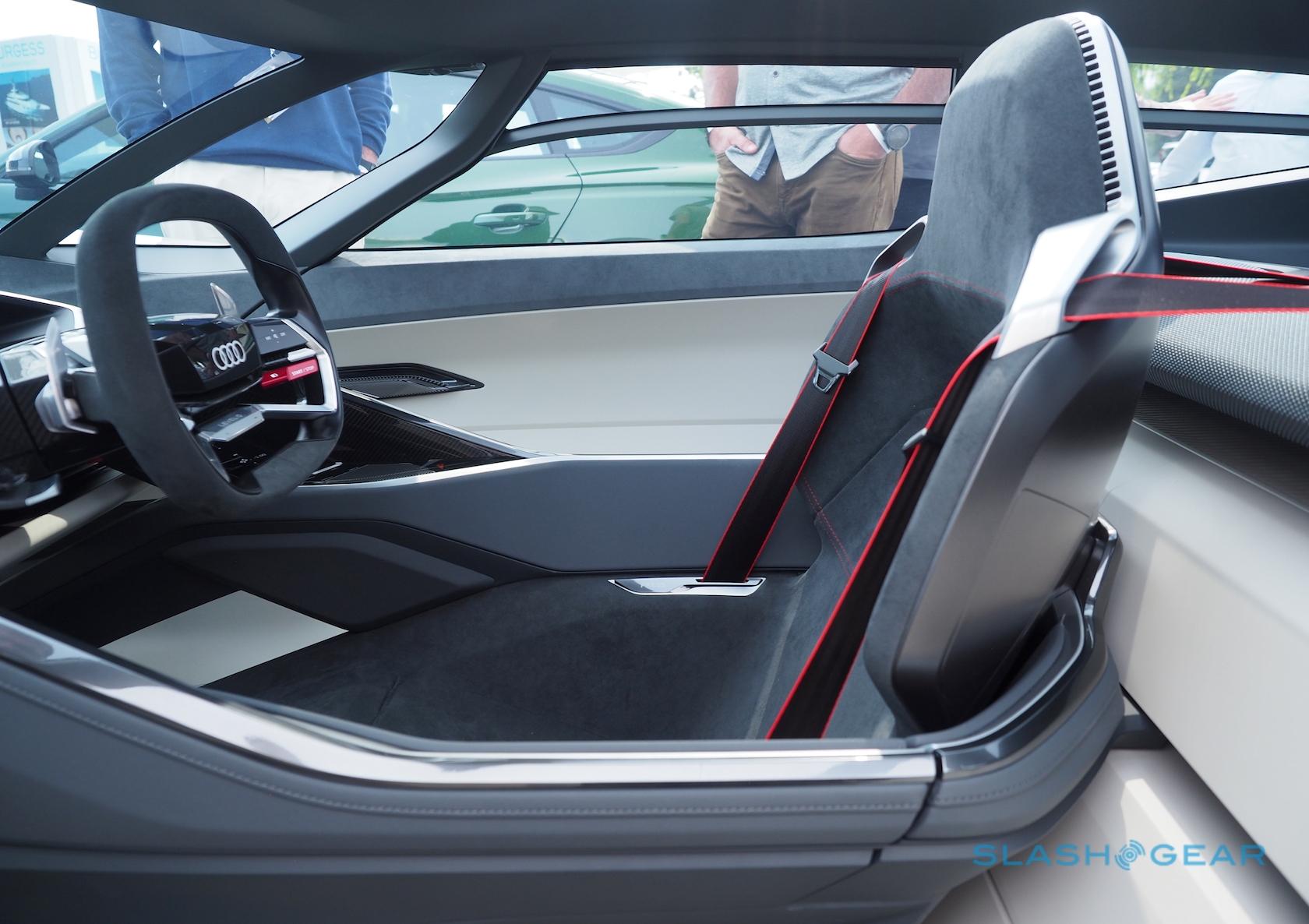 Nobody doubts, now, that electric cars can not only match gas-engined rivals on speed, but best them when it comes to performance too. Audi's show car will move, albeit very, very slowly; the EV production technology the company has, however, would be sufficient for 612 lb-ft of torque and a 0-62 mph time just over 2 seconds. With three electric motors – one at the front and one for each rear wheel – you're looking at 670 horsepower in regular use, and 764 hp in a short-time boost mode.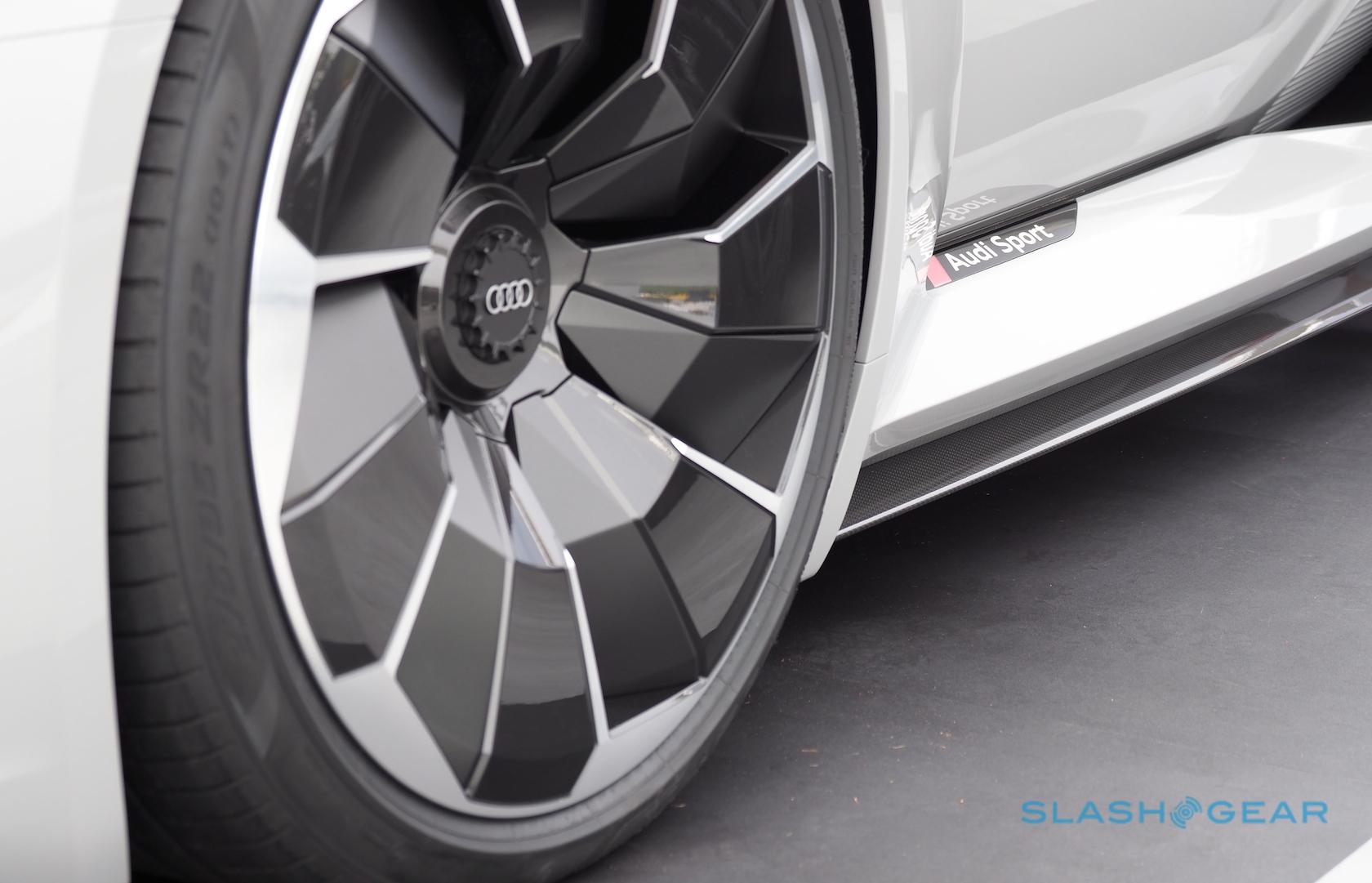 The result is a quattro all-wheel drive coupe that drives not much slower than Audi's LMP1 racing car. The automaker is insistent that this is no one-lap special, either. With a 95 kWh solid-state, liquid-cooled battery pack, it could get an e-tron SUV-matching 310 miles of range in regular use. Like Volkswagen Group stablemate Porsche, Audi is gung-ho about the prospect of super-fast charging via 800V architecture. Fifteen minutes on such a charger, and you'd be looking at a full battery again.
What's particularly fascinating about the PB18 e-tron is how Audi is blending supercar with production practicality. Like a classic performance coupe it promises a low center of gravity and a central front/rear weight balance. Unlike those gasoline cars, though, that's done by mounting the battery pack low and central, not the engine.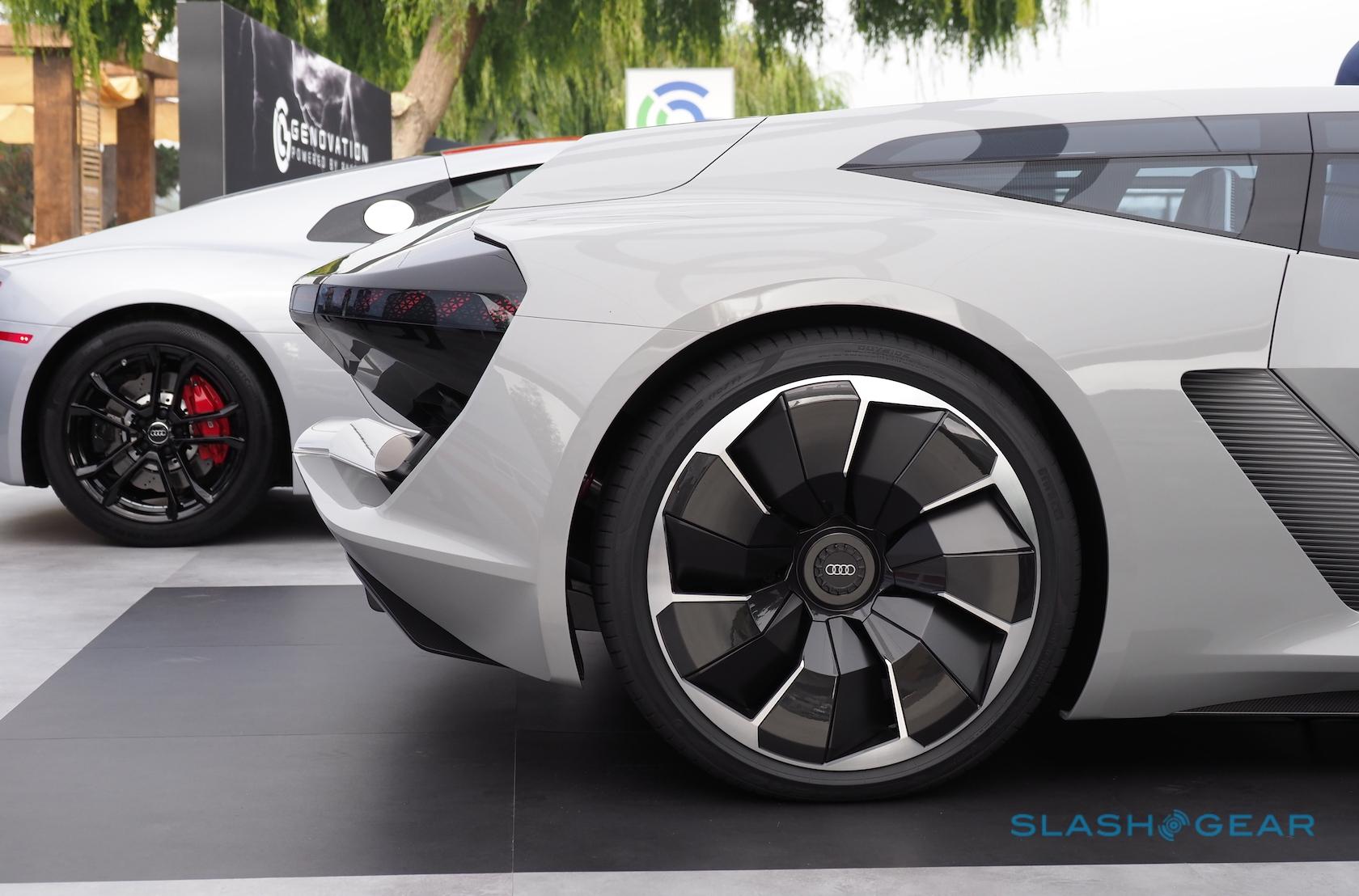 It might not be quite so quick to refuel as a traditional supercar would be at a gas pump, meanwhile, but 800V and wireless charging support could end up being just as convenient. If you've ever tried to find 95 octane gasoline for a performance car, indeed, you'll already know that the practicality of high-horsepower doesn't necessarily tally with the theory. Fit a few 800V charging points at each track, and suddenly cars like the PB18 start to look a whole lot more possible.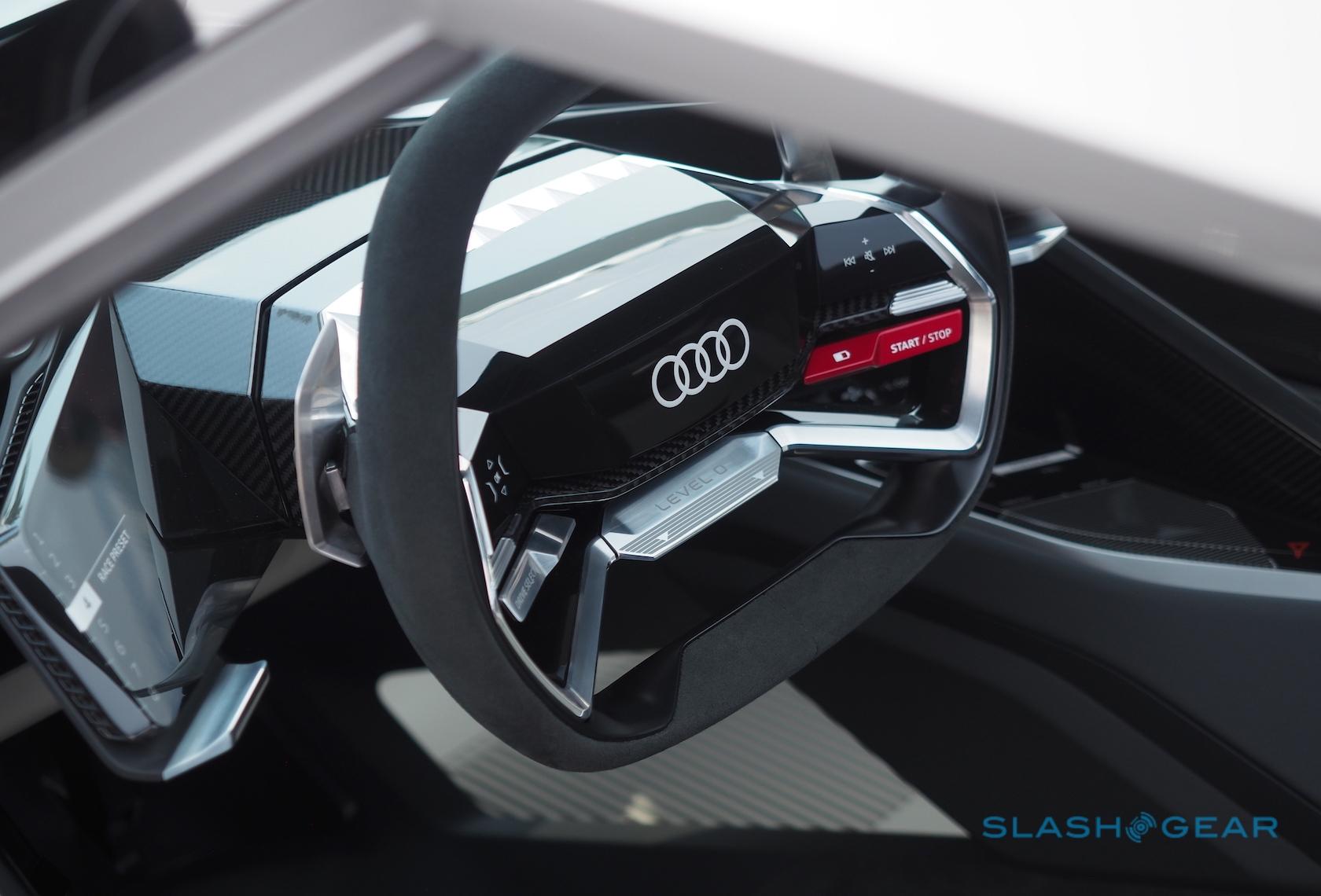 The PB18 is far from being production-ready at this point. All the same, the crux of what Audi is talking about isn't science-fiction, no matter how much like a movie prop the car itself may look. As we saw in our Audi e-tron SUV ride recently, the automaker went from concept car to showroom-ready in an astonishingly small period of time, complete with show-car-style features like virtual side mirrors and laser lights.
I don't think it's too cynical of me to be skeptical as to whether we'll see a car quite like the PB18 e-tron in Audi dealerships. For a start, regulations in the US are woefully ill-equipped to accommodate new features like cameras replacing mirrors. More pressing, the mechanics of the moving seat make for a compelling show car, but the target market of such a vehicle – and one willing to deal with its complexity – is undoubtedly small. Then again, maybe Audi has preempted me there, too.
The automaker says that its e-tron vision goes hand in hand with a new model of ownership, a subscription-based service that – like those we've seen already from Cadillac, Mercedes-Benz, BMW, and others – would grant access to a range of vehicles for a monthly fee. Audi describes it as "a premium sharing pool with highly individual models," namely the sort of cars you might not buy or lease specifically, but which you'd certainly enjoy having occasional access to.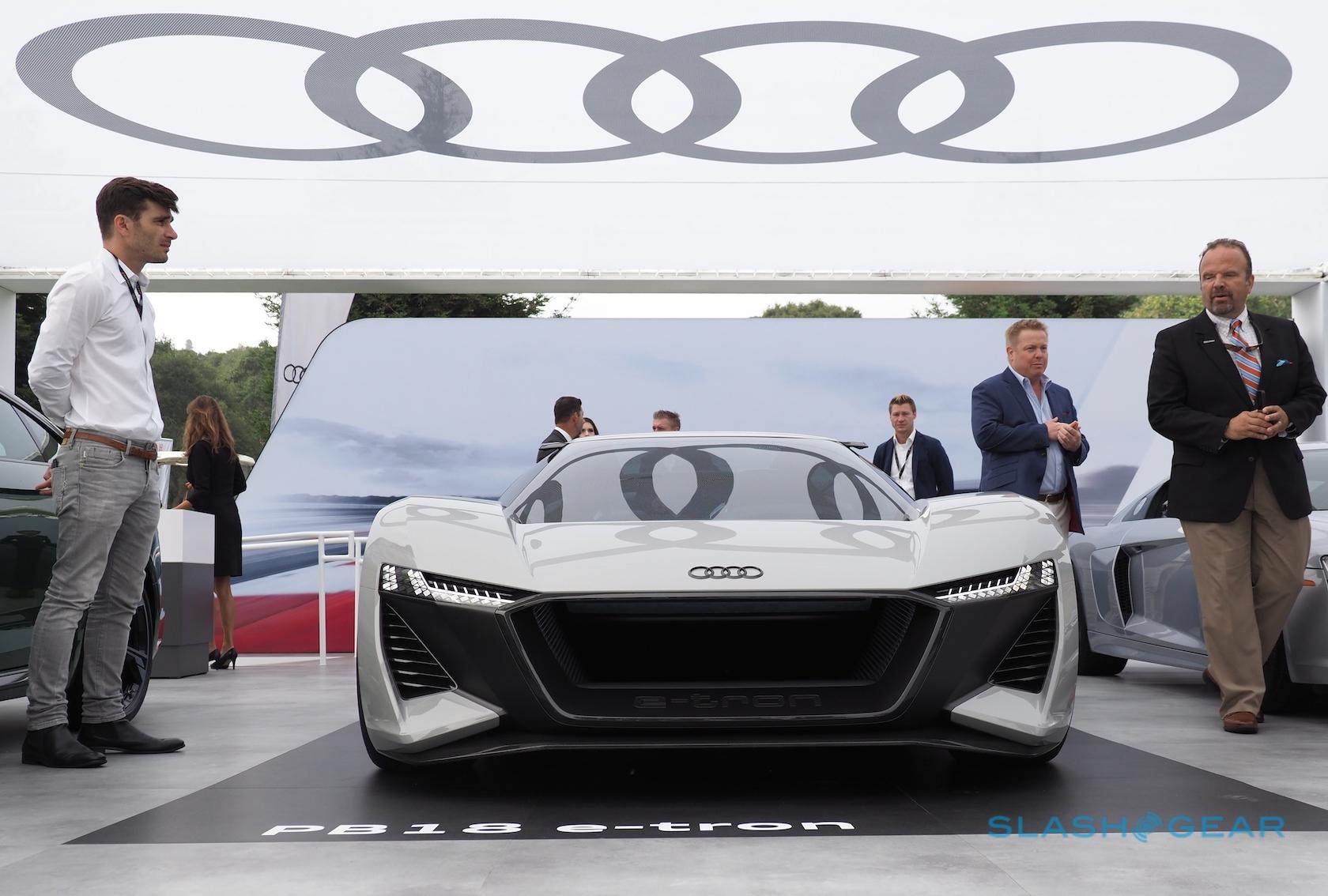 That, too, is some way off. The pieces, though, are coming together, and while the PB18 e-tron is an extreme example, it's that sort of excess which will underscore the value in new forms of propulsion and alternatives to ownership. For the moment, the Audi PB18 is a shiny, striking concept car. Tomorrow, though, it might just be at the leading edge of Audi's plan to invert the industry.