Audi may be readying its e-tron all-electric SUV for the market, but it picked Pebble Beach Concours d'Elegance to reveal a far more playful EV concept, the PB18 e-tron supercar. Promising to cut the assumption that tomorrow's electric vehicles will inevitably be at least semi-autonomous and vaguely anodyne, the PB18 e-tron goes in entirely the opposite direction.
In fact, it's all about delivering maximum electric power into the hands of a (hopefully talented) driver. Handiwork of the Audi design studio in Malibu, California, the new show car concept aims to demonstrate that electrons can be much more exciting than hydrocarbons.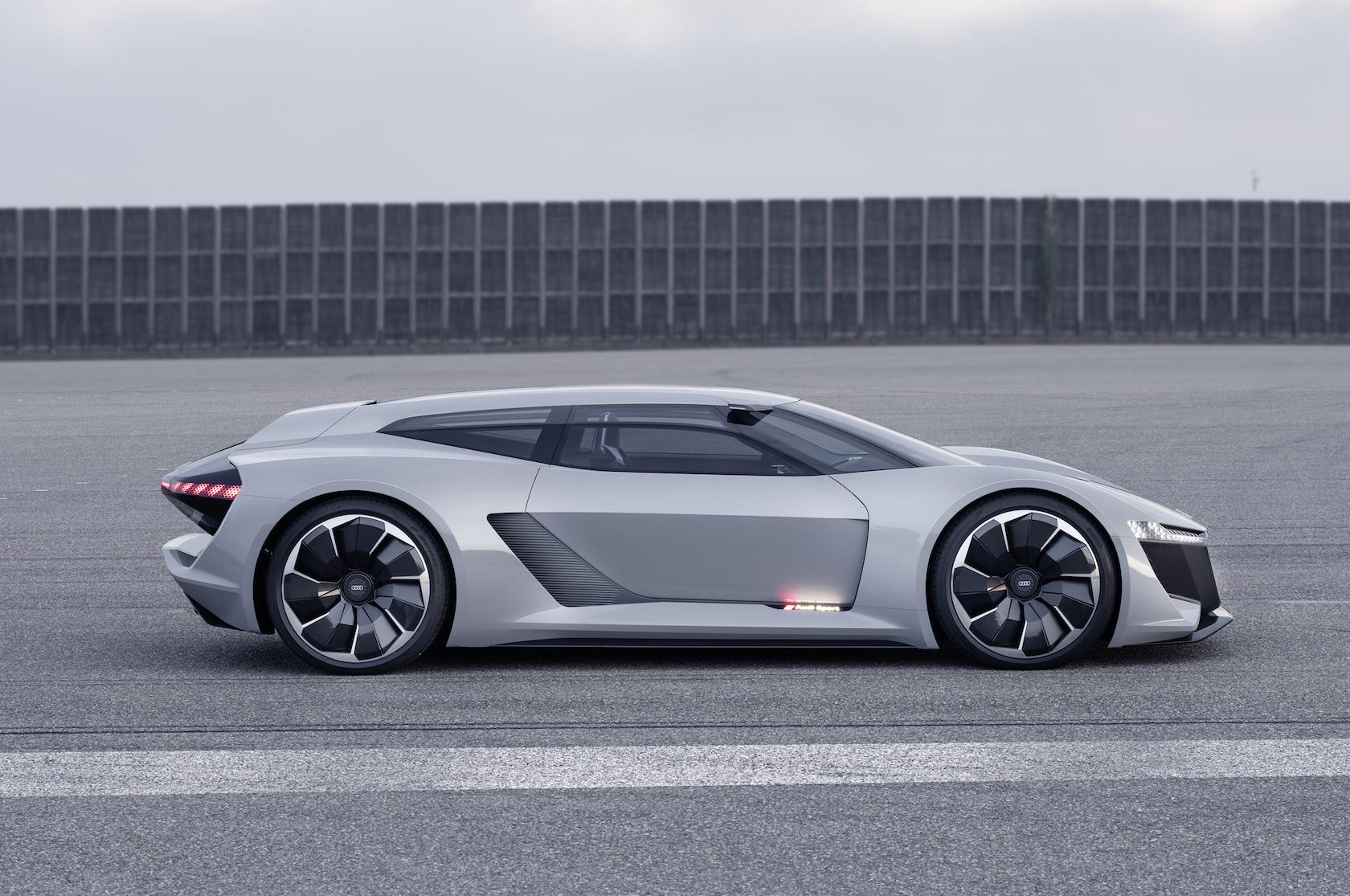 Modern it may be, but it's long, wide, and low like a classic sports car. The 8.9 foot wheelbase occupies a large proportion of the 14.5 foot overall length, with minimal overhangs. Huge C-pillars and a near-vertical rear window have hints of a shooting brake, but also add up to a surprisingly practical 16.6 cubic feet of trunk space. Audi has designed a custom luggage set to make the most of the compartment.
At the front, the Audi Singleframe grille is topped by the company logo, and flanked with sizable air inlets for the brakes and front electric motor. Wide, flat lights use digital matrix and laser high-beams. The hood has a sharp dip, acting as an air deflector.
From the side, the asymmetric wheels have hints of air turbine inlets, and do in fact help with brake disc cooling. A flat band of red lights runs across the rear, and there's a high-mounted rear diffuser air outlet that can be mechanically moved downward to increase downforce. The rear spoiler is fixed, but can be extended to do the same.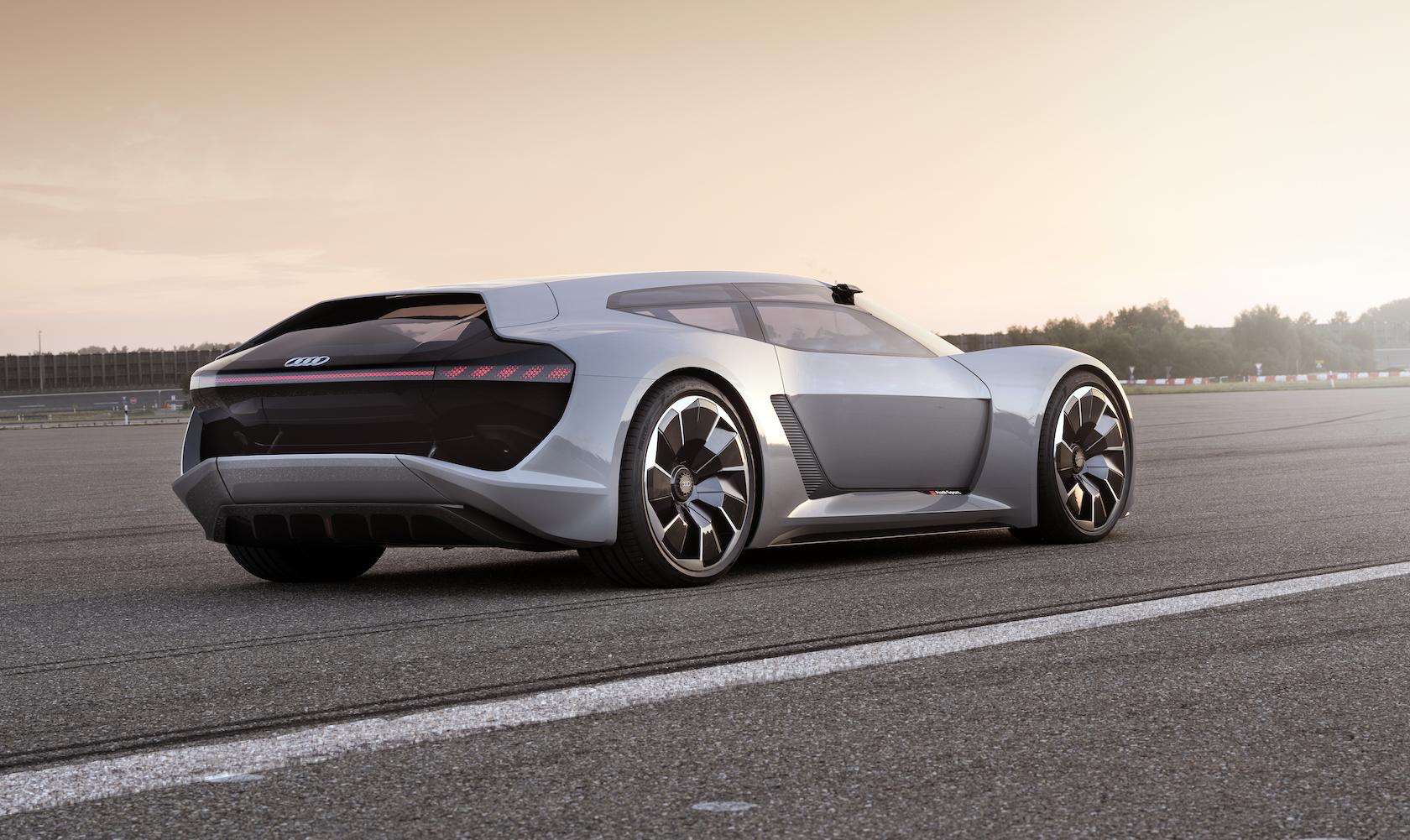 Style-wise, it's not hard to see echos of the 2017 Audi Aicon concept in the new PB18 e-tron. Both have dramatically extended wheel arches and steeply angled side windows; each is intended as a full-electric vehicle. At polar opposites, though, is the ethos of each car.
Where the Aicon was Audi's vision of what super-luxury and autonomous driving might look like in an all-electric world, the PB18 e-tron's goal is something very different. It's envisaged as a car entirely focused on the driving experience, rather than handing over the virtual wheel to a computer. Indeed, the internal working title for the project was Level Zero, Audi says, a reference to the escalating stages of driverless technology.
It means a hands-on driving experience, and a pared back cabin, too. No complex driver-assistance technology, and no unnecessary comfort features. Even the passenger seat can be removed, with the driver's monocoque seat then sliding across so that it's centrally positioned.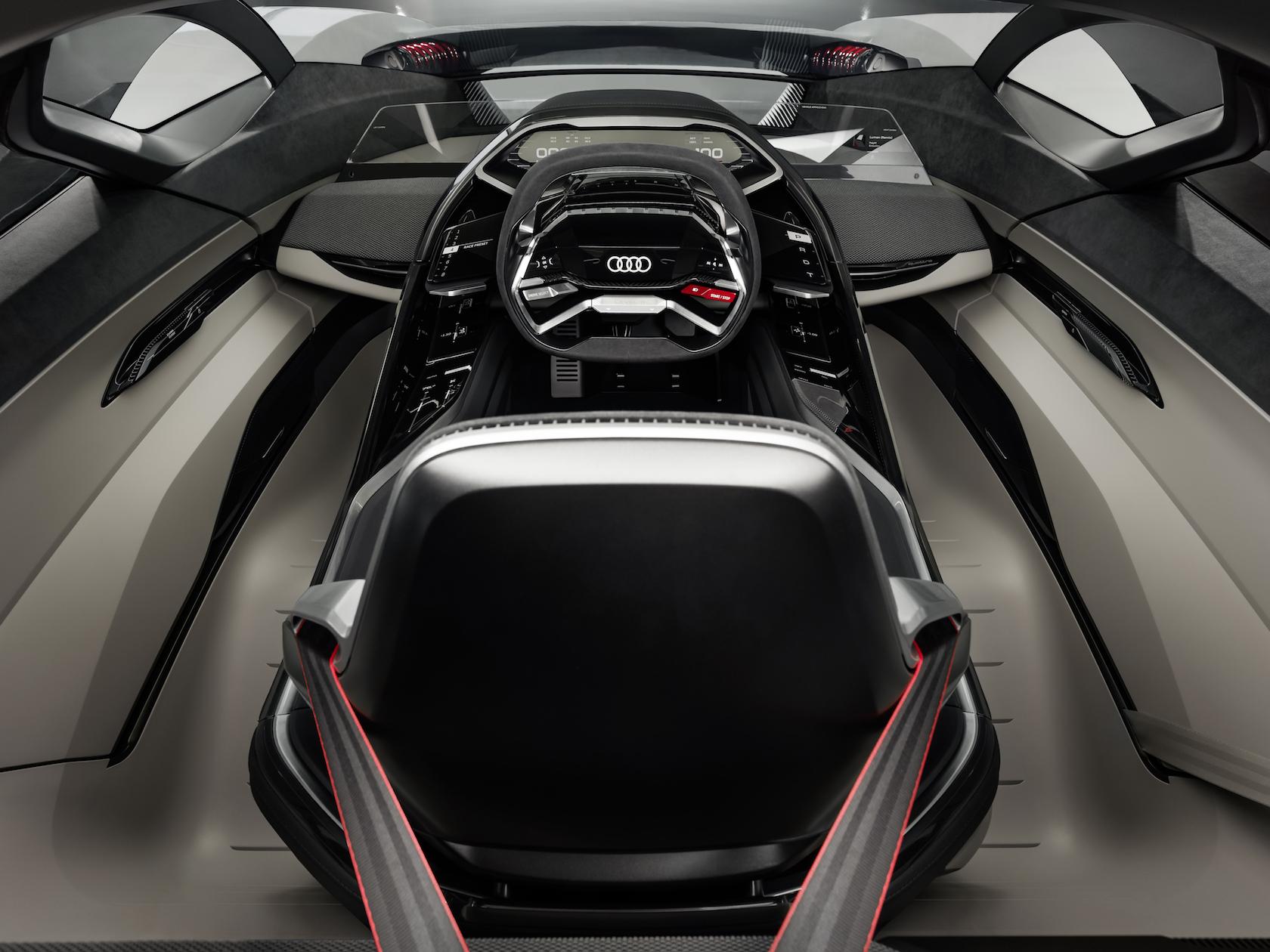 This single-seater – or monoposto – design is part of a number of motorsport-inspired elements, Audi says. The cab is pushed forward, leaving the center of gravity behind the seats but in front of the rear axle. Where a gas-engined track car might be mid-engined, in the case of the PB18 e-tron it's the solid-state, liquid-cooled battery pack.
That clocks in at 95 kWh, with Audi suggesting a full charge could deliver over 310 miles of range. 800V charging support could mean a full recharge in around 15 minutes, on the right sort of charger. Audi Wireless Charging, meanwhile, would be slower, but as simple for the driver as parking the PB-18 e-tron on top of a pad on the floor.
The battery drives three separate electric motors. One is mounted at the front, for the front axle, while the other two each drive one of the rear wheels via half-shafts. It means up to 150 kW delivered at the front, and up to 450 kW at the rear, for quattro all-wheel drive. Maximum power output is 500 kW, though a temporary boost mode nudges that up to 570 kW for limited periods.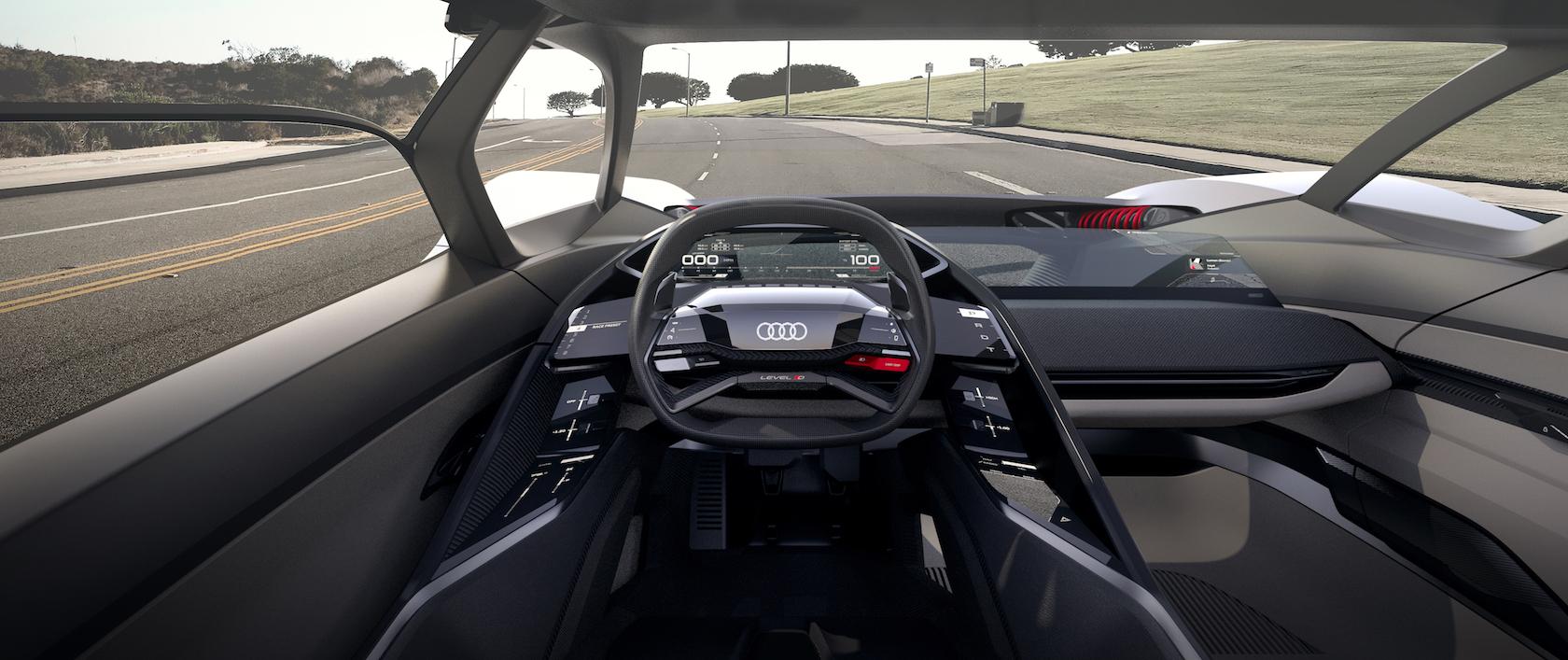 In total, you get more than 612 lb-ft of torque. Audi says 0-62 mph arrives in a little over 2 seconds, making the PB-18 e-tron only slightly slower from its LMP1 race car.
Since range is more likely to be needed than speed on public roads, the driver will be able to limit the EV's maximum performance. Regenerative braking is used much of the time, too – we've already seen first-hand in the Audi e-tron quattro just how effective that can be – with hydraulic brakes and 19-inch carbon discs only kicking in for more extreme braking.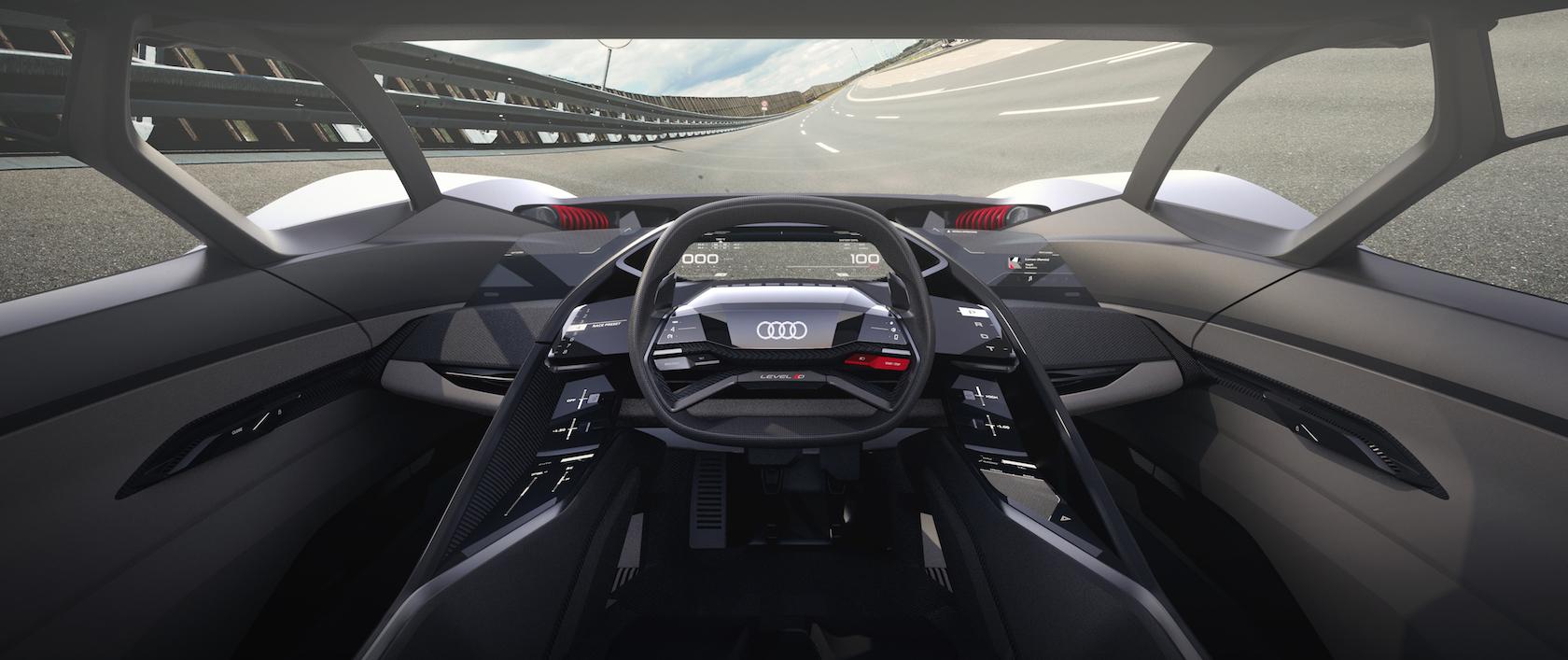 For the driver, the view ahead is through a large windshield with a transparent OLED display. Through that, they can see the perfect line through the upcoming turn on a track, or navigation and other information on public roads. Audi's Torque Control Manager works with the ESC to shift power to the most appropriate wheel, and since the electric motors deliver peak torque near-instantaneously, it should be significantly more responsive than a traditional gasoline car.
Independent suspension front and rear is used, with lower and upper transverse control arms. A push-rod system on the front axle borrows from motorsport once again, as does a pull-rod system on the rear. Each has adaptive magnetic ride shock absorbers. 22-inch wheels get 275/35 rubber on the front and 315/30 on the back.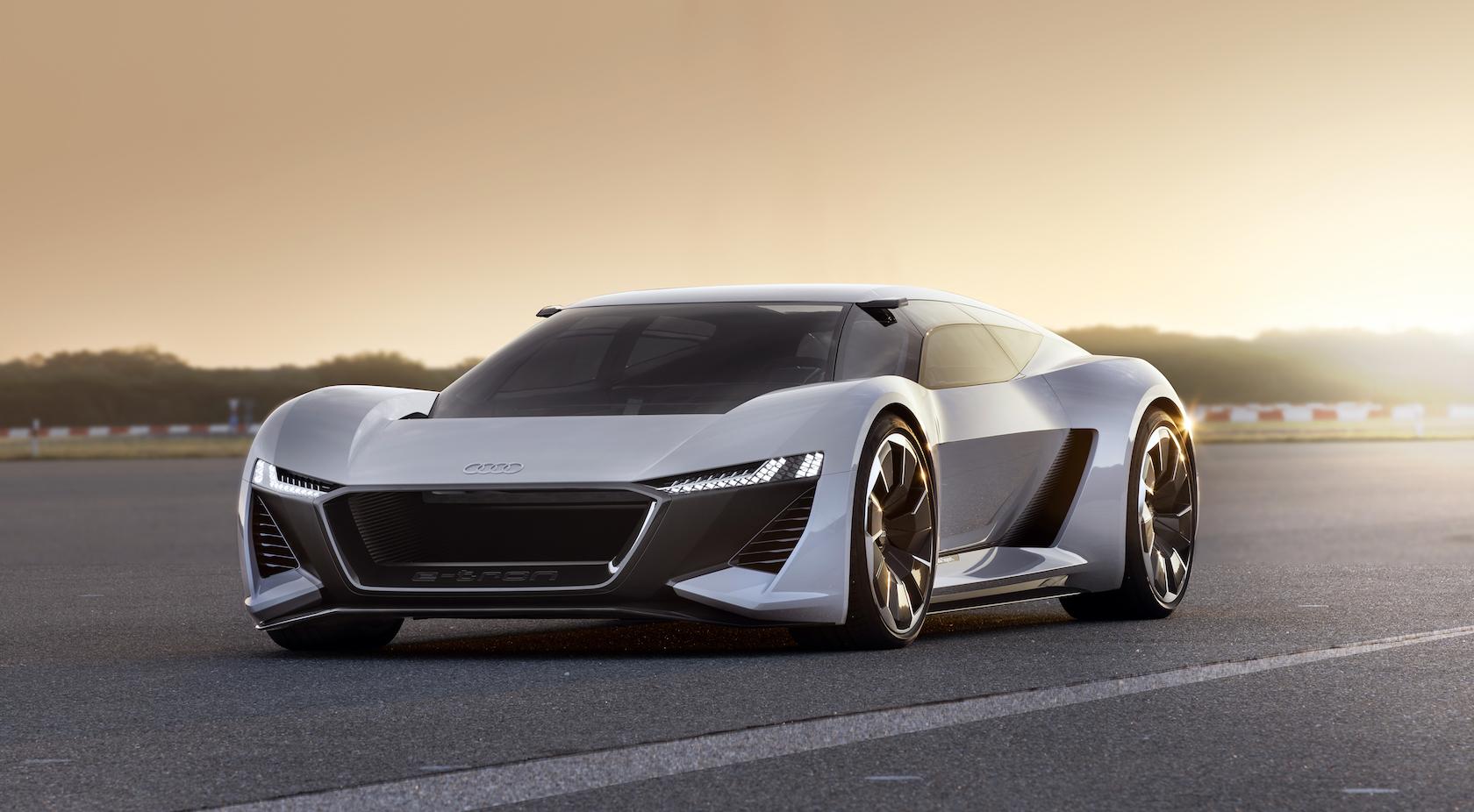 Certainly, the PB18 e-tron isn't ready for production in its current state. Nonetheless Audi insists that – like other all-electric concepts before it – the car previews the automaker's future thinking. Still in the pipeline are more EV concepts, including something designed with urban traffic in mind.
Audi's vision is one where well-heeled drivers have access to a portfolio of cars, rather than just a couple of models bought or leased in their garage. Described as "a premium sharing pool with highly individual models" such a subscription service would allow customers access to highly-focused vehicles in the vein of the PB18 e-tron, without having to live with them every day. We're not quite at that stage yet, but the idea of being able to temporarily get behind the wheel of a super-fast electric supercar for a weekend on the track is definitely something we're finding appealing.