Audi Elaine and Aicon Concept cars: Taking autonomy to Level 4 and 5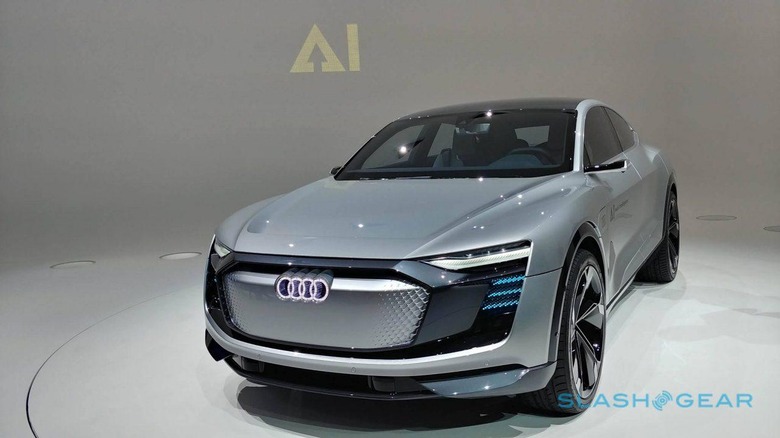 Autonomous driving is huge right now, and Audi is accelerating into the age of self-driving vehicles across a wide range of abilities. First off was the recent Audi AI traffic jam pilot techday, where I got to experience Level 3 autonomy in real-world traffic jams and then hop into the driver seat to experience for myself what happens during the crucial 10 second hand-off period as the tech disengages. Now, at this year's Internationale Automobil-Ausstellung (IAA) motor show in Frankfurt, Audi is taking the wraps off its new Level 4 and 5 concept cars, Elaine and Aicon respectively, that illustrate its vision of future autonomous mobility.
Though they may have been revealed at the same time, Elaine and Aicon envisage very different timescales for when their technologies might be practical. The Audi Elaine, for instance, is an all-electric "SUV coupe" that the automaker sees as being possible "in a few short years." It takes autonomous driving to a level above the 2019 Audi A8's Level 3 automated driving.
Unlike the Audi AI traffic jam pilot that will be offered on that luxury sedan from 2018, Audi intends to – in certain conditions – allow for Elaine to drive itself with or without a driver behind the wheel. Physically based on the Audi e-tron Sportback design study that the automaker unveiled at the Shanghai Auto Show earlier this year, Elaine adds animated LED lighting on the exterior to communicate its autonomous activities to other road-users. Under the sheet metal, there's a single electric motor on the front axle and two on the rear, for 320 kilowatts of full quattro all-wheel drive.
By integrating Audio's new zFAS controller, the basis of the A8's semi-autonomous system, the Elaine expands AI traffic jam pilot from the 37 mph top limit of the upcoming production car to up to 80.8 mph. That'll allow for complete self-driving on the highway, including automatic lane-changing. However, where the A8 demands someone be behind the wheel, Audi has been thinking of ways to do away with the driver altogether when Elaine reaches its destination.
Once the concept car is at the "handover zone" of an "Audi AI Zone", it can drive itself away into a multistory parking garage. Audi sees that as a hub for various services beyond just storing the car: it'll be able to find its own charger – either 150 kW fast-charging via cable, or using an Audi Wireless Charging pad to top up its 300+ mile range – but also get a car wash or complete other services. When required again, the car automatically drives itself back to pick up its owner, all controlled via an app.
Over time, Audi says, the car will figure out what's required of it proactively. Dubbed PIA, or Personal Intelligent Assistant, Audi's artificial intelligence will use data from the car, the driver, traffic jam reports and predictions, and various other online sources. That'll give it the smarts to set everything from climate control and music, through suggesting places to park and taking over highway driving. A cloud-based driver profile will support being remotely loaded into any Audi vehicle with PIA, so the car will automatically "know" its driver before they're even behind the wheel.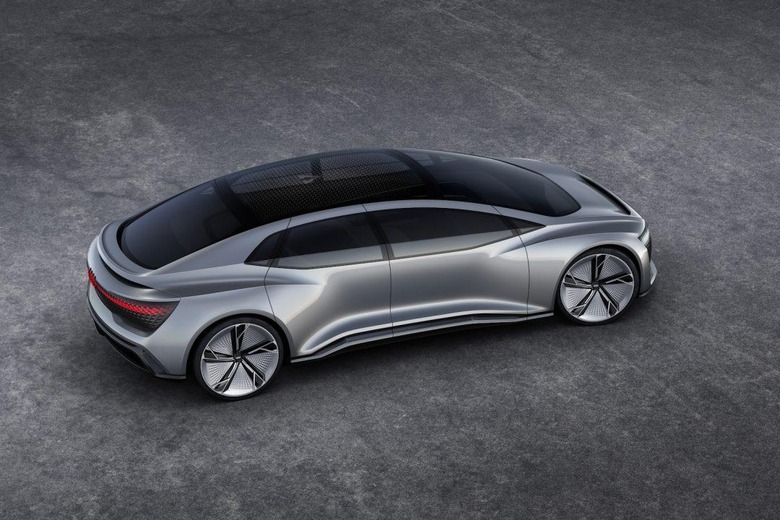 Down the line, however, Audi has even greater ambitions. The Audi Aicon is the automaker's vision of a fully-autonomous, Level 5 luxury sedan, a four-door 2+2 focusing on how both exterior and interior designs will evolve when actual driving is less important. The cabin, therefore has no steering wheel or pedals, offering instead a "first-class airline" experience; at almost 18 feet long and almost 7 feet wide, it sacrifices none of the road presence of a traditional luxury car.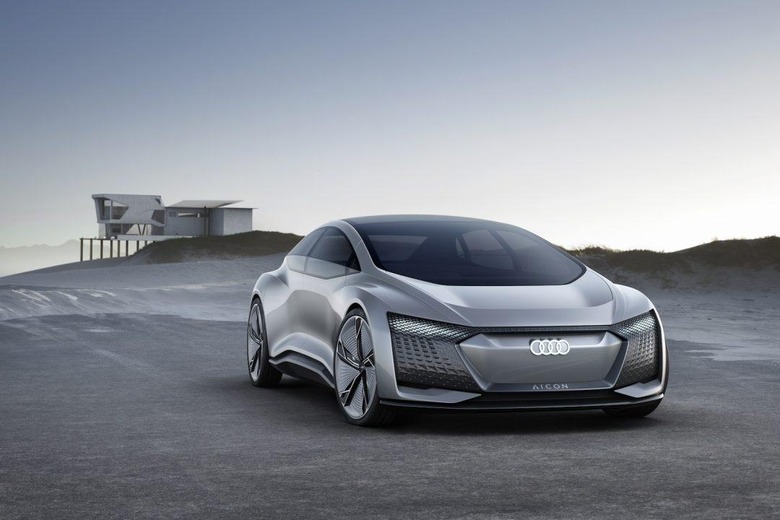 That, Audi says, is key to Aicon's raison d'être. Unlike an anonymous robot taxi, it wears its aspirations on its metaphorical sleeves. Wheel arch flares highlight the quattro all-wheel drive, wrapping around huge 26-inch wheels that are pushed to the corners to maximize interior space. Rather than regular lights, it uses fully-digital matrices of triangular pixel segments front and rear, which can be used to display animations and graphics to communicate the car's intentions to other road-users. More information can be projected onto the ground around the car.
Climb in through the wide-opening doors which lack a B-pillar, and there are two front seats that can slide and rotate, along with a two-seat bench in the rear. Audi says it was aiming for a lounge chair feeling, making the cabin feel less like that of a car and more akin to a salon. 23.3 cubic feet of trunk space is split between the front and rear of the Aicon.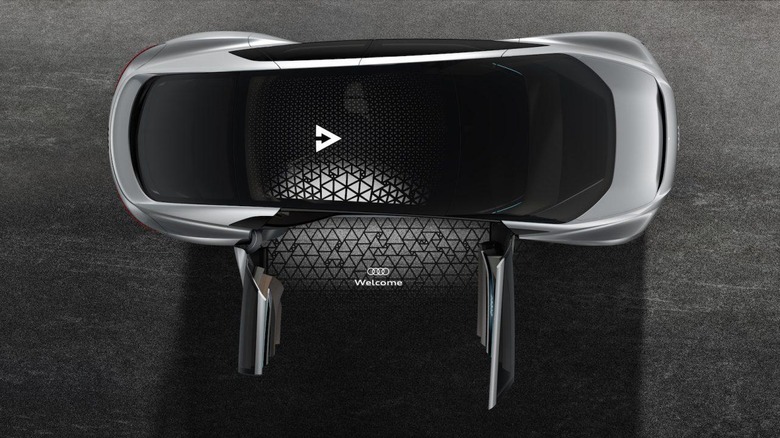 This isn't the concept car for the keen driver. Instead of traditional controls there are touch surfaces to handle destination and cabin settings; PIA pulls individual preferences from the occupants' accounts automatically. Eye-tracking identifies what a passenger wants to adjust, with touch or voice control taking care of the specifics. The lighting is all OLED, and you can even do away with the view from the windows altogether, replacing them with a digital overlay to show movies, work, or social media.
Unlike the 2019 A8 or even the Elaine, the Aicon makes a few extra assumptions about what future roads will be like. Car-to-Car and Car-to-X communications will be a big part of that, with the streets filled with predominantly autonomous vehicles. Controlled by smart, always-aware AIs, such cars will be able to travel at sustained 80mph rates to minimize delays between cities. It'll be so safe, indeed, that Audi predicts that seat belts simply won't be required.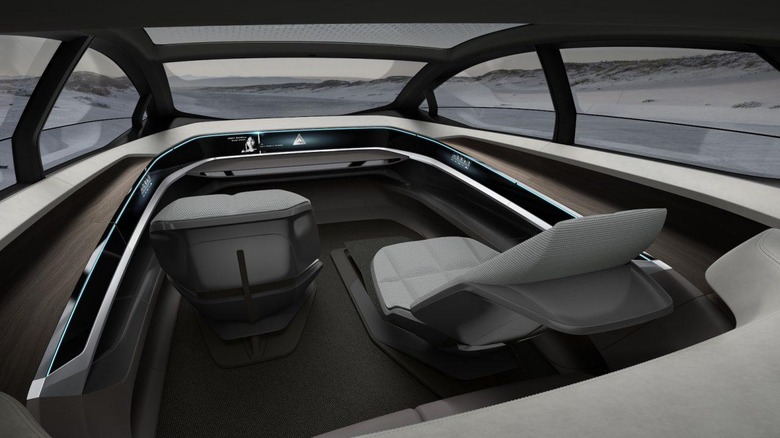 Under the skin, there'll be an electric motor for each wheel delivering 260 kW of power and over 405 lb-ft. of torque. Audi envisages range of around 500 miles on a charge, thanks to an 800 volt, solid body battery with capacity much in excess of today's li-ion cells. It'll charge either through wired or inductive means, including at the same AI Zones that Audi outlined for the Elaine.
Practical? Today, certainly not; there are plenty of obstacles to overcome before something like the Aicon would be anywhere close to achievable. However, as an indication of where Audi sees its car design progressing it's a good insight into the automaker's future intentions. It also underscores one important element: self-driving cars may be tightly connected with electrification and shared usage, but Audi still sees individuality as being a huge aspect of the automotive experience.