Acer Iconia W3 Review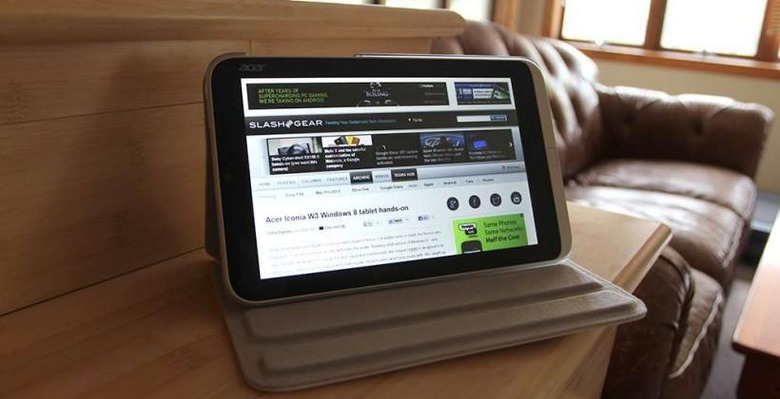 With the Acer Iconia W3 you've got Acer's first 8.1-inch Windows 8 effort on the market – and the first Windows 8 tablet on the market with an 8.1-inch display in any case. Acer's previous efforts with Android tablets have been decent – we've seen the group go all the way back to 2011 with the Acer Iconia Tab A500 and A501 for some of the first Honeycomb efforts on the market – and the Iconia W3 is no move to scoff at. Will this humble-looking handheld be the slate you'll want to rock for the dawn of Windows next-wave touch software?
Hardware
Acer is no stranger to firsts, that's for certain. Even the Acer Iconia Tab A100 took a unique chip at the Android tablet block, making way with the first 7-incher to tote Android 3.2 Honeycomb (back when that iteration of Android was first made for smaller-sized tablets).
With the Iconia W3 you're rolling out with an Intel Atom 1.5GHz Z2760 processor and 2GB of memory, enough to keep Windows 8 rolling relatively hard at this size a display. You've also got a collection of wireless connectivity options including WiFi a/b/g/n and Bluetooth 4.0+EDR and you'll be able to push video mirroring out with this tablet's built-in micro HDMI port.
The 8.1-inch panel up front works with 1200 x 800 pixel resolution that's well-to-do at first, but isn't exactly perfect when it comes to wide viewing angles. That said, you're probably not going to be aiming this machine at the faces of multiple partners anyway, so you get what you pay for – a single-user viewing experience.
You've got a microUSB port as well as a power port on this machine, this being one of the bigger (or smaller, however you want to look at it) differentiators between the Android and Windows tablet universes. While it's nice to be able to charge the machine up at what seems to be a slightly swifter time than any microUSB connection allows, it'd be nice to only have to rely on a single cord.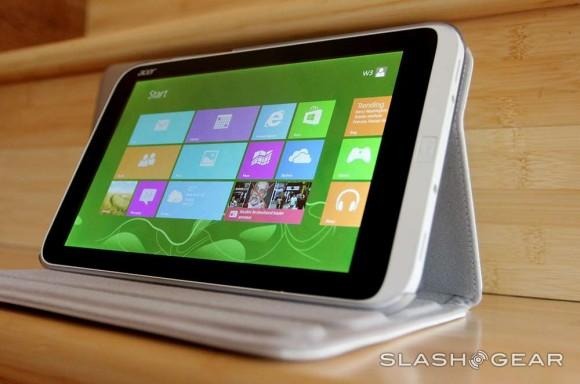 Battery life does indeed, believe it or not, live up to the hype – we've kicked out 7+ hours of regular use (without turning the machine off) with ease, while standby time hasn't yet reached its end after several days without being switched off. It would appear that Intel's processor here makes good on efforts to keep low-powered tasks in the low-powered class.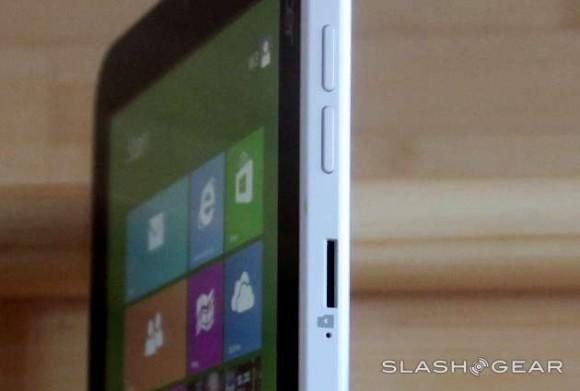 Up front and on back of this machine you've got 2 megapixel cameras able to take relatively decent one-time shots worthy of basic shares. There's a microSD memory card slight able to carry up to 32GB cards, and you've got 32GB of storage inside as well. And believe it or not, you get a WHOPPING 31GB of that space to use on your own – he largest app size in the whole machine is Microsoft's own "Travel" app at 375MB.
Market Competition
This machine's biggest competitor may be Samsung's recently revealed ATIV Tab 3, bringing on a "Galaxy" sort of theme in its hardware made ready for Windows 8.
It too brings on a near-8-inch display size (8.2-inches in that case), with an Intel Atom Z2760 processor and 2GB of RAM to kick out the jams. We'll see soon how it measures up in real life to the Acer machine here – for now we're feeling like the two are rather similar (save their obvious brand-specific aesthetic choices). Oh, and the S-Pen included with the Samsung machine – there's that, too. We'll see how big a difference that makes in swaying our decision soon.
Iterations and Accessories
There are two different versions of the Acer Iconia W3 coming to the market, that being the standard 32GB version at $379.99 USD, then the $429.99 version with 64GB of storage space. Either way you've got a value proposition that can't be matched on a Windows machine as such – specifically because of the size, at first (there is no other machine like this, so to speak), but then because Acer's created a solid, reliable machine where no real competition has stepped up to the plate in this sort of package thus far. As Acer paves the way at this compact size (with Windows 8), we'll soon see this battle rage.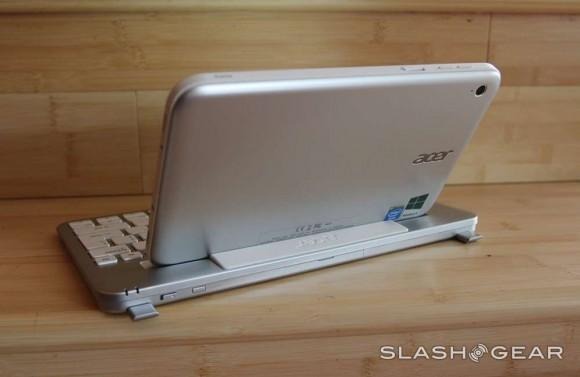 We've had the opportunity to have a look at this device's standard Acer-made Bluetooth Keyboard as well as its standard Protective Case, both of them ready to work with this machine specifically – and no other. The Protective Case is just about as standard as they come, connecting to the tablet with a plastic snap and keeping the unit safe with faux-leather in white.
The Bluetooth Keyboard, on the other hand, is unique. Here you've got a tablet, on one hand, that's sold on its own and can stand on its own as a separate product. But then there's the keyboard which, on its bottom, has a set of three clips that hold the tablet in place.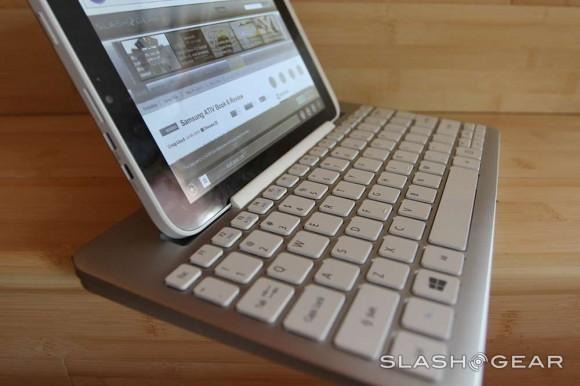 You might not notice it at first, but the tablet has a set of intends on its left and right (landscape-wise) that work with the keyboard to keep it in place when you're not using the tablet or the keyboard. Combined, these machines can be stored with the display protected and the keyboard revealed.
In use you'll be connecting with Bluetooth only, wirelessly only, with the machine held up with the keyboard's rubberized grip that'll allow both landscape and portrait views. Connectivity is simple, and the keyboard is powered by several AA batteries under the hood.
Wrap-up
It's difficult to judge this tablet as a competitor with any other similar solution since it basically stands alone in the field right this minute. While Acer has brought forth a relatively decent effort in the 10.1-inch space for tablets with the transforming Acer Iconia W510, it's here that the company goes all-in with a stand-alone mini-tablet effort for Windows 8 at last.
While we've yet to see any company bring the full-powered mini-tablet with high-definition display to Windows 8 that we desire – or at least desire to see – Acer currently leads the pack with this machine.