Acer Iconia W3 Windows 8 tablet hands-on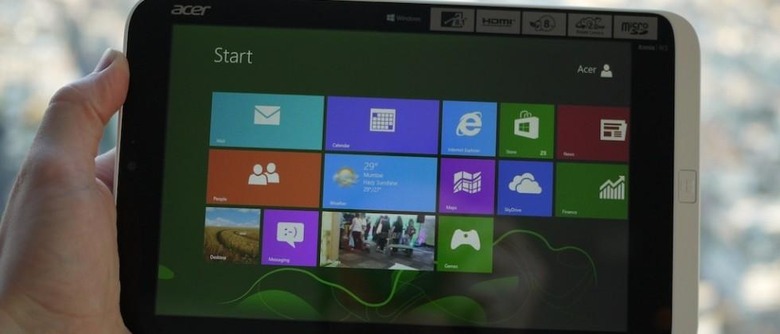 Think small tablets and Apple's iPad mini and Google's Nexus 7 probably come to mind, but Acer is also hoping its Iconia W3 Windows 8 slate will make the grade. Running a full version of Windows 8 – and, soon enough, Windows 8.1 – on an 8.1-inch capacitive touchscreen, the compact tablet is designed to fit into the bags and oversized coat pockets that regular, 10-inch slates won't play neatly with. We caught up with Acer and the Iconia W3 to see if this is the sort of Windows 8 we could see ourselves carrying everywhere.
First impressions are that there's plenty of plastic involved. Acer hasn't exactly set the world alight with the build quality of its Iconia Android tablets, and the W3 follows in the same footsteps, albeit with Microsoft's OS rather than Google's. The chassis is flex-free but feels middling in terms of quality, while the uninspiring and plain rear panel is serviceable but lacks the tactility of the iPad mini's metal.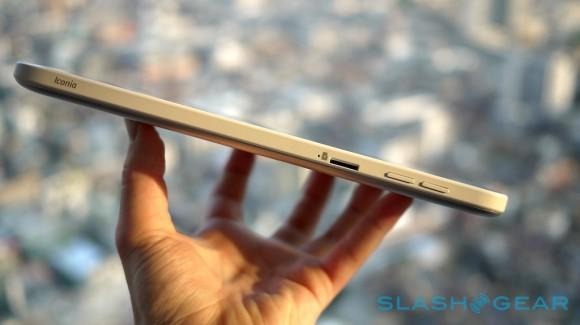 The bezel skirts the difficult line between enough to hold without inadvertently touching the screen and too thick to be aesthetically pleasing, and it's certainly sized and weighted for single-handed use. That's particularly the case when in portrait orientation, where the W3 feels more like a Kindle in the hand than a tablet.
Unlike with a Kindle, though, you're getting a full Windows 8 PC in the W3. Not, mind you, a blisteringly fast one: the Intel Atom 1.5GHz Z2760 processor and 2GB of memory are sufficient to keep Windows 8's Metro-style UI moving with reasonable smoothness, but we'd be wary of doing too much in the way of multitasking. The 1280 x 800 display is clear face-on, but suffers from swiftly-exhausted viewing angles. Still, given the size and weight of the tablet, it's not difficult to tilt it around to get the best view.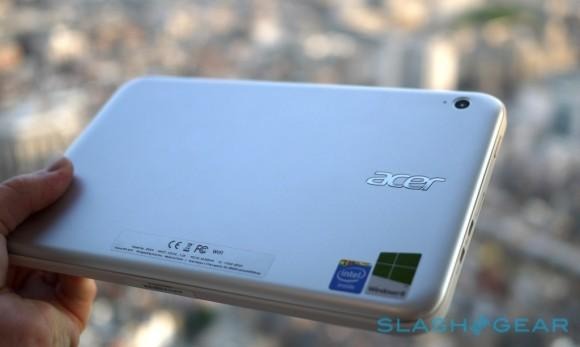 The rest of the specifications tread a balance between functionality and keeping things affordable. The cheapest version has a mere 32GB of internal storage, and a chunk of that is obviously taken up with Windows 8 itself; however, there's a microSD memory card slot, though it'll only apparently work with up to 32GB cards. Connectivity includes WiFi a/b/g/n and Bluetooth 4.0+EDR, as well as a single micro USB 2.0 port and a micro HDMI port. 2-megapixel cameras front and back, and stereo speakers and a digital microphone round things out.
Our biggest question is around battery life. Acer predicts up to eight hours of runtime from a single charge of the non-user-accessible battery, though that seems a little ambitious given the OS. We'll have to wait and see how it holds up in practice during review to see what real-world longevity is like. Microsoft's Surface Pro, for instance, managed at most six hours in our testing, though that's with a bigger screen and more potent processor.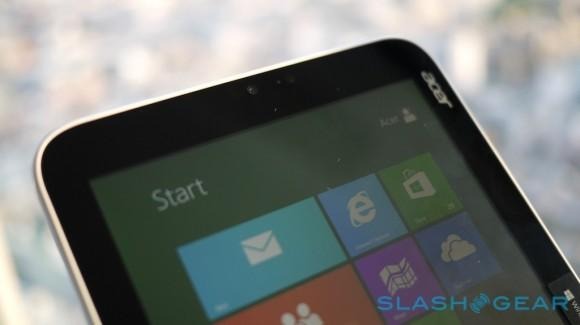 Of course, the big competition for the Iconia W3 isn't from Microsoft's Surface range, but Samsung. The South Korean heavyweight is better known for its Android slates, but revealed a compact Windows 8 version, the ATIV Tab 3 earlier this month. Like the Iconia W3 it has an optional keyboard dock (though Samsung integrates it into a folio case, rather than the larger version Acer offers) but the Tab 3 also supports an active stylus S Pen for text-entry and sketching.
The difference may well come down to price. Samsung is yet to confirm exactly how much the Tab 3 will cost, but Acer's Iconia W3 is already something of a bargain: $379.99 gets you the entry-level model with 32GB of storage, or $429.99 to double up on the storage.