Acer Iconia W510 Review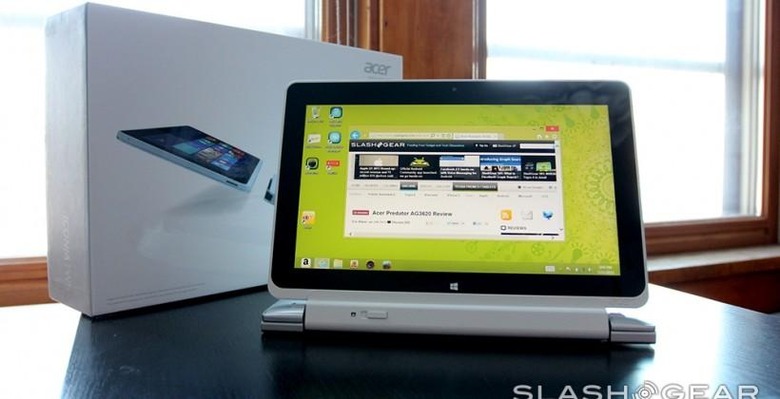 This week we're having a look at the Acer Iconia W500 series, specifically in the model tagged Iconia W510-1422 with full Windows 8 and multiple modes of computing action. This machine works as a tablet, as a notebook with its keyboard dock (in the box with this model), and with 295 degrees of twist in its hinge – a third "presentation" mode, complete with the extra battery power of the dock in-tact. This machine takes full Windows 8 to the tablet universe with a rather solid setup and a base cost of right around $750 USD – if that sounds like a deal to you, make with the tapping.
Hardware
The Acer Iconia W510-1422 is not just a tablet first, notebook second sort of situation like many modern multi-mode machines are. Instead you've got full Windows 8 (as opposed to the tablet-centric Windows RT) along with a solid touchscreen display and a keyboard dock thats clearly made to be part of the full package rather than an after-thought. The keyboard here is clearly the bottom half of the unit rather than the piece you leave at home when you're feeling no need to key.
Because you can bend the display back to a display position (with the keys of the keyboard then facing down towards the table) you've got a rather nice and nearly unique situation on your hands. While we've seen this position for tablet convertible machines several times over the past few months, you can rest assured that Acer does it right with a well-balanced and relatively rugged delivery of all pieces involved. And it feels natural to use this machine in each of its three major positions – that's important when it comes to this modern touch-friendly Windows 8 environment we're in here in the first part of 2013.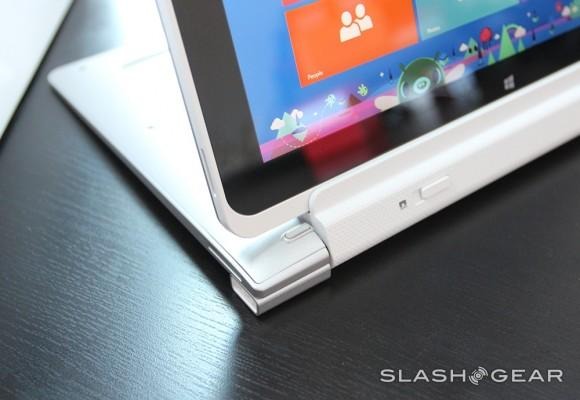 On this unit you've got a LED-backlit TFT LCD HD 10.1-inch display up front with 1366 x 768 pixel resolution covered by a smooth sheet of Gorilla Glass 2. Viewing angles are essentially perfect across the grid and the brightness you've got here is ready for everyday action (everywhere save direct sunlight). You'll be rolling out with 5-finger touch as opposed to the 10 you'll find on desktop PCs in 2013 for the most part, but unless you've got something rather unique on your hands that needs more than a couple fingers at a time, you'll never notice.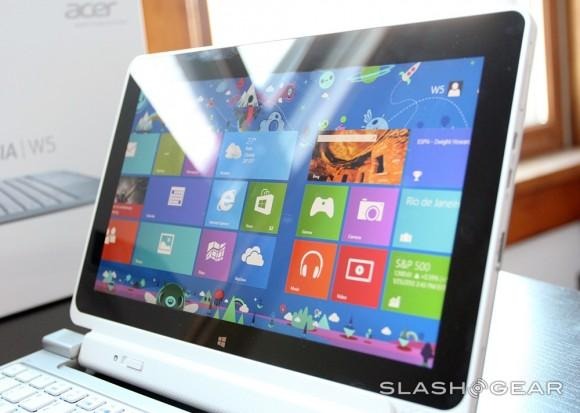 Inside you've got wireless connectivity as well as Bluetooth 4.0+HS and all around the rim you've got high-quality connections and blasters of media. Two speakers sit on the sides of the tablet portion of this setup to the left and the right, this allowing sound to bounce off your palm and into your ears with ease. This machine has an integrated digital microphone that works well with the cameras in front and back and you've got a set of ports for USB connectivity as well.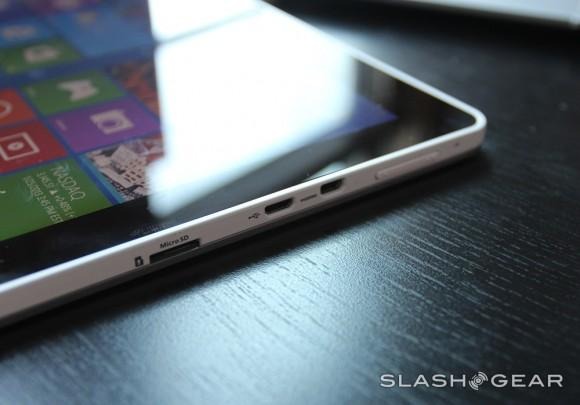 On the tablet itself you've got a microUSB port and a microHDMI port for 1080p output as well as multi-display. With this port you're able to use a massive display as a second screen – as you well should – and it works smooth as if it were a single-unit solution. The microUSB port allows you to connect to whatever other PC you've got handy and works with the microUSB-to-full size USB converter accessory that comes in the box as well – great for mice.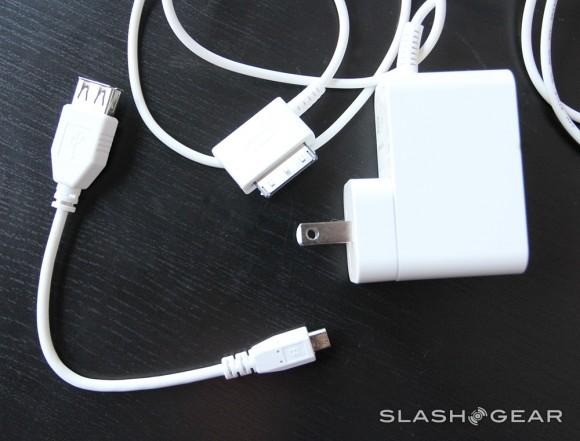 The keyboard portion of this setup also has a full-sized USB port for additional accessories, and the whole setup is powered by a port (with included power cord) that exists on the tablet itself and on the keyboard dock. When the tablet is connected to the keyboard, it does so with this port, leaving the keyboard dock to do all the powering of the whole unit.
Camera
The front-facing camera you've got here is more than ready for great video chat – better than some desktop machines these days with 1920 x 1080 resolution and 1080p video recording ready for action. The back-facing camera is also decent, though not exactly on-par with the camera you're getting on most modern smartphones with the same specifications. have a peek at a few demo photos below to get an idea of what you're working with here.
Note that most of the photos are taken with the back-facing camera indoors while the photo looking upward at the dog was taken with the front-facing camera. Again, this front-facing camera should be used primarily for video chat rather than photography, mind you.
Software and Performance
The full Windows 8 experience you'll be working with here offers up a collection of Acer-added applications for cloud computing, security, connectivity with your other wireless devices on the web, and everything in-between. This machine features the "Acer Ring" with its ability to quick-launch apps and websites as well as take screenshots on-the-fly. Acer Ring is essentially a home screen replacement app that allow you to take control of your machine in tablet mode, this version of the app made specifically for this device. You'll find each of the ports sitting in their right places and all of your media action controllable from one location – great stuff!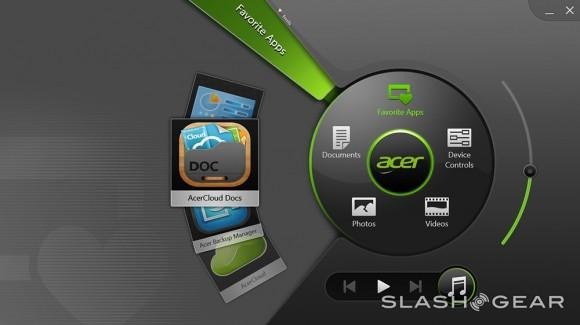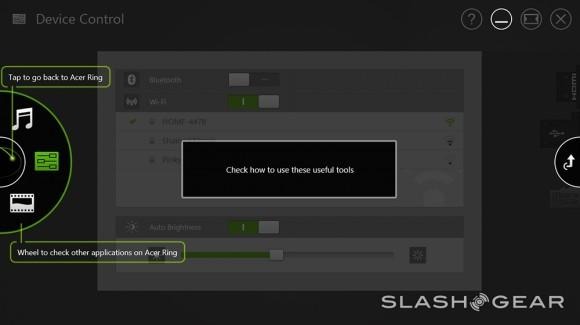 You'll be able to run nearly every kind of app you'd be able to run on any other Windows 8 machine (within reason.) While the whole experience is fluid and surprisingly powerful for what the physical size of the unit implies, you wont be anywhere near the monstrous power of desktop machines like the Acer Predator. Don't expect to play Hawken at full power here (not yet, at least).
[sgbenchmark id=197 show=score]
Under the hood you've got an Intel Atom Dual-Core processor from the Clover Trail generation that proves its might by doing well with every app the device comes with and some of the more interesting nearly high-powered oddities you'll find like Remote Desktop. With Remote Desktop you'll be able to work with your computer from another over a wireless network – the Iconia W510-1422 keeps up rather nicely. The exact model we've got here is the Intel Atom Z2760 1.5GHz (dual core) complete with Intel Burst Technology up to 1.8GHz (1MB L2 cache).
[sgbenchmark id=197 show=system]
Also under the hood you've got a 64GB Solid State Drive, 2GB of DDR3 SDRAM, and Intel Graphic Media Accelerator technology with 64MB of dedicated system memory. Battery time with the tablet alone has proven to be right between 7 and 8 hours when we're using it and several days if it's just sitting on the desk on its own, asleep. The tablet itself works with a 3450mAh battery while the base includes an additional battery that adds nearly as much battery time again. Together you're looking at several days of standby time at LEAST with around 11 hours of up-time just so long as you're browsing the web and playing videos (high-powered games give you a bit less).
Wrap-up
This machine is ready for the 2013 season of Windows 8 action, but it's not going to replace your MacBook Air. It's not meant to – if you're a Windows user and want a mobile device ready for everyday action and a relatively large amount of battery time, that's where you'll find the greatness in the Iconia W5. The whole setup is solid, the presentation is ready to take on the top competition in the market today, and it's easily one of our top choices for convertible tablets running full Windows 8 today – and not just because there aren't many of them out there!