Motorola Edge (2022) Review: King Of The Midrange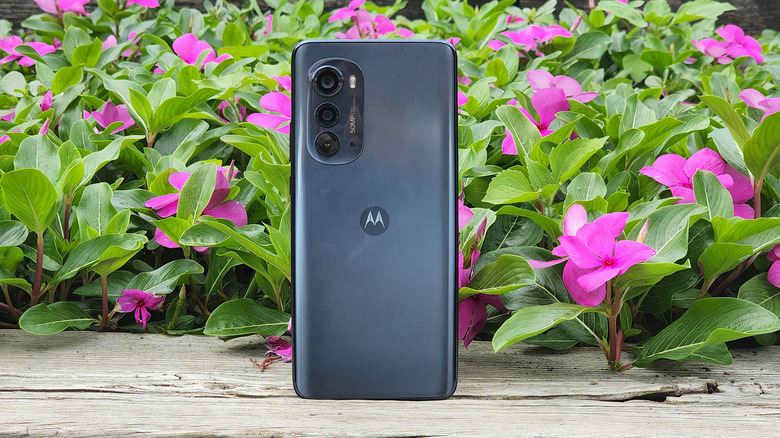 Adam Doud/SlashGear
Motorola has made its bones in the budget mobile space. So, when it boasts about a new addition to its premium lineup, that comes with an asterisk. A premium Motorola phone is the best phone it will offer, sure, but that doesn't mean it'll stand up to the very latest iPhones and Galaxy S handsets of the world. Or will it?
Motorola has made some strides in the flagship department and, while it wouldn't be fair to compare it to the best smartphones out there, that doesn't mean it's not a compelling offering in its own right. Because the best that Motorola has to offer is still pretty good, not to mention blessed with an attractive price tag. Plus, Motorola is raising the stakes in one key area where it has historically lagged behind. So is Motorola's latest flagship worth its $500 sticker?
I've spent two weeks with the Motorola Edge (2022) trying to answer that question. I've been using a review sample provided by Motorola on T-Mobile's network. 
Polycarbonate prince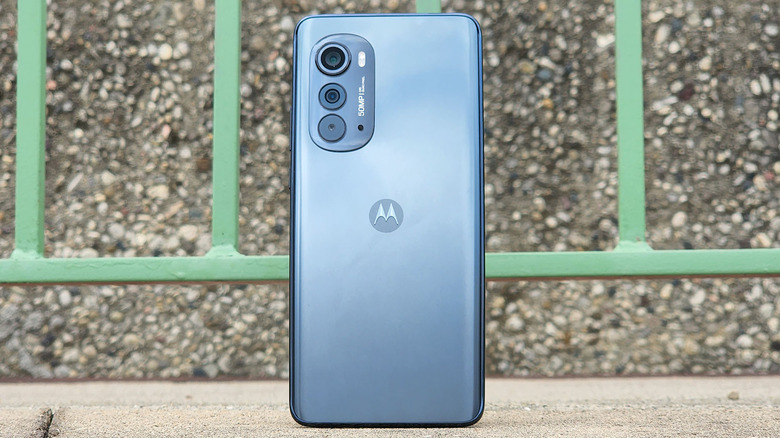 Adam Doud/SlashGear
If there's one thing that Motorola has down pat, it's building a pretty, but plastic phone. Those traits are seen once again in the Moto Edge 2022. The back of the phone is a polycarbonate plate with a Motorola logo in the middle and a relatively unobtrusive camera island in the upper right corner of the back. On the right side you get power and volume rockers and, on the bottom, you get a single bottom-firing speaker, USB-C port, and SIM tray. The earpiece completes the stereo speakers that Motorola likes to brag about, and in fairness to Moto, these are some of the loudest speakers I've heard on a smartphone. The sound quality is about as good as a smartphone can manage, but extra loudness is always welcome.
On the front, you get a 6.6" 1080p OLED panel with 144 Hz variable refresh rate. Normally, I don't really care about refresh rates on screens because normally I can't really tell the difference. The refresh rate on this phone, though, makes things buttery smooth. All I'm saying is, if I'm taking the time to write about this, it has to be pretty great, and this screen is. The screen also gets plenty bright to be seen in broad daylight, so in all it's a solid win here.
Dimensity, now with mmWave!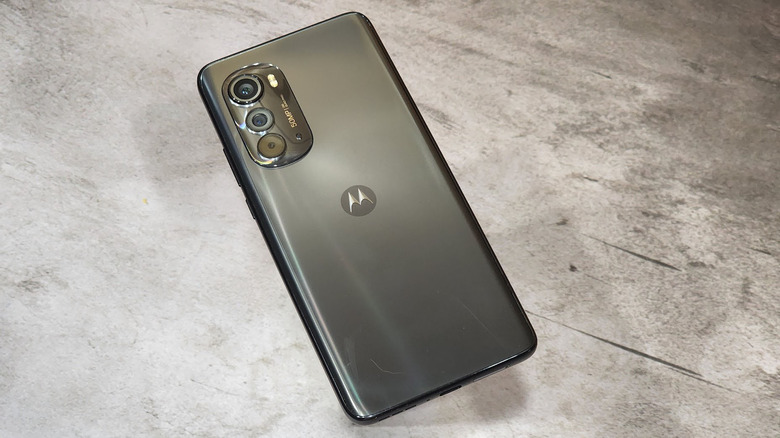 Adam Doud/SlashGear
On the inside, you've got a MediaTek Dimensity 1050 processor, which is MediaTek's first foray into mmWave connectivity. I didn't have the opportunity to test mmWave during the last two weeks; that's still very limited in its availability, with only a handful of cities and stadiums still lit-up with coverage, but it's good to know that it's there. I had no problem with sub-6 5G connectivity, which is typically not as fast but far more prevalent.
The phone comes in 6GB/128GB or 8GB/256GB RAM/ROM configurations. Mine was the former. Personally, I'm glad we've all collectively set the minimum standard at 128GB of storage, especially with multi-GB games out there and 4K video recording.
Getting back to the build quality, I have never minded polycarbonate backs on phones. Actually, I usually prefer them. Glass sandwiches are overrated and often unnecessarily slippery. That being said, this polycarbonate back has already collected a scratch or two that are pretty noticeable. Would glass hold up better? I'm not so sure. I'd prefer it if Moto just embraced the polycarbonate back and made it matte and less slippery. But the phone is noticeably thin and — at 170 grams — light, which is definitely appreciated.
Not a two-day phone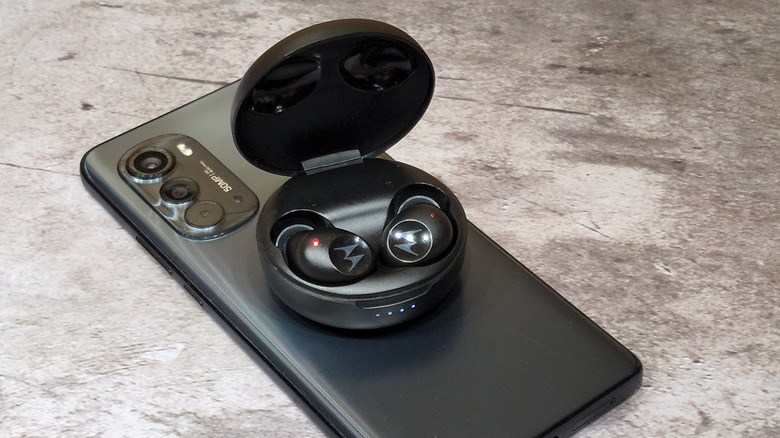 Adam Doud/SlashGear
Motorola calls this a two-day phone with a 5,000 mAh battery and it is not quite that. I initially had trouble with battery life, barely lasting a day at a time, but I think I had a glitch in the screen timeout and that caused the trouble. A reboot has since fixed the problem. All the same, I can get about a day and a half out of the phone if I forget to plug it in at night, but I can't stretch it to two days. Though that doesn't hit Motorola's promise it's definitely not bad, and most days I went to bed with around 30% left in the tank.
The Moto Edge (2022) supports 30W wired charging, 15W wireless charging, and 5W reverse wireless charging. Motorola also included a set of Moto Buds 250 to test out the latter, and it works just fine. It should be mentioned that Motorola does not include a 30W charging plug in the box, so you'll need to bring your own. I guess it's nice that Motorola supports 30W charging, but it would also be nice if it gave you the ability to do so out of the box. 
Power to give it a go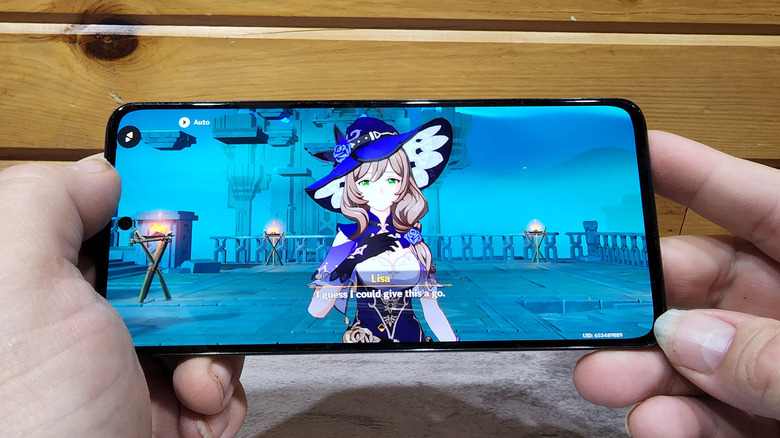 Adam Doud/SlashGear
On the performance side, the MediaTek 1050 returns Geekbench single and multi-core scores of 713 and 2,167 respectively. For reference, that's about 25% lower than the scores from the OnePlus 10T and its Snapdragon 8+ Gen 1 processor. Day to day tasks won't really be affected all that much, but when you play games like Genshin Impact, the game defaults to low graphic settings. When I push them up to medium, the game still plays, but the phone gets pretty toasty while doing so.
Lighter games like Call of Duty: Mobile play super smooth. But overall, if you need a phone that will comfortably get you through most common tasks, this phone will manage it. While this isn't terribly future-proof, it's more than capable of performing everyday applications. The only real stutter I noticed came in the camera app, more on which in a moment.
Bringing things into focus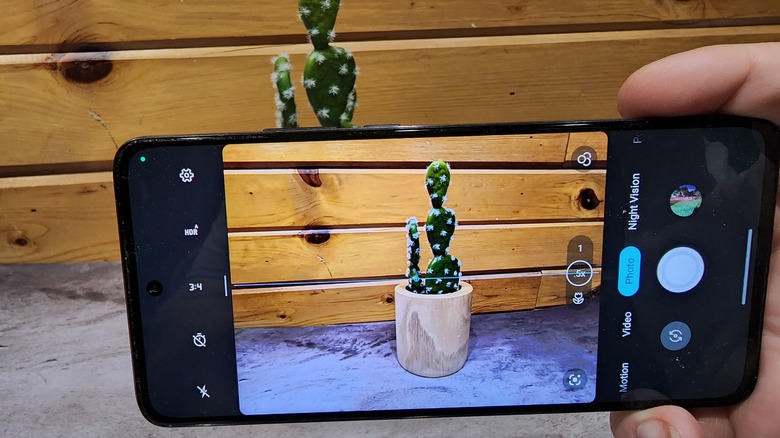 Adam Doud/SlashGear
I dove into the camera thorougly when I compared the Moto Edge (2022) to the Pixel 6A. Most of the same conclusions still hold. In case you didn't catch that comparison, I'll summarize things here.
The Moto Edge (2022) has a triple camera setup including a 50-megapixel main camera, a 13-megapixel ultrawide camera, and a 2-megapixel macro camera. In broad daylight, the camera is pretty good, capturing a good amount of detail. The inconsistency comes in the color science in between the main camera lens and the ultrawide lens. It's not uncommon, especially at this price point, for the ultrawide sensor to capture darker photos than the main sensor. Interestingly, that isn't the case here: rather, there is a noticeable difference in colors between the two lenses.
The problem is the variation isn't the same. Sometimes the main lens runs warm while the ultrawide runs cool. Other times, it's the opposite. The differences aren't huge, but you probably won't get the same shot from either lens like you would from higher-tier phones.
Video is a let down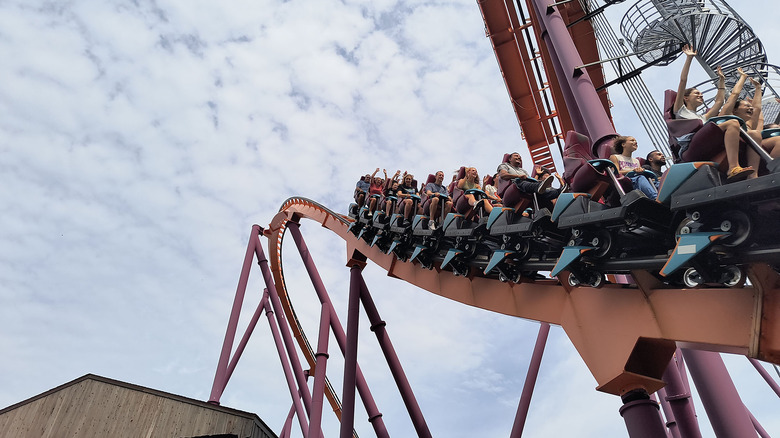 Adam Doud/SlashGear
Video on this phone is decent. Both the front and back cameras are capable of 4K capture, though only the rear camera will get you 60 or 120 fps. Stabilization is not the best. Even ramping down the footage to 1080p, which should theoretically allow for more electronic stabilization, doesn't get you much of an improvement. The front facing shooter looks better than the rear, which means vloggers might find this camera OK for walking and talking with the camera.
That goes out the window at night though. The Moto Edge (2022) exhibits the same typical symptom you get at this price range: terrible focus. When you're walking or panning with this camera at night, footage is juddery with a lot of lens flare. It's safe to say that if you want to capture video at night, better plan to stay still and record the action from where you are.
Burst shooting is rather slow, and a bit laggy. I tried to capture a roller coaster zooming by and managed to grab a few fairly sharp frames, but the burst started too late and the coaster was half way past me by the time the first shot went off. What's nice is that burst mode isn't limited to 20 shots like some other cameras, so just start early and hold the button a little longer than you think you'll need to.
Software is the the best part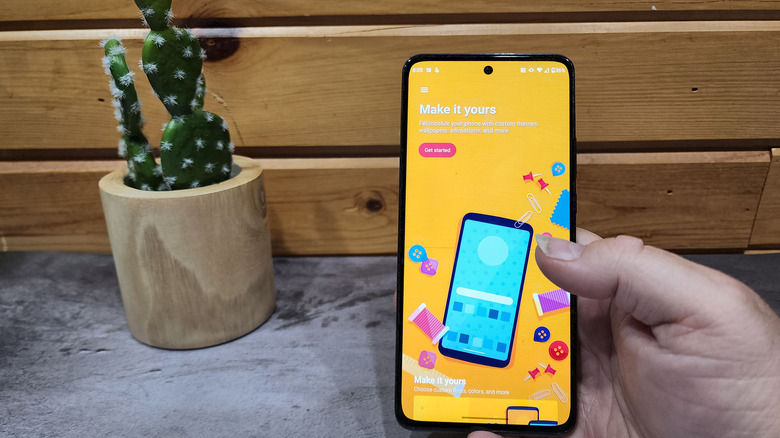 Adam Doud/SlashGear
The software on the Moto Edge (2022) is a very clean, almost stock Google experience, which is what I've come to expect from Motorola. There are a few extra apps in there, such as duplicate phone, messaging, and contacts apps. There's also a fair amount of T-Mobile software pre-loaded (though that may not be there on unlocked devices). But beyond that, you get a nice clean Android 12 look.
One pleasant surprise is that Motorola's software support is much improved for this device. Motorola is promising three operating system upgrades and four years of bi-monthly security updates. That's a lot better than what Moto has committed to in the past, so it's nice to see some improvement there. It's not awesome that Android 13, which is already out, will be the first of those promised three upgrades.
Motorola still allows you to make the phone yours by customizing a lot of the interactions on the phone. Gestures like the chop-chop for the flashlight are still here, along with a number of other gestures for screenshots, Do Not Disturb, and accessing split screen. A lot of these motion-based triggers become second nature while you're using them, and I miss them on other devices.
Ready For...what?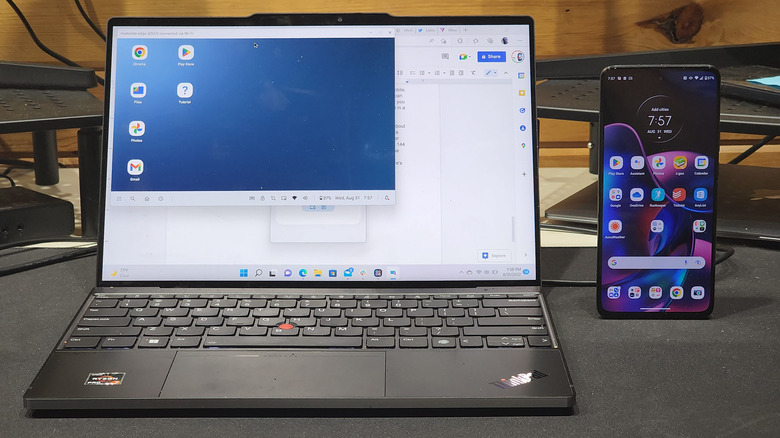 Adam Doud/SlashGear
Ready For is Motorola's answer to Samsung's Dex. In short it allows you to use an existing keyboard and monitor, or laptop, to mirror your phone and use it like a desktop. I used it along with a laptop wirelessly and I found the features to be somewhat limited. It's nice to interact with some of your apps in a desktop environment, but the question that neither Ready For nor Dex have answered is, who has an extra screen and keyboard lying around? It seems to be for a future that isn't quite here yet. Sure it'd be nice to set your phone down at your cubicle at work and accomplish most of the tasks you could do on a desktop, but that's what your desktop is there for. Companies haven't gotten to the point where they're ready to issue only phones instead of full computing setups.
Beyond that, I can't complain about the software at all. I really dig it. Now that software support is where it should be, Moto's iteration of Android is pretty great, and I'm here for it.
So where does that leave us?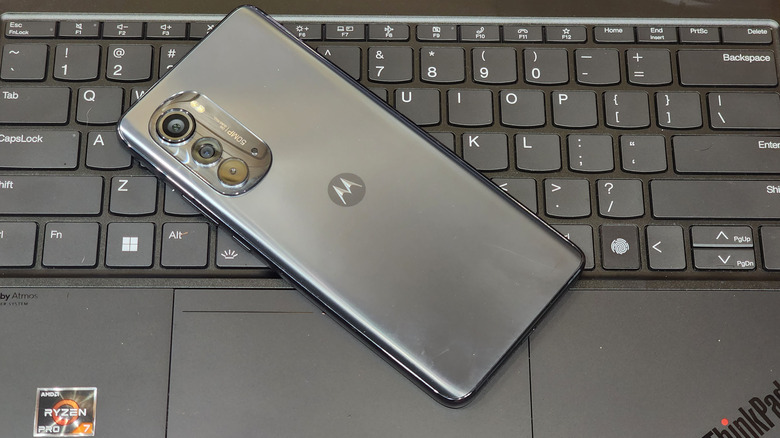 Adam Doud/SlashGear
Motorola is launching the Edge (2022) for a special introductory price of $498 through T-Mobile, or preorder for $499 at Best Buy, Amazon, and Motorola's website. For a limited time, you can get a Moto Edge free from T-Mobile with a new line activation. So this is a great phone that you should absolutely buy right? By itself, this is a pretty solid deal. Sadly for easy conclusions, this phone doesn't exist in a vacuum.
As I mentioned in my Pixel 6A vs. Moto Edge (2022) camera shootout, these phones sit about $50 apart from each other. The Pixel 6A gives you a great camera, amazing computational photography features, a flagship level processor, and great battery life for $50 less. That's not nothing. You get better software support from Google, but you get better software from Motorola. Plus, you get the 144 Hz refresh rate and wireless charging with the Moto Edge (2022). In my humble opinion, these extras are enough to give Motorola the edge (pun a little intended). While this phone can't compete with higher-end phones, that's not really Motorola's jam any more. That's ok. There's plenty of room in the budget space for a premium midrange phone, and right now that is definitely in Motorola's wheelhouse.