Here's How Drones Could Change The Medical Industry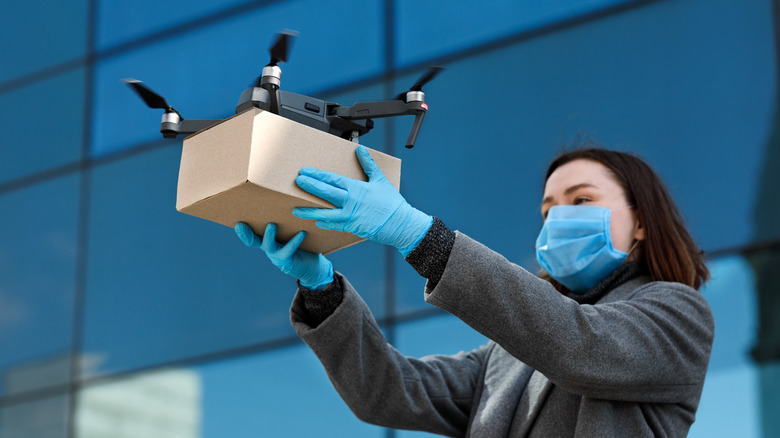 Prostock-studio/Shutterstock
Drones are slowly becoming a major industry game-changer, and when it comes to the medical field, lives might not be the only thing they'll save. Drone technology has come a long way, from elevating photography (both figuratively and literally) to becoming a sport with wide mainstream media acceptance. However, companies and government bodies are only starting to tap into their full potential as means to revolutionize industries. One such organization is the UK Research and Innovation (UKRI), which is a "non-departmental public body" backed by the country's Department for Business, Energy and Industrial Strategy (BEIS).
The group's planned Future Flight Challenge aims to research and demonstrate more efficient and sustainable aerial transportation solutions. With the help of evolving drones and UAV technology, including a £125 million ($150 million) budget, the program foresees growth of new markets worth an estimated $675 billion by 2050. In the span of five years starting from 2019, those working on the project hope to "transform" how services and goods are connected to the people who need them, while making the UK a "global leader in advanced aviation solutions" in the process, per UKRI. Now that drones are being utilized to hunt down muder hornets safely, can these compact fliers also make breakthroughs in the medical industry, if so, how?
How can drones help in the medical field?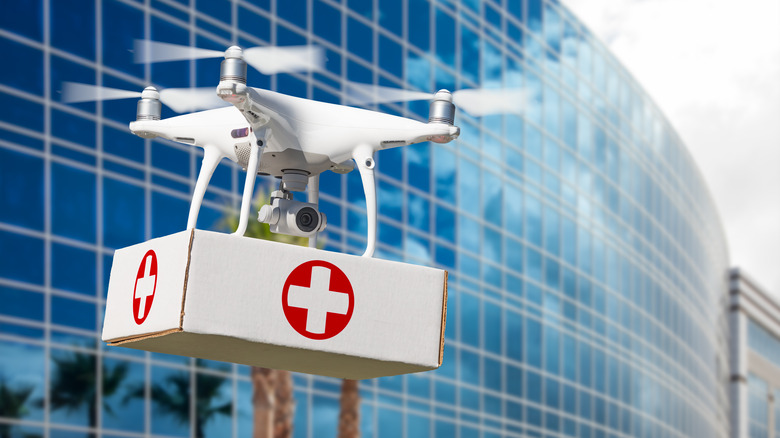 Andy Dean Photography/Shutterstock
UKRI's program also has major implications for the medical industry in particular, both in terms of its future sustainability as well as efficiency. University Hospitals of Morecambe Bay NHS Foundation Trust (UHMBT) Director Phil Woodford told BBC the Future Flight Challenge could help reduce traffic, pollution, and transport sensitive medical supplies, all at the same time. The project's first phase will start with drones traveling between the Royal Lancaster Infirmary, Wesmorland, and Furness General Hospitals in Cumbria, using a dedicated 250ft airspace. Based on routes in Google Maps, the average driving distance of such trips more or less range from 20 to 40 miles.
The thing is, current means of delivering medical samples in Lancashire involves traveling to different hospitals several times a day using vans, taxis and motorcycles. Compared to such rudimentary means of travel, which Woodford said takes an hour or more depending on traffic, using medical drones are said to shorten the overall trip to just 15 minutes. Woodford argued that medical drone deliveries can make the process faster, safer, and doesn't put unnecessary load on drivers and the environment. While drones have proven to be quite handy in space, properly integrating them on Earth's busier air space is another story. Fortunately, the project is building a roadmap to tackle just that.
Medical drone innovation is just the beginning
Among the goals Future Flight Challenge is aiming for is creating "new classes" of autonomous aerial vehicles powered by solar or hydrogen, while also building better air traffic infrastructure to accommodate them. In an interview with BBC Radio, Woodfod revealed the medical delivery drones utilize renewable energy from solar or wind-powered landing pads. Any excess energy these battery-powered drones no longer need are diverted back to the power grid, making these sustainable landing pads help with the country's net zero carbon goals as well. UKRI's project partner Altitude Angel specializes in ensuring these drones are right where they should be in a safe yet efficient manner.
With its Unified Traffic Management system (UTM), the firm hopes to build a 165-mile drone "skyway" that implements powerful ground sensors constantly detecting air traffic for collision prevention. This ensures a safe automated flight path for drones to transport anything from medical supplies to organs, including emergency responders and even priceless goods. UKRI's video above shows the scope of its challenge, which encompasses the medical sphere by soon giving people in remote areas access to jobs, education and healthcare. Given how drone concepts can often lead to controversial results, however, perhaps one of the biggest hurdles it will need to overcome next lies in developing public trust.