The Most Expensive Car In Sergio Perez's Collection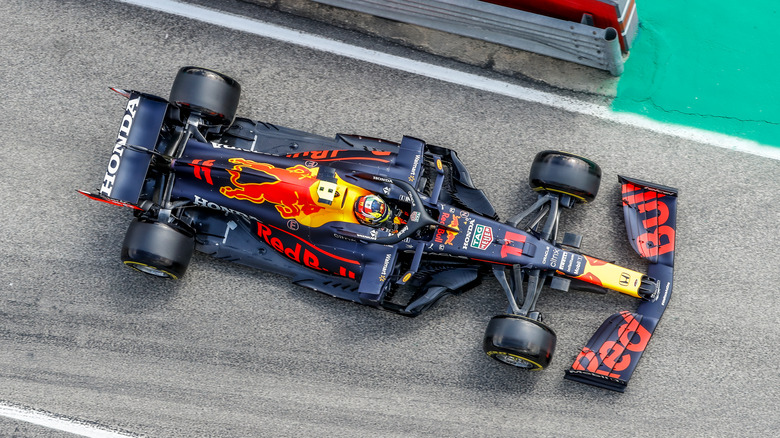 cristiano barni/Shutterstock
Formula 1 driving ace Sergio Perez recently made headlines by becoming the first Mexican to take pole position at an F1 Grand Prix. It happened at the Jeddah Corniche circuit in Saudi Arabia, where Perez clocked 1:28.200, just 0.025 seconds faster than Ferrari's Charles Leclerc. "It feels amazing!" said Perez in an interview with F1. "If there is a place you want to be on the pole, it's this one because you know you nailed the lap, and you've got the perfect lap altogether."
On a slightly different note, Sergio Perez also claimed the record for having the most races (215) before taking pole position. Still, this fact does nothing to diminish the Mexican driver's raw talent and sheer courage behind the wheel. Born Sergio Michel "Checo" Perez Mendoza on January 26, 1990, in Guadalajara, Mexico, Checo began his racing career at age 6 in karting (per Red Bull Racing) and won six victories in the junior category in his maiden year.
Checo competed at the Skip Barber National Championship and moved to Europe to showcase his wares. He moved to the British F3 Championship and took 14 wins to grab the 2007 title. He stepped up to GP2 racing in 2010 and finished second overall after grabbing five wins. Checo made the giant leap to Formula 1 in 2011 with Sauber and won his first F1 podium one year later at the 2012 Malaysian Grand Prix at 22 years old.
Toys for the big boys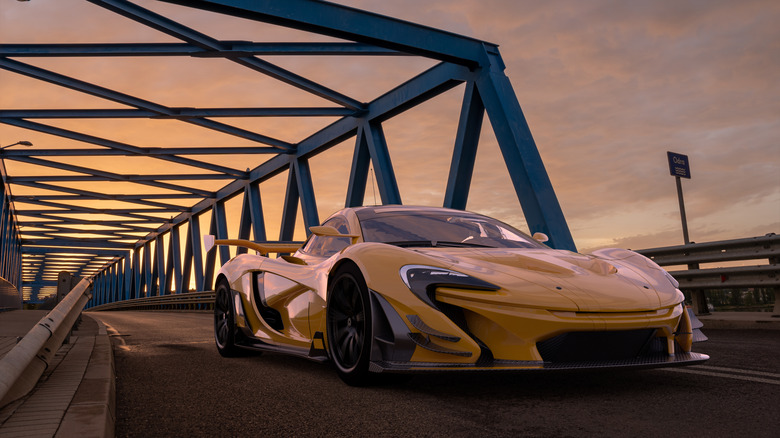 Mike Mareen/Shutterstock
Checo joined McLaren in 2013 but skipped to Force India in 2014 after purportedly signing a €15 million multi-year contract (via Reuters). He signed a three-year extension with Racing Point in 2019 but eventually found his way to Red Bull in 2021, where he won his second F1 race at the Azerbaijan Grand Prix. Checo signed a contract extension with Red Bull last May 2022, a guaranteed £6 million per year and around £2.6 million in bonuses (per Mirror). And with a reported net worth of $30 million, it's no wonder Checo lavishes his passion with only the most expensive and most exotic machinery that money can buy.
Sergio Perez has amassed an impressive and drool-worthy collection of automobiles, including a McLaren P1 ($1.5 million), a Mercedes-Benz SLR McLaren ($750,000), and a first-gen Honda/Acura NSX (per 21 Motoring). We figure the latter is priceless since it's the only supercar that got the approval of F1 racing legend Ayrton Senna. Still, you need to fork over $70,000 to $120,000 in today's money (per Classic) to get your grubby mitts on the mythical Acura NSX.
Megabuck Hypercar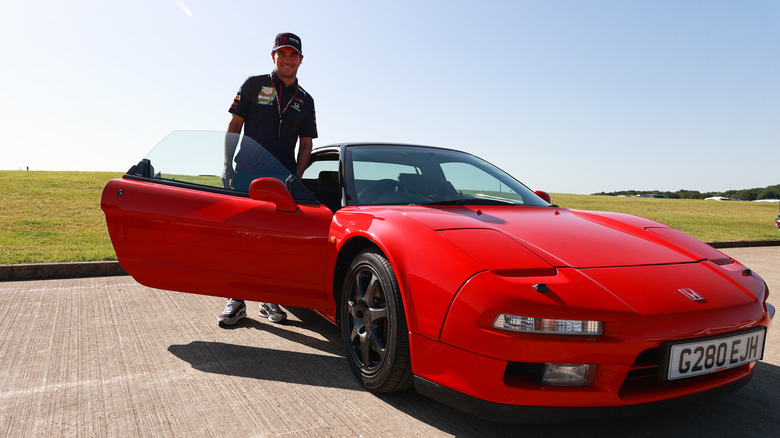 Mark Thompson/Getty Images
Sergio Perez's car collection doesn't stop with two McLarens and a vintage supercar. According to First Sportz, Checo has a $1 million McLaren 720S and a $3 million Bugatti Chiron. If you know anything about supercars, the McLaren 720S is a 212 mph engineering marvel capable of jaw-dropping speed, while the Bugatti Chiron is one of the world's fastest production cars. Other worthy nameplates include a Porsche Panamera ($89,000 to $190,000) and a BMW X7 ($75,000 to $152,000) for the family.
Checo's race-winning mastery, defensive tactics, and tire management skills make him an excellent teammate to reigning F1 world champion Max Verstappen. Sergio Perez won his third F1 race during an eventful and exhilarating Monaco Grand Prix in May 2022 after qualifying third, leading to the Mexican ace "partying hard" aboard a yacht and dancing provokingly with two unknown women (per Daily Mail) after the race. "It was a bad party that I didn't know how to control," Checo said on Instagram in a public apology to his wife, Carolina Perez, with whom he shares three children. "People close to me know my values and the type of person I am." Other reports say Checo has a yacht and a private jet, but we think it's better if he sticks to cars.