Sony WF-1000XM3 Review: Wireless Noise-Canceling Earbud Heaven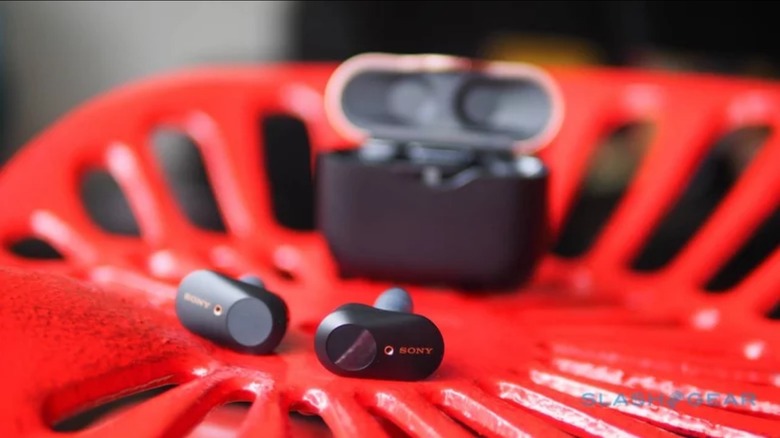 Images by Chris Davies for SlashGear
EDITORS' RATING: 8/10
The Sony WF-1000XM3 wireless earbuds have some pedigree to live up to. Named – and designed, for that matter – to draw obvious connections with Sony's WH-1000XM3 headphones, the promise is industry-leading active noise cancellation in a Bluetooth earbud, without stinting on musical performance.
At $229.99, they undercut Sony's noise-canceling headphones by almost $120. They also slot the WF-1000XM3 in-between a set of Apple AirPods 2 and Beats' Powerbeats Pro, meanwhile. That's competition I'm well familiar with.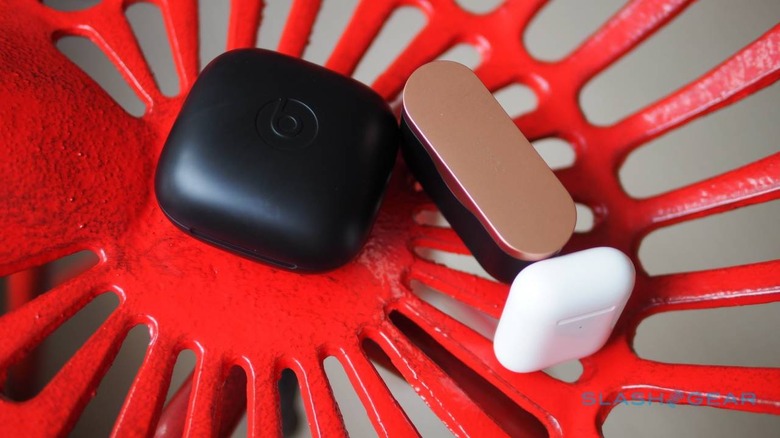 Design and Charging Case
The WF-1000XM3's charging case is a wide, flat oval. Almost twice as wide as an AirPods case, but still much smaller than the pillowy Powerbeats Pro case. The gold lid flips up to reveal the magnetic slots for the two earbuds, while on the bottom there's a USB-C port for charging.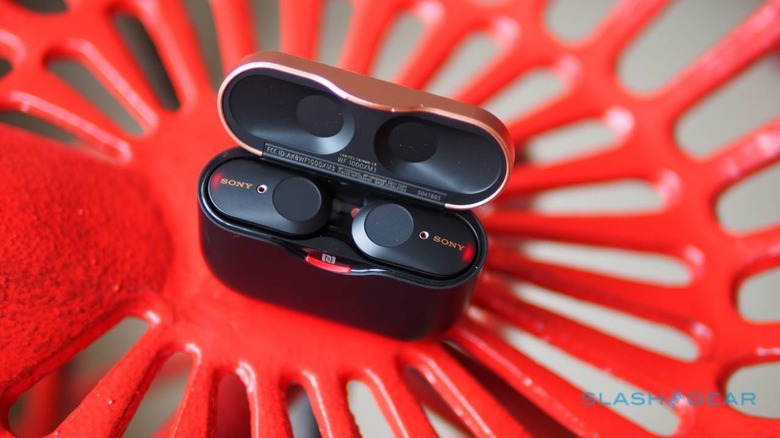 Sony also bakes in NFC for easier pairing with Android phones, though sadly you can only connect the WF-1000XM3 with one device at a time. I also missed the way the Apple H1-based AirPods and Powerbeats Pro could rapidly switch between my phone and laptop. There's no wireless charging support, either.
The earbuds themselves are fairly subtle, which I like. Matte black plastic for the most part, with gold detailing and a glossy circular control pad on each, they slot neatly into place.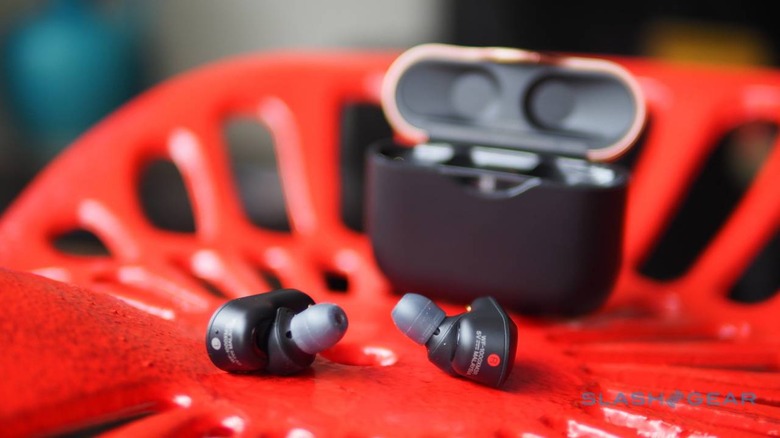 I have tricky ears when it comes to earbuds, and getting them to stay in place – especially if I'm walking or moving about – can be problematic. Sony provides both foam and rubber eartips in three and four different sizes respectively, and that combined with the relatively lightweight 0.3 oz 'buds themselves meant I could find a fit that had them sticking around even while I was power-walking through the airport.
Just make sure not to break a sweat. Sadly Sony hasn't been able to check-off either water- or sweat-proofing in the WF-1000XM3's, which seems a missed opportunity.
Audio and Call Quality
It's a particular shame as the audio quality from the WF-1000XM3's will make you want to keep them in as long as possible. There's plenty of bass, while the treble is crisp and piping; better still, because of the ANC I found I didn't have to turn the volume up as far as I did with the AirPods and Powerbeats Pro, which meant less strain on my ears during extended listening.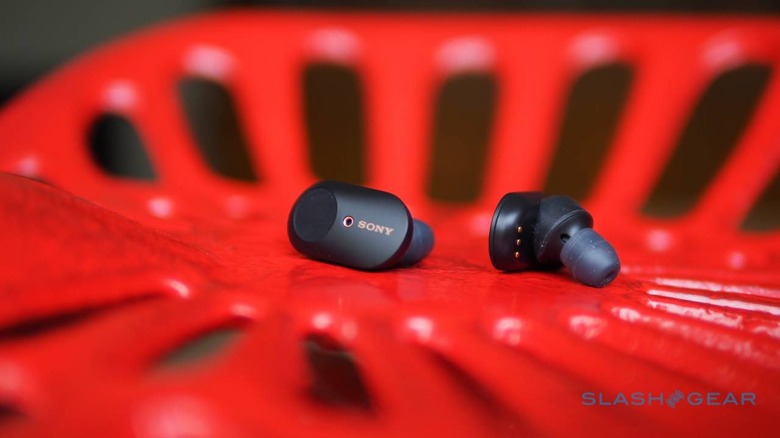 Sony's app offers a DSEE HX audio processing mode, which promises to upscale compressed music into something more dynamic. Usually, if I'm honest, I'm skeptical of such systems, but with the right track the WF-1000XM3's did benefit from it being switched on. Pop and electronic music, along with rap and RnB all got an extra boost at both the top and bottom end, the soundstage seemingly broader and more engaging.
Orchestral music could get a little overwhelming with DSEE HX active, though happily you can just as easily switch it off. It's worth noting that while Sony supports the SBC and AAC codecs, iOS devices will only use the latter. There's no LDAC or apt-X support, either.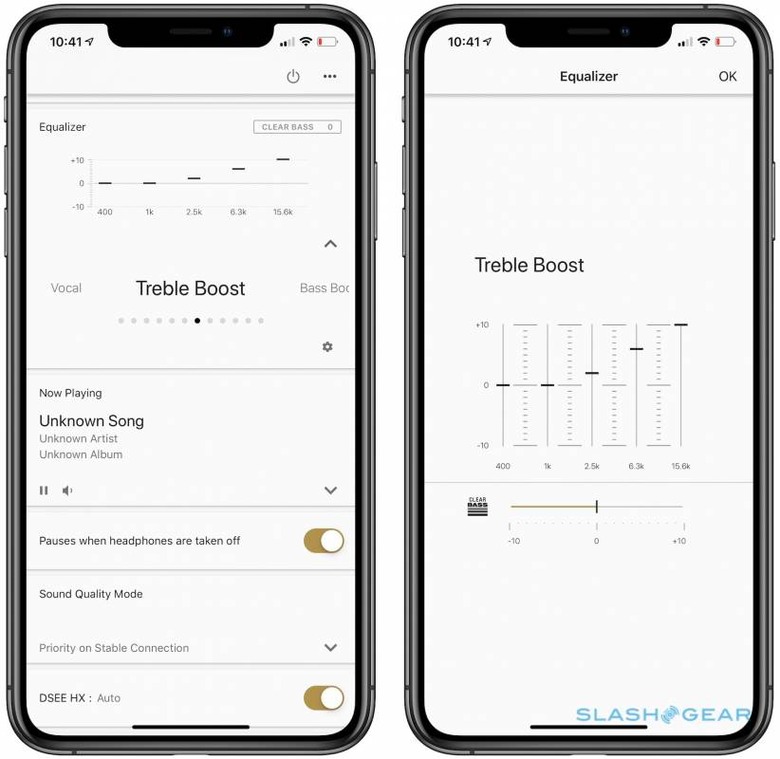 The Headphones Connect app does offer EQ control, however, which is welcome compared to the like-it-or-lump-it sound profile of other earbuds. With AirPods or Powerbeats Pro you're basically at the mercy of Apple or Beats' tuning. Sony allows you to switch between preset modes for different musical styles, or tweak the frequency levels manually along with adjusting the bass boost.
While you're listening, you can control playback using the right touchpad. A single tap toggles play/pause, while a double-tab skips forward and a triple-tap skips back. If a call comes in, a double-tap answers – and then ends – it. Tapping and holding triggers your smartphone assistant of choice.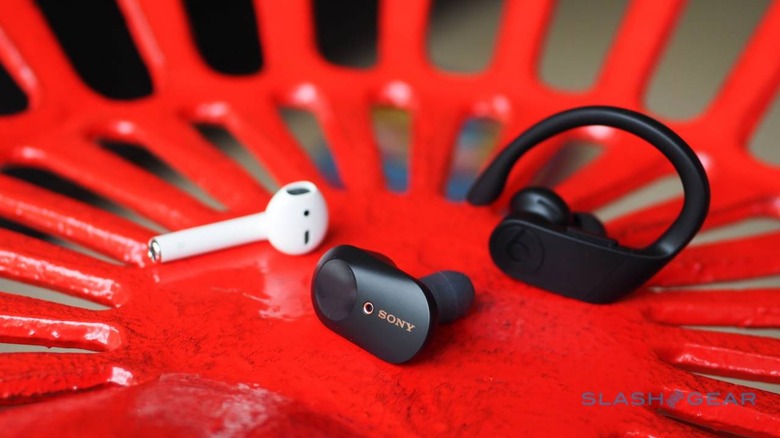 What you can't do, oddly, is adjust the volume from the WF-1000XM3's. For that, I either needed to ask that aforementioned assistant, or control it manually on my phone. The earbuds do at least automatically pause music playback when you take them out of your ears, and resume it when you put them back.
As for voice calls, unlike their predecessors, the WF-1000XM3's benefit from ANC there too. Noise suppression, meanwhile, helps isolate the frequencies of your voice from background sound. It worked well in a busy airport, callers reporting that they could hear me with no problems, while I could hear them just fine. Even when background noise got obnoxiously high, though my voice apparently sounded a little processed, what I was saying was still understandable.
ANC is the Sony wildcard
The WH-1000XM3 headphones wowed in no small part because of their active noise cancellation, impressing reviewers pretty much across the board – myself included – with just how much outside noise they kept away. While ANC in over-the-ear headphones is commonplace, though, it's been slow to come to in-ear designs. In fact, Sony has the segment to itself for the moment.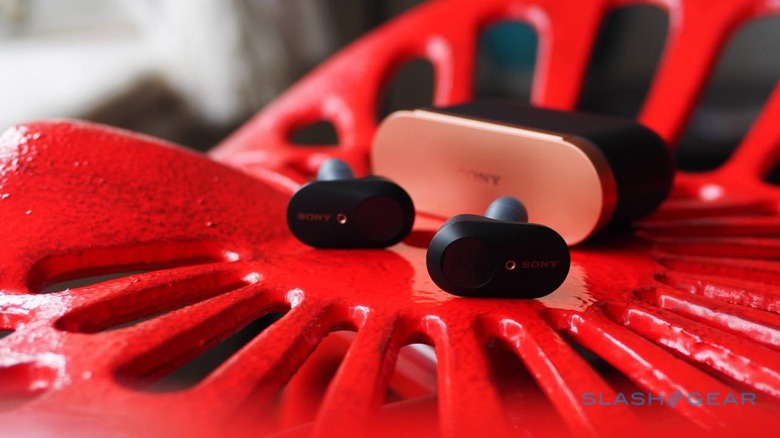 That said, bad ANC is arguably worse than no ANC at all, and so I was keen to see if Sony had managed to distill its headphones magic into the WF-1000XM3's, too. The good news is that the earbuds come very close to matching their headphones cousins.
Two microphones on each 'bud, combined with Sony's QN1e noise-canceling chip, deliver the goods. I could keep focusing on work, despite a phone conversation going on in the same room, while road noise was so well kept at bay when out walking that I took advantage of the Sony Headphones Connect app's ability to turn down the ANC in order to avoid getting run down by a car I couldn't hear.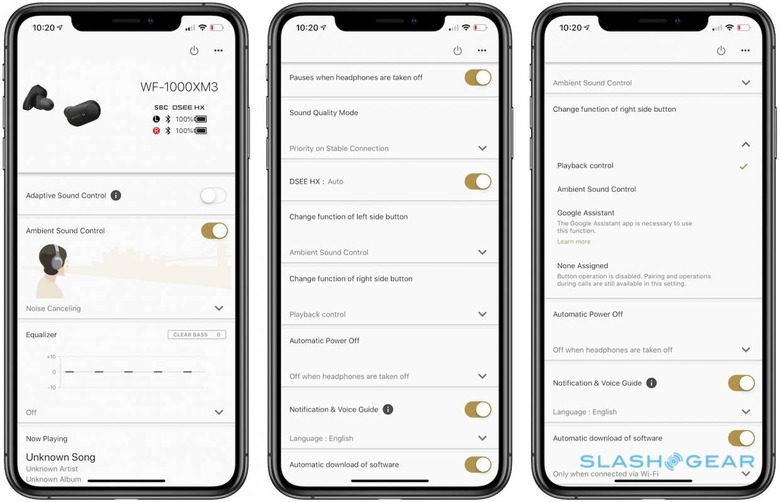 There's an optional setting to have the earbuds adjust the ANC levels automatically based on ambient conditions, too; or, you can tap the left control pad to cycle through ANC off, ANC on, or ambient sound mode. Tap and hold the pad and it temporarily allows through external noise, a Quick Attention mode which can be handy if you're on a plane, say, and want to hear an announcement without taking an earbud out.
Coincidentally, just as I had a long-haul flight right in the midst of WH-1000XM3 testing, the WF-1000XM3's arrived right before another lengthy period of travel. Sony's headphones are still my go-to for blocking out nose, but the earbuds proved themselves worthy alternatives. Side by side, the ANC is almost as good: the headphones just edge ahead still, but the WF-1000XM3's were miles better than Apple's latest AirPods or the Powerbeats Pro.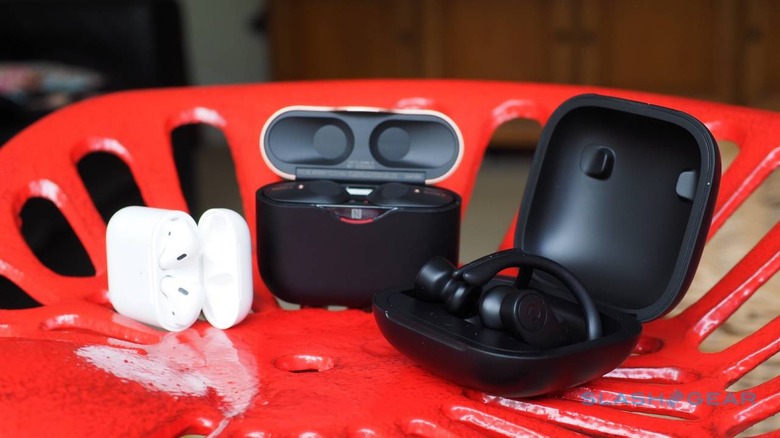 One reason you might still want to opt for a headphone form factor, however, is when using in-flight entertainment systems. Sony's headphones, like most, come with a cable that works with either the single- or dual-plug audio connections common on planes. The WF-1000XM3 earbuds, however, have no wired option. Third-party Bluetooth adapters are available, but without one in my bag I had to switch back to the WH-1000XM3 in order to watch a movie.
Battery Life and Performance
Sony's sizable charging case has a big advantage: battery life. Each earbud is rated for up to six hours of music playback with ANC on, or eight with it off. Combined with the case, you're looking at up to 24 hours with ANC on, or 32 without. A 10 minute charge via USB-C is enough for 90 minutes of ANC-on playback.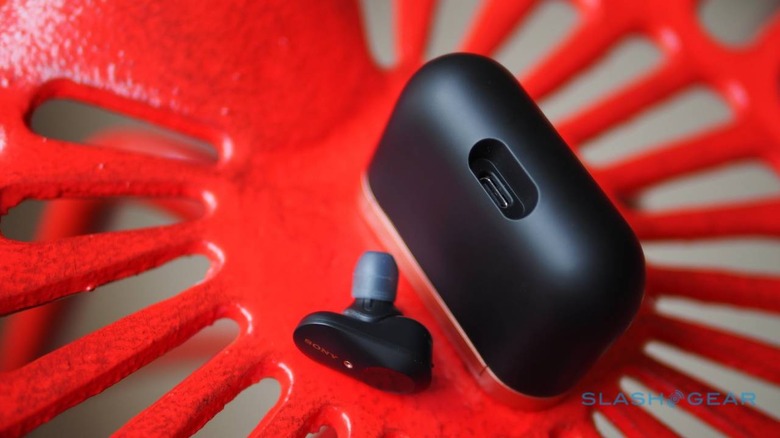 After hours of listening to music on and off, or just sitting with the earbuds keeping out the ambient noise, I hadn't come close to exhausting them. When you first put each earbud in, they read out their current battery status; you also get a charge gage in the status bar of your iOS or Android device, or on a per-earbud basis in the Headphones Connect app. Unlike with AirPods, however, there's no way to check the battery level of the charging case.
In a welcome change from their predecessors, Sony has used a new Bluetooth radio configuration that has each earbud connect to your device independently. The old 'buds had the left connect to the phone, and then pass audio to the right. It was a recipe for lag, which was particularly noticeable in videos, and could also lead to skipping connections.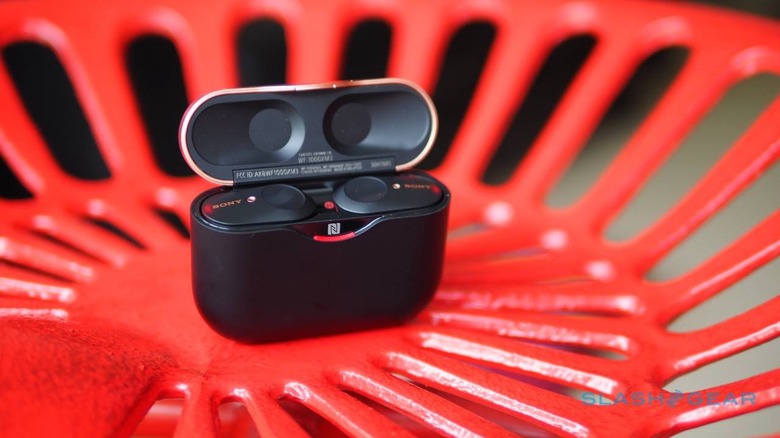 The WF-1000XM3's work much better there. Indeed, I couldn't see any noticeable lip-sync problems, and the connection seemed rock-solid regardless of which pocket my phone was in, or whether it was in my backpack. The other advantage to independent connections is being able to use one earbud on its own. That's great for long days of conference calls, where you can have a single earbud in and the other charging, and then switch between them to keep on trucking.
Sony WF-1000XM3 Verdict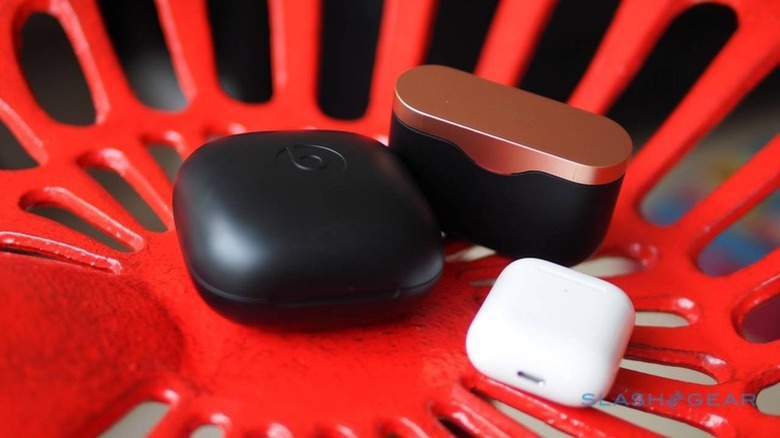 To say I had high expectations for the WF-1000XM3's would be an understatement. What's impressive, then, is that for the most part they've lived up to those hopes. Sony's active noise cancellation is excellent, but better still the earbuds don't rely solely on that to deliver: they also sound great, and have fantastic battery life.
That said, there are a few hiccups along the way. The absence of on-earbud volume controls is frustrating: I've grown used to having such buttons on the Powerbeats Pro. If you're planning to predominantly use your wireless earbuds for exercising, too, the Beats – with their ear-band design – may well be more resilient for joggers and the like.
Those who spend most of their time on planes, meanwhile, will probably still find a traditional headphone design more comfortable and – with a cable – more flexible, too. Still, with a separate Bluetooth adapter, the fact that the WF-1000XM3's are much more compact than any over-the-ear ANC headphones could make a big difference in your bag.
For $229.99, there's a whole lot to like about the Sony WF-1000XM3 wireless noise-canceling earbuds. Excellent musical quality, improved in-call performance, and more flexible Bluetooth combine with comfortable fit and solid battery life. If you want ANC in a wireless earbuds form-factor there's only really one game in town right now, but Sony has put in the effort to make sure that decision doesn't feel like a compromise.