RHA Wireless Flight Adapter grants Bluetooth audio to anything with a 3.5mm jack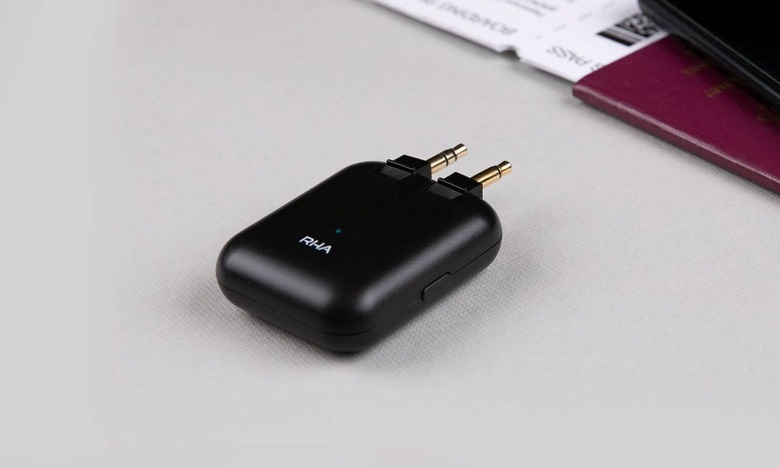 If you're the owner of a quality pair of Bluetooth headphones but you own devices that don't support wireless connections through Bluetooth, then RHA has the perfect device for you. Today the company introduced its Wireless Flight Adapter, which takes any device with a 3.5mm jack and makes it compatible with your Bluetooth headphones.
Not only is this adapter good for people with devices that don't support Bluetooth, but it's also good for people who often find themselves on long-haul flights, just as the name suggests it is. The Wireless Flight Adapter comes with dual 3.5mm inputs that are modular, so they can be used with in-flight entertainment systems. When you're using a device that only has a single 3.5mm jack, you can retract one of those inputs in the housing so it doesn't get in the way.
RHA's Wireless Flight Adapter is charged via USB-C and with a full battery can support up to 16 hours of playback. With that in mind, it should have enough battery life for all but the longest possible direct flights, but it's worth pointing out that the adapter can also be used while it's plugged in and charging.
The adapter supports Bluetooth 5.0, aptX, and aptX low latency, and can broadcast simultaneously to two pairs of headphones at once. It has a 10 meter range as well, so you can get pretty far away from it before the connection begins to cut out. In addition to folks who make a habit of taking long flights, the Wireless Flight Adapter could be a good buy for those who own a Nintendo Switch, as that doesn't support Bluetooth headphones despite the fact that Joy-Cons connect to the console via Bluetooth.
In fact, one of the images on RHA's listing for the Wireless Flight Adapter show it being used to connect wireless headphones to a Switch, so it's clear that the company understands where it can fill a need. The Wireless Flight Adapter is available today from RHA's website for $49.95.