Powerbeats Pro Review: AirPods tech gets the sound it deserves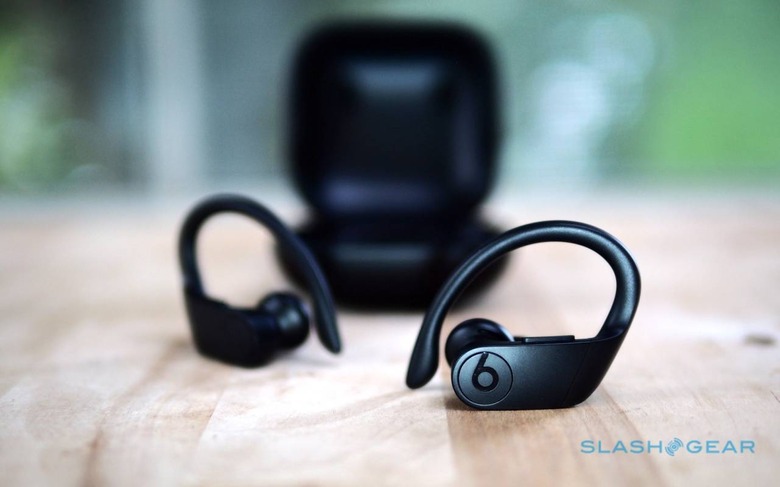 EDITORS' RATING: 8/10
The Beats Powerbeats Pro aren't going to do much to end step-sibling rivalry in Cupertino, but some healthy family competition pays dividends for music fans. AirPods have shared their toys, in the shape of the Apple H1 Bluetooth chip, and Powerbeats Pro have run with it, adding features and talents that could well overshadow Apple's already-iconic white earbuds.
Smaller and subtler
With their bold contrast "b" logo and ear-dominating size, the old Powerbeats3 Wireless did a decent job of advertising your audio brand of choice. The Powerbeats Pro are smaller and lighter, and a little more subtle. The angled center bar in particular looks sleek, while the earhook is easier to slip around your ear.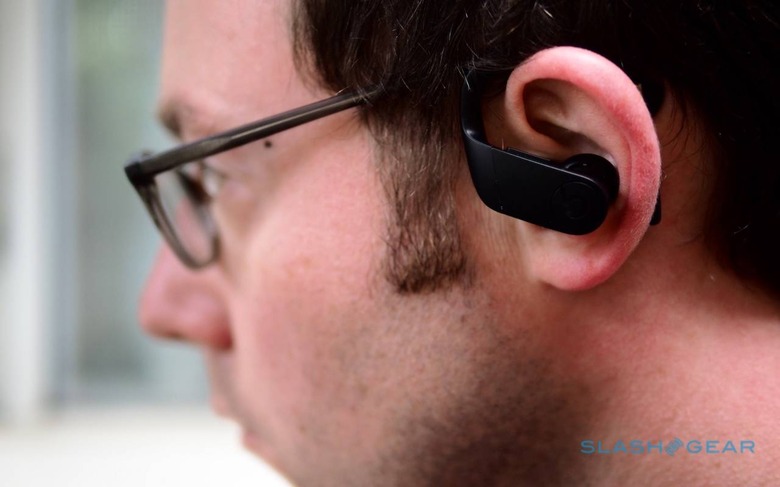 Each bud is a little over 20 grams (0.72 ounces) and Beats includes four different sizes of rubber ear-tip. I generally have issues with earbuds and trying to get them to stick in my ears, but the combination of the smallest ear-tip and the hook kept the Powerbeats Pro comfortably in place. Apple and Beats bill them as perfect for exercise – they're IPX4 water and sweat resistant, too – and I can't argue with that. Shaking my head violently wasn't enough to dislodge them, but neither is the earhook uncomfortable when worn along with my glasses.
Audio improvement, but not revolution
Pick up a set of Powerbeats Pro and you get to enjoy phrases like "offset acoustic nozzle" and "micro-laser barometric venting hole." What you need to know, though, is that they sound better than previous Beats wireless earbuds, and than Apple's AirPods 2 too.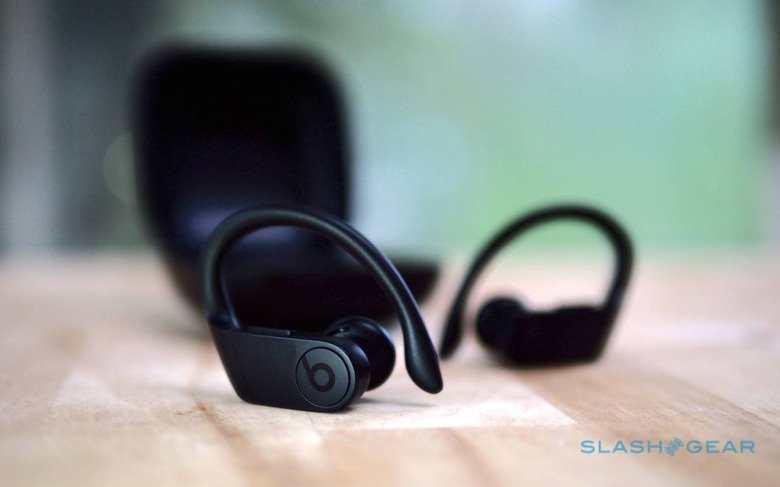 Plentiful bass is present and correct, as you'd expect from Beats, though without being overwhelming. Mids fall off, again unsurprisingly, though the high end suits vocals. In fact it feels like the tuning has leaned heavily on the top-end this time around, making the whole soundstage feel brighter and more engaging. Beats doesn't offer any simple way to tweak the EQ, or indeed any preset sound modes, however. If you're not a fan of how the Powerbeats Pro perform out of the box, you should probably look elsewhere.
Similarly, something else you shouldn't expect is the sort of active noise cancellation that some earbuds and headphones offer. Powerbeats Pro did cut out more cabin noise than AirPods 2 when I wore them while flying, but that was because they fit more snugly into my ears. Frequent fliers will still want to look to something like Sony's WH-1000XM3 headphones – still my go-to recommendation – which do an astonishing job at keeping out ambient noise.
Not just an Apple party
The Powerbeats Pro use the same Apple H1 headphone chip as found in the second-generation AirPods. It means that, if you're an iOS user, pairing your new Beats is as straightforward as opening the case near your iPhone and then tapping the button which pops up on-screen. You also get "Hey Siri" hands-free control, swifter pairing and switching times, and the promise of greater wireless stability. I've been impressed on all those fronts with the AirPods 2, and the Powerbeats Pro are no different.
Unlike with Apple's earbuds, though, Beats is leaning heavily on cross-platform support. Android users like Beats products too, and the Powerbeats Pro don't leave them feeling like second-class citizens.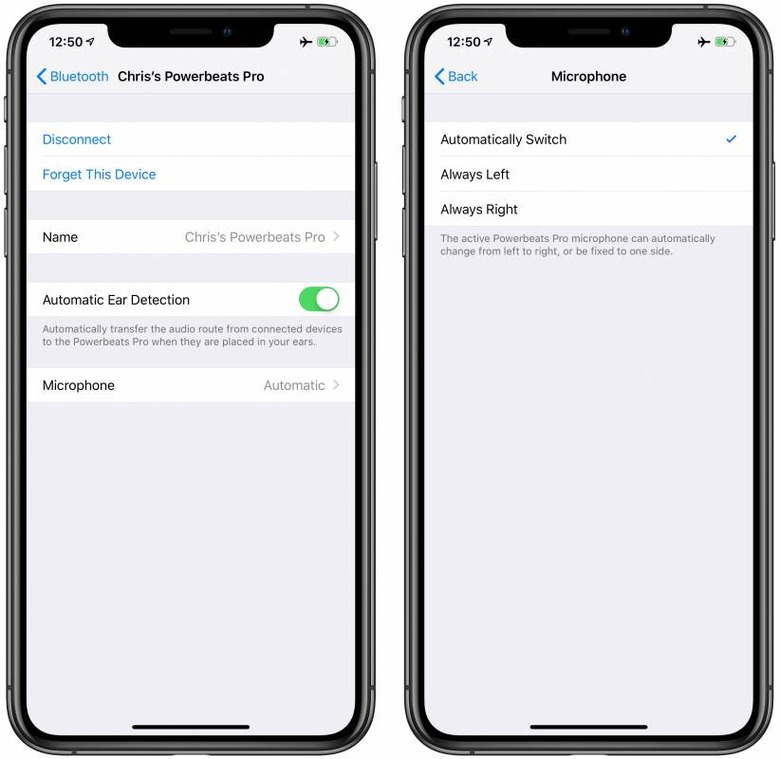 So, you still get access to all the controls – bar "Hey Siri" – if you use Powerbeats Pro with your Android smartphone, and you still get the ability to use either the left, the right, or both earbuds depending on situation. If you're having an epic phone call, you can wear one earbud, then slot in the other when the first is running low on battery, have them switch into stereo mode, and then take out the first to recharge without interrupting the call.
A masterclass in controls
Unlike with AirPods, you can't customize the Powerbeats Pro's controls. The good news, though, is that you don't really need to: there's a surprising amount you can do with just one multi-function button and the volume controls.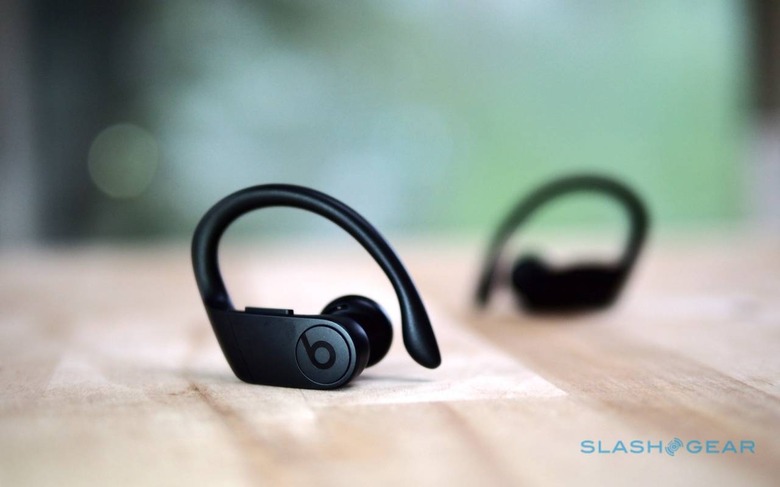 A single press toggles play/pause, or answers/ends a call. A double-tap skips forward; a triple-tap skips back. Double-tapping then holding scans forward through the current track, while triple-tapping then holding does the same in reverse. Finally, a long-press activates whatever assistant is dominant on your smartphone of choice: Siri if you're using the Beats with an iPhone, or the Google Assistant with an Android device.
The buttons work in concert with sensors that track whether the earbuds are in your ear or not. Take one out, for instance, and the music will automatically pause. Put one in while you're on a call with your phone, meanwhile, and the audio will be routed through to the Powerbeats Pro instead. In fact the only problem I had was that, at times, when putting an earbud back in I'd accidentally override the auto-resume by inadvertently tapping the multi-function button.
Big battery, bigger charging case
Beats isn't shy about its battery boasts. Each earbud should last for up to nine hours of music, the company says, while the charging case has roughly two full charges in it. In total, you're looking at over a full day of listening.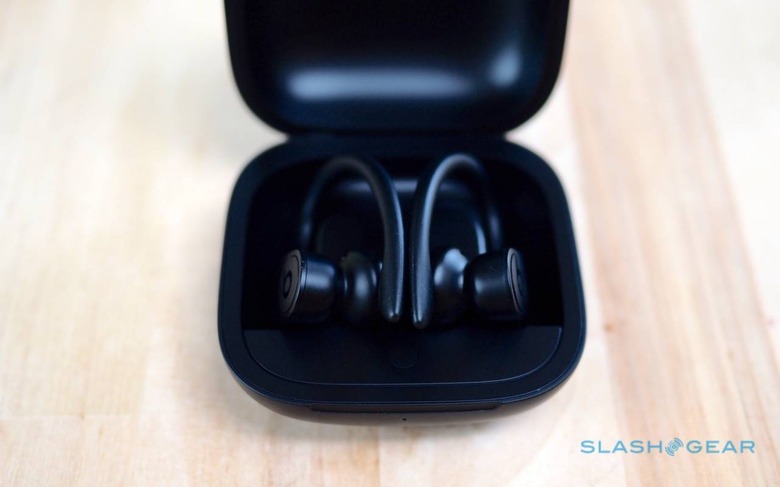 From my own testing, Beats' numbers seem accurate, too. Faced with a cross-country flight, the Powerbeats Pro made it through without reaching the halfway mark. As with AirPods, you get a useful battery percentage – for each earbud, and for the case – in iOS.
Charging is equally impressive. Beat's Fast Fuel system. Promises around 90 minutes of listening from a five minute charge, or 4.5 hours from 15 minutes. There's a 1m Lightning to USB-A (sadly not USB-C) cable in the box to plug the case in.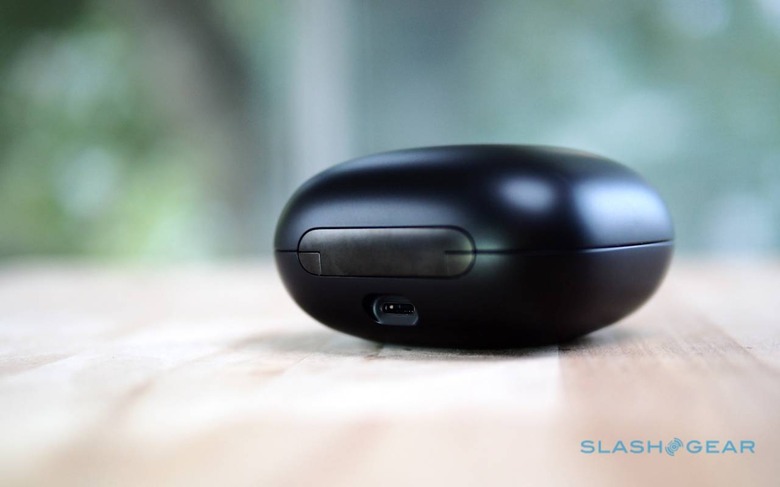 In many ways it's a beautifully designed case. The Powerbeats Pro drop into place neatly and are held there magnetically. The lid is similarly magnetically-clasped, easy enough to open when you want to, but not so much that I worried it could open inadvertently in my bag. An LED on the outside glows red when the case is under 40-percent charge.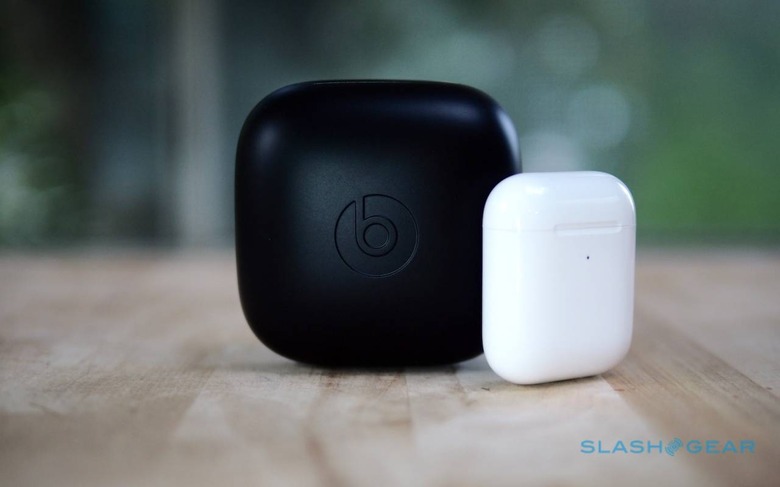 The problem is that it's huge. Put the Powerbeats Pro case next to an AirPods case and the difference is almost comical. Apple's charging case is on the small side, yes, but side-by-side with just about any set of wireless earbuds, the Beats case is oversized. I wouldn't have minded so much if that meant there was space to carry the Lightning cable inside it, too, but there's not.
Powerbeats Pro vs AirPods 2
The most common question I've fielded while trying out the Powerbeats Pro has been "should I buy them instead of AirPods?" With the Apple H1 chip inside both there's certainly overlap, but in practice they feel like very different products. A big part of that is ethos.
AirPods feel like an iPhone accessory. Sure, you can use them with other devices, outside of Apple's ecosystem, but it's a fairly underwhelming experience. Until now, I'd have recommended something like Samsung's Galaxy Buds for Android users instead.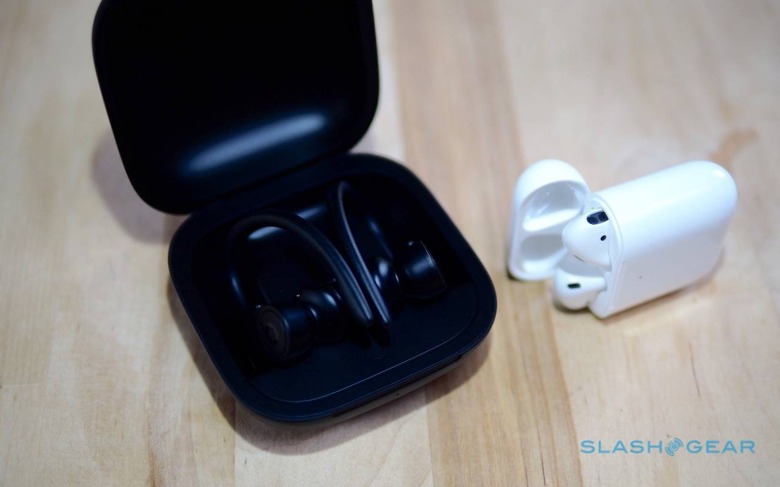 Powerbeats Pro, however, feel more platform-agnostic. Yes, you get the very most functionality when used with an iPhone, but their use of Bluetooth 5.0 and the dedicated buttons means Android users shouldn't feel like second-class citizens.
I find Beats' earbuds more comfortable, too, and the longer battery life is welcome, too. Really, the main problem I have is the sheer size of the charging case. AirPods' might have less charge, but it offsets that with its greater convenience.
Beats Powerbeats Pro Verdict
Beats has borrowed almost all of the best elements of Apple's AirPods, and then improved on them. Audio quality is up, yes, but I was even more impressed by the fit, the improvements in controls, battery life, and how nicely the Powerbeats Pro work with non-Apple devices.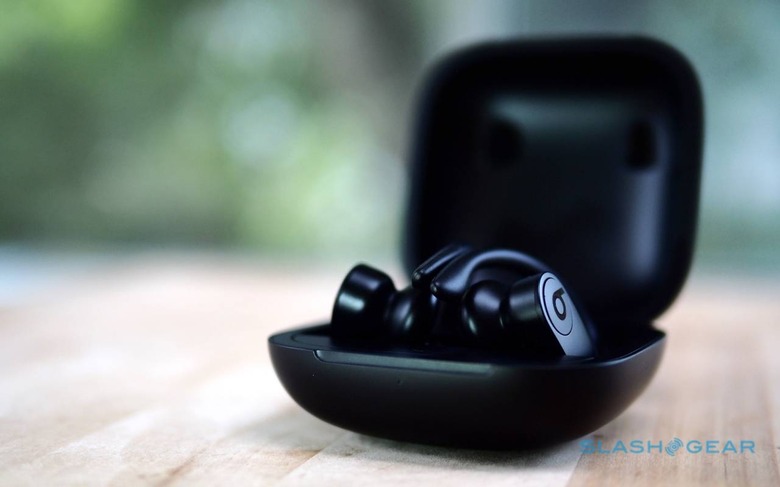 It's not quite a clean sweep. The $249.95 price tag puts Powerbeats Pro at a significant premium over much of the competition, and the charging case – while not heavy – is undeniably bulky. The fact that it's Beats' way or the highway when it comes to audio tuning, too, could limit the earbuds' appeal, while road warriors may still want something with active noise cancellation.
Even with those considerations, there's plenty to like about the Powerbeats Pro. Convenience and flexibility add up to a welcome addition to my bag, along with the knowledge that, even if I change platform again at some point in the future, I won't be leaving my expensive earbuds behind. Beats just threw down the gauntlet, and even Apple's own AirBuds team now finds it's playing catch-up.