2017 BMW M760i Review: More Than M7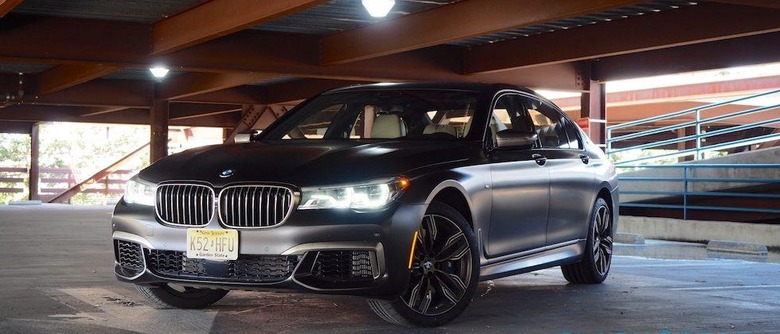 EDITORS' RATING: 8/10
Seldom is my A/B testing quite so entertaining as comparing this, the 2017 BMW M760i, with the Alpina B7. Each a riff on what a performance version of the stately 7 Series might look, sound, and drive like, the two cars may be showroom stablemates but they take very different routes to their 600+ horsepower. Few will get the opportunity to cross-shop them, much less the chance to throw them around familiar roads as I've been doing.
The first difference is on your checkbook. BMW's car almost makes the Alpina B7 look like a bargain. The M760i's $154k sticker swells to just shy of $172k when you tick a few options, and that's without the full excesses of the ottoman-style reclining rear seat.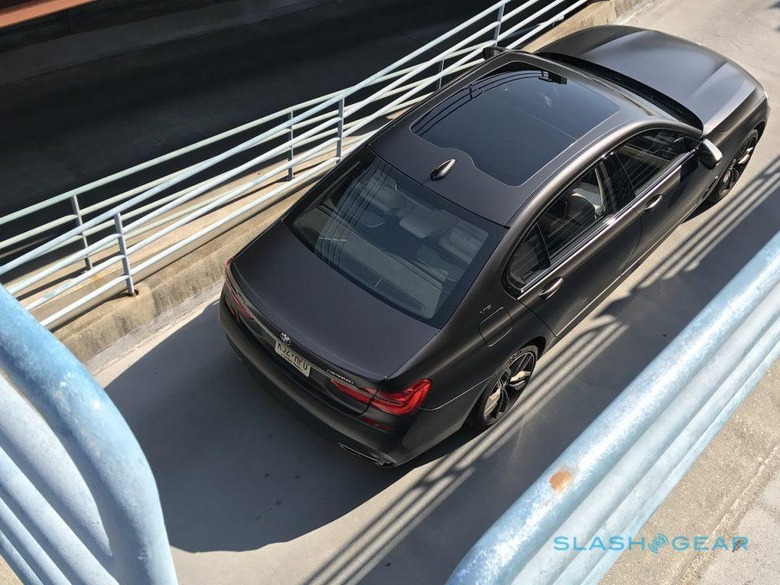 It would be fairly discreet in a big, stately sedan way, if it weren't for the Frozen Dark Brown Metallic paint job. A $5,200 option, it finishes the M760i in a matte hue that hovers somewhere in-between brown, black, and charcoal, depending on the light. Like any car that isn't glossy, it automatically gets attention on the road; you can then spot the double-take as those gearheads in-the-know clock the subtle V12 badging, handsome 20-inch M Light alloy wheels, and tasteful bodykit.
BMW offers three driving modes: Comfort, Sport, and Eco. In Comfort – the default – you could easily mistake the M760i for its 7 Series brethren. It's the consummate highway cruiser, the only stress involved being periodically checking yourself to curtail the car's inclination to hover around 80 mph. Road and wind noise are a whisper; bumps, ridges, and potholes provoke little more than a murmur through the standard-fit air suspension.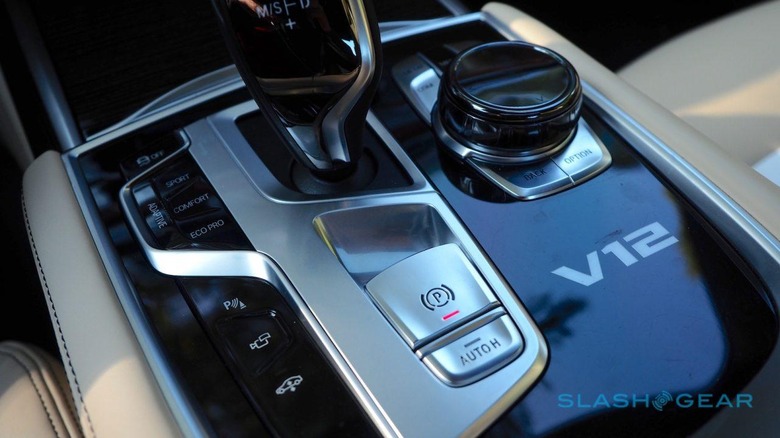 Without too much effort I was able to hit the M760i's claimed 16 mpg of combined economy. The dedicated Eco mode encourages further temperance, totting up the fractions of a mile you're adding in range in every degree of miserly restraint with which you treat the gas pedal. Over a twenty mile or so stretch of highway I grudgingly coaxed a claimed 1.6 miles of extra travel out with my light foot. Only, then, to squander it all in a split-second of Sport mode frivolity.
Because, of course, Sport mode is really what the M760i's not-inconsiderable entry price is all about. There are two very good reasons you're spending more than twice the cost of a base 7 Series, and they're 601 horsepower and 590 lb-ft. of torque. A 6.6-liter, twin-turbocharged engine is rare as it is; that it's a twelve-cylinder too makes it all the more unusual.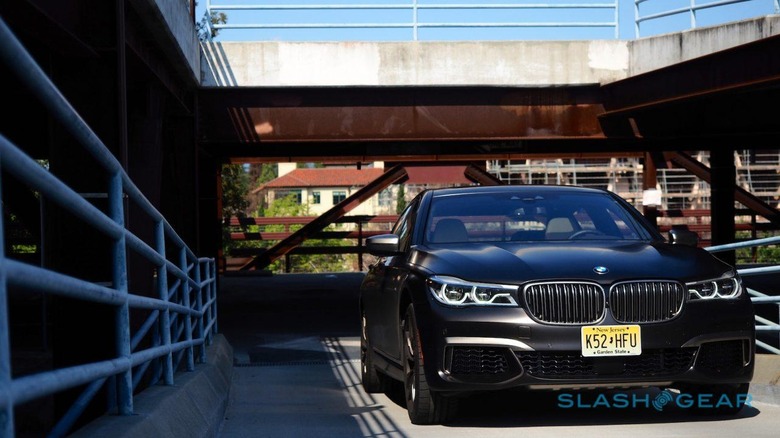 It is, frankly, a masterpiece. All that torque arrives from just 1,550 rpm: there's no turbo lag, simply an insistent wave of power that thrusts you ahead. BMW quotes 0-60 mph in 3.6 seconds, which seems conservative to me; top speed is an electronically limited 155 mph. Buyers outside the US can optionally lift that to a second, higher limit of 189 mph. It sounds like a big cat, the V12's idle a sonorous purr that throbs into an addictive roar when provoked. Thankfully there's xDrive all-wheel-drive to make sure that power gets down to the asphalt rather than getting spun away in clouds of smoky wheel spin.
Though on paper it shares similar numbers to the Alpina B7, the M760i feels like a very different car. Partly that's down to a combination of slightly higher curb weight – at 5,128 pounds, it's around 300 pounds heavier than the B7 – and BMW's AWD tuning; however, it's also a side-affect of the Alpina's twin-turbo V8. That encourages high revving to bring out maximum power, leading to a very distinctive soundtrack.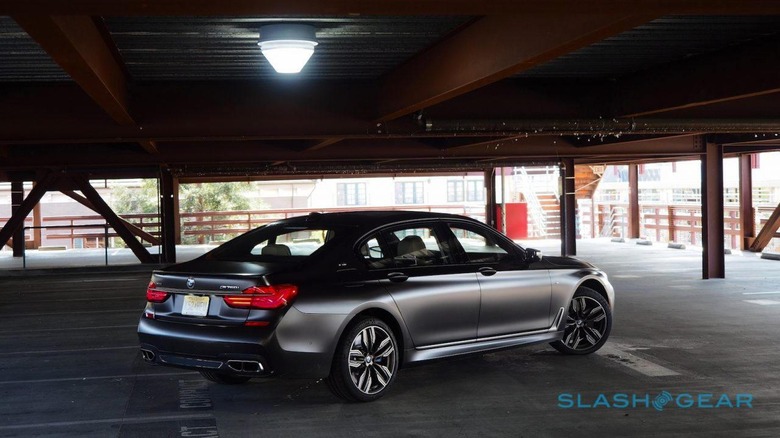 I missed Alpina's Sport+ drive mode, a custom addition that makes the active dampers even firmer and the air suspension even flatter. Still, the M760i corners with a precision a beast of this sort has no right to, with all the urgency of a runaway steam train but with unnatural stickiness in the process. BMW's Integral Active Steering can turn the rear wheels to tighten things up even more; the effect isn't quite as scale-shrinking as in the B7, where you could easily come to believe you're driving a 5 Series sized car, but it definitely leaves the M760i far more nimble than you'd expect.
The 8-speed transmission plays its part – or, more accurately, two parts – too. In Sport mode its fast-shifting action is invariably pitch-perfect, a willing partner in holding lower gears during cornering and downshifting when you graze the accelerator a little more. Switch to Comfort, though, and it can slush and slur with the best of them, as befits a long-distance cruiser.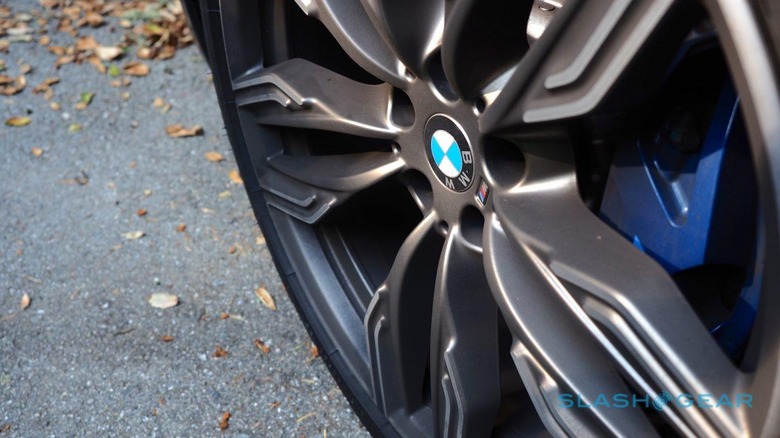 Either way, you do without fancy – and generally squeaky – carbon-ceramic brakes in favor of sizable composite discs. They handle the challenging task of shedding the M760i's speed with surprising grace. In my previous time with the car out on the track, I was just as impressed by their stopping power when pushed fiercely. Back in the real world, they're more than sufficient to keep you safe without being grabby.
The cabin is probably the best explanation for why this is an M760i and not just an M7. A "full" M Series car demands sacrifice in return for the pinnacles of performance; owners can be expected not to blanch at lightweighting stealing all their cabin toys, or replacing their massage seats with fixed sport buckets. That, though, is anathema to the 7 Series.
Bar the V12 logo in the center console and the model-specific graphic at the center of the 12.3-inch digital instrumentation, the M760i's interior is indistinguishable from – and every bit as luxurious as – its range mates. That means heated, cooled, massaging seats front and rear, ambient lighting, twin rear entertainment displays, four-zone climate control, and a WiFi hotspot, along with gesture-control for the infotainment system, and wireless charging. The surfaces are covered in either cashmere beige leather, black wood, or aluminum; even the front armrests are heated, along the the seats, lest your demanding plutocratic elbows catch a chill.
BMW's iDrive system, with its 10.2-inch display atop the dashboard, color head-up display, touchpad-topped control wheel, and Apple CarPlay support has plenty of menus to navigate, though once you get into the swing of things it's fairly intuitive. I'm a big fan of BMW's navigation interface, which manages to be both clean yet fit plenty onto the maps. The touchscreen remote key seemed gimmicky at first, but quickly proved its worth when I used it to double-check I'd locked the car in a moment of paranoia. You can also program a schedule for the HVAC system from it, so that the M760i is warmed or cooled ready for you when you head out to work.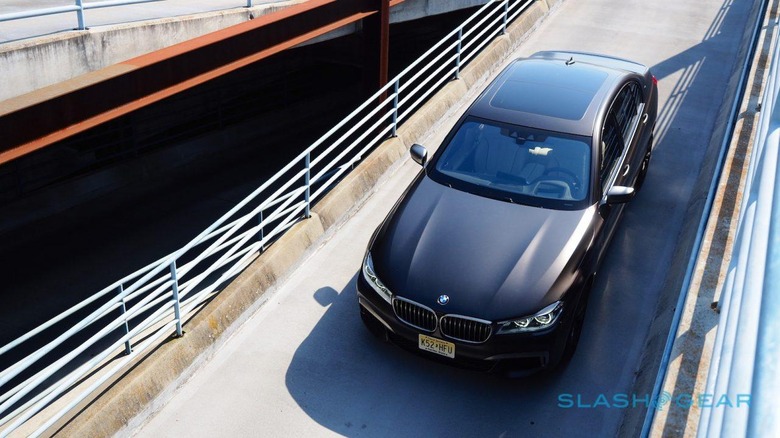 NOW READ: 2017 Alpina B7 Review
The ability to fling a 17 foot luxury sedan around backroads with reckless abandon is not usually something many of us get to enjoy. The M760i has some company in its segment: the Audi S8 and AMG S63 are the obvious alternatives, though Bentley's Flying Spur V8 S and Porsche's Panamera Turbo could be more unusual rivals. The list is considerably shorter, though, if you insist on a V12 under the hood.
It's that increasingly rare engine around which the big BMW builds its charm. As I said of the B7, part of the allure here is that you're really getting two cars in one: a silkily-cruising limousine and an aggressive sports sedan. The M760i doesn't rave quite as ferociously as the Alpina, but its combination of fire, brimstone, and excess are BMW's M Performance division at its most magical.