2017 BMW M760i xDrive First Drive: One car, two souls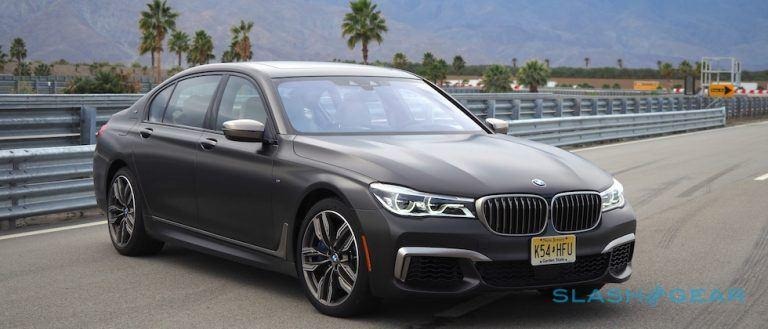 It was as the 2017 BMW M760i xDrive surged at triple-digit speed into a hairpin and pirouetted neatly, rather than rolling into a spectacular fireball, that I had cause to question the laws of physics. "Sports sedan" is an overused phrase these days, applied liberally and shamelessly to any four-door with 200+ horsepower and a set of fancy wheels, but BMW has brought its feistiest 7 Series to school us on just what it really means. And, while the $154,795 starting price might seem astonishing – for the same amount you could put a new 750i xDrive and a BMW M2 in your garage – it turns out the M760i is more than just the sum of its parts.
BMW is very clear that the M760i isn't an M7. It sits at the top of the M Performance tree, the range of sports-focused cars that slots between the regular Series models and those with the legendary M badge. It's a calculated decision, too: the M760i, BMW explained to me, is all about everyday usability, with no room to compromise on the luxury a 7 Series buyer is traditionally looking for, even as the performance is dialed up.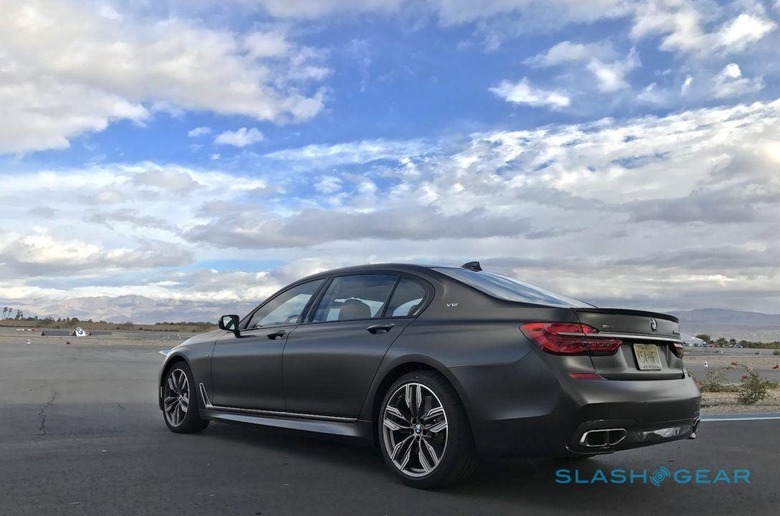 So if it's not a "proper" M car, what is it? A meaty chunk of BMW history, certainly. The M760i arrives three decades after the automaker's first V12 engine made its debut, delivering 300 HP under the hood of the 1987 750i. Now, despite the industry-wide push toward smaller, more frugal powertrains and hybridization, BMW has an all-new V12 to keep the purists happy.
And what a V12 it is. Twelve cylinders, 6.6-liters, and two mono-scroll turbochargers, all working together to muster 601 HP at 5,500 rpm and 590 lb-ft. of torque at a mere 1,550 rpm. BMW pairs it with an 8-speed Steptronic transmission, specially tuned to suit the V12's distinctive characteristics.
There's xDrive all-wheel drive, of course, with a rear-wheel bias. Air suspension front and back, and electric power steering, are also tuned for more sporting ambitions than in a regular 7 Series. Top speed is, for the US at least, limited to 155 mph; those in select countries demanding more will be able to tick the M Driver's Package option and unlock 189 mph. Notably, that's a second artificial limit and not the maximum that the M760i could actually offer, if entirely unrestrained.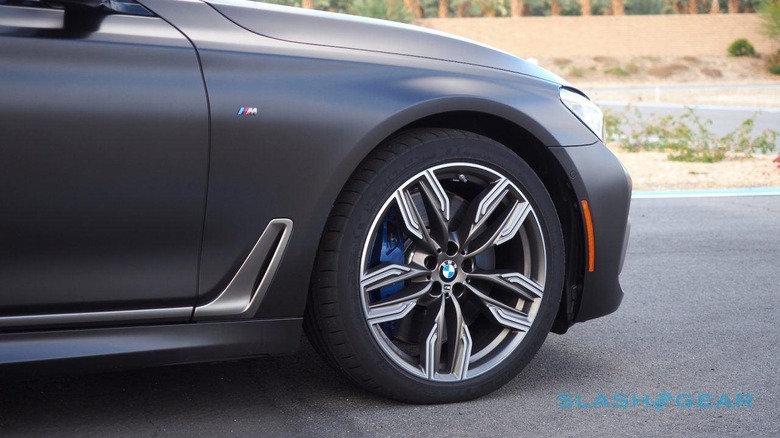 Still, it's enough. More than enough, frankly. With a 0-62 mph time of 3.7 seconds, it's the fastest "Series" BMW ever. That such a claim comes in a luxury sedan which weighs a not-inconsiderable 5,128 pounds is all the more astonishing. Not to mention appreciate the sizable – and, happily, damned effective – vented brakes.
Given the numbers, the straight-line speed that the M760i musters comes as no surprise. That's not to say the rate at which the next turn arrives isn't impressive – combined with the general insulation of the cabin, you can easily glance at the head-up display and realize you're going 20-30 mph faster than you thought you were – but there's a polish to how well engine, transmission, and AWD transfers power to road that shows BMW's old "Ultimate Driving Machine" boast isn't just marketing. No, what's really astonishing is what happens when you get to that turn.
Really, a car of this scale just shouldn't corner as well as the M760i does. There's a vast amount of mechanical and software cleverness going on under the surface, involving double-wishbone multi-link front suspension and integral-V multi-link rear suspension, twin-tube shock absorbers, dynamic damper control, and 2-axle self-leveling air suspension. All the same, just when you expect the realities of physics to bite and six-figures' worth of luxury sedan to go hurtling off the road, the big Beemer just powers through.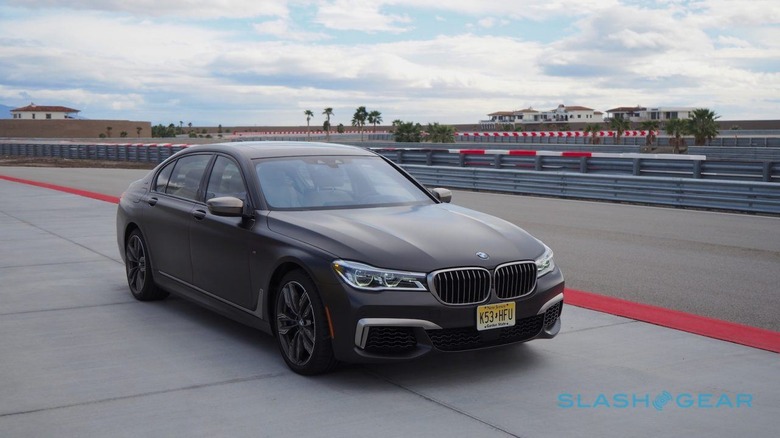 BMW took me out to a track to put the car through its paces, though the most elucidating experience came when I turned the wheel over to BMW Works Driver Bruno Spengler. Thus began one of the most incongruous race experiences in my memory, as he coaxed the M760i sideways, thundered across rumble strips and cut-corners, and generally treated the new car like an oversized M2. Yes, the 20-inch wheels with their performance rubber squealed like a porcine banshee in the turns, but the grip just went on and on and on.
Nobody, to be frank, will buy this 7 Series and take it to a track. The number of people looking to spend north of $154k on a four-door, five seat rocket ship to also use it as a weekend racer is so close to zero, it could probably be dismissed as a rounding error. Yet there was method to BMW's madness, and that was to demonstrate just how nimble a big car can be.
I saw first-hand how important that is only hours later. With my drive partner at the wheel and keeping a healthy pace on a rain-slicked two-lane highway, we cruised up into the shadow of an RV that decided, right at that moment, to jettison a pair of awning rods from the roof. A deft flick of the wheel to the right and the M760i dashed nimbly across the lane, narrowly avoiding being lanced through the windshield like a boil, and then danced easily around the rest of the shed detritus.
We might have been unsettled – there's something about six to eight feet of steel post harpooning toward you that brings to mind visions of vampire movies, and not in a good way – but the car wasn't. Indeed, the air suspension had soaked up any body roll that you might have expected to set us rocking and bucking in our emergency maneuver, while at no point did we skid, slide, or in any way lose grip.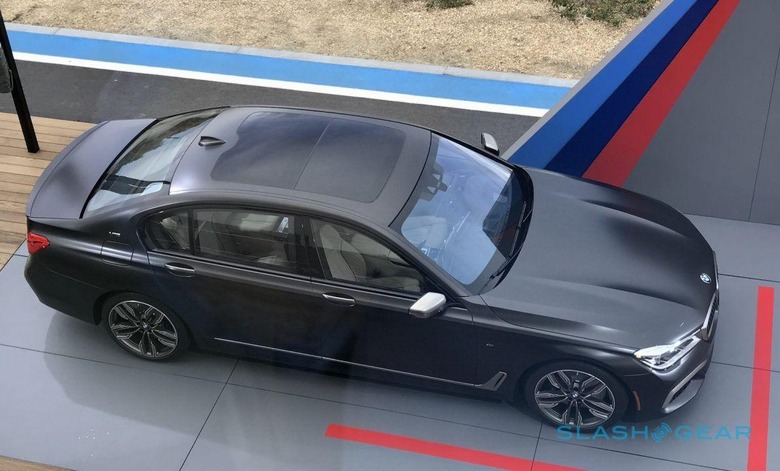 It's that potential which will sell the M760i. Yes, on the face of it you're buying an expensive 7 Series, and yes the interior is just as tech-filled, as leather-lined, and as generally cosseting as its cheaper stablemates. You could happily recline in the airline-style rear seat, have your driver snick the Executive Drive Pro suspension into "Comfort" mode, and focus entirely on the back-strengthening "Vitality Program" rather than think of all those urgent horses up-front. Heck, BMW is even making an M760i xDrive V12 Excellence version, functionally identical but playing up the luxury cred instead of the performance qualifications, to appeal to buyers in Asia.
When you want it to be, though, it's a corner-clinging, tailpipe-bellowing track star, and that time-warping acceleration is enough to make you ditch the chauffeur and go hunting for canyon roads. Indeed, you're really getting two cars in one and, though that's something of a cliche, it's rarely been more accurate. The 2017 BMW M760i xDrive may not be inexpensive, but its dual-personalities mean you get a whole lot more for your money than just V12 heritage.