2017 Alpina B7 Review: A BMW M7 by any other name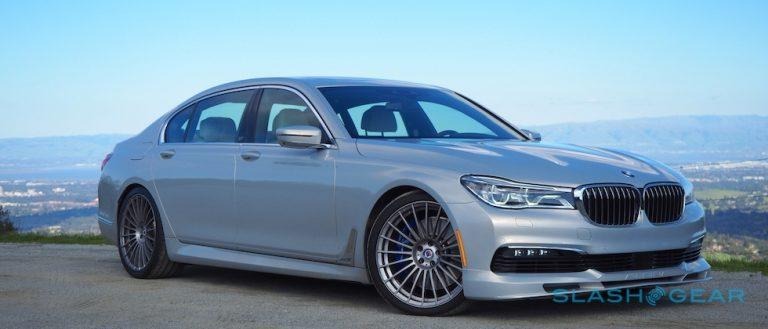 EDITORS' RATING: 9/10
You wait a couple of decades for one BMW M7 to come along, and life brings you two. Well, not quite: neither BMW's own M760i or this, the 2017 Alpina B7, is officially an M car, but then neither would you really want them to be. Go too far down that track and you end up sacrificing luxury in the name of raw performance, and that's entirely at odds with the 7 Series raison d'être. Does that make the Alpina B7 a plutocrat's sports pretender? No, no it does not.
It's okay if you're not familiar with Alpina. The company – Alpina Burkard Bovensiepen GmbH & Co. KG to give it its full, tongue-twister of a name – dates back to 1965, though rose to prominence in the late 60s and 70s with numerous touring car, rally, track, and other race wins. Today, it's best known for giving its own spin on select models from BMW's line-up.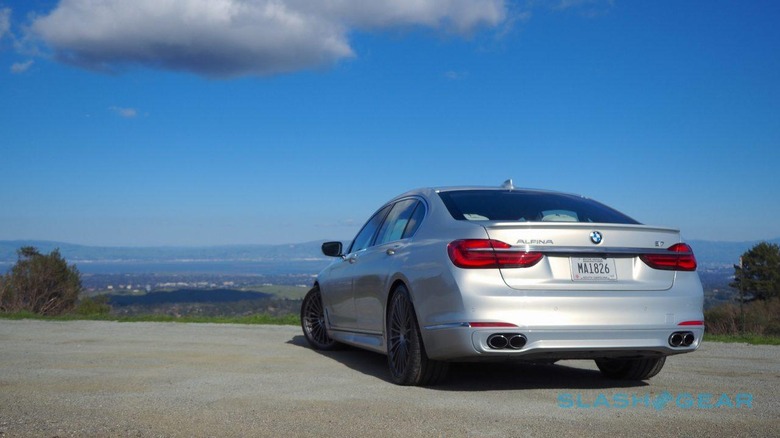 The two firms have an interesting relationship. Officially, Alpina is recognized in Germany as an automobile manufacturer not a car tuner: it takes near-finished cars from BMW and sprinkles its magic across the styling, powertrain, interior, and the all-important software which gives a modern car its personality. You'd be forgiven for thinking BMW owned Alpina, since in the US you buy them through BMW showrooms and they're pitched on BMW's own site.
This isn't Alpina's first fast 7 Series, but the 2017 B7 arrives at an interesting time for the car. Launched as an all-new model in 2015, BMW's biggest sedan initially topped out with a 4.4-liter V8 in the 750i. That offered 443 HP and 479 lb-ft. of torque, and optional xDrive all-wheel-drive. Yet the time was right for a fiercer, more performance-minded version to take on Mercedes' S65 and Porsche's Panamera Turbo.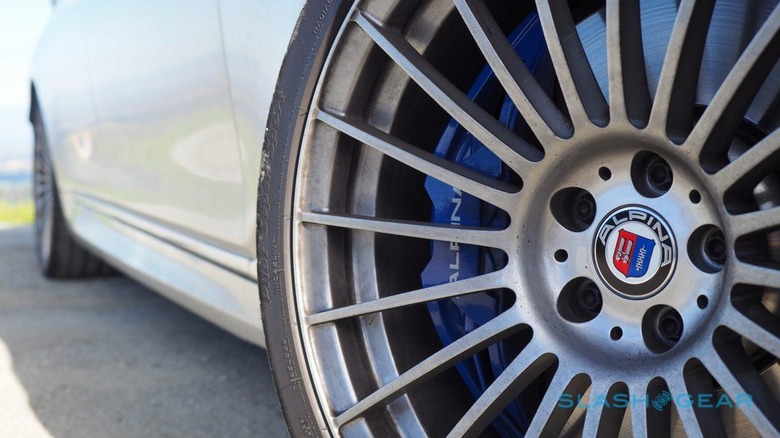 The Alpina B7 xDrive took the stand first, announced in February last year as the fastest, most powerful 7 Series around. Just four days later, BMW showed its own take on the idea, the M760i. Both promised to preserve the luxury and gadgetry the car is known for, but interwoven with face-melting speed.
What's curious is the two very different ways BMW's M division and Alpina went about achieving that speed. In the M760i, a V12 engine is king: specifically, a 6.6-liter twin-turbo example, good for 601 horsepower and 590 lb-ft. of torque. BMW quotes a 0-60 mph time of 3.6 seconds and an artificially-limited top speed of 155 mph.
Alpina goes an alternative route. Under the 2017 B7's shapely hood is a 4.4-liter twin-turbo V8, with 600 HP and 590 lb-ft. of torque. Like its cousin, 0-60 mph comes in a claimed 3.6 seconds – frankly, both automakers are conservative in that figure – but the top speed is 193 mph.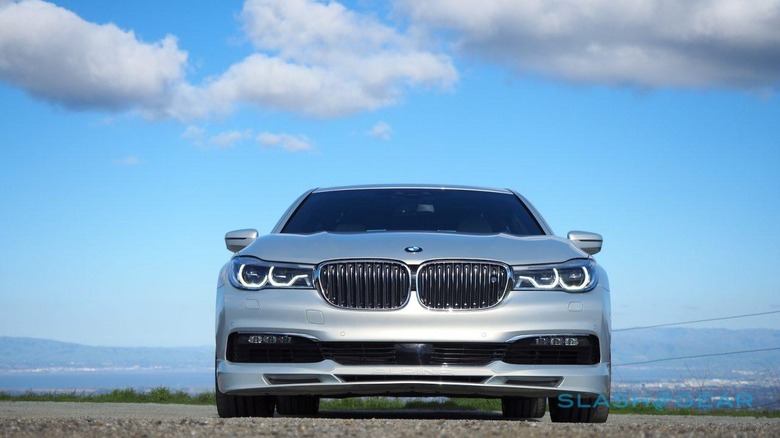 It's BMW's engine, but Alpina changes the turbos, intercoolers, intakes, and pistons, reworks the ZF-supplied 8-speed sport transmission – including switching the steering wheel paddles for its feature button-stud shifters – and gives the brakes an upgrade. A new dual-mode exhaust system is fitted, and BMW's air suspension and active dampers also see new code, with the B7 sitting lower and the all-wheel steering kicking in more aggressively. xDrive AWD is standard, but with a bias toward rear-wheel drive.
That's what you can't see. On the outside there's a tasteful Alpina bodykit, delivering aero improvements in addition to aesthetic differentiation. The front fascia is noticeably lower, as is the rear diffuser – from which four chromed tailpipes pout – while the trunk lid gets a spoiler addition. Alpina's traditional "Classic" light alloy wheels are 20- or 21-inches of multi-spoke joy, while BMW's usual line-up of paints is joined by Alpina-exclusive blue and green metallic options.
It's certainly different enough from a regular 7 Series that, even if they don't see the Alpina badging, car aficionados will recognize it as something special. All the same, this is no shouty boy-racer. Think pro-athlete in a bespoke suit.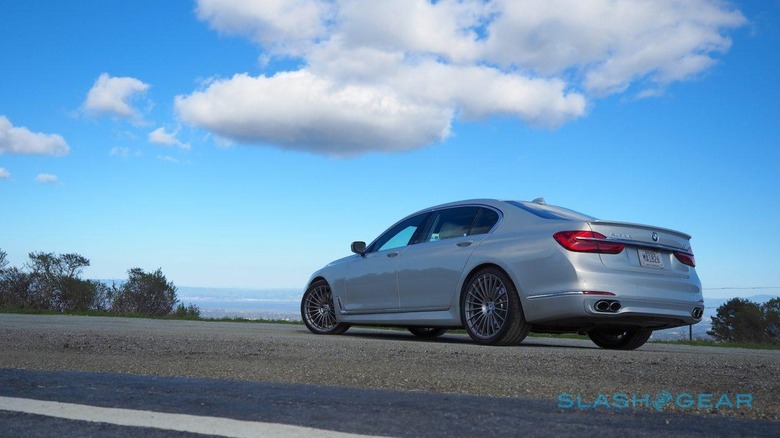 Through a proprietary combination of emotional blackmail and shameless misuse of a British accent, I've been fortunate enough to insert myself behind the wheels of both cars. Although on paper the performance might look the same, the way in which it's delivered certainly isn't.
Where the M760i's V12 builds its power in a steady rush from low revs – maximum torque arrives at just 1,550 rpm – the B7 favors a more aggressive approach. Its peak torque arrives at 3,000 rpm, at which point the V8 twin-turbo is thrumming eagerly. With the Sport+ drive mode selected and the transmission switched to Sport, the B7 is positively feisty.
It's certainly not a light car at 4,820 pounds, but it handles like a significantly smaller sedan. The combination of beautifully-weighted and sharp all-wheel steering, ruthlessly effective air suspension and active dampers, and a gearbox that loves to keep you in the ideal power bracket leaves the B7 darting along backroads with a nimbleness no luxury vehicle of this scale should deliver. Alpina's vast brakes shed pace with the sort of efficiency the Germans are notorious for.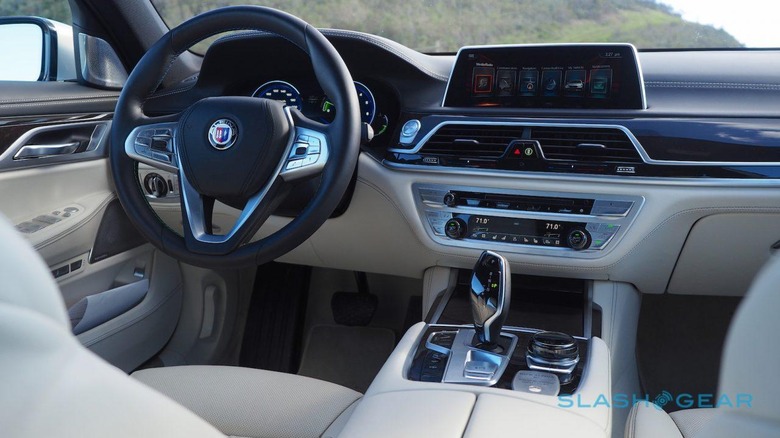 Most importantly, it's so predictably capable that you can forget the 16 foot length and the $137k+ cost and just have fun. Honestly, punting the B7 around mountain roads as you might more commonly do with a hot-hatch or a Miata is eye-opening in only good ways. Then you remember that you have 600 horses to wrangle, and suddenly the Alpina is whooshing forward with an eagerness that borders on the obscene. If there's one thing both the B7 and the M760i share, it's their tendency to insulate you from the fact that you're casually driving at license-losing speeds.
That's not to say the B7 is only good at going fast. In Comfort mode it's just as sybaritic as the regular 7 Series, the air suspension wafting you over potholes and ridges. It's the ideal time to survey the Alpina interior, based on the regular BMW but with plenty of customizations to the leather seat and dashboard design, exclusive badging, various woods and metals for the trim, and more. You get the 7 Series tech, too, like gesture-controlled infotainment, wireless charging, ambient lighting, WiFi hotspot, and more.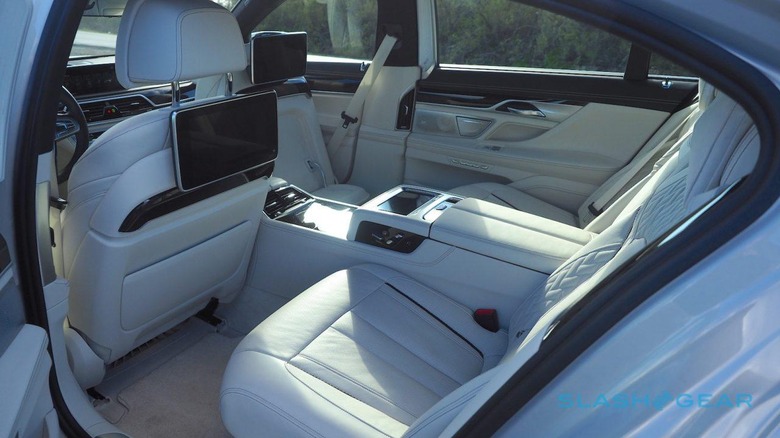 On top of that, this particular B7 was laden with almost $30k of extras. A sweet-sounding Bowers & Wilkins audio system; a panoramic "Sky Lounge" roof; all manner of driver-assistance aids including lane-keeping assistance, night vision and pedestrian detection; and heating, cooling, and massage to the seats front and back. BMW's "Rear Executive Lounge Seating Package" puts an ottoman-style recliner in the back, with a detachable 7-inch tablet in the center console to control it, the car's infotainment, and what's shown on the pair of 9.2-inch screens.
There's even a fold-out airplane-style table. In short – and trust me, you could write 10,000 words on the 7 Series' gadgetry and still have tech to explore – it's all the luxury we've come to expect from a high-end BMW. It just also happens to go very, very fast.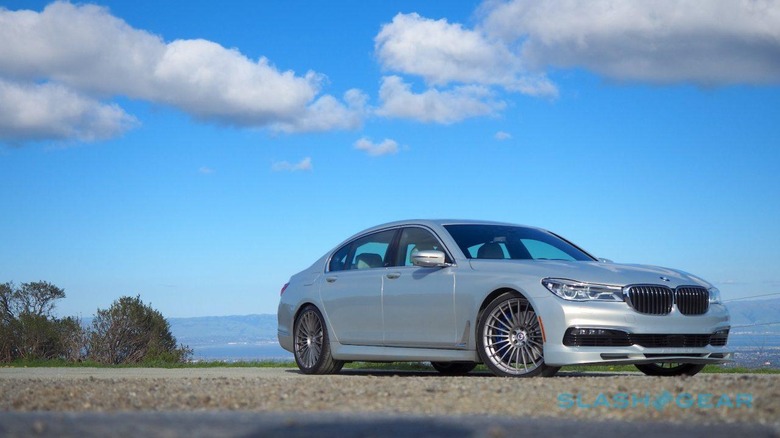 NOW READ: 2017 BMW M760i First Drive
Just recently, someone asked me what percentage of the cars I've reviewed I've actively wished I could keep, once the loan period was over. The reality is that a taste of most vehicles – even some particularly unusual exotica – is often enough: you appreciate their personality but then move onto the next. The 2017 Alpina B7, though, I had serious separation pains over.
Few cars deliver such performance in such a gleefully – and unexpectedly – giddy way. Fewer still combine it with a technologically-adept cabin, and tasteful luxury. Factor in the exclusivity, with Alpina only shipping around 1,500 cars worldwide each year, and you can see why the 2017 B7 is capable of charming even the most cynical among us. All the polish of a superlative sports sedan, and none of the compromises. Wunderbar.