These Are The 5 Most Reliable Toyota Sequoia Model Years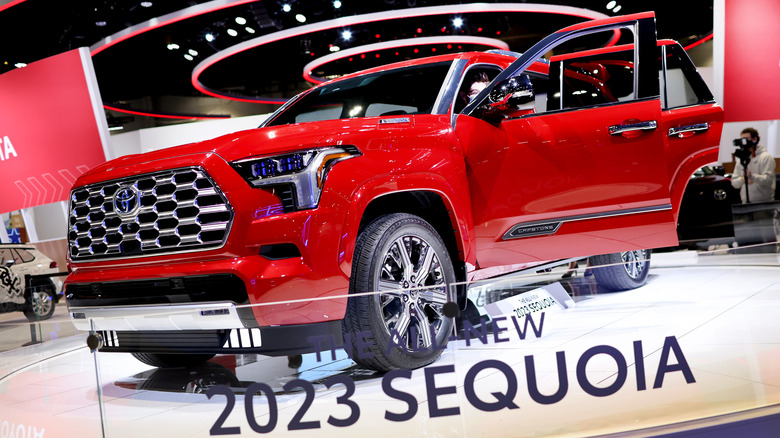 Scott Olson/Getty Images
If it seems like there are a lot of Toyota Sequoias on the road, that's because there are. The car has been a popular choice for drivers for over two decades, and it doesn't look like it's going anywhere. Toyota introduced the SUV just as the vehicle type was dominating the auto industry, and while gas prices have made compacts and other smaller cars more desirable in recent years, there's still plenty of demand for utility vehicles. The Sequoia is one of those models that has the tougher capability of an SUV, while providing enough luxury on the inside and outside to be a comfortable everyday vehicle as well.
If you're looking to save money by purchasing a pre-owned Toyota Sequoia rather than a new one, you'll have plenty of options. While the brand stumbled somewhat out of the gate, the quality of its models increased after its first generation received a facelift. However, it was during its second generation — which began in 2008 — where the Sequoia really began to shine, with Toyota producing one of the most consistently well-reviewed vehicles, year after year. Pretty much any model from its second generation is considered a solid choice, but these are the five most reliable Toyota Sequoia model years.
2015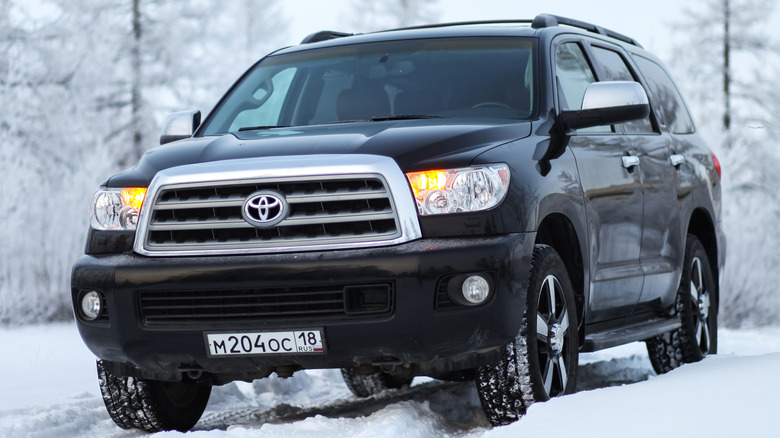 Darthart/Getty Images
The 2015 Toyota Sequoia is one of the best models of its entire run. Nearly a decade later, it still has a high resale value. According to Kelley Blue Book, owners of the 2015 Sequoia have given it 4.7 stars out of five, with 90% of polled consumers recommending the vehicle. It scores high when it comes to ratings on its value, quality, performance, comfort, and styling — and highest (4.9 stars out of 5) on its reliability.
The SUV has a V8 engine that can provide 381 horsepower at 5,600 RPM and, depending on the trim, it can comfortably seat seven or eight people. It makes for a great family vehicle, especially since it's also loaded with safety features, including multiple head, side, and knee airbags, as well as child seat anchors, traction control, and a rollover rating of four out of five.
It's not a perfect vehicle, however. Its handling has been cited as one of its drawbacks, with the SUV still feeling "truckish" and suffering from "clumsy handling." And while its gas mileage isn't the worst for an SUV, it still leaves much to be desired at an average 14 miles per gallon. But if you're in the market for an SUV — and particularly a Toyota Sequoia — you won't find much better than the 2015 model.
2013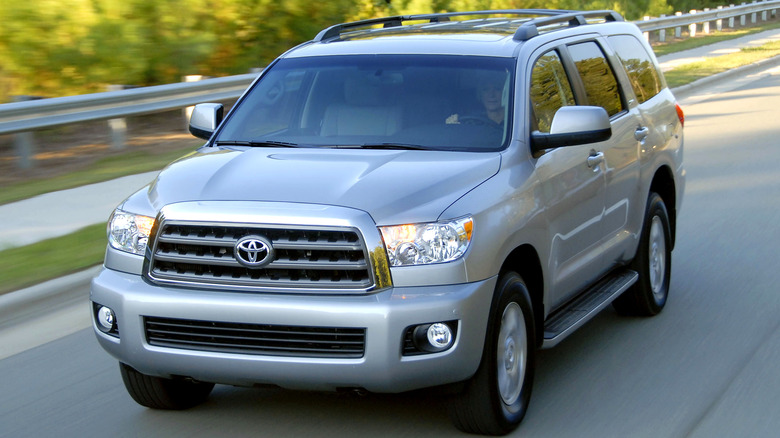 Bloomberg/Getty Images
The 2013 Toyota Sequoia came out in the middle of a decade-long run of the model scoring very high in reviews and customer ratings. The Sequoia had really hit its stride by this point. It was also the first model released after a mid-cycle refresh that saw the Sequoia's standard engine updated to a 5.7-liter V8 capable of 381 horsepower and 401 ft-lbs of torque. The SUV has a six-speed gearbox, and can tow up to 7,400 pounds — unlike many SUVs of its era that were more for show and not as truck-based internally.
MotorTrend praises the 2013 Toyota Sequoia's sizable interior (the SUV could seat up to eight passengers), but notes the vehicle's loose steering as a drawback. Overall, the model is reliable enough that it's still a good purchase a decade after it rolled off the assembly line. If you're looking for a model that feels luxurious and handles like a car, but has the power of a truck, the 2013 Toyota Sequoia is a solid choice.
2016
U.S. News and World Report averages dozens of critical reviews — rather than direct ratings from owners — and using that metric, 2016 was a great year for the Toyota Sequoia. Overall, it has a rating of eight out of 10, with its reliability standing out in particular. The 2016 Sequoia's engine, suspension, and roomy interior are also highlighted as strengths. However, the dashboard layout and interior materials are cited as downsides to the SUV. So is its fuel economy, though that's a drawback found across most Toyota Sequoias, considering it's a full-sized gas-guzzling SUV. The vehicle is rated for 13 miles per gallon in the city and 17 MPG on the highway.
In addition to being highly reliable, the 2016 Sequoia has a good rollover rating from the National Highway Traffic Safety Administration, and includes safety features like adaptive cruise control, front and rear parking sensors, and blind spot monitoring. It predates other features that eventually came with newer Sequoias, however, like lane departure and forward collision warnings.
[Image by RL GNZLZ via Wikimedia Commons | Cropped and scaled | CC BY-SA 2.0]
2011
The 2011 Toyota Sequoia has an overall score of 82 out of 100 from J.D. Power, which analyzes firsthand data from hundreds of thousands of verified car owners. Considering the SUV is over a decade old and still scoring higher than most other Sequoias, it's safe to say that it's still a reliable car to buy used. Besides its reliability and quality, which scored high, the 2011 Sequoia also has a noteworthy resale value rating, as well as decent marks in owners' driving experience. The latter takes everything from safety to technology to functionality into account, so an older model faring well in this category is noteworthy.
Like most other Sequoias, its spacious and comfortable interior is praised, as well as the acceleration provided by the V8 under its hood. While it's still one of the most reliable models, J.D. Power compiled complaints by consumers from the first three months they owned a 2011 Toyota Sequoia and found that there was dissatisfaction with forward visibility and the SUV's navigation system.
[Image by RL GNZLZ via Wikimedia Commons | Cropped and scaled | CC BY-SA 2.0]
2020
When compared to other model years, the 2020 Toyota Sequoia has one of the highest quality and reliability ratings from J.D. Power, which bases its score on feedback from verified car owners. In particular, its headlights are noted as especially effective. And despite being a full-sized SUV, owners say it's still easy to get in and out of the back rows of its comfortable and amply sized interior. Plus — unlike many older pre-owned Sequoias — this relatively young model is equipped with more modern technology that new cars benefit from, like advanced safety features and Apple CarPlay/Android Auto compatibility.
Currently, the 2020 Sequoia is one of the most reliable models Toyota has made. But since it's only been around for a few years, that metric is a little less proven than it is with Sequoias that have been on the road for much longer — so take its good reviews with at least a grain of salt. Only time will tell if the 2020 model lives up to the reputation of its predecessors, but considering how consistently reliable the Toyota Sequoia has been for over a generation, it's a good bet that it will.
[Image by Bull-Doser via Wikimedia Commons | Cropped and scaled | CC0]