2023 Toyota Sequoia TRD Pro Review: Brash Enough To Eclipse A Land Cruiser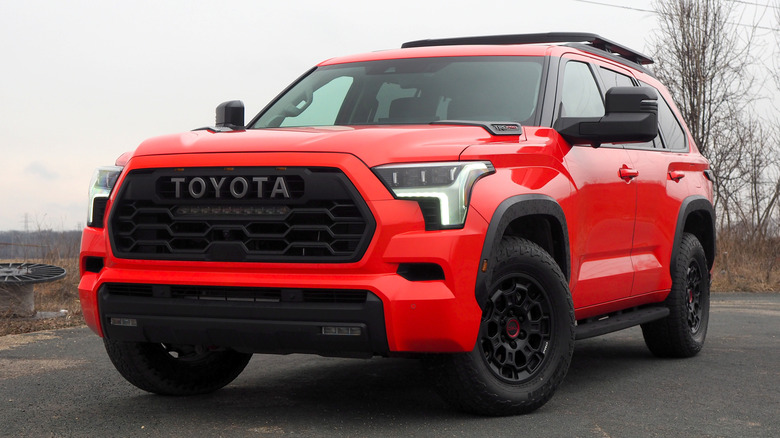 Chris Davies/SlashGear
Even in a sober, sensible color, nobody misses the 2023 Toyota Sequoia TRD Pro. Spec it in eye-searing Solar Octane orange, and the burly three-row SUV is positively obnoxious in how it grabs eyeballs. While you've got their attention, you might as well point out it's also a hybrid.
Nobody is going to mistake the Sequoia TRD Pro for anything close to a Prius, mind. By the time the Toyota Racing Development team has had its wicked way with the beefy truck, what usually starts at under $59k (plus $1,595 destination) has escalated to a heady $76,000. Throw in $290 for the power-extending tow mirrors, $87 for the ball mount, a $499 dash cam, $1,395 TRD Roof Rack, and of course $425 for the retina-roasting paint job, and the SUV you see here crests the $80k mark.
Your money converts what's usually a large, family-friendly vehicle into something unexpectedly eager to go off-road. You could well argue, in fact, that the TRD Pro treatment gives the Sequoia the glow-up its platform deserves. With underpinnings shared by the Land Cruiser that the USA is now denied — and the always-surprisingly-capable Lexus LX which Toyota HQ believes North America can enjoy, as a treat — it's not unfair to suggest that the architecture is wasted on the school run.
A real off-roader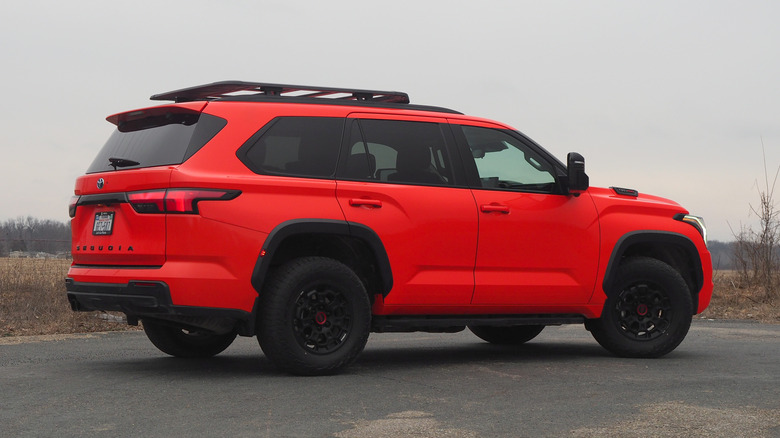 Chris Davies/SlashGear
The TRD division has some good bones to start with, then, and Toyota's engine doesn't let the side down. Every 2023 Sequoia comes with the same 3.5-liter twin-turbo V6 hybrid i-FORCE MAX engine, paired with a 10-speed automatic transmission. It packs 437 horsepower and 583 lb-ft of torque, which in the case of the TRD Pro is pushed to the automaker's 4WDemand part-time 4-wheel drive system.
That has an electronically-controlled locking rear differential, a 2-speed transfer case with high/low range, and an automatic limited-slip differential. While other Sequoia trims can be had with air suspension, the TRD Pro opts for 2.5-inch FOX internal bypass coil-overs and rear remote-reservoir shocks.
There's also a TRD Pro front stabilizer bar, a TRD aluminum front skid plate, and 18-inch TRD Pro matte-black forged aluminum BBS wheels with TRD center caps. They're shod in 285/65R18 Falken WILDPEAK all-terrain tires. Even with the fancy dual-tip exhaust, approach and departure angles increase to 23-degrees and 20-degrees respectively. It'll tow 9,020 pounds, and has 9.1-inches of ground clearance, half an inch more than the regular SUV.
You'll be grateful for the cameras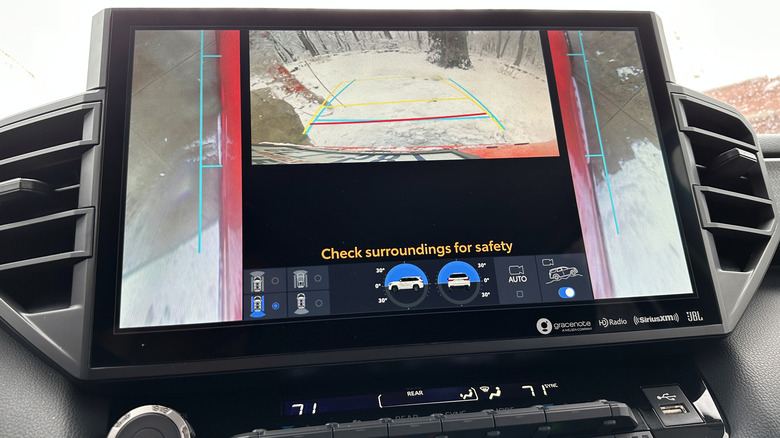 Chris Davies/SlashGear
In short — and as you'd hope for the price — this is no mere styling package. Toyota wants to make it very clear that the Sequoia TRD Pro is entirely ready to go off-road if you are, and the gadgets onboard help there too. The Multi-Terrain Monitor is standard, with various camera angles around the SUV to help spot rocks, gullies, and other pratfalls.
Of course, it's just as useful (if not more so) in urban driving, where the scale of the Sequoia can be intimidating. Happily, Toyota assigns a large, dedicated button to summoning the camera view, because while the chunky tires add some curb-avoiding safety, it's entirely possible to lose pedestrians and even other cars in the not-inconsiderable blind spots. The outsized side mirrors which help so much with rear visibility take their toll on the front view.
The reality is, even with all the camera angles, this is a ridiculously large SUV. It's also worth noting that the TRD Pro trim has a larger turning circle than its Sequoia siblings, even though Toyota has slightly reduced lock-to-lock on the steering. At 44.52 feet, curb-to-curb, it's more than 4 feet more than the other versions of the truck, and that can take a little getting used to as you try to squeeze into parking spots.
Electric perk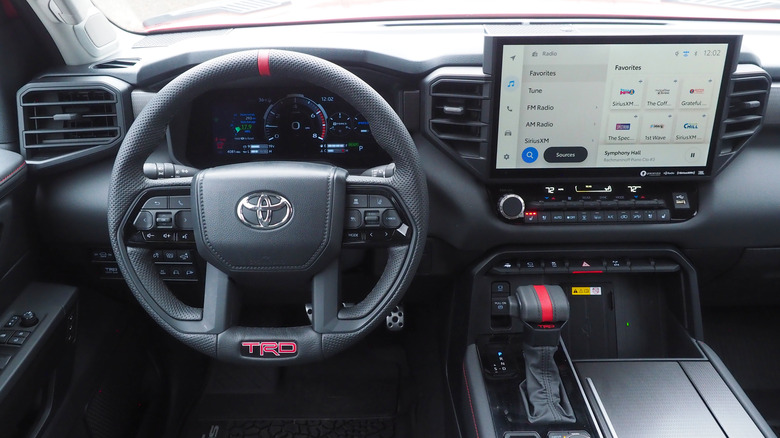 Chris Davies/SlashGear
Despite what you might suspect from the 6,150-pound curb weight, though, the TRD Pro doesn't feel sluggish. Toyota's hybrid system is the fix to that, sandwiching an electric motor between the engine and the transmission. A Ni-MH battery supplies enough juice for brief, low-speed forays on electric power only, though the decision there is left to the truck rather than offering a dedicated (and, frankly, pointless) EV mode.
Really, the hybridization here is for besting the torque curve. The Sequoia is positively spritely from a standing start, capable of shocking other drivers with more than just its scale. It only gets more aggressive in Sport mode, with the transmission in the "S" setting, and whether you're in the regular 2H or 4H mode, there's never a sense that the big Toyota is lacking in punch.
While my testing didn't take me across any significant off-road course, the Midwest winter supplied plenty of snow and ice to test the Sequoia's sure-footedness. Easily modulated power combined with plenty of traction made light work of handling that, and the SUV slips between 2H and 4H without the clunking pause that many rivals suffer. The steering could do with being a little firmer, mind, and feedback through the electrically-assisted system is fairly mild.
Happily, the brakes are up to the task, even if there's something moderately disconcerting about an SUV this large hurtling at higher speeds. It's an eager beaver, too, with pickup so smooth that it's all too easy to find yourself cruising well in excess of the intended limit.
Smooth and thirsty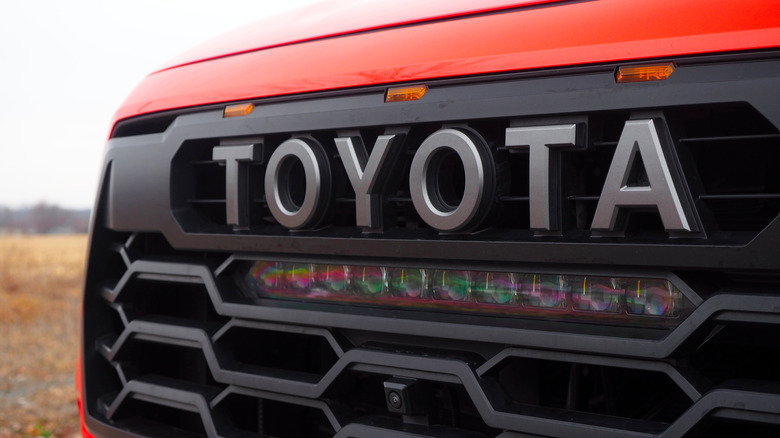 Chris Davies/SlashGear
Helping identify those times are lashings of wind and road noise. With its upright grille, TRD Roof Rack, and grippy 33-inch rubber, it's no surprise that the Sequoia is on the loud side. The engine doesn't whine or hunt, like the electrified system in the RAV4 Hybrid Woodland Edition, and the V6 doesn't sound bad, per se, but if you want refinement you should definitely head to the Lexus dealer next door.
You should probably also budget time and cash for the gas station. According to the EPA's numbers, the Sequoia TRD Pro should do 22 mpg in the city, 20 mpg on the highway, and 19 mpg combined. In practice, I saw 17-18 mpg based on my own mixed driving, with the SUV's range estimated around 300 miles from a full tank. Figure on breaking up your road trips with regular breaks to top-up.
There's an Eco drive mode, along with Normal, Sport, and Tow/Haul, but the TRD Pro misses out on the Comfort, Sport S, Sport S+, and Custom modes that other Sequoia enjoy. There's also no specific off-road mode — Toyota assumes you'll be confident enough to figure out the settings yourself.
Spacious and sturdy inside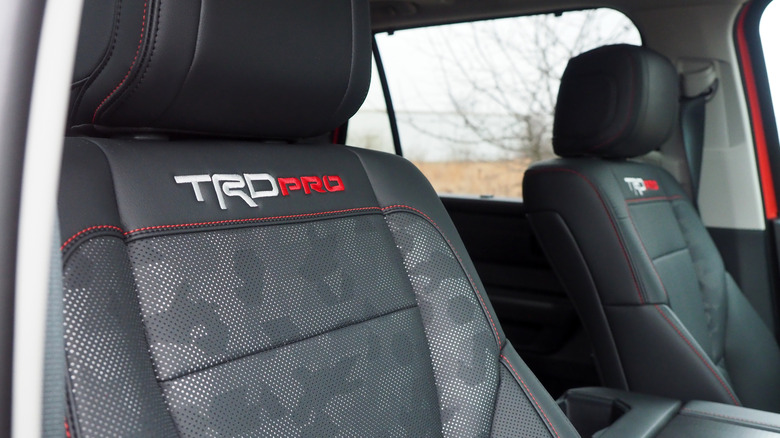 Chris Davies/SlashGear
A wholesale upgrade to the cabin helps leave the 2023 Sequoia feeling more modern. While Toyota offers eight-seat configurations of the SUV, the TRD Pro seats seven by default. There's no shortage of space for those in the second-row captain's chairs, with a healthy pass-through space to the sliding, power-folding third row.
As well as offering adult-scale legroom, that bench splits 60/40, useful since with all three rows up you're looking at a snug 11.5 cu-ft of cargo space. Sliding the rear bench forward expands that to 22.3 cu-ft while folding it bumps it up to 49 cu-ft. Drop the second row, and you're looking at 86.9 cu-ft.
Rather than leather, there's perforated SofTex: suitably sturdy for off-road adventures, just like the rubber mats. Toyota also throws in a wireless phone charging pad, heating and ventilation for the front row, a power liftgate with flip-up glass, and lots of useful cubbies.
The tech upgrade we've been waiting for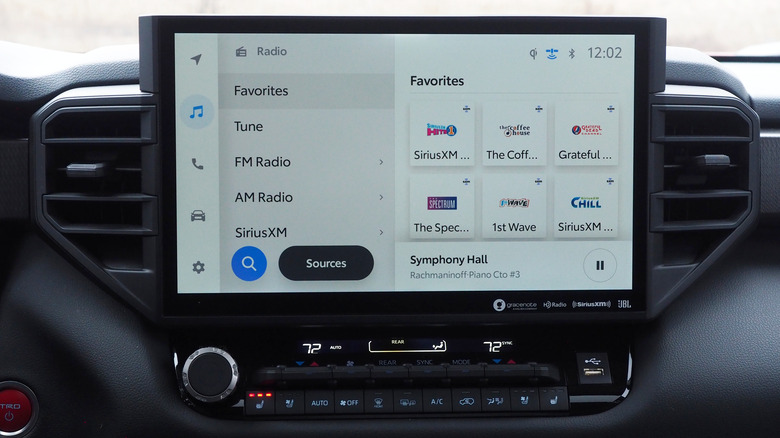 Chris Davies/SlashGear
On the tech side, the latest Toyota infotainment system is a welcome addition. Running on a sizable 14-inch touchscreen — large enough that some graphics on the right side can be a stretch for the driver — it's much easier, more attractive, and generally intuitive to use than the old version. Wireless Apple CarPlay and Android Auto are supported, and there's a 12.3-inch digital gauge cluster for the driver.
Toyota loads up the active safety tech, too. Pre-collision assistance with pedestrian detection, lane departure alerts with steering assistance, lane tracing assist, auto high-beams, and road sign assist are all part of Toyota Safety Sense 2.5, fitted as standard. So, too, is adaptive cruise control, though where rivals have been flirting with advanced lane-keeping the Sequoia relies on the driver for steering.
Despite the vast touchscreen, Toyota isn't shy of physical controls. They're generally oversized, too, to make sure they're usable even if you're wearing gloves, though the positioning of the driveline controls does leave them somewhat obscured by the edge of the center armrest.
2023 Toyota Sequoia TRD Pro Verdict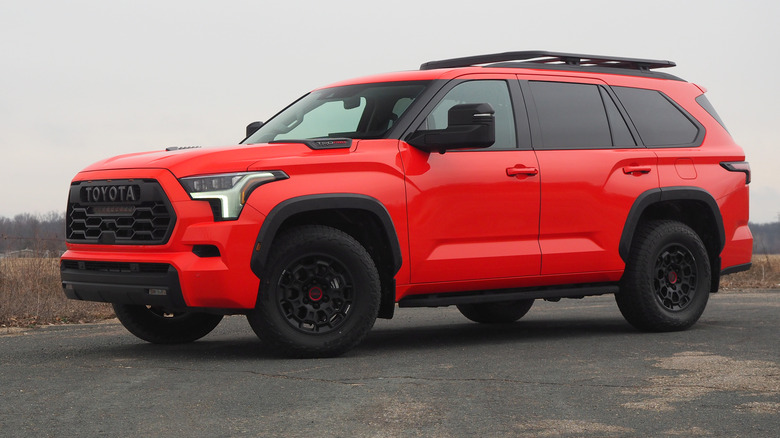 Chris Davies/SlashGear
The more time I spent behind the wheel, the more the 2023 Sequoia TRD Pro grew on me. Certainly, it takes a little getting used to: that's mainly about the scale, like with other full-size SUVs. Yet the Toyota doesn't feel lumbering, the hybrid engine's added perk helping offset the heft much as it does in the Tundra.
You do, of course, get that punch in the non-TRD-massaged versions, and for most people, I suspect that's a wiser buy. Not only is it more affordable, but it's also a little more refined on-road. The regular Sequoia may not be quite so rough-stuff ready, but the $470 TRD Off-Road Package available on 4x4 trims adds the fancy tires, Bilstein off-road shocks, locking rear diff, and other niceties. You have to really need the step up to this full TRD Pro spec for it to make sense, and that means taking the Sequoia out into the wild where this no-compromise configuration can fully deliver.