2023 Toyota RAV4 Hybrid Woodland Edition Review: Can't See The Forest For The Trees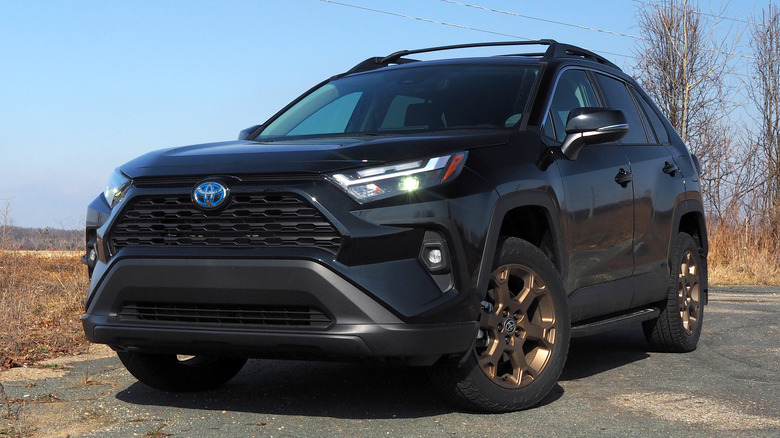 Chris Davies/SlashGear
Look beyond the whimsical bronze wheels and the forest-friendly badging, and there's something calculatedly rational about the 2023 Toyota RAV4 Hybrid Woodland Edition. The electrified SUV isn't the first in the automaker's line-up to feel the attention of the Toyota Racing Development (TRD) division, but even as it shouts its off-road ambitions it clearly hasn't forgotten the urban routine more likely to be its playground.
The TRD Pro series has progressively spread through Toyota's SUV and pickup line-up. Though the details vary, a few key themes are consistent: beefier wheels, typically with a striking gold finish; lifted suspension, often more rugged for off-road use; and a set of other accessories like skid plates and side rails to help keep your truck in one piece even when you run out of asphalt. While there are plenty of people for whom a new Toyota is just the start of a modification journey, the TRD Pro offers a solid start out of the factory, complete with the reassurance of a full manufacturer warranty.
The RAV4 doesn't come in TRD Pro form, but there is a 2023 RAV4 TRD Off-Road. It pairs Toyota's 2.5-liter inline-four engine with all-wheel drive and raised, TRD-tuned suspension, for 8.6 inches of ground clearance compared to the regular SUV's 8.1 inches. The AWD system can disconnect the rear driveline, and there are extra drive modes for Mud & Sand, Rock & Dirt, and Snow, plus a Downhill Assist Control (DAC).
You can't, however, get the TRD version with Toyota's hybrid drivetrain. Instead, you get the 2023 RAV4 Hybrid Woodland Edition, which the unkind might describe as a $33,525 (plus $1,335 destination) halfway point between the standard SUV and the TRD Off-Road.
Bronze wheels, hybrid heart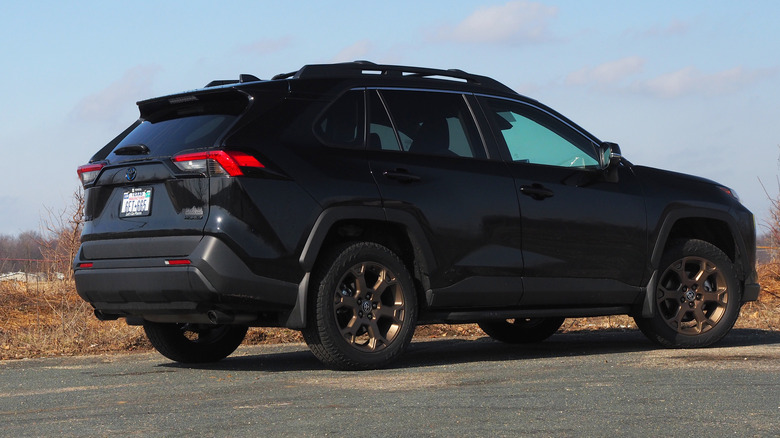 Chris Davies/SlashGear
So, you get a burlier look, including the same Falken Wildpeak All-Terrain tires as the TRD Off-Road sports, here wrapped around handsome bronze-finish wheels. The suspension is the standard RAV4 setup of independent MacPherson struts up front and multi-link rear, though TRD-tuned, and the ride height is the same 8.1 inches too. Roof rails are standard, but instead of the mechanical all-wheel drive system of the TRD Off-Road, there's Toyota's gas-electric hybrid approach instead.
At the front, the 2.5-liter inline-four gas engine and CVT (continuously variable transmission) are combined with an electric motor, to drive the front wheels. A second electric motor is dedicated to the rear wheels, with a small battery — nickel-metal hydride in the Woodland Edition, unlike the lithium-ion in the RAV4 Hybrid XSE — powering the whole thing. The total system power is 219 horsepower. There's a Trail mode, alongside the standard Normal, Eco, and Sport settings, but not specific snow, sand, or other modes.
Unlike the RAV4 Prime, which is a plug-in hybrid, the RAV4 Hybrid Woodland Edition can't be externally charged. It gets a far more constrained electric-only range as a result: there's an EV Mode button, but you'll only get about a mile of driving with it switched on, at best, and you'll need to keep the speed down too. Otherwise, it automatically brings the gas engine back into play.
Chunky rubber makes an economy compromise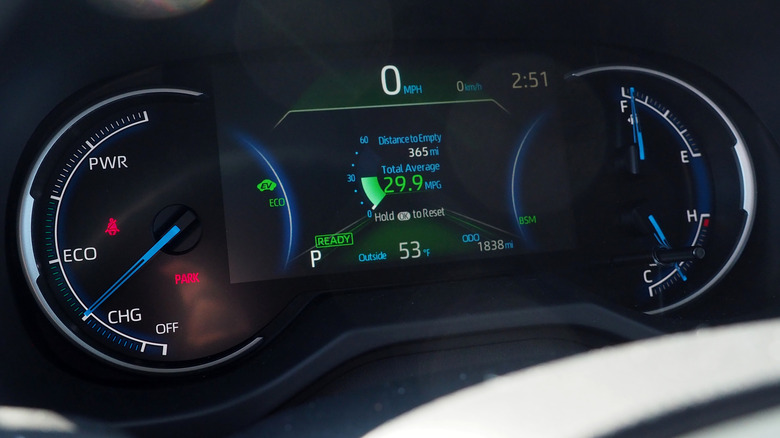 Chris Davies/SlashGear
The RAV4 Hybrid's main reason for existence is coaxing more economy out of a primarily gas-powered experience. It actually does that pretty well, in standard hybrid form at least. Where a gas-only RAV4 AWD is rated for 29 mpg combined on the EPA's test cycle, a RAV4 Hybrid AWD pushes that up to 40 mpg.
Grippier wheels and aero-affecting things like the roof rails, however, sap some of the RAV4 Hybrid Woodland Edition's electrified advantages. It's rated at 38 mpg in the city, 35 mpg on the highway, and 37 mpg combined, three points lower than its non-Woodland sibling in each category.
Even those numbers feel overambitious compared to my own experience. With a mixture of highway and urban driving, that skewed more toward the city routes that hybrids typically do better in, I hit 30 mpg at best.
More fun on the road, never mind off it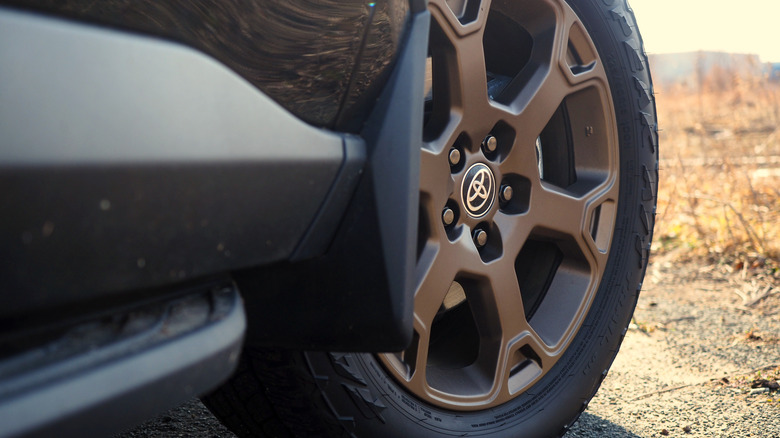 Chris Davies/SlashGear
That's still an improvement over the gas-only RAV4, and I probably had more fun behind the wheel, too. Toyota's electrified versions are more powerful and accelerate faster, and while you'll need the RAV4 Prime for its most potent form, the RAV4 Hybrid is no slouch. With the front electric motor packing 149 lb-ft of torque and the rear contributing up to 89 lb-ft, and the way EVs deliver power from the get-go, speed from a standing start is undeniably perky.
The TRD-tuned suspension and squishy rubber help offset the hybrid's added heft — it's 160 pounds more than the non-hybrid RAV4 TRD Off-Road — and leave you unruffled by all but the most appalling potholes. In post-ice-storm Michigan, with the roads heavily scarred and eager to destroy lesser tires and send weak spines into traction, the Woodland Edition coasted with merry ease along routes that would have me gritting my teeth and preparing apologies in most other compact SUVs.
I can't say I love the soundtrack while it happens, mind. Toyota's gas engine isn't the most sonorous, and the slurrings of the CVT don't much help.
Practical and somber inside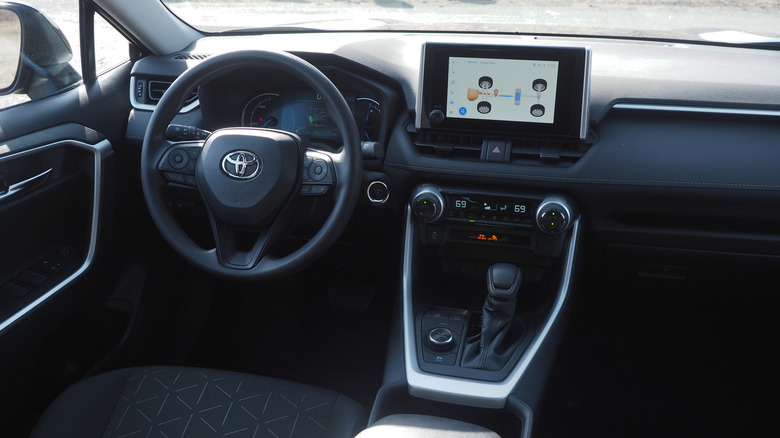 Chris Davies/SlashGear
Inside, the RAV4's practicality is boosted in a few places, making it more suitable for a rough and tumble lifestyle. Woodland-branded all-weather floor and cargo mats kit out the footwells and trunk to deal with muddy boots (or paws), and Toyota adds a 120V/100W outlet. Sadly you don't get the easily-wiped SofTex seats that the TRD Off-Road enjoys, with Toyota opting for fabric here instead. The driver's seat is power-adjustable; the passenger makes their tweaks manually.
Dual-zone climate control — with oversized controls that are charmingly practical for when you're wearing gloves — along with five USB ports (one USB-A for media; four USB-C for charging) are standard, too. Toyota's latest infotainment system is a welcome addition as well, functionally and aesthetically leagues ahead of the old interface. There's wireless Apple CarPlay and Android Auto, decent voice recognition, and a bright 8-inch touchscreen. A smaller display sits between the RAV4's analog gauges.
It all feels sturdy, albeit fairly dark and not particularly special. Subaru's brighter blue and gold trims in its rival crossovers leave them feeling more memorable, even if I have no questions about Toyota's build quality. A little bronze carried over from the exterior would go a long way, here.
All the safety tech you'd expect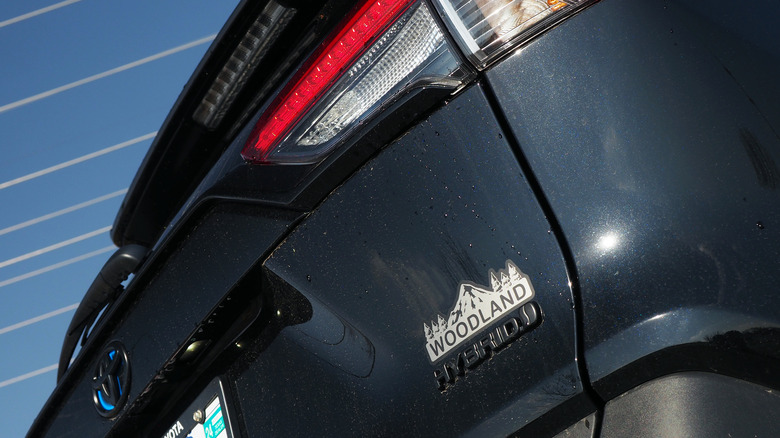 Chris Davies/SlashGear
I can't fault the space, mind. The RAV4's cabin isn't short on headroom or legroom, and the trunk is similarly capacious. 37.6 cubic feet with the rear seats up expands to 69.8 cu-ft with them dropped down. Compared to the 2023 Honda CR-V Hybrid, that means you get a little more space when all the seats are up, but a little less overall with them folded.
Honda's cargo advantage stumbles when it comes to towing, though. While Toyota's biggest tow ratings are reserved for its gas-only versions of the RAV4 — the RAV4 TRD Off-Road is rated for 3,500 pounds — the RAV4 Hybrid Woodland Edition's 1,750-pound rating is still almost twice the mere 1,000 pounds that the CR-V Hybrid can handle.
Toyota Safety Sense 2.5 is standard, with features like pre-collision assistance with pedestrian detection, lane departure alerts with steering assistance, lane tracing assistance, auto high beams, and road sign assistance. Adaptive cruise control is included, too, and the Woodland Edition gets blind spot monitoring and rear cross-traffic alerts as well.
2023 Toyota RAV4 Hybrid Woodland Edition Verdict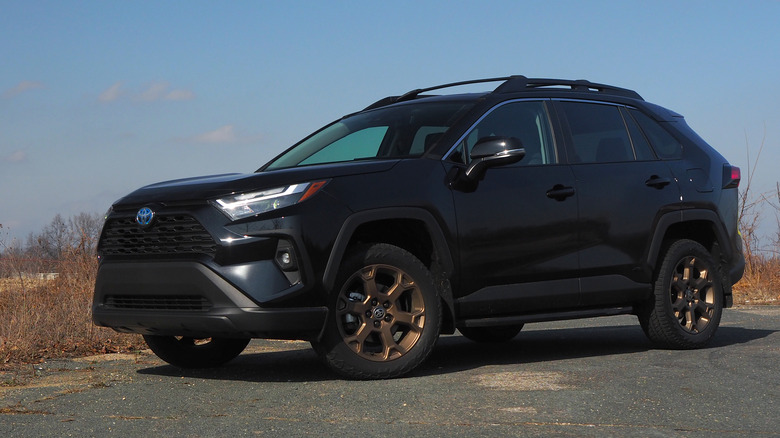 Chris Davies/SlashGear
At first glance, understanding the appeal of the 2023 RAV4 Hybrid Woodland Edition is simple. Drivers love the aesthetics of burly, off-road-ready SUVs, but most of their driving still takes place on regular roads where an electrified drivetrain makes more sense. The Woodland Edition starts at $4k less than the $37,595 RAV4 TRD Off-Road and is more frugal.
Stop and think a little more, though, and the value starts to stumble. The TRD Off-Road version of Toyota's crossover is undoubtedly more capable if you really do want to break free of the asphalt. Meanwhile, you're definitely sacrificing some of the hybrid drivetrain's economy advantages, and the omissions on the spec sheet — like heated seats, a bigger touchscreen, and a power liftgate — are puzzling given the Woodland Edition's pitch as a super-practical SUV.
In the end, though the exterior look is eye-catching, a regular RAV4 Hybrid SE or XSE delivers most of the capabilities while also providing far more trim and options flexibility. Toyota's electrified crossover is great, but the Woodland Edition dilutes its core appeal rather than enhancing it.