2023 Ram 1500 Rebel G/T Review: The Baby TRX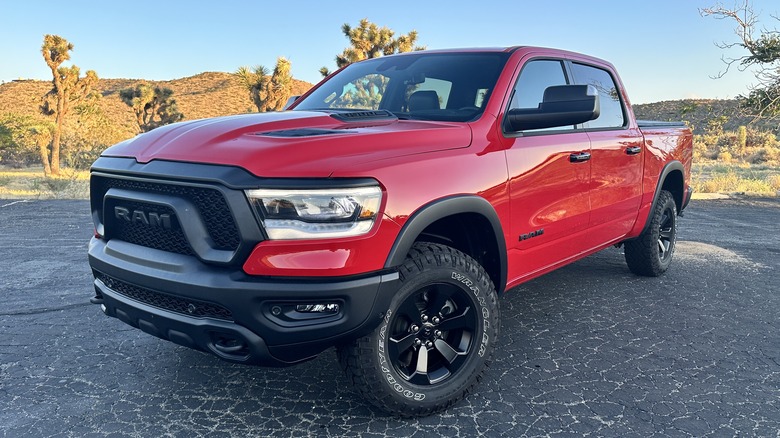 Emme Hall/SlashGear
When I first heard the news that the TRX, Ram's 700-plus horsepower full-size pick-up, would end its time on earth at the end of this year, I'll admit to pouring one out for the V8 monster. Sure it's huge, gets terrible fuel economy and generally makes the driver look, well, douchy, but like, a badass douche, you know?
Once the TRX is gone, the Ram 1500 Rebel will again take its place as the top off-road spec for Ram and you know what? That's not a bad thing. The optional V8 doesn't produce as much power, but the fuel economy is better. It's still a big, full-size truck, but it's better at doing truck stuff like towing and hauling. The Rebel doesn't have as beefy a suspension set-up as the TRX, but buyers still get plenty of off-road fun.
Of course, the Ram 1500 is available in a variety of different trims with a 3.6-liter V6 or 3.0-liter diesel in addition to the Rebel's V8. Crew cab or the smaller quad cab are on tap for most models, as are a five-foot, seven-inch or six-foot, four-inch bed. Here, the focus is the Rebel, which is available only as a crew cab with the short bed. Honestly, this is the best looking combination and still has plenty of utility. Other configurations may tow more or offer better fuel economy, but I think the Rebel hits the sweet spot with capability, on-road manners and off-road shenanigans.
Time for a facelift?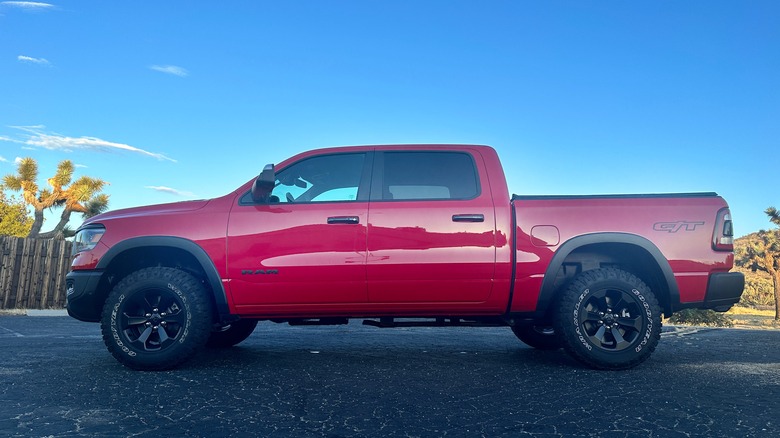 Emme Hall/SlashGear
The exterior of the Ram 1500 hasn't changed much since this fifth generation debuted in 2019. What was fresh and a bit urban cowboy four years ago looks a little staid now, especially when the Chevrolet Silverado got a nip/tuck in 2022 and the Ford F-150 is refreshed for next year.
However, my tester has the G/T package, which at $2,995 adds a performance hood and black grille. Oh, and the requisite G/T stickers if you're into that sort of thing. The black 18-inch wheels are handsome, wrapped in Goodyear Wrangler A/T tires size 275/70. Do the math on that and you'll find those are 33-inch tires. To first-time truck buyers that might seem large, but the truck looks a bit out of proportion in profile. If it were me I'd swap them out for a good set of 35-inch BF Goodrich KO2 tires and fill those wheel wells a bit. This might require a bit of cutting and trimming, but good looks never come easily.
A Damn Good Interior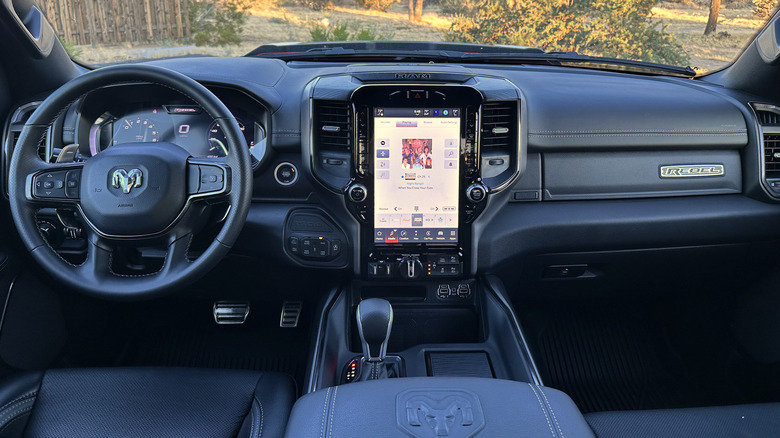 Emme Hall/SlashGear
The Ram's interior is still one of the best out there, with plenty of tech and an easy layout. Again, the G/T package adds some niceties like leather seats that are ventilated — heated seats are in the required Level 2 Equipment Group — a leather-wrapped steering wheel, adjustable pedals, and an eight-way adjustable driver's seat. I love the little cubby on the dash for keeping smaller items like pens, gum, and house keys out of the way and the center console is gigantic. Materials here are excellent with plenty of soft-touch surfaces and spot-on fit and finish.
If the standard 5-inch or available 8.4-inch infotainment screen is too small for you, go big with the 12-inch portrait oriented screen running Ram's excellent Uconnect 5 infotainment system. The least expensive way to do it is to forgo the G/T package and add the Level 1 Equipment Group. The required Level 2 Group is almost $2,000 more expensive and frankly, there isn't much difference in there save for parking assist, rain-sensitive wipers, remote start, and a Harman Kardon sound system. If that's your jam, go for it but there is more value in the Level 1 Group.
All the tech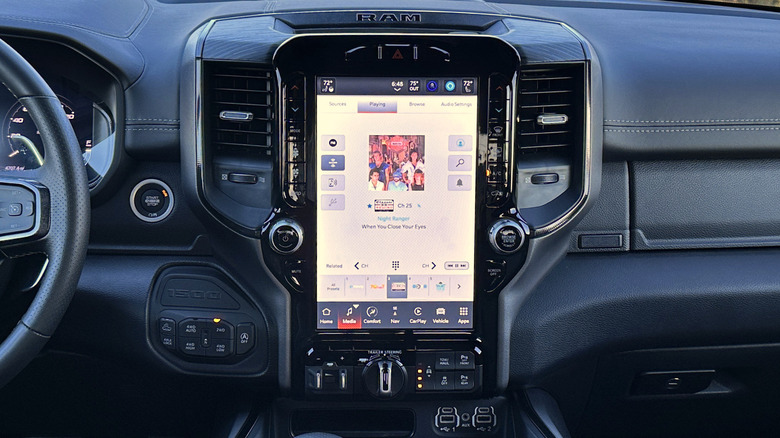 Emme Hall/SlashGear
At any rate, I've always loved the robust Uconnect 5 system with its quick response times and myriad features. The layout may look a little convoluted at first, but all becomes clear after spending just one drive with it. Apple CarPlay and Android Auto are both here and wireless, of course. Amazon Alexa is also included. Both USB-A and -C ports abound in the cabin as well as a standard electrical outlet. Wireless charging is also available.
My truck is equipped with the $1,095 Technology Group that includes a head-up display — not really my bag since I can't see it very well with my polarized sunglasses — and a digital rear view camera. This feature I love for larger vehicles as it gives me a wide-angle view from the back-up camera streamed right on to the rear view mirror. Even when the bed is loaded with taller cargo like bedroom furniture, I still have an unobstructed view of what's going on behind me.
While Toyota and Chevrolet both offer many drivers' aids standard, you've got to pony up with Ram. The only thing you'll get standard is forward collision warning. My tester didn't have the $1,695 Advanced Safety Group with adaptive cruise control, lane keeping assist and the like. It also didn't have blind-spot monitoring, which is an extra $595 on top of all that. Of all the helpers, blind-spot monitoring is welcome in a truck this size.
Pavement prowess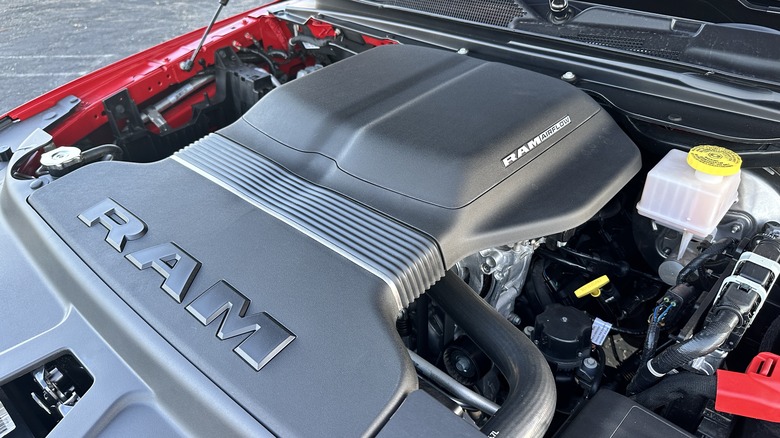 Emme Hall/SlashGear
Start up the Ram Rebel and you're greeted with the lovely sound of that 5.7-liter V8, pushing out 395 horsepower and 410 pound-feet of torque. For those who want to feel a tiny bit better about the environmental impact of that V8, it's actually a 48-volt mild hybrid system. This technology gathers energy that would normally be wasted and pushes it into a small battery pack, used to aid in acceleration, smooth out the stop/start system, and — in theory — provide better fuel economy.
Performance is enhanced on the Rebel G/T with a standard cat back exhaust to improve air flow, and a standard cold-air intake brings more dense air into the engine as well. Stomp on the gas pedal and the truck surges forward, quickly clicking through the 8-speed automatic transmission. There are paddle shifters if I want a bit of control, but the computer does a pretty good job and they are more of a toy feature than anything else. Still, nice to play around with under spirited driving.
Other cool toys here are the standard performance pages. I can see my zero to sixty miles per hour time — it should be just over six seconds — g-forces, gauges for engine, transmission and water temperatures as well as engine performance. What's curious is that there are no drive modes. I would expect at least sport, normal and off-road modes, but in the Ram Rebel, it's WYSIWYG.
Plenty of grunt, but hardly green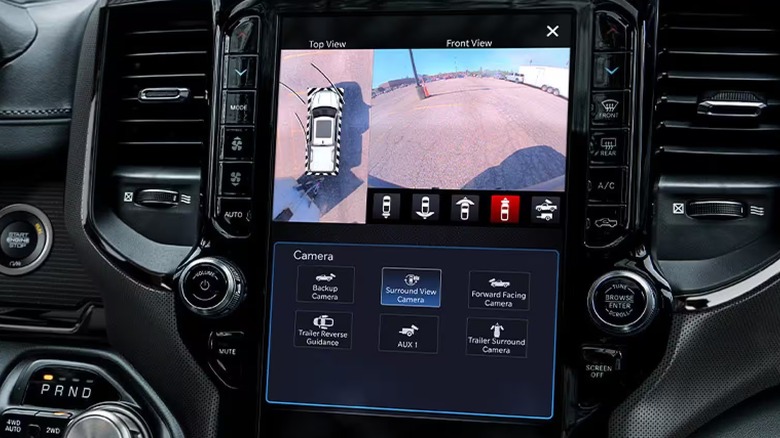 Ram
Stopping at a red light the truck shuts off to save fuel and seamlessly starts again when I lift my foot off the brake. There is no harshness or stuttering and I don't feel like I'm waiting for the truck to be ready to go. This helps the Ram Rebel get an EPA estimated fuel economy of 17 miles per gallon in the city, 22 mpg highway, and 19 mpg combined. While that doesn't sound great, it's right in line with the V8 offered in the Ford F-150 with four-wheel drive and it beats a similarly equipped Chevrolet Silverado. Heck, even the Toyota Tundra TRD Pro with a hybrid set up only gets 19 mpg combined.
Your mileage, however, will vary. I am not known for a light right foot and after my week with the truck I see 15.3 mpg on the truck's trip calculator. Yikes. If you want to get the maximum efficiency out of a Ram 1500, you'll have to go with the 3.0-liter diesel with an EPA-combined rating of 24 mpg.
Unfortunately I'm not able to do any towing with the Rebel G/T, but you'll definitely get plenty of utility out of the truck. Look for towing at right around 11,300 pounds for my four-wheel drive tester with a payload of around 1,800 pounds. That's way better than the TRX, but if you want maximum towing of 12,750 pounds you'll need to go with a quad cab, long box in two-wheel drive.
New towers will welcome the optional trailer reverse steering control that takes the backward thinking out of backing up a trailer. If you want the trailer to move to the right, simply turn the dial on the dash to the right. There's no turning the steering wheel left to make the trailer go to the right. Having said that, placing your hand at the bottom of the steering wheel instead of the top also gets you the same effect.
Take it to the Dirt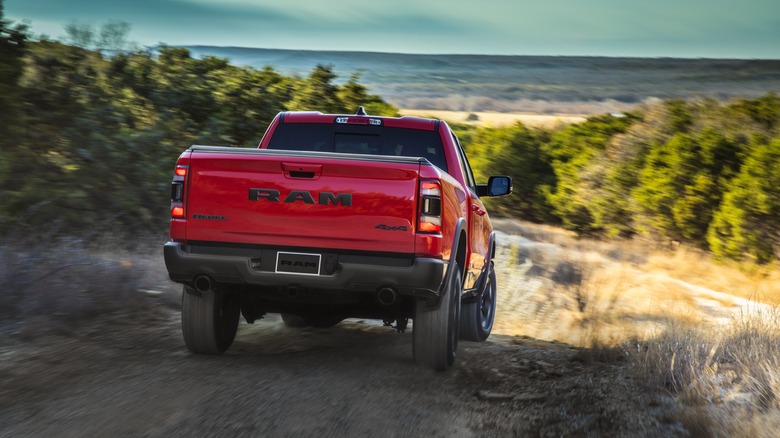 Ram
When it comes to off-road prowess, the Rebel is pretty good. Although it doesn't have the fancy Multimatic shocks found in the Chevrolet Silverado ZR2 or the Fox shocks you can get in the Ford F-150 Tremor and Toyota Tundra TRD Pro, the available four-corner air suspension paired with monotube Bilstein off-road tuned shocks with rear reservoirs is sufficient as long as I don't get too crazy. After all, this isn't a long-travel set up like the soon-to-be gone TRX. It's not going to let me sail down a set of deep whoops in Baja at 50 miles per hour, but driven within its limits it performs admirably.
Helping out is a one-inch lift for a maximum of 10.8 inches of ground clearance, skid plates on the front, the fuel tank and the two-speed transfer case. A rear locking differential is also standard.
The Rebel will never be a proficient rock crawler, its 144-inch wheelbase takes care of that, but it still boasts some good geometry. It's on a par with the competition from Ford and Toyota, although the Chevrolet Silverado ZR2 has it beat. Approach angle on the Ram Rebel is 26.7 degrees when the air suspension is at max height. Departure angle is 23.8 degrees while breakover angle is 21.8 degrees.
New for 2023 is Selec-Speed control on the Ram Rebel. Think of this like cruise control for slow-speed off-road maneuvers. I simply set a speed and the truck keeps it steady, while I just have to worry about steering inputs. This is great for newbies who might not have good throttle control or be wary of left-foot braking. Smooth driving is the key for tricky terrain, and this feature makes it easy.
Big Time Payments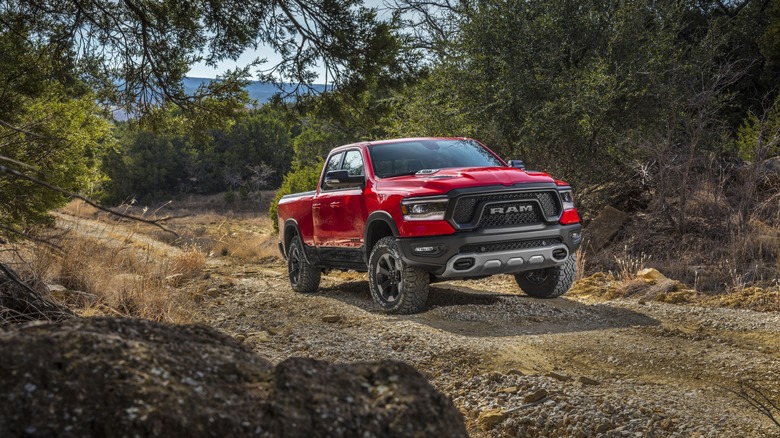 Ram
Of course, none of this matters if the truck is too spendy and y'all... it's up there. The Ram Rebel in four-wheel drive starts at right around $60,000 including nearly $2,000 for delivery. Adding the V8 over the standard 3.6-liter engine is another $3,000 or so, and when all the options of my tester are added up it sits at $80,000.
I can knock the price down to about $72,000 by ditching the G/T package and going with the level 1 equipment group, but it's still a pretty penny. However, the Toyota TRD Pro starts at $72,000, the Silverado ZR2 at just a tad more. Heck, I can go big with a long-travel Ford Raptor starting at $77,000.
Most folks might want the capability and go-fast antics baked into the Ram TRX, but the truth is, hardly anybody has the skills to exploit all that potential. The Rebel is a perfectly good second place in the Ram line-up. It has enough capability to get you out to the wilds, but not so much that you might do something really, really stupid. Towing and hauling numbers are excellent and it sports good on-road performance to boot. I wish the drivers' aids were standard like in other full-size trucks, but the infotainment system here is boss. Overall there isn't much to complain about in this simple, everyman off-road truck.